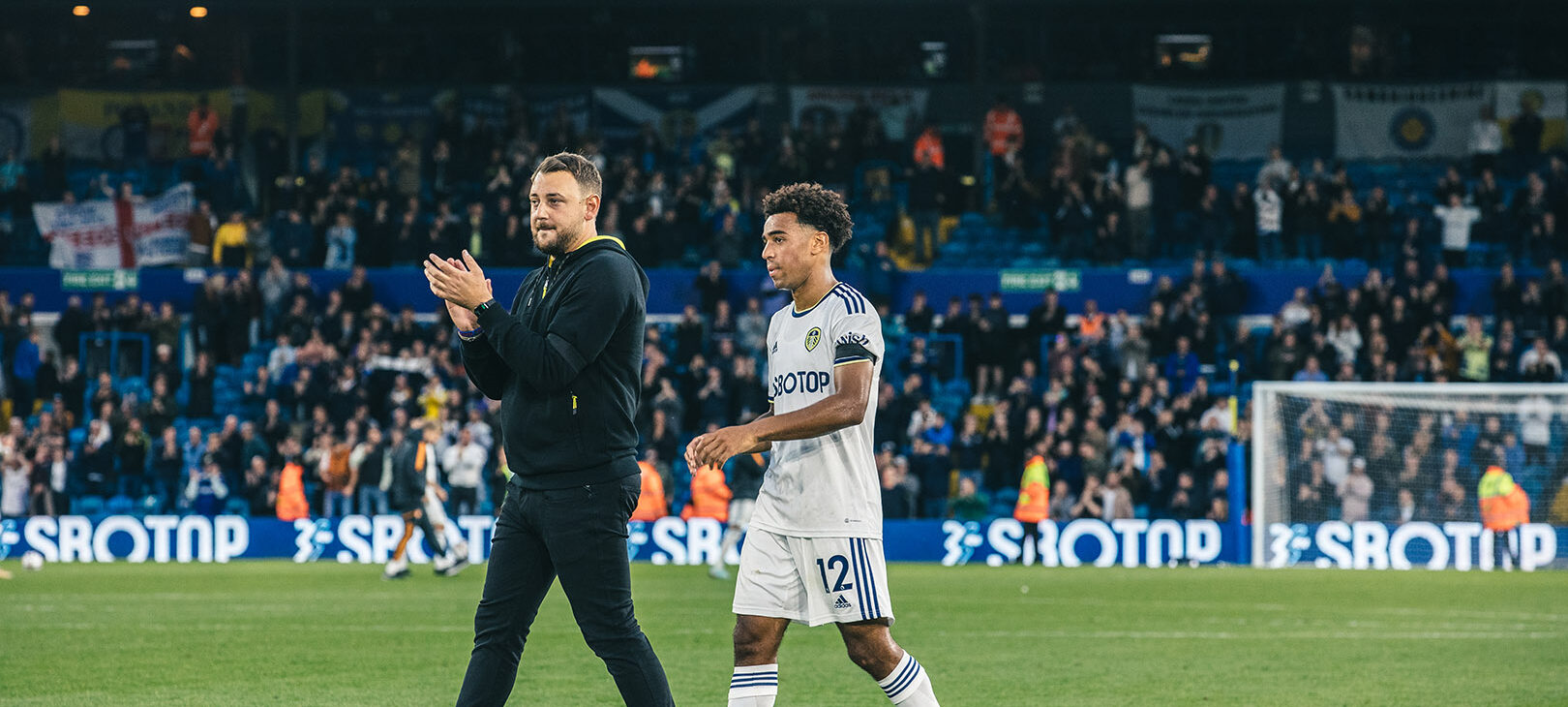 God's Own Country Welcomes America
December 28, 2022
A grudging and growing acceptance that maybe Leeds might have some good Americans…
Yorkshire doesn't take easily to change. But walking around the city center or down Elland Road on gameday there's no avoiding the signs of a growing American influence. Leeds United fans wear Major League Baseball caps and US men's national team jerseys. Americans' names have earned their ways onto on the backs of replica kits, and stars and stripes bedeck (perhaps even spangle) the souvenir scarves of manager Jesse Marsch — proud son of Racine, Wisconsin.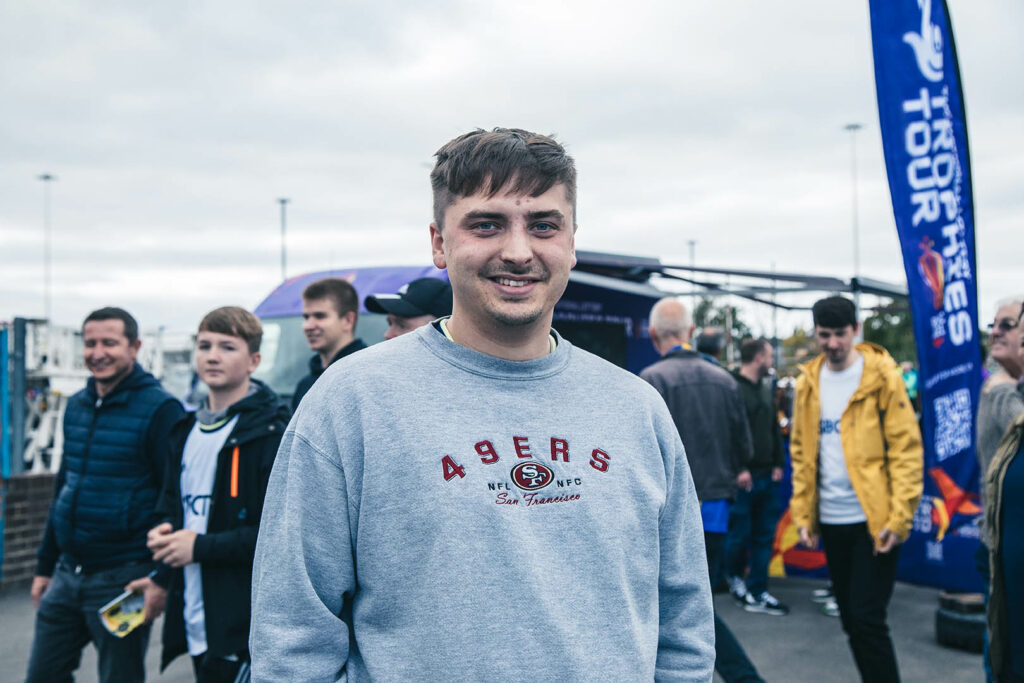 On the stadium concourse, Mark Russell wore a San Francisco 49ers sweatshirt. "I bought it because of the association," he said, referring to the San Francisco 49ers Enterprises organization that now owns 44% of Leeds United. He knew very little about the 49ers. "They're an American Football team, I think." But this Yorkshireman from Bradford — Leeds' neighboring city — was ready to embrace the team's minority owners who have the option to buy out current owner Andrea Radrizzani by 2024. "I like the brand…the city of San Francisco and the Golden Gate Bridge!"
With the exception of a few players like Mike Grella and Robbie Rogers during their years in the lower leagues, Leeds supporters have never had much need to consider America. While the Fenway Sports Group that owns the Boston Red Sox have unobtrusively led Liverpool to great success, Leeds fans have no eagerness for an impulsive American owner like Chelsea's Todd Boehly, who made a dubious impression by calling for an All Star game. Nor do they want to emulate hated rivals Manchester United, whose stadium is in disrepair and whose team is suffering a decade-long slump because of the poor management and massive debts imposed by the Glazer family, the Florida-based owners of the NFL's Tampa Bay Buccaneers.
Now, though, a new American manager (and possible future manager of the USMNT), a core of players with American backgrounds and a significant minority owner in San Francisco have led to a grudging and growing acceptance that maybe Leeds might have some good Americans. For American Val Leon, who married a United fan and moved to the Leeds area, overcoming the obstacle of initial mistrust was a personal task.
"I had to tell my story twice a week!"
Visitors to the pub where she worked assumed that she was a fan because of Marsch and the new players Brenden Aaronson and Tyler Adams — or perhaps Jack Harrison, who attended high school in Massachusetts and played college soccer at Wake Forest before joining NYCFC on his way back to England.
"But once I explained that I had 'married in' and I'd been going to games and been a fan since [Marcelo] Bielsa was manager, they accepted me."
---

---
This seemed to be a pattern writ large across the fanbase. Niall Wright and his father, Don (longtime season ticket holders) were thoughtful in their assessment, breaking it down to the different aspects of the American influence. Don, a coach, commented that "With Marsch, the jury's out…. He seems very good at PR, but we haven't really yet seen what his team can do." Niall added that Marsch came in at a difficult time, just after the departure of one of the great managers of modern history. "He's arrived after the love of the Bielsa era, and that's not easy to do."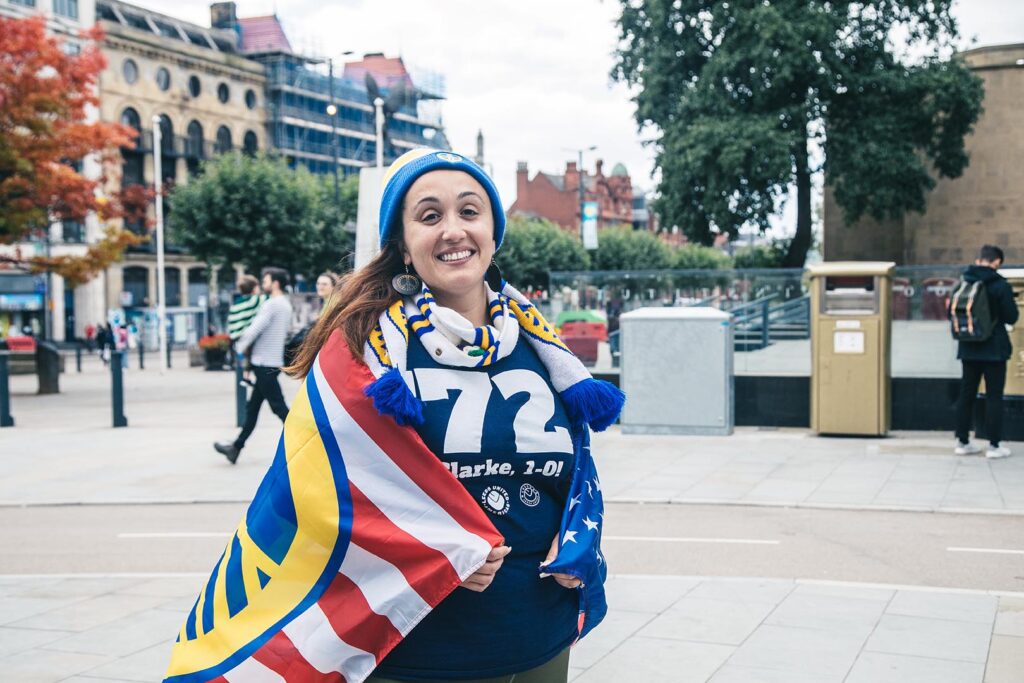 Niall also explained a nuance of the ownership that most are unaware of. "The San Francisco 49ers Enterprises is different from the 49ers themselves. [Australian businessman, Leeds United board member Peter] Lowy is part of the investment and malls are his business. He wants to build a big Westfield Mall, for a 'Matchday Experience,' right there." He gestures to the relatively undeveloped space between the stadium and the M62 motorway. "That can then help fund the stadium redevelopment. Let's not pretend they aren't in it for the profit, but maybe there's something for everyone."
"Let's not pretend they aren't in it for the profit, but maybe there's something for everyone."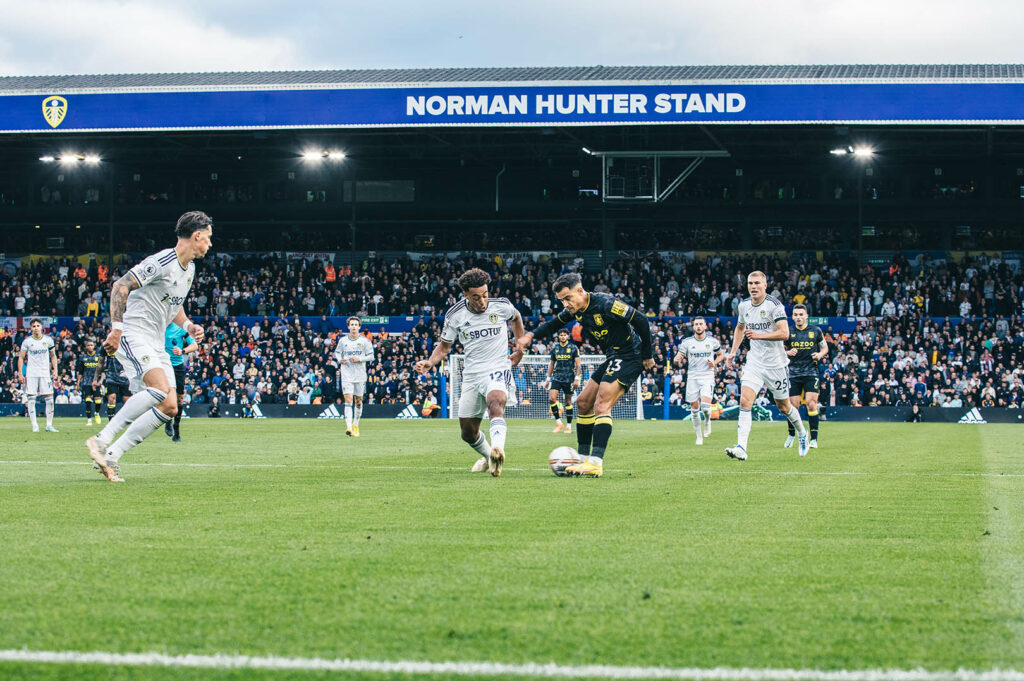 As for the players, Niall and Don are in agreement. "Adams and Aaronson seem like the real deal." That sentiment is shared by a number of fans who are walking around with replica Leeds jerseys with the names of American international players printed on them. Probably because Aaronson, a rising star on the USMNT, is a visible attacker with a slight, child-like frame, many of the shirts with his name are worn by smaller kids. Young Luke Gray was over from Ireland with his dad Stephen for his third home game of the season. He wore an "Aaronson 7" shirt. It's nothing to do with being American, he beamed. "I just like him because he's good!"
That's the general feeling amongst Leeds fans. If American input can help the club prosper, then Leeds will embrace it. But for a club over a hundred years old, a year or two doesn't yet herald a new era. "Jesse" and "Brenden" scarves with the stars and stripes are selling but not selling out. Baseball-pinstriped Leeds United jerseys in the club store are a reminder that there are potential big American investors on the horizon, but until they invest money for the club rather than just in buying shares from Radrizzani, the fans will hold off on their accolades.
---

Contributors
Dan Friedman
Dan Friedman is the only Yale PhD to have served on Sacha Baron Cohen's writing staff and he's the only qualified soccer coach to have been an executive editor at the Forward. He is a writer and digital consultant whose work has appeared in The New York Times, the Financial Times, the Wall Street Journal and the Los Angeles Review of Books. Dan's twitter.
Lee Brown