How the world heard Diego Maradona's goal of the century
January 23, 2014
Diego Maradona was either a demon or a dream, depending on whether you were listening to BBC Radio or Radio Argentina when he scored the goal of the century.
by Sam Markham | diagram by Joel Speasmaker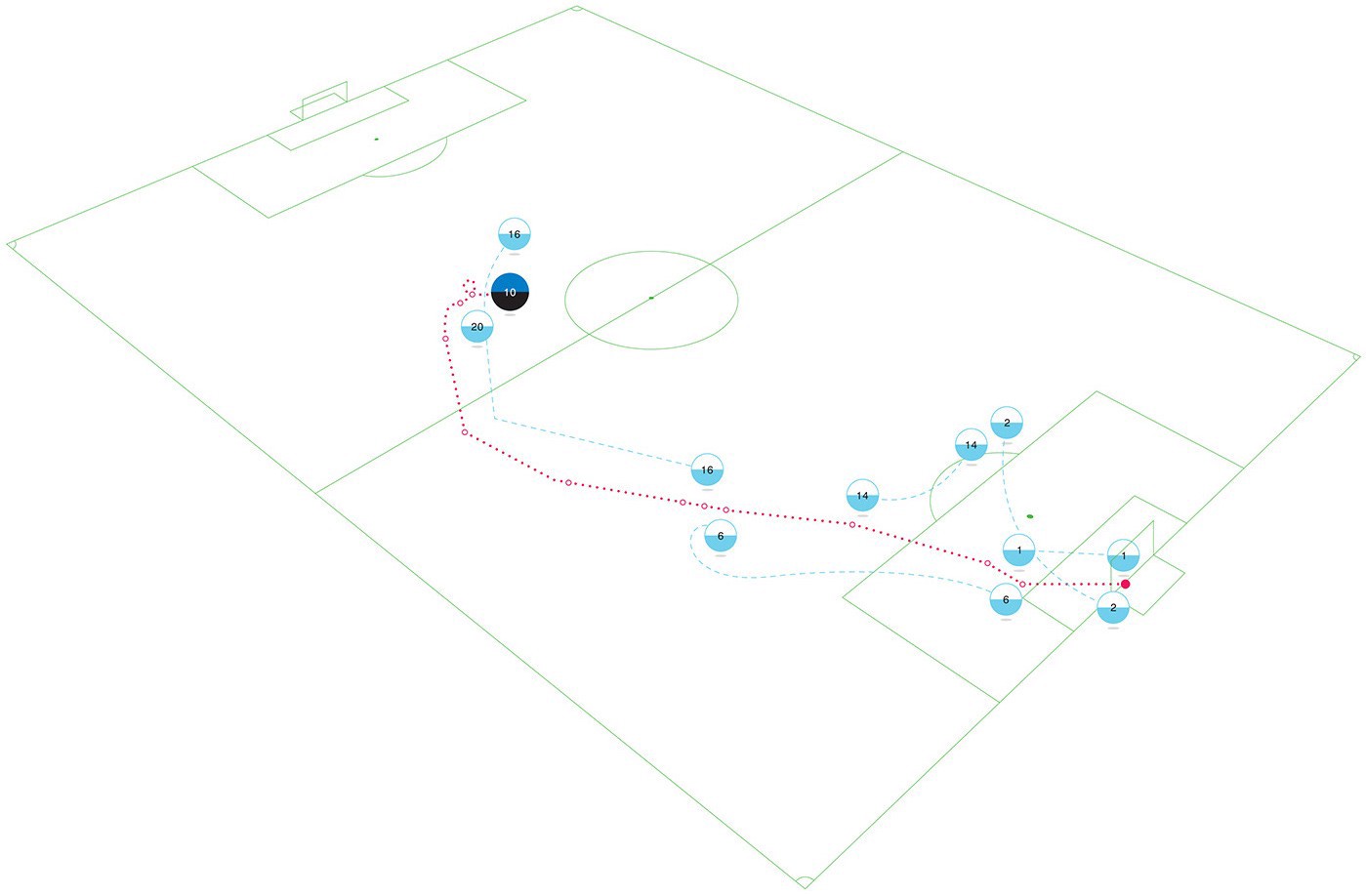 How many of the 114,580 people in Estadio Azteca on June 22, 1986, missed one or both of Diego Maradona's goals against England because they were in the bathroom or buying a Budweiser? The two legendary goals that decided the World Cup quarterfinal occurred in quick succession shortly after the start of the second half. In the 51st minute, the Hand of God beat the hand of Shilton. Only four minutes later, while the outrage of English fans and players was still raw, El Diego received the ball in his own half, facing his own net. It took him 11 touches and 10.6 seconds to beat six opponents — Beardsley, Reid, Butcher (twice), Fenwick, and the goalkeeper, Shilton — and bury what many consider to be the greatest goal of all time.
Veteran soccer journalist Brian Glanville describes it in The Story of the World Cup as "astounding, a goal so unusual, almost romantic, that it might have been scored by some schoolboy hero, or some remote Corinthian, from the days when dribbling was the vogue." The goal is remarkable in part because the match was played under the noonday sun on a bumpy, bone-dry pitch. "The grass is like dried shit: hard, strange, hostile," said West Germany's goalkeeper Toni Schumacher during the tournament. "The sun shines straight down on the stadium and strikes us right on the head. We cast no shadows. They say this is good for television." Maradona's feat is even more extraordinary when you consider that the match was fraught with political tension lingering from the Falklands War. Argentina surrendered the Islas Malvinas to England on June 14, 1982 (one day after the opening match of the 1982 World Cup), and memories of the conflict still rankled many of the players and spectators.
"Sometimes I think that my whole life is on film, that my whole life is in print." — Diego Maradona
Given Maradona's long-standing antagonism toward the press (including physical and verbal attacks), it's ironic that he is remembered through the images and words recorded by journalists and photographers. His two goals against England in the span of four minutes are likely the most heavily documented and commented-upon events in his life. The iconic images of that day, whether still or moving, are fixed in the memory of all soccer fans who were alive 27 years ago and even in generations who weren't yet born. They are so familiar that it's easy to forget that many people following the 1986 World Cup experienced the games on the radio, not on television. Without live footage, listeners relied on the verbal dexterity of their trusty correspondents to render the suspense and drama that was unfolding on the pitch.

Fans listening to the match on BBC Radio and Radio Argentina were fortunate to have two masterful journalists covering the quarterfinal. Bryon Butler was BBC Radio's football correspondent from 1968 to 1991, and he covered all six World Cups between 1970 and 1990. Victor Hugo Morales, a Uruguayan journalist who was two and a half years old when his country beat Brazil in the 1950 World Cup final, began his radio career at the age of 19 and is still active today.
Morales notes that his commentary is the only thing that will survive him. "When I am nothing more than bones or dust, someone will listen to this goal."
Over the course of his commentary on Maradona's second goal, Butler moves from belittlement to graciousness. Rhetorically, the passage is marked by a rhythmic repetition of phrases that stack up harmoniously. His use of "little eel" and "little squat man" in the first two sentences hints at an irritation that was probably shared by all England fans in the immediate aftermath of the Hand of God. Yet, after Maradona dismantles the Three Lions' defense, Butler generously praises the Argentinean, briefly touches on the injustice of the first goal, and concludes with an admission of being outclassed. While he never explicitly mentions the Falklands War, Butler's triple use of the expression "leaves him for dead" as well as "buried the English defense" is perhaps an unconscious summoning of these ghosts.
Byron Butler's commentary for BBC Radio
Morales's ecstatic commentary of Maradona's second goal is itself iconic in Argentina, and his lyrical expression "Barrilete cósmico!" (Cosmic kite!) is now shorthand in Argentina and much of South America for Maradona. His narration is a frenzied mix of poetry, yelling, and sobbing that ends with a prayer: "Thank you, God, for football, for Maradona, for these tears, for this — Argentina 2, England 0." Morales's poignant, minute-long paean to soccer and Maradona's genius is an exorcism. While a goal in a soccer match could not eradicate the pain of the Falklands War, it enabled a momentary release for Argentina and a symbolic balancing of accounts.
Victor Hugo Morales's commentary for Radio Argentina (translation below)
Translation: "Maradona has the ball, two mark him, he touches the ball. The genius of world football dashes to the right and leaves the third and is going to pass to Burruchaga. It's still Maradona! Genius! Genius! Genius! Ta-ta-ta-ta-ta-ta-ta. Gooooooooooal! Gooooooooooal! I want to cry! Dear God! Long live football! Gooooooooooal! Diegoal! Maradona! It's enough to make you cry, forgive me. Maradona, in an unforgettable run, in the play of all time. Cosmic kite! What planet are you from? Leaving in your wake so many Englishmen, so that the whole country is a clenched fist shouting for Argentina? Argentina 2, England 0. Diegoal, Diegoal, Diego Armando Maradona. Thank you, God, for football, for Maradona, for these tears, for this, Argentina 2, England 0."
In a 2011 interview with Agencia de Noticias Télam, Morales admitted to having mixed feelings about his famous commentary. For a long time, he found it difficult to hear the recording. He was ashamed by its excessive quality and how, in the excitement of the moment, he had lost himself (¡Genio! ¡Genio! ¡Genio! ¡Ta-ta-ta-ta-ta-ta-ta!) and failed to provide his listeners with descriptive details. Apparently, while the game was still on, Morales apologized to his audience for his loss of control. He says in the interview that he has come to peace with the commentary — "the most transcendent moment in my career as a commentator" — and notes that it is the only thing that will survive him. "When I am nothing more than bones or dust, someone will listen to this goal."

Sam Markham is an artist and writer who lives in Queens. He is also the proprietor of the soccer shirt company Didi. See his work here.
Contributors
Howler
TAGS
WELL, IT DEPENDS ON WHAT YOU MEAN BY "FREE."
Enter your best email for full access to the site.