The hard man might not have a place on the pitch anymore, but Gattuso is proving that there is still room on the touchline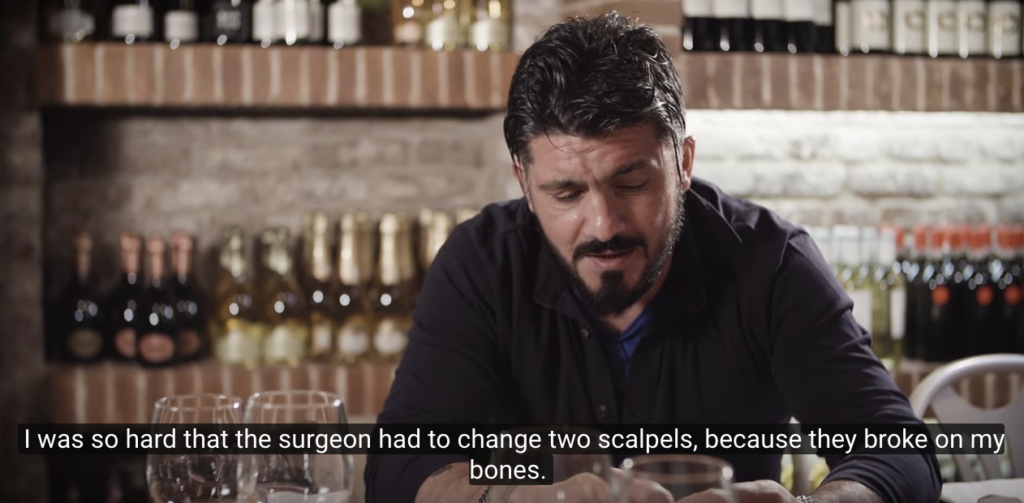 Following a fourth-round FA Cup tie with Cardiff, which included center back Joe Bennett being sent off for two poor challenges (the former resulted in a ligament injury to Leroy Sane), Pep Guardiola called for the referees to do better at protecting players. Cardiff boss Neil Warnock retorted that it was part and parcel of the English game and asked what exactly Guardiola "expected?" Cliche as this exchange sounds, it's a striking reminder of how much the game has changed.
In this very publication, Kevin Alexander once asked where all the hard men had gone. He concluded they were replaced by smaller, quicker, more skillful players who used time to create the space to keep and play the ball rather than reducing the opposition to win it back. Physical play is now seen as beyond the pale and slide tackling has no place in the modern game.
Taken rhetorically, hard men have gone nowhere really. Like other ex-professionals they're engaged in the geezer trifecta of punditry, gambling, and/or golf. Unlike their careers spent in the middle of the park searching and destroying, all they have is time. Which makes it all the more edifying that Gennaro Gattuso still somehow wears the tension on his face.
When AC Milan parted ways with Vincenzo Montella in November 2017, few expected his replacement to be club legend and world-renowned hard man Gennaro Gattuso. Although he did have some managerial experience in the lower divisions of Italian football, Gattuso had impressed the new ownership of Milan with short stint in charge of the Primavera, Milan's Under-19's team, who he began coaching in May of last year. Since Gattuso took over at the San Siro, there has been both a marked improvement in both Milan's performances and standing in the Serie A table. Unbeaten in their last 10 league matches with wins in the last five straight, Milan now find themselves within touching distance of Champions League qualification spots as we enter the business end of the season.
How he's managed to do it, vertical progression in half-spaces with the ball combined with an aggressive counterpress without the ball, is far less curious than what for. While expectations may have diminished for Milan, his passion has not. The club's owner, Li Yonghong, might be bankrupt. Gattuso will still be peeved that a rare snow in Rome forced him to train indoors. He is Bérenger on the touchline gesturing wildly, distraught as the rhinoceros run by. And yet he persists.
After Milan beat Lazio 2-1 in the league, he stood in the middle of the postgame huddle and allowed his players to hit him. He claimed in his press conference that it was to "make his team happy" and placate "players who weren't getting much game time."
https://twitter.com/90min_Football/status/957969106287898624
I see Kevin Alexander and raise; has there ever been anything harder?
"We're not Brad Pitt now, we've got to continue being as ugly as me and my beard, with dark circles under our eyes."
---
Follow Mapate on Twitter @atMapate. 
Contributors
Mapate Diop
TAGS
WELL, IT DEPENDS ON WHAT YOU MEAN BY "FREE."
Enter your best email for full access to the site.