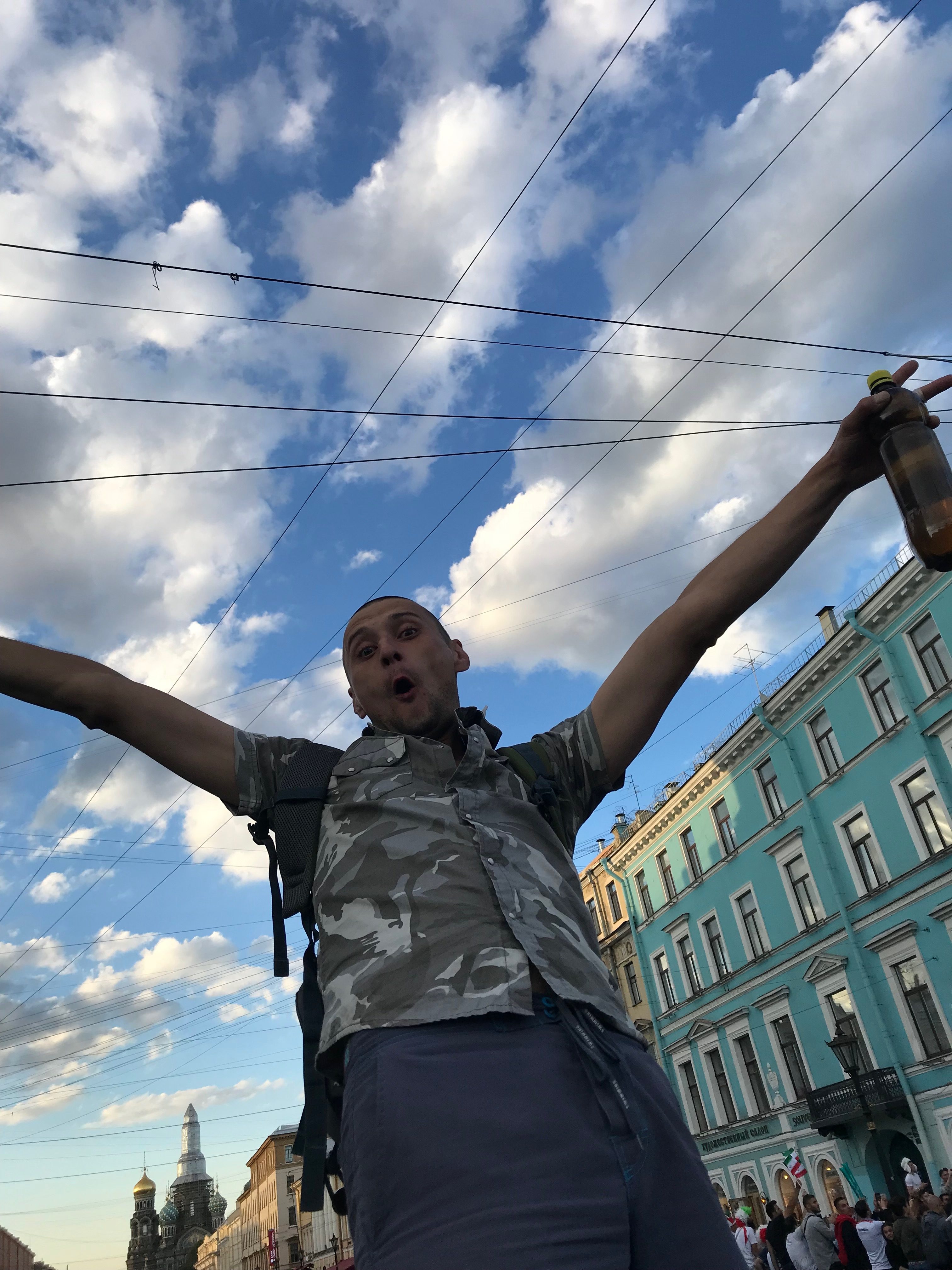 by Gabriel Bump
Note: Everyone's World Cup experience is just a little different. Over the course of the month, Howler will track the days of the tournament through a variety of perspectives, creating, we hope, an entertaining and surprising diary of soccer obsession.
PRELUDE
Life, in a twist, took me to Buffalo.
Humanity, in a break from its usual horrors, gave us soccer, live streaming, the World Cup, and face-painted adults drinking and singing underneath a proud Vladimir Lenin statue, waving flags from faraway countries and kingdoms. Most of these flags, green and draped over Saudi Arabian shoulders, represent a unified kingdom Vladimir Lenin didn't live to see. Such is time; such is life; such is humanity; such and such.
Lenin would love drone cameras. Not as much as Stalin.
Dostoyevsky would love this, all the potential winnings, luck's ebb and flow, life's dark multitudes.
Tolstoy would hate this, all of it. Maybe not the happy people. Tolstoy loved happy people, only if their happiness ran pure, unobstructed by meaningless wealth and extravagance. Yeah, Tolstoy would hate this. Maybe Tolstoy would love the FIFA Fan Zone, all those laughing people jumping for joy? Naw, Tolstoy would hate this.
Gogol would try and sneak in with the maintenance crew, just to laugh. Gogol would make this better.
Chekhov…what about Chekhov? Chekhov would make a great sportswriter. All that truth rushing through his veins.
What would Stalin make of Rob Stone in Red Square, cameras sending his handsome hair and face back to America?
Enough: time for action.
First: Buffalo. There are soccer bars here, open for all the games. If you want to find a Guiness at a six in the morning—dammit, you can. What a beautiful city. Where I used to live, life was different. Beautiful in a different way.
That's another story.
That's a love story.
This is a soccer story.
What if Uruguay screwed this up? Luis Suarez has grown on me, for reasons I can't explain. He's one racial slur away from going back into my dumpster. What does he care? Such is fandom.
What if Saudi Arabia pulls off the shocker, gets through? What if MBS' global influence campaign bears tangible fruit? What would Stalin make of MBS? Would they meet in a café, trees providing shade, birds providing song? Would they laugh over tea? Maybe those lonesome men would grow to trust and love each other. Stalin would tell MBS all about Hitler's double-cross, how much it hurt Stalin, deep down. Stalin would tell MBS how brutal love is when it turns against you. Stalin would admit that he hadn't thought it possible to love again, until now, until you, until the World Cup came to Moscow. MBS would nod and nod and nod and wipe away a tear whenever a tear came. MBS would place a hand on Stalin's knee…
That's another story.
That's a love story.
This is a soccer story. Or, a marketing story. I can't tell.
Enough: Game Time.
Not yet.
Hey, there's Brazilian Ronaldo with a kid.
Look, a man on an oversized soccer ball juggling more soccer balls.
Check it out: that woman has a soccer ball dress.
Whoa: badass electric harp.
Aw, they spelled LOVE with shining surf boards.
What would Stalin make of these beautiful Russians reduced to Belgium flagbearers?
Hey, there's Brazilian Ronaldo again, with another kid.
Look, he pretended to kick the ball and everyone laughed.
I'm glad he's happy.
Tolstoy would love Brazilian Ronaldo. This I know as unassailable truth.
Disclaimer: my TV is muted. I'm listening to Frank Ocean, Berhana, SZA, H.E.R., and Sonder on repeat.
Look, Tim Howard got a golden suit jacket and cool pool party.
Disclaimer: I think the American National Anthem is beautiful. Still, I'm kneeling with my homies, if it comes down to it.
Look! Buffon is making a cake! Look! The cake is Tim Howard!
What a beautiful marketing story!
Enough: Anthem Time.
What would happen if a Russian or Saudi took a knee? Let's not think about it.
LOOK! PUTIN! If only I could hear what he's saying. Frank Ocean is more interesting.
HEY, INFANTINO! SZA is more interesting.
LOOK! MBS!
ENOUGH! GAMETIME!
Stalin would love VAR.
FIRST HALF
Off we go.
GOAL
GOOOOOOOOOOOOOOOAAAAAAALLLLLLLLL.
PROUD RUSSIAN BODIES
What a proud Russian head.
Aw: Putin shook MBS' hand, right above Infantino's crotch. How can that private suit contain so much influence without bursting into flames?
Yikes: Dzagadev. May that proud Russian hamstring recover in full, and then some.
2026 STRATEGY: THE VISION 
After this tournament, when Juan Antonio Pizzi leaves Saudi Arabia, the United States should pay him double what he wants and give him keys to every soccer organization from Maine to Florida to San Diego to the Olympic National Forest. Or, you know, something like that.
GOAL
GOALGOALGOALGOALGOALGOGOGOGOGOGOGOLALALALA
PROUD RUSSIAN ATTACK
Unselfish, composed, patient, slow, strong.
2026 STRATEGY: THE NEXT GENERATION
Americans need someone to inject fun into our attacking philosophy. We need some creative flair. Soccer isn't working in a nickel mine; Soccer is laughing in a suite with influencers. Kids these days want to have fun, smoke cleaning supplies, eat vaporizers, Snapchat their Instagrams. Or, you know, something like that.
INTERLUDE
Look! Tom Cruise flying a helicopter! Don't Crash!
Isn't marketing beautiful? All these beautiful people with all their beautiful stuff and their humorous interactions.
Tolstoy would despise Portuguese Ronaldo. Does anyone doubt that?
SECOND HALF
Who's still watching?
Something tells me Infantino, MBS, and Putin aren't talking about soccer tactics. Pray for their conversation subject.
ALMOST GOAL
Saudi Arabia looks beautiful between the boxes. They move the ball with confidence and surprise, as a team should. They don't have anyone to put the ball in the opponents net; they don't have anyone to keep the ball out of their nets. Those are two big problems to have, if your goal is winning matches.
ON TUGGING 
Somewhere, a passionate and boring man is applauding all these fouls. That man—whoever he is, wherever he is—needs his fandom revoked, burned, buried, unburied, sent to Jupiter.
ON RYTHYM
Soccer is slow-winding hips in a hot shower. Soccer is Frank Ocean pulling a high note from his heart. Soccer is SZA promising to love you on Saturday night. Soccer is Tolstoy waiting for his final train, tapping his foot on the frozen platform.
GOAL
Goal.
PROUD RUSSIAN SHRUG
Weak defending; weak Putin smile; strong Dzyuba; good passing combination; strong MBS deference.
GOAL
Good Goal; Bad Defense
FREE-KICK GOAL
Good Putin Shrug. Is it over yet?
ON APPRECIATION
Playing professional sports is hard. All our countries and kingdoms are complicated. Good work, fellas. Thank you.
OUTRO
It's a beautiful day in Buffalo. I'm going for a run. I might even buy some Gatorade, a Big Mac, a KIA or Ford, and pre-order tickets to watch Tom Cruise escape death by a millimeter. Or, you know, something like that.
Contributors
Matthew Celentano
TAGS
WELL, IT DEPENDS ON WHAT YOU MEAN BY "FREE."
Enter your best email for full access to the site.