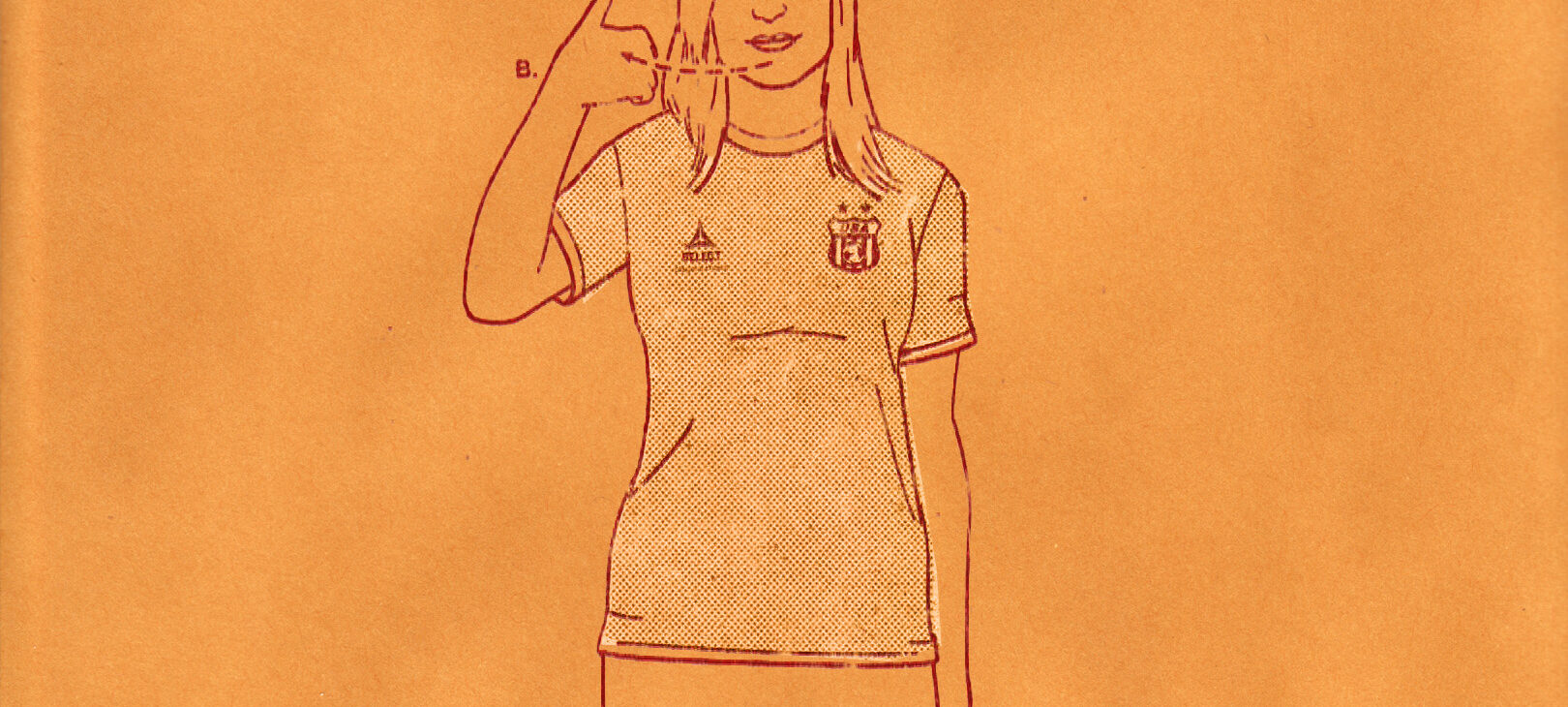 The Best Team You've Never Heard Of
January 11, 2022
From a distance, it looked like any other soccer match going on at the expanse of fields outside FC Dallas's Toyota Stadium.
Midfielders made runs down the wing, goalkeepers cut off crosses, defenders snuffed out passes.
But there was one thing that was noticeably different; save for occasional chatter from Dallas's ECNL team, the match was silent. That's because the squad playing on an unbelievably windy February Saturday in Frisco, Texas was the United States Deaf Women's National Team. This was the first of several matches in a four-day training camp.
To be eligible for deaf competitions, such as the Deaflympics and the World Deaf Football Championships (commonly known as the Deaf World Cup), athletes must have at least 55 decibels of hearing loss in their better ear and cannot use hearing devices during play.
The USDWNT has been dominant in these competitions, with a record of 26 wins, zero losses and zero ties across a 14-year history. For good measure, its all-time goal differential is +134 (144 GF, 10 GA). The United States won gold medals at the 2012 and 2016 Deaf World Cup, the only two such women's competitions to date, and the 2005, 2009 and 2013 Deaflympics. (The team did not travel to the 2017 games in Turkey at the advice of the State Department due to political unrest in the country.)
The USDWNT has dominated the Deaf World Cup and the Deaflympics, with a record of 26-0-0 over 14 years.
Beyond on-field excellence, the team provides an empowering opportunity for deaf women—each with their unique story—to be around people who understand their challenges, all while representing their country in a sport they love.
---
As the ball rolls out of bounds, goalkeeper Meghan Mainwald delivers a message to her back line in American Sign Language with the same intensity Tim Howard uses to enforce a point after an opposing team gets off a dangerous scoring chance. The game moves too quickly to sign during play, so she has to get in communication when she can.
"I fell in love with the game," Mainwald, a team captain, said in ASL. Her hearing device had run out of battery power, so teammate Emily Cressy offered to translate. "I love competing with the boys and beating them. That freedom to be myself, running around, scoring goals. I started as a forward and not a goalkeeper."
Mainwald started playing soccer at the age of four at her local YMCA program.
She became a full-time keeper at age 10, when she was the only one brave enough to volunteer. With that bravery (she flies off her line to challenge attackers on a regular basis) combined with a tall frame, Mainwald was good enough to play Division I soccer at San Jose State.
"She's really good and you'd have more respect for her if you saw the other best goalkeepers in the world that are deaf," head coach Amy Griffin said. "It's almost like Hope [Solo]. The number two goalkeeper isn't even close."
Griffin would certainly know. She was a goalkeeper on the United States squad that won the inaugural Women's World Cup in 1991. Griffin now serves as the Associate Head Coach for the University of Washington's women's soccer team in addition to helping coach the U.S. youth national teams.
The coaching world is small, and when Yon Struble, the previous USDWNT coach and current coach at Carnegie Mellon, left the team, he was aware that Griffin knew some sign language. He tipped off Trip Neil, a member of the Men's Deaf National Team and at the time the president of the U.S. Deaf Soccer Federation, who gave Griffin a call.
"I was like 'What? I get to coach a national team and help them try to win a World Cup? Yeah, what's the catch? Why isn't anyone else doing this?'" Griffin said. "I kind of said yes before anyone else had a chance to. And I'm hooked."
Griffin isn't the only USDWNT coach with senior national team caps. Joy Fawcett, a two-time World Cup winner ('91, '99) and two-time Olympic gold medalist ('96, '04), serves as the assistant coach.
Fawcett, who retired as the highest-scoring defender in USWNT history, tries her best to keep a low profile, but at the newly opened National Soccer Hall of Fame, her players force her to take endless pictures with them next to her jersey displayed in the hall.
Being deaf or hard of hearing in a hearing world can be isolating. Even with a hearing device, a significant amount of time is spent just trying to keep up with a conversation. Constantly processing and translating the world around you can prove exhausting. Griffin shared how she and Fawcett ironically experience what it's like to be left out when they travel to deaf competitions as two of the few hearing people within the community.
"I love coaching this team, but I feel like I'm cheating because I'm not deaf," Griffin said. "I'm selfishly doing it for myself, I love it. But the end game would be to have a deaf coach."
The day where a deaf coach leads the USDWNT may come at some point down the road. Mainwald, the world's best deaf goalkeeper, will enter her sixth season as the assistant coach of the women's soccer team at Gallaudet University, a college for the deaf and hard of hearing in Washington, D.C., in the fall. The Bison have a natural relationship with the USDWNT, and five players in February's training camp have ties to the university as either current, former, or future players.
Midfielder and captain Kate Ward was also recently hired as the women's soccer assistant coach at the University of Texas-El Paso. Ward, a four-year letterwinner at Appalachian State, was previously the graduate assistant at Virgina Commonwealth University in Richmond for two seasons.
"Amy and Joy, whether they know it or not, had a really huge influence on that," Ward said of becoming a coach. "I think it's really cool how they help young women become leaders and I would love to eventually some day do that."
That prospect is still years away, however, as the focus for Ward and Mainwald remains on the 2020 Deaf World Cup and the 2021 Deaflympics.
Ward has been a member of the USDWNT since she was 15. Two months after she tried out for the team, she was winning the 2009 Deaflympics in Taipei. She played primarily in the number 6 role during the camp, sitting as the deep midfielder and effortlessly pinging well-weighted balls to spring attackers. She's a part of a veteran core of a team whose strengths, according to Griffin, are "right down the center."
Arguably the most talented player of that core is Cressy, the team's striker. Cressy played collegiately at Kansas and currently plays semi-professionally for Beach FC of the Women's Premier Soccer League. The Golden Boot winner at the 2016 Deaf World Cup, she scores several goals throughout the day's matches against the FC Dallas ECNL teams with clever passing combinations with teammates and composed finishes.
"I think being on a deaf team made me improve my awareness on the field," Cressy said. "I feel like I have a hidden talent that hearing people don't have. They don't have to look up because you can hear people, but I can plan my moves five steps in advance."
---
Beth Barbiers was devastated. All she wanted to do was join the Marine Corps, and as a multi-sport athlete in high school the 17-year-old had passed every physical test with flying colors. Every test except one: hearing. In fact, she had failed three hearing tests.
Barbiers would often have to ask friends to repeat themselves, but didn't make the connection to hearing loss until her diagnosis of otosclerosis, the hardening of the stapes, a small bone in the middle ear.
She attended Southwestern College in Kansas, where she played soccer and was an All-American track athlete, and fell back on her secondary dream of being a cop. When she turned 21, she applied to an Atlanta area police department. Once again, she passed every test with flying colors except for the hearing exam.
At 22, with another dream squashed, Barbiers was devastated again. She bounced between jobs and, as her hearing got worse, sought more medical help. She had three surgeries to attempt replacement of her stapes with a titanium piston, but the third left her with such bad vertigo that she needed a fourth procedure to correct it.
Finally, Barbiers learned that the otosclerosis diagnosis was incorrect; she actually had semicircular canal dehiscence, an opening in the bone overlying the ear canal, which can cause hearing loss, vertigo and hypersensitivity to the sounds created by one's own body. A month after that fourth surgery, Barbiers went to her audiologist because she thought her hearing aid was broken. After an hour and a half of testing, she was directed to the hospital because overnight she had dropped 40 decibels of hearing in her right ear, making her legally deaf.
"So that was a horrible, horrible time," Barbiers said. "I can't get that back, I lost my speech clarity with people. It was a horrible time."
As she watched the 2016 Paralympics in Rio de Janeiro, Barbiers did a Google search to see if deaf athletes could compete in Paralympic competition. They can't, because they compete in the Deaflympics. From there, she quickly stumbled upon the USDWNT and, excited to have a team of athletes like her to support, sent an e-mail to Meghan Mainwald asking how to buy a t-shirt and stickers.
"She e-mails me back and says 'tell me about your soccer history.' I was like no, no. I'm old," Barbiers said. "Can I just buy a t-shirt or something? She was like, we've got a camp coming up in the winter, we'll put you on the list and maybe you can come to that if you like."
Barbiers was reluctant, but at the urging of her friends, attended her first camp in Los Angeles.
"I got with the team and I was like, you guys are the first deaf people I know," Barbiers said. "They were all so nice and it was just amazing. And I just keep coming to camps."
When the USDWNT stayed home from the 2017 Deaflympics in Turkey, Barbiers went and set the American Deaflympic record in the marathon. Now, she wreaks havoc as an outside back. In the match against the U19 FC Dallas ECNL team, the small but aggressive Barbiers won a tackle along the left wing, keeping possession with the USDWNT in the attacking half, and leading to a Cressy goal.
---
For Barbiers and many of the players, these camps are so much more than a chance to train for a run at another gold medal. The opportunity to interact with, let alone play soccer with, people who share their experiences of navigating the world while deaf or hard of hearing is rare. The team fosters a deep sense of community, which is why members form lasting friendships despite spending just weeks together each year.
"No one's going to really understand
what it's like being a deaf person
as a hearing person,"
Cressy said. "I feel like this is where I belong, I fit in with these people. Not that I don't fit in with other people, it's just a different level."
Even within the team, the ways people communicate are diverse. Some use cochlear implants or hearing aids and talk, others read lips or sign, most utilize some combination. The team's interpreter, Amanda Newcomb, has worked to develop signs for soccer lingo that otherwise wouldn't translate in ASL. The team discusses practice plans with hearing devices in beforehand to mitigate confusion on the field.
"When I'm with this team I communicate any way I can to make sure people don't get left out," Ward said. "Because we've all been left out before."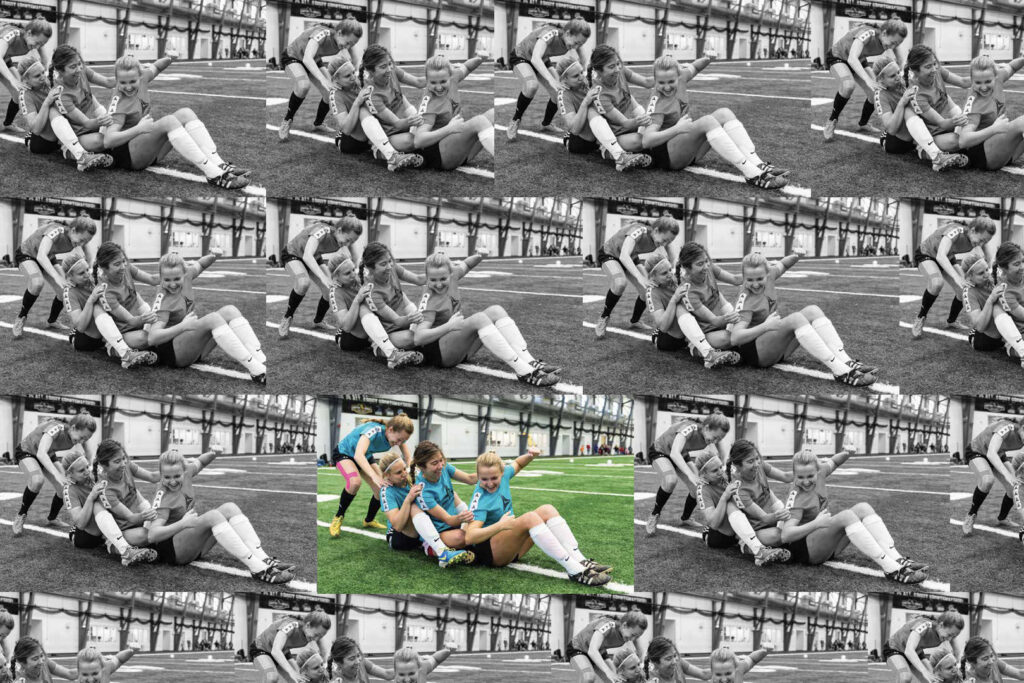 Ward has seen the team grow significantly from its origins as a fledgling grassroots organization in her decade on the squad.
"In 2009 when we first joined the team, it very much was like bring like a white-colored shirt and dark shorts and we're going to train on an intramural soccer field and barely have enough equipment to do it," Ward said. "That's kind of what made it really special though, too. We were kind of beginning to fight for something greater than ourselves and I don't think any of us realized it at the time—especially me at 15 years old, I had no idea."
Word of mouth, networking, and especially social media have helped move the team forward and expand the player pool. Twenty-three players participated in this year's camp, where previous iterations would only have 14 or 15 players.
The USDWNT has a loose association with US Soccer. They were playing in official US Soccer gear that was donated, but is not fully sanctioned or funded by the federation. That lack of funding is the biggest obstacle. Players have to pay their own way to camps and international tournaments.
When Suzanne Anderson, the President of the U.S. Deaf Soccer Association, took over in April 2018, she knew that getting the house in order was a top priority.
"We didn't have a financial system set up where we could track our finances," Anderson said. "Just something that small, changing that piece, can make a huge difference in terms of our being able to demonstrate that we spend the money wisely and we're good stewards of the grant or sponsorship that comes in."
As U.S. Deaf Soccer grows its financial health, the members of the USDWNT are already hard at work growing the culture around being a deaf athlete. As several players point out at the camp, there aren't many mainstream deaf role models. The veteran core of Ward, Mainwald and Cressy each looked up to the older players on the USDWNT when they joined as teenagers.
"I had some really great older teammates when I was younger who were very much my role models and mentors," Ward said. "And I very much have been in awe of them my entire life."
Now, the process has come full circle. That veteran core is proving to be role models for a new crop of talented young players. Holly Hunter, a high school midfielder, has been called into U.S. Youth National Team camps and has committed to play collegiately at Colorado. Defender Gracie Fitzgerald was named the USSF Disabled Player of the Year. Center backs Paige Beaudry and Mia White impressed the coaching staff with their command of the field during the training camp.
With a youth clinic at the training camp, and a leadership camp for adolescent deaf girls planned for this summer, the USDWNT is making a commitment to invest in the next generation of deaf athletes.
At a banquet for both the men's and women's deaf teams on the Saturday night of the training camp, Ward delivered a powerful speech about what it means to be deaf and how empowering competing for the USDWNT is. She told the story of Emma, a three-year old that the team met at a previous training camp.
"She was running amongst us and pointing at our hearing devices, then pointing at her own," Ward said. "It's almost like she was saying, 'Look, you're just like me!'"
"When I was growing up, I didn't have a deaf woman athlete to look up to," Mainwald said. "We all empower each other and push each other. We're all successful in our lives and our careers. It's nice to see that we're role models for the younger generation, and they're looking up to you like 'wow I can play like that.'"
The USDWNT is showing Emma and her generation that their disability doesn't define them. Girls and boys that are deaf or hard of hearing can play the beautiful game, and represent their country doing so.
Contributors
Andre Lohman
Andre Lohman is the Assistant Director of Athletics Communications at Virginia Commonwealth University.
Toby Leigh
Toby Leigh is an award-winning illustrator and artist with an eye for the peculiar. He is a regular contributor to publications such as the Guardian, The Times, the Independent, Esquire, Empire and Time Out. Toby's instagram.
TAGS
WELL, IT DEPENDS ON WHAT YOU MEAN BY "FREE."
Enter your best email for full access to the site.