Jose Richard and Cesar Daza spread a message of peace around the world and outshine Barcelona's six-goal performance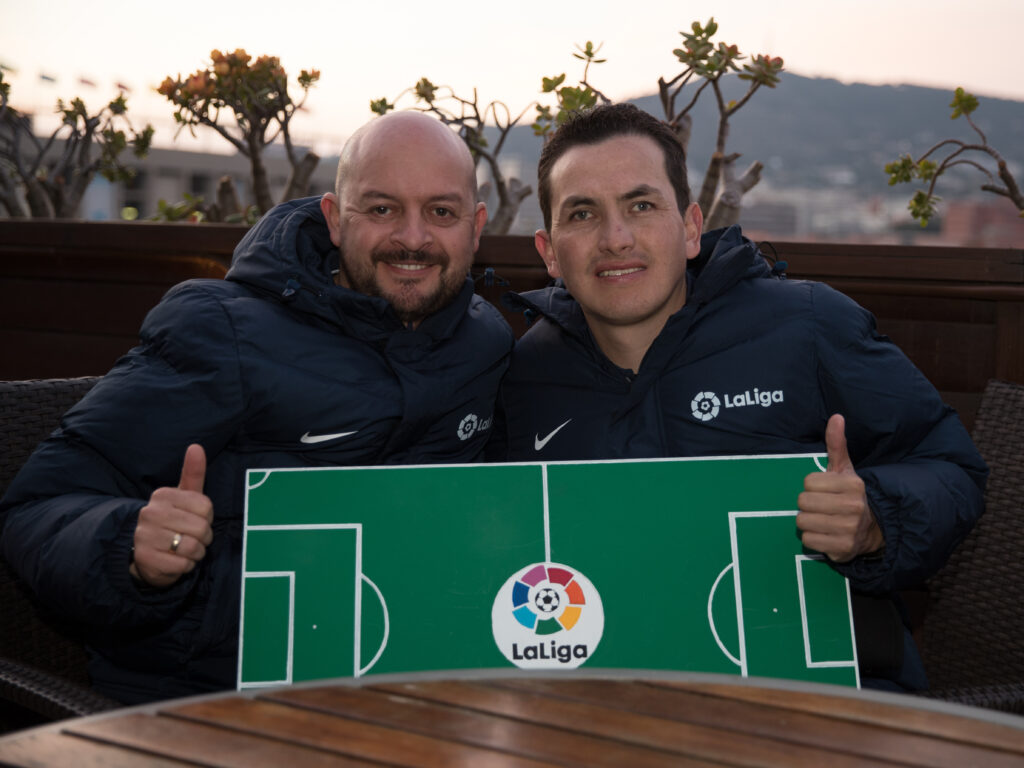 Too often football highlights the superficial divisions that plague us. Animosities and violence that go beyond the realm of spirited competition. But the game can also be a vehicle to spread message of unity and the power of the human spirit. And there's no better example of this than the friendship between Jose Richard and Cesar.
Jose Richard was born in Colombia with Usher syndrome. At nine years old he went deaf, and at 15 he went blind. His condition forced him to drop out of school and put a strain on his family. For three years, he drifted deeper and deeper into depression. Feeling his life was of no use, he decided he would commit suicide, but he says God stopped him, promising a future of higher purpose.
Jose Richard rededicated himself to finding a way. He enrolled in a new school, learned braille, began working in a bakery, and eventually met Cesar Daza, who has a foundation in Bogota for the blind and deaf. Jose Richard and Cesar became friends and shared a passion for football. This led to Jose Richard asking Cesar to interpret a Colombian national team match for him.
"When he asked me to do that, I went like 'How should I do it? I don't know how to do it.'" Cesar says through an interpretter. "So at that point, he told me 'Well, it's easy. Do it on a board.'"
Holding a small piece of  cardboard between them to represent the pitch, Cesar watched the match on television and, over the course of the 90 minutes, devised a system of guiding Jose Richard's hands around the board to translate the movement of the ball.
Jose Richard's ultimate dream was to attend a live match, though. When they first attempted their new system in a stadium, they realized their cardboard pitch wasn't up to the job. They switched to a wooden board, so Jose Richard could feel the vibrations of the atmosphere around them through the board.
"Jose Richard sometimes places a hand on the wooden board, and he can feel when there are some drums, when people are playing trumpets or when people are screaming," Cesar says. "Sometimes I'm too mixed up at the game and he tells me 'Go on, tell me what's going on! Don't forget me!'"
They developed signs to denote corner kicks, offside, penalties, goals, kick offs, etc. They also developed signs to represent specific players and teams. One hand represents one team, the other represents the opposition. Player movements are represented by individual fingers.
"When people are pulling shirts, I interpret it really," Cesar says. "I pull his finger and he knows that someone is tugging someone's shirt."
During national team matches, Jose Richard and Cesar are on the same side. They both support Colombia. However, at the club level, they not only support different teams, but fierce rivals. Jose Richard is a Millonarios fan, while Cesar supports Santa Fe. In Colombia, supporters aren't allowed in the stadium wearing the shirt of the visiting team—it's simply too dangerous—but exceptions have been given to Jose Richard and Cesar, so when Millonarios and Sante Fe play each other, one of them is the only person in the stands wearing the shirt of the hated opposition.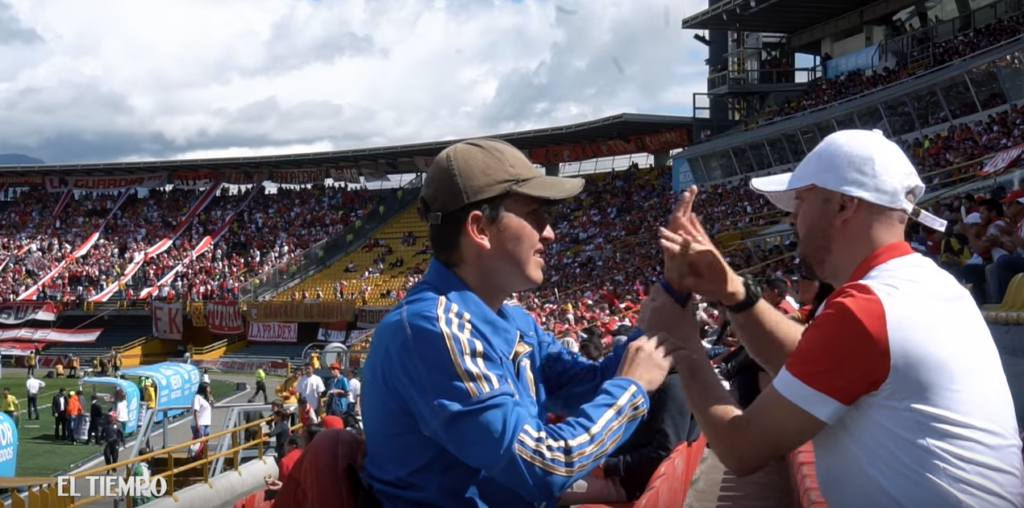 Breaking this barrier, and demonstrating that people can support rival clubs while also supporting each other has led Cesar and Jose Richard to spread a message of tolerance and peace.
They have taken this message around the world. Last weekend, with the help of La Liga (which this season launched La Liga Genuine—a new league for people with intellectual disabilities), the two friends traveled to Spain for Barcelona's match against Girona. Cesar translated the match for Jose Richard inside the Camp Nou's press box. Both of them were delighted by each of Barcelona's goals in their resounding 6-1 victory over their newly promoted Catalan neighbors.
At Barca-Girona match with Cesar and Jose Richard from Colombia. Jose Richard is blind and deaf, but Cesar helps him follow matches with a wooden board that serves as the pitch, and a sign language system they devised themselves. Incredible to watch. pic.twitter.com/Zwik9agSp0

— Brooks Peck (@BrooksDT) February 24, 2018
Of course, at the Camp Nou, the action on the pitch is only part of the experience. So, when the referee blew the final whistle and Barcelona's joyous anthem, "El Cant del Barca," rang out, Cesar translated the song to Jose Richard, as well.
At full time Cesar even did @FCBarcelona's anthem! pic.twitter.com/7ZIeNXpK6g

— Brooks Peck (@BrooksDT) February 24, 2018
The experience was then topped off when Jose Richard was able to go down to the pitch and touch the grass, then meet the Colombian players from the two teams—Barcelona's Yerry Mina (who used to play for Santa Fe) and Girona's Johan Mojic.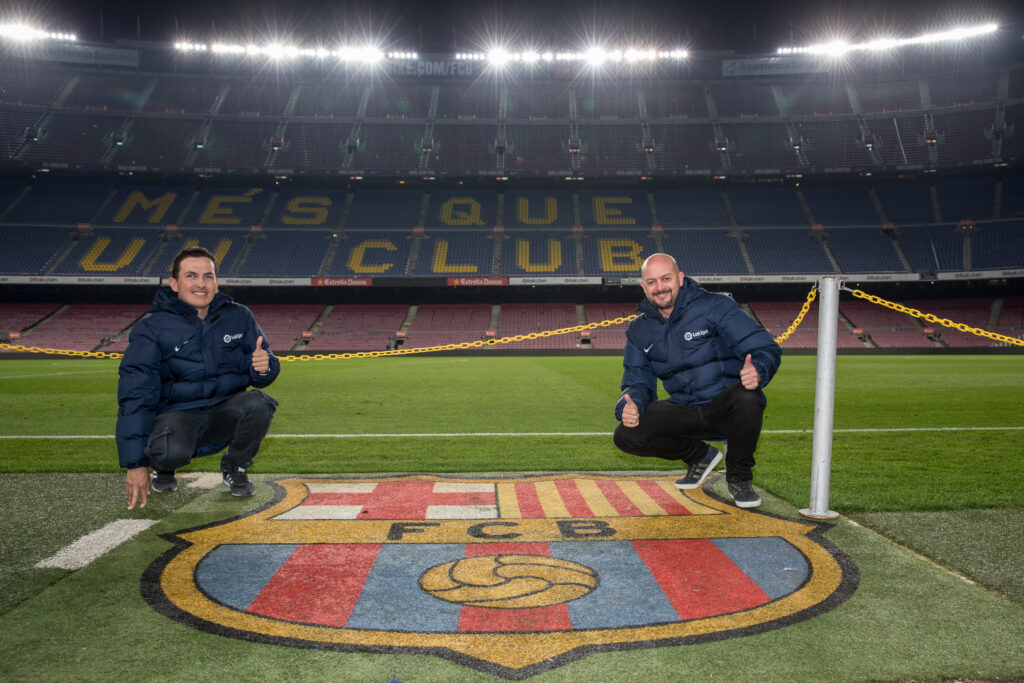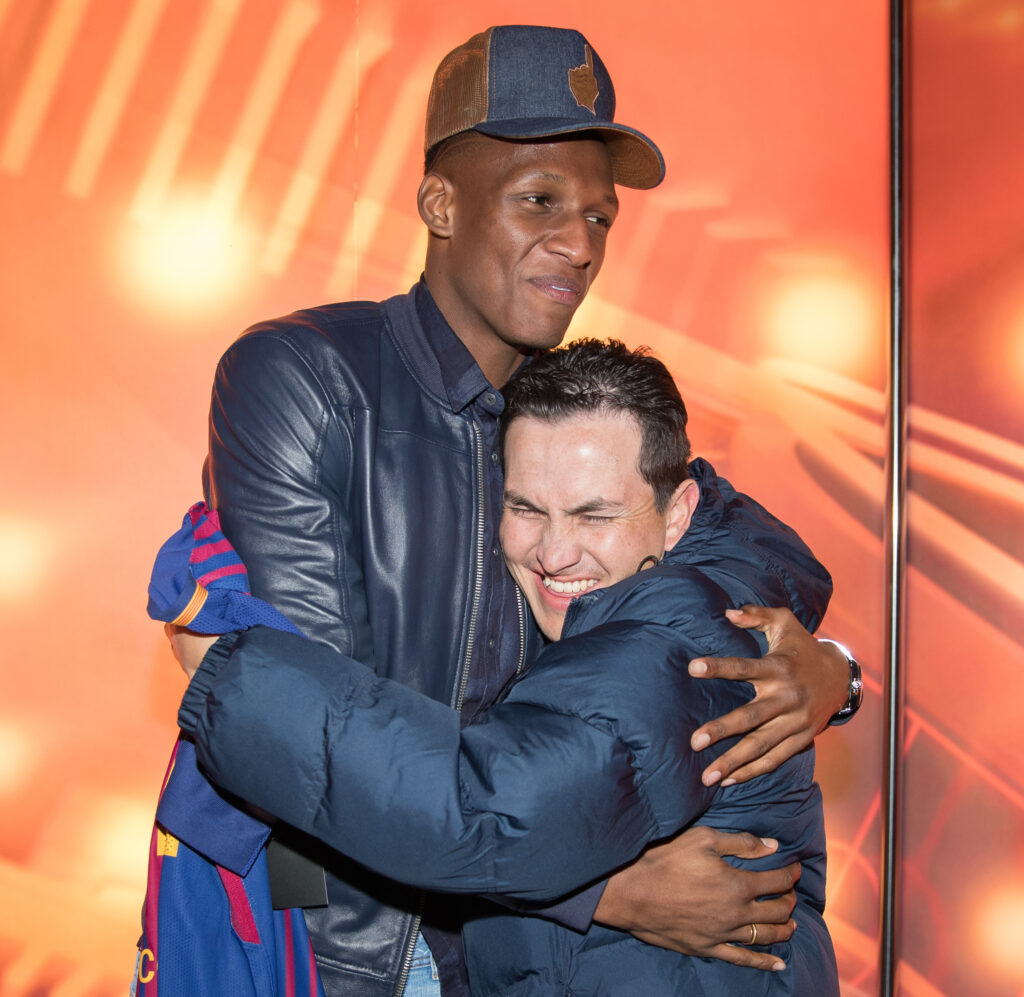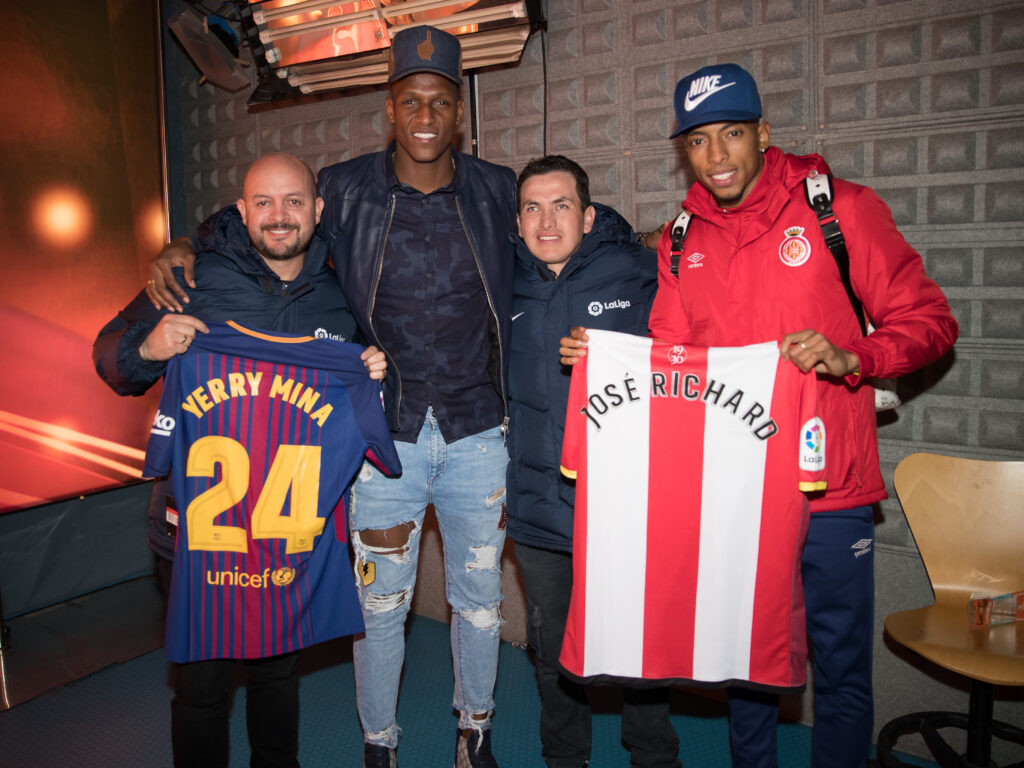 Jose Richard and Cesar are now hoping to attend this summer's World Cup, to support Colombia together and to take their message of unity to the sport's biggest stage. FIFA needs to make this happen.
---
Follow Brooks on Twitter @BrooksDT.
WELL, IT DEPENDS ON WHAT YOU MEAN BY "FREE."
Enter your best email for full access to the site.