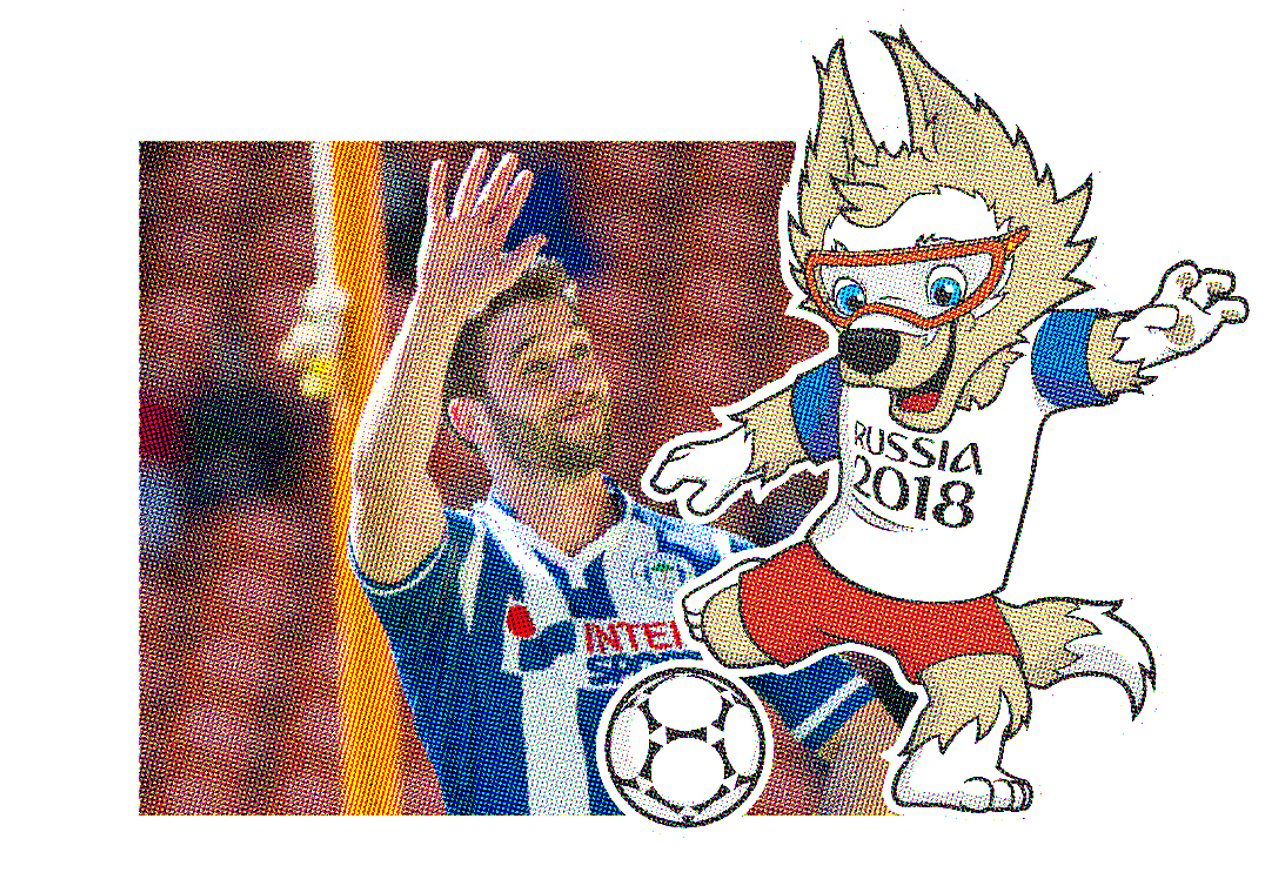 By Luke Barnes and Richard Whiddington
FIFA's corrupt. Russia's full of radioactive hooligans. Germany's probably going to win the damn thing again.
These are thoughts bouncing around your mind onboard a dodgy eastern European airline as it makes its way towards the 2018 World Cup. Another bout of turbulence. The plane sounds a plastic rattle. You grip the armrest. All this for a bloody game.
It's easy to feel cynical about football today, fatalistic even. Take your pick; exorbitant transfer fees, historic clubs mismanaged into oblivion, Qatar 2022. To be a modern football fan is to recognize one's part in an amoral consumption machine, and traveling to a World Cup is to submit to FIFA's sanitized version of the Beautiful Game. Oh, and while you're at it, please drink more Budweiser™.
But that cynicism begins to dissolve in the transfer queue at Minsk airport. Forty-five minutes until the connecting flight to St. Petersburg and a melee of fans is strung along a dingy corridor. Anxiety grows, the solitary immigration officer stands and announces, "I am a woman with one brain and two hands." Laughter spreads as a translation passes down the line. Soon, we are speaking of football, and our collective grasp of the language only strengthens when we arrive.
Peter the Great hoped St. Petersburg would be a global city, and this summer it welcomes the world: Moroccans and Mexicans, Egyptians and Brazilians, Iranians and Peruvians. The Chinese are in town and they didn't even qualify. From passport control to porta-potty lines, it's an all-chanting, drumming, dancing affair. Homemade punditry on every street corner, flags and scarves on a hundred bridges.
But as hypnotic as a World Cup under the St. Petersburg twilight is, it's impossible to ignore the global political uncertainty tingling off-stage. In America, the cruelty of Trump's family separation policy echoes through the airwaves, while in post-Brexit Britain, hate crimes tick upwards and Tommy Robinson's a martyr.
And that's just the U.S. and the U.K. Every day it seems, the specter of nationalism looms larger. Look at Denmark, with its recent labeling of poor immigrant children as "ghetto"—a connotation that should alarm anyone with even the vaguest understanding of European history. Germany has seen the rise of the far-right Alternative for Germany (AfD) party. Poland is in the process of radically undermining its Supreme Court. Italy promises to increase deportations. Autocracy marches on in Viktor Orban's Hungary. The list goes on and on and on.
Nationalism, that cancer of centuries past, is seemingly here to stay.
But watching the World Cup unfold on the streets and screens of St. Petersburg, it seems simplistic to depict nationalism as something to be feared and fought against. This isn't the strain that screams from the front pages of tabloids about the dangers of outsiders, but one that rejects the notion that the only way to support one's own tribe is to hate the other. Sure, there was a pride in one's country, but there was also a mutual respect for the culture of others. Become an Iran fan for 90 minutes, root for the underdog with total strangers, join the endless Rossiya! Rossiya! chants without feeling like an outcast. In Russia, tribalism was a fun, shareable thing.
An example. It's the first Sunday of the World Cup and we are queuing for the fan zone, near the Church of Savior on the Spilled Blood. Brazil vs. Switzerland—somehow, the World Cup only begins once the gold and green take to the field. We remember the greatest moments of Joga Bonito, played out on black and white televisions we never owned.
Twenty minutes before kickoff and the barriers are still up. The fan zone is packed from the Mexico-Germany game and frustration mounts at a minor scheduling delay. But there's no pushing or jeering. No one's looking down at their phones either, escaping into digitized anonymity. Instead, song breaks out.
On the left, a man steps onto a bench, hoists a Moroccan flag and calls out to his fellow countrymen. Then: "We are going to sing a song for you," he tells the crowd before leading an incomprehensible yet infectious chant.
On the right, a throng of Egyptians close into a huddle, as if discussing pre-match tactics, and then respond with a song of their own, this one accompanied by drums.
We, the neutrals, are swept along by sounds from countries and stadiums we might never visit. We jump. We fist pump. We shout-mumble melodies. We go tribal, in a good way. All the while, the OMON riot cops look on, batons dangling, bemused.
But despite the carefree joy overflowing the cobbled streets, it was hard for us to watch these scenes without feeling a twinge of sadness for America.
It wasn't supposed to be this way. The U.S. was blessed with an easy qualifying bracket and a wunderkind in Christian Pulisic. Fox, confident the USMNT would reach Russia, spent $400 million on broadcast rights. But a 2-1 loss to Trinidad last October ensured that for the first time in nearly 30 years the richest kid in the class wouldn't be joining the world's biggest party.
There's little need to mourn this blip in American soccer history—there are plenty of arenas the US dominates as an undisputed heavyweight champion. But after spending a fortnight swept up in the colors and choruses of other nations, one cannot help but feel Americans would benefit from this kind of tribalism. It might just offer some middle ground between noxious USA! USA! USA! jingoism on the right, and the about-face rejection of national pride on the left.
It's easy to scoff at; the idea that greater football involvement might help foster a gentler, more open nationalism in the US. But there are promising signs—and not just among the Brooklyn-based hipsters.
You wouldn't think an MLS team based in NFL-mad Georgia would set a MLS record for tickets purchased in a single year, but that's exactly what Atlanta United achieved in 2017. Atlanta has also converted giant parking lots next to train stations into small football fields, opening up the game to the city's low-income communities. Soccer's extreme popularity among America's growing Hispanic population goes without saying.
What's more, judging by our time in Russia, if anything can help further ease the U.S. into the world's universal appreciation for football it is the internet. The proof? Our friend Max, and his abiding love of Wigan Athletic.
For the uninitiated, Wigan Athletic is a team two leagues below the bright lights and big names of the Premier League. Showing up to the World Cup in a Wigan shirt would be like attending the Super Bowl wearing a Bowling Green University jersey (Go Falcons!). But that is exactly what Max did, sporting the shirt of striker Will Grigg, who has never played in any top side and whose country (Northern Ireland) hasn't qualified for a World Cup since Mexico in 1986.
Pre-internet, Grigg would be beyond obscure, nothing more than a third-tier forward with a handful of international caps. Instead, fans have seen the meme-tinged YouTube videos, heard his name sung in bold Manchester accents and his name shows up here, two thousand-odd miles away. Time and time again during our days in St. Petersburg the chant "Will Grigg's On Fire" erupted around us.
Surreal, but what better reflection of the World Cup's inclusivity than Russians, Moroccans, and Costa Ricans coming together to sing the name of a Northern Irishman? Standing there and watching the scenes unfold, FIFA-approved Budweiser™ in hand, you can't help but think that, given a chance, we might just all get along.
Contributors
Matthew Celentano
TAGS
WELL, IT DEPENDS ON WHAT YOU MEAN BY "FREE."
Enter your best email for full access to the site.