Red Star Belgrade has fought tooth and nail to re-establish themselves in Europe. A match-fixing scandal is threatening to undo their efforts.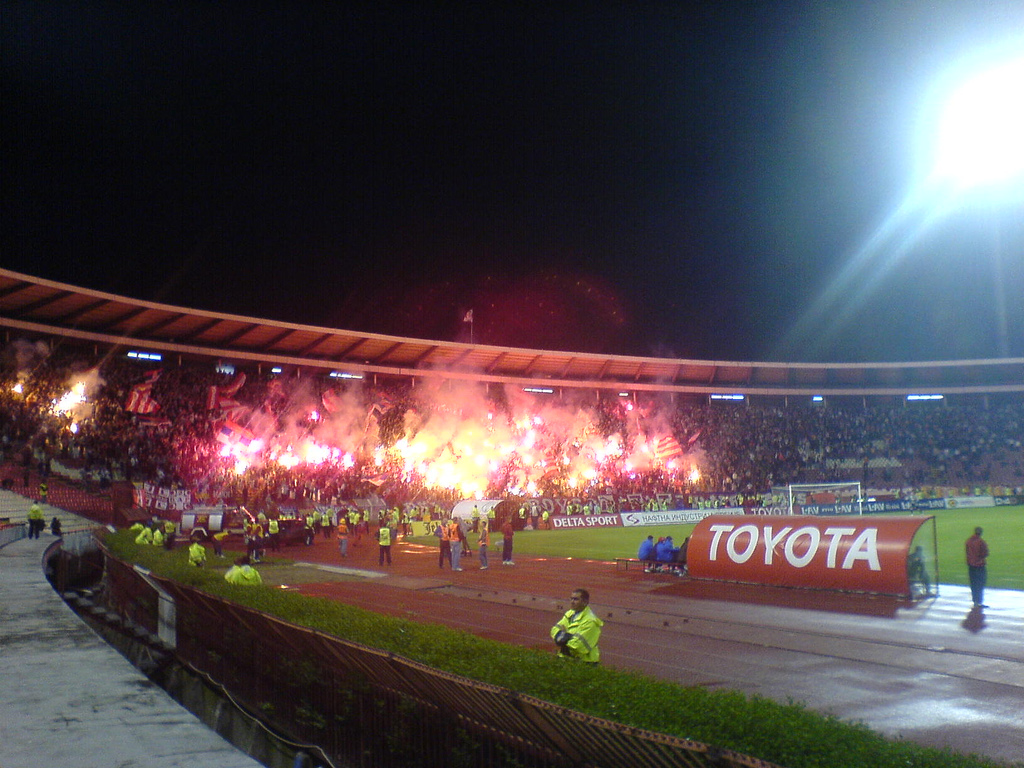 On August 29, Red Star came from behind to hold Red Bull Salzburg to a 2-2 draw, and the away goals rule sent the Serbian club to their first-ever appearance in the Champions League group stage.
Long gone was the 1991 side that lifted the European Cup; in its place was a hodgepodge of players, talented, sure, but pieced together with transfer fees rarely reaching the million-euro mark. This was a team assembled to play in the Europa League once more, perhaps to beat the Arsenals and the CSKA Moscows this time around. Yet a team built around a playmaker who'd had his playing career stalled by cancer, a winger who'd barely made it on the pitch for Olympiacos, and an attacker who left for Olympique de Marseille the day after his side secured Champions League play, somehow found themselves in the final 32.
Crvena Zvezda had been playing since July 11—when the rest of the world was watching Croatia beat England in the World Cup—and after four qualifying rounds, they were surely tired. But the very next day, they watched as, amidst much pomp and circumstance, a small ball was held aloft, sealing their fate. The plucky little club few knew a damned thing about was drawn into a group with Napoli, PSG, and Liverpool.
It was expected the draw would terrify Zvezda fans, but it seemed to have the opposite effect. Most were utterly thrilled. The prior season had seen their first significant appearance in European competition in over a decade; now some of the biggest names in the world would be coming to Rajko Mitić Stadium. The Marakana, as it's usually called, is often filled with fire and fury, particularly during derbies against Partizan. There would be none of that infamous fire for the first group stage match—it's rare Red Star fans fear UEFA, but their spot in the Champions League was too precious to lose—so they'd need to find another way to make their presence felt. Supporters greeted Napoli with a thunderous roar that barely dulled over the next 90 minutes. From the north stand, where the most zealous supporters wave flags throughout matches, across to the typically tamer south, where the old-fashioned scoreboard typically overlooks empty stands, not one seat appeared empty, and not one person was sitting. They were still standing at the end, to applaud their team's goalless draw.
Then it was off to Paris. Down 5-0, pubs across Belgrade still exploded in joy when Marko Marin sent in Zvezda's first Champions League goal. On paper, the 6-1 looked like a drubbing. Watching the match, it looked much the same. Red Star were simply outclassed by stars making millions per year for one of the richest clubs in the world.
So when L'Equipe published a story a week later—quickly picked up by most major English-language outlets—reporting a Red Star official had placed a bet of almost €5 million that his club would lose by five goals, it was nearly impossible to believe. Not because Zvezda are above match-fixing, but because to those watching, it looked like nothing but a game in which a whale mindlessly swallows a minnow.
There's little to suggest Red Star players were involved in fixing this match…but what if they were? They'd never be forgiven, not by the faithful supporters. But while it might not be understandable, it would be conceivable.
Marin, signed from Olympiacos on the last day of the summer transfer window, commands the side's highest salary at around €700,000. In total, the club's operating budget is around €20 million, with €12 million going to the players. The Zvezda defenders—really, the only ones with the ability to have thrown this match—likely make around €200,000. Meanwhile, Neymar makes around €78 million. He's hawking Nike shoes and constantly making us want a set of Beats By Dre headphones. Cristiano Ronaldo is making his own fragrance. Lionel Messi will be honored with his own freakin' theme park. The journeymen of Red Star experience nothing even approaching this; a combined lack of star power and staying power means their faces rarely pop up anywhere.
Given soccer's celebrity culture—the tours of players' cribs, the spotlight on their rides, the focus on the women hanging off star-studded arms—those left behind are likely to want more, likely even to feel they deserve more. Playing for Red Star won't give you the money to pay your parking tickets, much less buy your €100,000 fish tank to place next to your monogrammed pool table.
Yet Serbia's average monthly salary is €422, or around €5,000 per year. That's likely a little higher in Belgrade, but in the city one can get a luxury apartment for €500 per month; houses in the most prestigious neighborhoods go for about €1 million. Cocktails and clubs are cheap, fine dining is about half the price of what you'll find elsewhere in Europe, and "designer" wares are easy enough to find by looking under the table. In other words, Zvezda players won't win international acclaim, but they can easily live the high life.
Oh, and if one suddenly starts splashing the cash like he just won…well, a bet, it's going to be noticed. Even if it's just in the cool ten thousand range, those extra euros will be conspicuous. Considering many of these players began their careers with Red Star, and others have crowed about how they're returning to their boyhood club, it seems that—regardless of fame and fortune the culture is telling them to revere—fixing a match would be far too much hassle. Again, conceivable—but really, quite a bit of work.
And so a new story emerged: Red Star had done nothing at all. Their biggest rivals, Partizan, had made it all up, and they were the ones who tipped off UEFA. That would explain the sloppiness of the supposed "fixing," many argued—after all, who would be foolish enough to try to bet so much money on a Champions League match, unless they wanted to get caught?
There's no truth to the story (although Partizan had to officially deny it), but the rumors will persist. Serb supporters are well-acquainted with corruption; the party holding national power will bestow favours on their chosen club. The two clubs are both owned by the Republic of Serbia, and their status as the club of the police (Red Star) and the army (Partizan) now manifests in their close relationship with politicians, who are willing to bend the rules in exchange for a little kickback. After the breakup with Yugoslavia, Partizan were preferred; the legacy is evident in their still-thriving youth setup. Now, thanks to President Aleksandar Vučić's rumored patronage, Red Star are winning. Combine jealousy with a little endemic corruption, and it's no wonder people will believe Partizan is behind all this.
If it's not Partizan behind it, it could be anyone. In a country where myth continues to exert a compelling hold over many, it's not uncommon to come across people who believe that those outside Serbia are definitively against it. This can extend to soccer as well—the referee in the 1989–90 UEFA Cup, for example, was obviously cheating when he allowed Köln's three goals to stand, sending them through to the quarterfinal. Serbia aren't wanted in Europe, which is why financial fair play rules were invoked to keep them out of European competition in 2014. Or it's simply that Red Star have been living under a cloud of bad luck ever since they beat Bayern Munich to make it to the 1991 European Cup final. The own goal scored by Klaus Augenthaler had cast a 27 year spell that had finally been lifted; it is no surprise, then, that bad luck has found Zvezda once more.
In the end, though, it may not even matter if the story is true. A statement issued by Red Star reads, "FC Red Star with the highest anger and abomination rejects the story. The article can harm and bring big damage to our club's reputation and that is why we insist that Uefa and investigators in Serbia and in France investigate the whole story and get the truth." In a country still trying to reconstruct its international reputation, even a hint of scandal will prompt a heated defense. Zvezda themselves will do whatever they can to ensure their name is cleared.
A suspension from Europe means the loss of millions; Red Star have already earned nearly €30 million during their run. That translates to fewer strong players, which inevitably means a lesser chance at domestic silverware. Powerful allies could distance themselves. And, as impossible as it is to believe now, in a country where one is practically born red-and-white or black-and-white, maybe even a loss of supporters, which may hurt most of all.
For a club that has finally clawed its way back to the world's biggest stage, the damage could be devastating.
---
Kirsten Schlewitz is writing a book on the interplay between Crvena Zvezda and Serbian culture. She is the co-founder and editor in chief of Unusual Efforts and a contributor to Far From Vesuvius. She can be found on Twitter at @kdschlewitz.
Contributors
Kirsten Schlewitz
WELL, IT DEPENDS ON WHAT YOU MEAN BY "FREE."
Enter your best email for full access to the site.