Why German fans are taking a stand against the DFB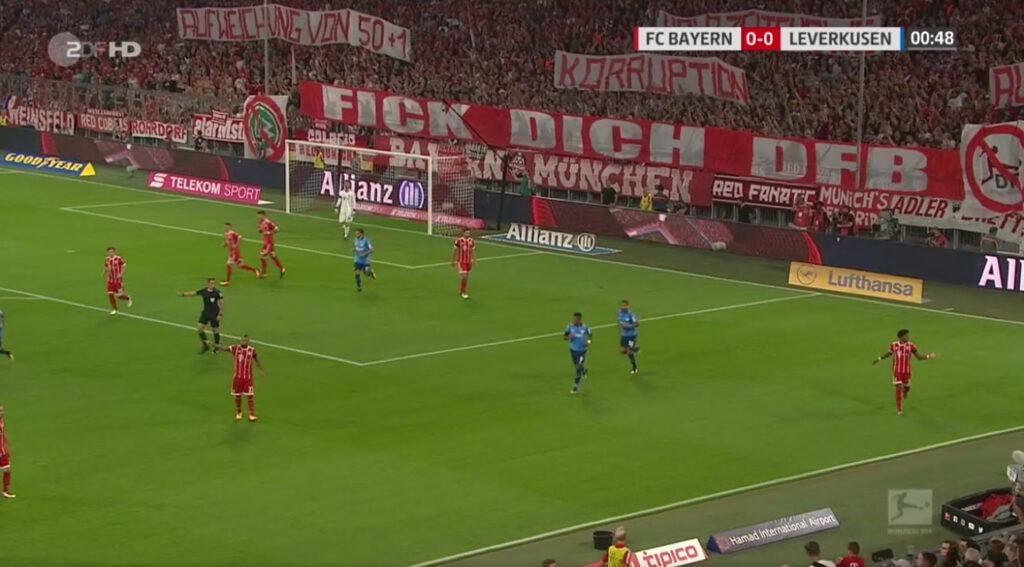 Less than a minute into the new 2017-18 season, your television screen suddenly flashed "rated mature" content in the form of a big, bold, and bad banner hanging from the Bayern supporter section, reading "F**k dich DFB." In English it declares: "Fuck the DFB."
For the unaware, the DFB is the governing body of all German football, like the FA in England, but not be confused with Germany's DFL, which merely governs domestic league play. Germany's football cup—the DFB Pokal—is named after this grandaddy organization. So, needless to say, eyebrows were arched when this banner was visible on Fox Sports 1 in the US, as well as throughout the weekend at other televised Bundesliga matches, accompanied by "Scheiß DFB" (i.e. something like "Shit on DFB") chants echoing in call-and-response during the match's first few minutes.
The banner protest was a coordinated action by Bundesliga ultras to show their anger with a number of incidents related to how German football is being governed by the DFB. Like any mass protest, the causes in this case are varied, yet somewhat related.
Of course, the Bundesliga is globally praised for its "fan friendly" culture, thanks to cheap match tickets, many standing terraces, cheap concessions, cheap transit, impressive away support, and, most importantly, the atmospherics provided by ultras with their large tifos, singing, chanting, and coordinated movement. In fact, these atmospherics are a major reason why the league has been my personal favorite.
However, trouble has been brewing in Fußball paradise for a couple years now, as many supporters believe that the DFB has left them behind in a wake of modernizing actions that are slowly killing off Germany's famed supporter culture. For example, the Bayern protesters listed the following grievances: the fudging of Germany's 50+1 Rule, international marketing, general corruption, halftime shows, and unfair rulings. Other clubs listed these grievances or additional ones like the DFB's collective punishments of clubs for fan misbehavior, match scheduling hindering away supporters, profit greed, or just commercialization in general.
What these grievances have in common is a concern that the German Bundesliga is developing according to the hyper-professionalization of, say, the English Premier League, in which football becomes increasingly globalized, commodified, and monetized. Hence, grievances as diverse as halftime shows (Helene Fischer's show at the 2017 Pokal was legendarily unpopular), international marketing (e.g. to China), or collective punishments (such as banning an entire group of a club's ultras when only a minority misbehave) are connected in the minds of these ultras, who fear their sport slipping away in a haze of neoliberal sanitized entertainment and globalized profits.
Of course, these grievances are not wholly pure. Indeed, lurking behind them sometimes can be found far-right extremism in the form of xenophobia, or violence against "outsiders," as in the case of some Borussia Dortmund fans attacking RB Leipzig fans last spring. Moreover, don't expect these protests simply to vanish. Ultras are reporting that their motto this year is "War on the DFB." It will be a long year of protests and possible violence in the Bundesliga.
For now, know that football's most celebrated example of fan friendliness is under fire. Sadly, what comes next for the Bundesliga will be compromised in some ways by all parties involved in this war for meaning.
---
Follow Travis on Twitter @tptimmons. 
Contributors
Travis Timmons
TAGS
WELL, IT DEPENDS ON WHAT YOU MEAN BY "FREE."
Enter your best email for full access to the site.