What Hope Solo's new memoir says about the growth of the women's game.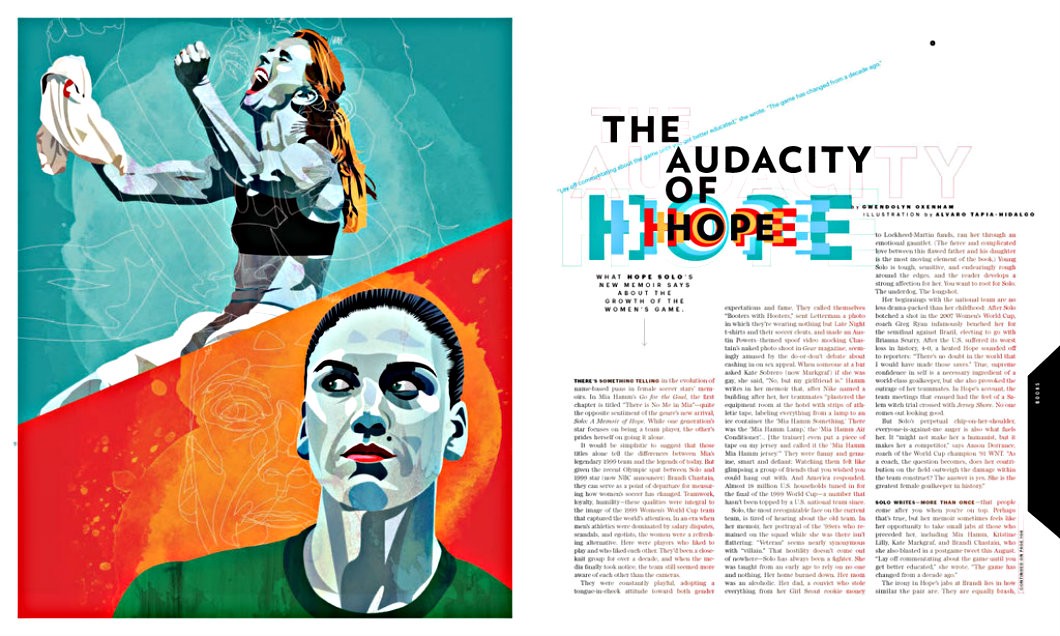 By Gwendolyn Oxenham
[T]HERE'S SOMETHING TELLING IN THE EVOLUTION of name-based puns in female soccer stars' memoirs. In Mia Hamm's Go for the Goal, the first chapter is titled "There is No Me in Mia" — quite the opposite sentiment of the genre's new arrival, Solo: A Memoir of Hope. While one generation's star focuses on being a team player, the other's prides herself on going it alone. It would be simplistic to suggest that those titles alone tell the differences between Mia's legendary 1999 team and the legends of today. But given the recent Olympic spat between Solo and 1999 star (now NBC announcer) Brandi Chastain, they can serve as a point of departure for measuring how women's soccer has changed. Teamwork, loyalty, humility — these qualities were integral to the image of the 1999 Women's World Cup team that captured the world's attention. In an era when men's athletics were dominated by salary disputes, scandals, and egotists, the women were a refreshing alternative.
Here were players who liked to play and who liked each other. They'd been a close-knit group for over a decade, and when the media finally took notice, the team still seemed more aware of each other than the cameras. They were constantly playful, adopting a tongue-in-cheek attitude toward both gender expectations and fame. They called themselves "Booters with Hooters," sent Letterman a photo in which they're wearing nothing but Late Night t-shirts and their soccer cleats, and made an Austin Powers–themed spoof video mocking Chastain's naked photo shoot in Gear magazine, seemingly amused by the do-or-don't debate about cashing in on sex appeal. When someone at a bar asked Kate Sobrero (now Markgraf) if she was gay, she said, "No, but my girlfriend is." Hamm writes in her memoir that, after Nike named a building after her, her teammates "plastered the equipment room at the hotel with strips of athletic tape, labeling everything from a lamp to an ice container the 'Mia Hamm Something.' There was the 'Mia Hamm Lamp,' the 'Mia Hamm Air Conditioner'… [the trainer] even put a piece of tape on my jersey and called it the 'Mia Hamm Mia Hamm jersey.'" They were funny and genuine, smart and defiant: Watching them felt like glimpsing a group of friends that you wished you could hang out with. And America responded. Almost 18 million U.S. households tuned in for the final of the 1999 World Cup — a number that hasn't been topped by a U.S. national team since.
"The question becomes, does her contribution on the field outweigh the damage within the team construct?" says Dorrance. "The answer is yes. She is the greatest female goalkeeper in history."
Solo, the most recognizable face on the current team, is tired of hearing about the old team. In her memoir, her portrayal of the '99ers who remained on the squad while she was there isn't flattering: "Veteran" seems nearly synonymous with "villain." That hostility doesn't come out of nowhere — Solo has always been a fighter. She was taught from an early age to rely on no one and nothing. Her home burned down. Her mom was an alcoholic. Her dad, a convict who stole everything from her Girl Scout cookie money to Lockheed-Martin funds, ran her through an emotional gauntlet. (The fierce and complicated love between this flawed father and his daughter is the most moving element of the book.) Young Solo is tough, sensitive, and endearingly rough around the edges, and the reader develops a strong affection for her. You want to root for Solo. The underdog. The longshot. Her beginnings with the national team are no less drama-packed than her childhood: After Solo botched a shot in the 2007 Women's World Cup, coach Greg Ryan infamously benched her for the semifinal against Brazil, electing to go with Brianna Scurry. After the U.S. suffered its worst loss in history, 4–0, a heated Hope sounded off to reporters: "There's no doubt in the world that I would have made those saves." True, supreme confidence in self is a necessary ingredient of a world-class goalkeeper, but she also provoked the outrage of her teammates. In Hope's account, the team meetings that ensued had the feel of a Salem witch trial crossed with Jersey Shore. No one comes out looking good. But Solo's perpetual chip-on-her-shoulder, everyone-is-against-me anger is also what fuels her. It "might not make her a humanist, but it makes her a competitor," says Anson Dorrance, coach of the World Cup champion '91 WNT. "As a coach, the question becomes, does her contribution on the field outweigh the damage within the team construct? The answer is yes. She is the greatest female goalkeeper in history."
[S]OLO WRITES — MORE THAN ONCE — that people come after you when you're on top. Perhaps that's true, but her memoir sometimes feels like her opportunity to take small jabs at those who preceded her, including Mia Hamm, Kristine Lilly, Kate Markgraf, and Brandi Chastain, who she also blasted in a postgame tweet this August. "Lay off commentating about the game until you get better educated," she wrote. "The game has changed from a decade ago." The irony in Hope's jabs at Brandi lies in how similar the pair are. They are equally brash, equally non-PC. Brandi was Hope before Hope was Hope. Nicknamed "Hollywood" by her teammates because of her love of the spotlight, Brandi was the eyebrow-raiser, the wave-maker, the one who took off her clothes before it was standard practice for female soccer players to take their clothes off. In the final chapter of her book, Solo elaborates on her gripe against Chastain, insulting another member of the old guard in the process: "Everything Brandi says seems to have a direct correlation to her playing days… 'When I played with Carla Overbeck…' she will say again and again. I'm not sure that many of our new fans have any idea who Carla Over- beck was. It seems to be a continuation of that long- running theme: The '99 team [being] unwilling to recognize that times have changed."
In order for the world to pay attention in 1999, a female athlete had to be a role model loved by everyone. In 2012, she doesn't.
I am one fan who does know who Carla Overbeck is: She coached me when I was a member of the women's varsity team at Duke. Every interaction we had with her confirmed what we'd suspected when we watched her on TV: With her deadpan sense of humor and unthinking confidence, she was the epitome of cool. On a handful of occasions, I got to play against her — she was visibly pregnant with her second child at the time, but she was still on a different plane of talent than any defender I've ever encountered. Solo's comment that the current batch is "much more athletically skilled" is an audacious one. When I ask Dorrance which U.S. team he thinks is better, he starts scribbling down names at each position, comparing the team player-to-player. It's a tough call — as debatable as asking whether Kobe, Durant, and Lebron could beat the Dream Team. His answer: The '99 team was better defensively, while the current team is more of a threat offensively. Solo alleges that the '99ers are "clinging to their glory days" and unwilling to accept the arrival of the new team, but a quick look at their activities suggests that what the old team is actually doing is using their past successes to impact the future. Julie Foudy served as president of the Women's Sports Foundation and currently runs a leadership academy. The Mia Hamm Foundation raises funds and awareness for bone marrow cancer. Carla Overbeck, Joy Fawcett, Tiffeny Milbrett, Brianna Scurry, Cindy Parlow, and Kristine Lilly are all coaching the new generation of women's players and actively rooting for the current one. As Lilly wrote on her blog, "When the U.S. women won the Gold medal versus Brazil, I wept too."
[T]HERE IS PLENTY TO LOVE about our current women's team. We've got players who don't just serve up cliché-ridden sound bites: Commenting on the Japan-U.S. rematch in the Olympic gold-medal game, Wambach said on NBCSN, "This game means I won't be upset for the rest of my life." We've got players who are downright funny: Anyone would want to get a beer with Megan Rapinoe, the platinum-blonde, recently-out midfielder known for creative goal-scoring celebrations. Sydney Leroux, baby of the team, is similarly unconstrained — her Twitter profile reads, "I kick balls for a living." Without a doubt, they're an alluring bunch. But perhaps the biggest difference between then and now is that now, the allure is beside the point. In order for the world to pay attention in 1999, a female athlete had to be a role model loved by everyone. In 2012, she doesn't. And that may be a weird form of social progress. At the 2011 World Cup and 2012 Summer Olympics, the looks and personalities and human interest stories were eclipsed by the excitement on the field. Grantland writer Brian Phillips offers the following description of the current team: "If you like your sports wild, a little rude, and punctuated by massive heart attacks, the USWNT is as pure a drug as you are likely to find on this earth." And this is more true of Solo than any other player. Shaka Hislop, Trinidadian goalkeeper, once said: "Goalkeepers are remembered for their mistakes." In years to come, some people will remember Solo for the apparent mistakes she made off the field — for running her mouth and for disrespecting the women who came before. Others will remember these things not as mistakes but as the necessary roughness of a brave, brazen leader. For now, it doesn't matter. On the field, she is superb — and enthralling to watch. And we may be at a point where that is enough.

WELL, IT DEPENDS ON WHAT YOU MEAN BY "FREE."
Enter your best email for full access to the site.