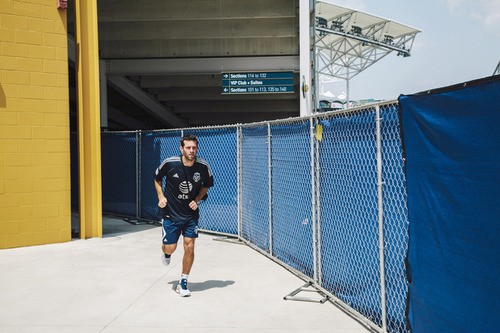 Photo Credit: Andrew Hetherington
With Ben Olsen's D.C. United facing a two-goal deficit and potential elimination this weekend against Houston, we thought it a good time to revisit Graham Parker's Issue One profile of Olsen and the United coaching staff ("How to Build a Team in Three Days") as they prepared to face Chelsea in the MLS All-Star game.
[I]t's early on a humid Monday morning at the Philadelphia Eagles' Novacare training center, and a security man in an Eagles cap is slowly putting out crush barriers along the edge of a blank field. The assembled crowd, which at this moment consists of myself, photographer Andrew Hetherington, and his assistant Ber Murphy, seems in little danger of surging, but we duly admire his optimism and step back six inches when he asks us. A few yards ahead, beyond the barrier, there's a long wooden bench with some cones stacked beside it and grass stretching to a quiet line of trees.
It's a modest introduction to MLS All-Star week, though before long there'll be so much happening that it will be easy to forget that, on Wednesday, there's a game of soccer taking place. There are fences to build, security teams to brief, sponsors to be satisfied, and banners to be hung. There are pressers, personal appearances, parties, sideshows, transport and hospitality logistics. There are tifo displays to organize, multiple montages to be cut and set to music, firework barges to prime, state-of-the-soccer-nation editorials to be written, and catering tents to erect. There are community appearances to make, local micro-crises to manage, media accreditations to be allocated, and complimentary tickets to be distributed. But perhaps the most important task of the week, and perhaps the one that's most often downplayed if not overlooked, is the very task I'm here this morning to observe: preparing for the match itself. This year, the match is against Chelsea, and the task falls to D.C. United coach Ben Olsen, with support from the entire United coaching staff and his assistant for the day, Philadelphia's John Hackworth. I've arrived on the pitch this morning with the goal of trailing Olsen and Hackworth and the team itself to answer one simple, if daunting, question: How do you take a group of individuals who have rarely, if ever, played together and turn it into a team capable of facing the European champions in a little under three days?
At first, the answer seems obvious: You don't. Or, at least, that's how things appear on this first lethargic morning of the week. Training fields, unlike the arenas they prepare people for, are not built for grand entrances or vantage points — if anything they're there to strip the pretensions of myth-making down to constituent parts. So the first impression of the players who will carry MLS hopes is of bleary groups of ones and twos ambling out onto the field, looking almost indistinguishable from any other group of young men headed to the park for a pickup game. I do notice the distinct figure of Real Salt Lake's Kyle Beckerman, his trademark dreads piled high on his head as usual, a style that somehow makes his already sharp features look exaggeratedly focused. Osvaldo Alonso is out just behind him, deceptively slight and contained given the box-to-box aggressor he is for Seattle. There's an occasional smile, raised eyebrow, or fist bump as new arrivals join the scene, but mostly it's a low-key, almost shy way for the squad to coalesce — like a particularly sleepy flash mob.
As the players arrive, so does the press. Like the MLS Cup, the All-Star Game is one of those "gathering of the tribes" moments, when not only players from each team but members of the still-delicate media ecology surrounding MLS assemble in full view. Among the early arrivals I see the ubiquitous Ives Galarcep, of Soccer by Ives fame, and Brian Straus from The Sporting News. I recognize some Philadelphia faces, too — several of them were in New York for an MLS fixture the previous Saturday, and many of them are now clustered around Hackworth. Philadelphia's Freddy Adu had missed the New York game for what's rumored to be a disciplinary matter, and with Dallas' young tyro Brek Shea out of favor at his club, too, the Twitter gossipmongers are wondering if a swap might be in the offing. Hackworth, in his typical laconic style, laughs the rumors off, saying he'd been watching a movie with his wife the night before when his phone began "blowing up" with texts, to the point he'd had to explain to her that it was all "just some crap."
For better or worse, a win or heavy defeat will be given a meaning: it will be seen as a measure, however artificial, of America's progress as a soccer nation.
After some perfunctory organizing, the players amble onto the field and training starts. The whole of the first day is a self-conscious echo of echoes of other rituals — like a dress rehearsal for a show trial. The All-Star Game follows a full MLS schedule the preceding weekend, and the group is full of tired bodies. Just the night before, San Jose's Morrow, Beitashour, Wondolowski, and Corrales had been in action against DeMerit's Vancouver Whitecaps, with the Quakes stumbling to a rare defeat in a hard-fought game. All these players have been on red-eye flights to get to Philadelphia from three time zones away, and while their situations are the most ex- treme, they are not uncommon among the squad. So the first training session is not much more than a basic warm-up and quick spot-check of physical conditions. Tactics can wait. As Olsen says later, today we're here to "get them moving — get the flights out of them."
The group soon breaks up into two five-on-twos, where the mingling of players from multiple teams produces intriguing cameos to suggest other stories, other fields, and questions of how players with history will gel on this team. Thierry Henry and Dwayne De Rosario, whose creative redundancy saw the latter shunted to D.C. United after a brief sojourn in New York last year, are teamed up in one exercise. Henry, as he often does when near a camera, seems to be paddling hard beneath the surface to display a conspicuous bonhomie, cracking himself up over every misplaced pass. De Rosario, meanwhile, holds himself in that familiar, slightly crouched gait, stalking the ball fixedly, seemingly unaware that he is cast as Henry's de facto straight man. And then there's Olsen himself, shuttling between the pair of them, tussling with Alonso, harrying a wary-looking Eddie Johnson. He looks like he's having a blast as he scraps for every ball with the intensity he brought to his playing career with D.C. United. He keeps up a cheery but urgent running commentary as the ball zips around him: "C'mon! There you go! No way — that's two touches. You serious? Okay, okay, that's how it is. I see it. I see it. Tometometome. Switch it up!"
Assistant John Hackworth is more relaxed; for a coach who is off to a strong start in MLS, with a penchant for attacking formations and winning substitution gambles in tight games, he's very low-key in person and seemingly at ease among the players. Perhaps that's because his involvement in the national team organization means he's known a lot of players since they were boys. Hackworth first met Landon Donovan when the player was 14. (When I later ask Hackworth if he ever reminds Donovan of that fact, he smiles ruefully: "He reminds me.")
As the practice winds down, Hackworth drifts the few steps to the crash barrier to meet the designated media scrum, and I ask my first question about match preparation: "How are you and Ben Olsen dividing up the responsibilities of preparing the team for the big match?"
"Well, today Ben took one five-on-two and I took the other… and that was about it," he laughs, before strolling off to the locker room.
So much for that. A moment later, the Eagles security guy who'd put up the barriers ambles over. "This is soccer right? The All-Stars? Who they playing?"
Only Chelsea.
[separator type="space"]
So, How Do you Build a Team in Three Days?
It's a question that's treated with mild bemusement by the All-Star coaches I speak to. Though most are too polite to dismiss the question entirely, they are definitely sure to emphasize that this is a players' game and that their job as coaches is to keep things simple and manage game minutes well for players in the middle of heavy domestic seasons. But there's more to this bemusement than just putting the players first: Such is the curious ambivalence surrounding an annual game that tends to be freighted with cultural significance that none of the principals can quite bring themselves to acknowledge. The All-Star Game might be a "meaningless" friendly — and every public statement made by the MLS players and coaches about the game has a studied tenor that hints at this view — but it's also undeniably one of the season's marquee events. So behind each of those muted statements is the knowledge that, for better or worse, a win or a heavy defeat in said friendly will be given a meaning: It will be seen as a measure, however artificial, of America's progress as a soccer nation.
The All-Star Game, in its current form, is one of those phenomena partly left over from what L.A. coach Bruce Arena calls "the Wild West years" of MLS. In other words, it's a template borrowed from other American sports to give a supposedly alien game a recognizably American aspect (or so the reasoning went). While other MLS innovations of that era, such as the shootout, have been eroded by the globalization of soccer and North America's gradual immersion into the culture of the world game, the All- Star Game has remained as a vestigial reminder of the early days of the league. It has changed form a few times, though — from early East-versus- West intra-league matchups to, since 2005, an all-MLS side playing (usually) Premiership opposition. In this latter-day version, Chelsea have been the opponents once before, in 2006, when a Dwayne De Rosario goal gave the All-Stars a famous victory.
In the last few years the stakes appear to have been quietly raised for the game: Chelsea arrives as European champions, and they follow on the heels of two consecutive appearances by Manchester United. United's victories were big ones, though as Thierry Henry will point out at the press conference for the forthcoming match, the 0–4 to United scoreline didn't tell the full story of the second clash. Nonetheless, the last couple of All-Star Games, fairly or not, were treated in the media as a disappointing referendum on the standard of MLS play. The nagging knowledge of those kinds of sweeping verdicts affects all conversations about the game this week, whether with coaches, players, or fellow writers — and all of them filtered through a very particular American sensibility. On the one hand, absolutely nobody on the All-Star side wants to directly say that the game matters: There's enough top-quality European soccer now freely available in the U.S. that nobody associated with the U.S. game wants to appear so provincial as to attach undue significance to a pre-season friendly against visitors from one of the capitals of the global game. On the other hand, there's a particular irony in that the British press, who rarely mention the game in this part of North America except to make condescending swipes at it (often based on impressions sealed and unconsidered since 1994), actually do give a backhanded significance to these games. An English victory somehow asserts the natural order of things.
And so, while no self-respecting American soccer fan who also follows the Premiership is particularly interested in disputing the current order, there's still a definite sense that although a win won't change any minds, a loss might harden them. Or, as MLS Commissioner Don Garber will tell philly.com this week: "While our guys are not together for very long, they're playing to win… this is a real game. There's a lot on the line. Our pride's on the line, a national platform for the sport is on the line."
[separator type="space"]
Day 2
The second day's training takes place at Philadelphia's PPL Park, where the game will be held. The photo team and I arrive early, hoping for a few minutes alone with the coaches, and of course with Olsen in particular. Even on the second day, it's a little strange to see Olsen in anything other than D.C. United gear — he's the personification of the one-club man. He joined D.C. at the end of 1997 as a Project 40 player (the precursor to today's Generation Adidas system for incubating talent) and immediately slotted into one of the first great MLS sides, winning the 1998 Rookie of the Year Award while the team won the CONCACAF Champions Cup and the Inter-American Cup. In his second season, D.C. won the Supporters Shield and MLS Cup. But then the injuries started. Having just recovered from injury, in late 2000 he fractured an ankle while on loan to Nottingham Forest. Olsen would go on to an impressive club career, including a career year in 2007 and two All-Star appearances, and a very solid international career, appearing in the 2006 World Cup and scoring six goals in 35 appearances for the U.S. But he also continually battled injury until his retirement in October 2009.
His courage and tenacity in fighting back to play endeared him to D.C. fans and made him a club legend, but there remains a sense of what might have been for the player once seen as the future first-choice right midfielder for the national team. It's a set of circumstances that might lead a lesser man to bitterness, but Olsen is more restless than regretful, and the limits to his playing career have become D.C.'s gain, as their young coach strives to make his team a force again. He's doing well — hence the All-Star nod. The team is playing smart, fluid soccer, and at time of writing is pushing hard for a playoff spot.
When we find time to speak, Olsen is ushered over to my spot on the sideline. Presented with the central question of how to beat Chelsea in three days, he allows himself a brief laugh and a sarcastic "You know, this is my first time doing this," but otherwise he answers questions directly and clearly, with that athlete's manner of trying to set a new personal best for getting to the heart of the matter. We begin by talking a little about what becomes a popular refrain over the next couple of days: 4–4–2.
I ask Olsen if the first thing he did when he looked at the fan-selected list was think, who's going to win the ball?
Even two or three years ago, the formation was still the default in many leagues around the world, and MLS in particular. With the wide range of abilities within MLS squads and the need to plug holes with young, budget-friendly players, there's an advantage to well-defined roles and a formation that has been the cultural norm for a couple of generations. But fashions change: The Spanish midfield has altered expectations about attacking movement, and its antithesis, which some would argue is typified by the All-Stars' opponents, Chelsea, has changed the style of counter-attacking play. Chelsea often employs a shifting 4–2–3–1, capable of sitting deep in a latter day catenaccio or breaking at speed as the tucked-in forward midfielders suddenly spread the play on the counter. It's a system that can overrun the midfield of a lesser side's 4–4–2, while giving equal possibilities for the fullbacks to advance — the fullback being one of the few players on the field in the fast-paced modern game to potentially have time on the ball to make decisions. Even against a stronger side playing the more traditional system, Chelsea's method can be difficult to break down. As long as the fullbacks stay disciplined and aren't drawn out of position out wide, there's little space through the middle, as Barcelona discovered in last season's Champions League semifinal. To beat it, you need smart players who can think three moves ahead as they drop into deep pockets to draw opponents out; you need pace and delivery from around the outside; and, of course, you need a bit of luck.
Variations of the 4–3–3, 4–2–3–1, 4–3–2–1, and so on have been springing up in this year's MLS, but these systems require development over time, as well as nuanced movement and decision-making that, if misjudged, can open up disastrous spaces. So I ask Olsen if, given three days to assemble a team, be it made up of kids or All-Stars, whether 4–4–2 is still a kind of soccer player's Esperanto — a common language, or at least a first position.
"To me, the simplest formation is the best one to put a group in, that you have just come together with, trying to get success. So, yeah, we'll do that," he says. "But I also have to look at the players — that's part of what I have to evaluate today. Certain players fit different formations, and we have to evaluate who's available, type of minutes and things like that. I don't want to complicate this thing for these guys."
He has to juggle other considerations, as well. A "starting XI" selected by the fans, as the All-Star team is, tends to skew towards eye-catching attacking midfielders rather than those doing the less glamorous jobs, such as the one Essien does for the visitors. I ask Olsen if the first thing he did when he looked at the fan-selected list was think, Who's going to win the ball?
"Yeah," he laughs. "But believe me, I've got a guy that can win the ball, and I'll put him in there to start. You'll see that there are more defenders among the guys that I picked than offensive guys, so it's important to make sure that we've got a couple of guys that can win a ball. It's not going to be the eleven guys that I've been given."
For day two, Olsen's DC coaching staff have arrived to assist him — Josh Wolff, Pat Onstad, and Chad Ashton drove up this morning from Washington, having taken up D.C.'s training in Olsen's absence. They're responsible in part for D.C.'s set plays, and now the All-Stars'. As the squad do their warm-up and running exercises, the three are busily moving around them to set up metal player dummies, presumably to mark set-piece positions or positional responsibilities at transitions (something of a Chelsea speciality). There isn't, however, any ac- tual taking of set-pieces. David Beckham is still in London doing promotional work for the Olympics. He's scheduled to play (and presumably take free kicks and corners), but when I ask Onstad about set- piece preparation, he says, "We're still waiting on a certain someone… and when we make sure he shows up, we can set our line up and make sure what we're going to do set-piece-wise." So what else can they do to prepare?
"We have a little bit of an idea for Chelsea, not who they're going to play but who their personnel are, and I think it'll be one of those ones where once you get a team sheet you make assignments from there," he says. "It's kind of a crapshoot. The nice thing is we've got a group of guys who are competitive. I mean, that's why these guys are All-Stars in this league: They're competitive guys and good communicators."
Onstad has seen it all before. The three-time MLS Cup-winning goalkeeper (with San Jose and Houston) is an ambitious and competitive man who, beyond coaching the goalkeepers at D.C., is a highly involved assistant coach on outfield matters, too — and one of the most visible and voluble presences on the D.C. bench. Next to him is Chad Ashton, back on the bench at D.C. after a period as technical director. The three of us talk about what it was like to watch Chelsea play P.S.G. the other day (Onstad on the latter: "those passing triangles… unbelievable. On a tight pitch, too."), knowing that they'd be facing one of the two sides with the All-Stars on very short notice, and the other with their D.C. side shortly after.
"[Chelsea] is great in transition — how do we slow them in transition?" Ashton says, raising some of the specific tactical challenges they'll face the next day. "Even when Cech gets the ball, he can beat five players with a throwout, so can a forward step in front of him and slow him up a little bit? Can somebody that loses it get immediate pressure on the ball and allow everybody to get behind the ball and make it as hard on them as possible with regards to breaking us down?"
Like speed chess? "Disrupt their tempo. Disrupt their movement. Absolutely," he laughs. "Easier said than done!"
The specific technical briefings for the players will come at lunchtime on game day, but as everyone files out at the end of training, I have a pretty good idea of the game-plan. The All-Stars will line up in a 4–4–2, but Henry, up front, and 3 of the 4 midfielders (with the exception of the holding player) will have a mandate to look for deep pockets to use in getting the ball forward. They've also been practicing pushing the ball out wide quickly and going for quick, driven returns (behind a possibly shaky Chelsea defensive line) for Wondolowski to poach or advancing midfielders to get onto. Communication is key. With so much license for movement, everybody has to be disciplined about tucking in and sliding across to cover as the shape and game gets stretched. There's also the need for constant adjustment: Olsen has a managed program of substitutions that he plans on rolling out, whatever the score, to maintain the balance of the side, respect the fitness levels of players on heavy schedules, and, he believes, keep the game close at all stages. Despite the scoreline margins of the previous two years' All-Star Games, the coaches are convinced this will never be more than a one-goal game and are planning accordingly.
But more than anything, the plan seems to be: Keep it simple. Or, as Olsen says: "What I will rely on is getting them on the same page, making sure they understand set pieces on both sides — and wish them luck."
[separator type="space"]
GAME DAY
The first thing I see as I come through the media entrance into PPL Park is a huge sign parodying the "Keep Calm and Carry On" poster design. It reads "Let's kick them in the crown jewels" and sets a tone the locals will maintain throughout the game. At the River End of the stadium, where the Sons of Ben supporters group stands on Philadelphia Union game days, many of the regulars have opted to exercise their rights to buy All-Star Game tickets and maintain a highly visible and vocal presence there. Among their repertoire on the night, a rousing rendition of "You're Not English Over There" is targeted at the far corner of the ground. That's where the most concentrated section of Chelsea fans are — some of whom are in fact hardcore English supporters traveling with the team, but many of whom are the Sons' co-workers, friends, and family members, some attending PPL Park for the first time.
The game itself is fascinating, particularly in the first half before substitutions fray the shape of each side. Olsen's "guy that can win the ball" turns out to be Osvaldo Alonso, who shows his typical tenacity to do just that — though just as big a part of his contribution is repeatedly sliding across to cover other midfielders. The All-Stars do start in a 4–4–2, but the communication Onstad mentioned is vital to their version of it. Other than Alonso, nearly everyone in front of the defense plays as one of the principal fulcrums of their club sides, and they are used to other players accommodating their movement. Just as he does for L.A., Beckham drops deep and slightly right to try to find quarterback-style pockets for his long balls forward. And just as he does for New York, Henry drops to try to pick up the ball and direct attacks. Around them, the quiet industry of De Rosario and Donovan produces a lot of effective play — both to counter Chelsea's rusty, pre-season attempts to move the ball through midfield and to keep them from committing players forward against some of the deep- lying All-Stars. Meanwhile, at the back, the starting pair of Aurélien Collin and Jay de Merit are nullifying the threat of the giant Lukaku.
After the game I grab John Hackworth and ask him about so many creative players drop- ping deep, and he laughs: "I thought we had four defensive midfielders at one point — you looked at Ozzie (Alonso) and Ozzie was trying to get out of the way! Because Dero and Henry and Beckham were all coming back. But at the same time, to have those kinds of players on the field and wanting the ball, that's what you want."
It works. First blood goes to the All-Stars, whose midfield movement for the first half-hour has been somewhat unorthodox, what with so many leaders on the field, but consistently clever. Their first goal, poached by Wondolowski, comes through the combination of licensed roaming from their midfielders and the balls they practiced placing between the keeper and the defense — Chelsea's Achilles heel. But the All-Stars don't have things all their own way in the first half. Midway through the first period, Collin barges headlong into the back of Essien and both men are briefly knocked out cold. When Collin re-enters the game, Terry easily climbs above him to head Chelsea level from a corner, and it becomes clear he'll have to come out. This turns out to be the only deviation from the gameplan.
In the days after the game, Olsen's arrival will prove to be one of the main storylines. He is modest in the aftermath — -"I didn't coach at all this week" — -but he's selling himself short.
After halftime, only 10 or 15 minutes pass before some of the major players come out, and as soon as Henry leaves the field, Lampard puts Chelsea ahead 2–1. Both Hackworth and Ashton later acknowledge a little sinking of hearts after that goal, but they are both adamant that they always felt the changes they were making would bring them chances to score in a close game — and so it proved. "He was wanting to keep going," says Ashton when asked about keeping Beckham in the game past the 70-minute mark. And in the 72nd minute, a sublime crossfield ball from Beckham finds De Rosario, who goes past his man to deliver another deadly All-Star cut-back pass — this one teed up for his D.C. United clubmate Pontius to slot home, much to the delight of their coaches. (Ashton on Dero: "His record is something ridiculous: Every time he has an assist, his team wins something like 80 percent of the time.") Then, with injury time kicking in, the All-Stars ping some neat P.S.G.-style triangles of their own around the midfield. They end with Beckerman pushing a beautiful first-touch pass to Johnson, who's already turning for goal. His shot deflects off Luiz and up and over the stranded Turnbull for the fifth and final goal of the game. It's not elegant, but it's a winner.
It doesn't take long for the measuring-up to begin: Alexi Lalas begins the ESPN postgame show declaring the victory a "statement game." Was it? Maybe. It was a good win, regardless of the stakes or missing starters (and Chelsea started with a strong team). The All-Stars played and won with three goals from open play against the European champions. But at the moment, it hardly matters. As the players run the gauntlet of the media zone for their coaches, there's a party for both sets of fans in full swing in a marquee by the Delaware River.
In the days after the game, Olsen's arrival will prove to be one of the main storylines. He is modest in the aftermath — "I didn't coach at all this week" — but he's selling himself short. He gave his players the right balance of template and freedom to compete and win. What's been apparent through these three days is his sensitivity to the needs and natures of players in a week like this. "I think Ben is a rising star," nine-time All-Star Donovan is later quoted as saying. "I think his demeanor is great, I think his attitude with the guys is great. He's assertive, but he's respectful, and I think D.C. got a good one."
As far as the broader questions and stories go, it's hard to say. Even as I try to make sense of the game from an American perspective, my British press colleagues are drawing conclusions about which Chelsea players will make the playing squad this year, who's set for loan, and the obvious problems with their defense this pre-season. In their version, MLS loss is already a footnote. I think of a quote from a Richard Ford character: "Two people don't see the same landscape."
At best, what contests like the All-Star Game offer, with their invitation to compare relative progress, is one inescapable conclusion, regardless of the score: Change at the structural level of sports tends to hap- pen at a glacial pace. Yet it happens nevertheless. The morning after the game, taking a cab to the train station, my Moroccan cabbie hears my strange accent and wants to know where I'm from. I do my party trick of naming cities — Belfast, Sunderland, Manchester, New York — and am rewarded with the best piece of cab dialogue I've ever had: "Sunderland? Chamakh should have gone there — more minutes. New York? You know (Mehdi) Ballouchy? We're here."
Hearing someone casually, and without prompt- ing, offer me a reference that encompasses what would once have been impossibly disparate and parochial experiences reminds me of the quantum leap the cultural aspects of soccer have taken in the digital age. It's dizzying. Living through these changes, they're hard to fully comprehend, but watching the All-Stars beat Chelsea, knowing that each player would immediately head back to their own more- or-less-celebrated local concerns, was one of those moments when I came face-to-face with global trajectories of sport and culture that are self-evidently converging rather than diverging.
So the question perhaps is not what can be done in three days, but what the glimpses offered in those three days suggest about the years to come.

__________________
Graham Parker is a senior editor for Howler Magazine. He also leads American soccer coverage for the Guardian and writes a weekly column for Grantland called The Designated Player. You can follow him on Twitter.
Purchase issue one of Howler here.
WELL, IT DEPENDS ON WHAT YOU MEAN BY "FREE."
Enter your best email for full access to the site.