I love Luis Suárez despite your howls of rage. Diver? Don't care. Cheat? Get over it. Racist? Disgusting, yes. Unforgivable even. Which is why admitting this makes me feel so guilty: I love him anyway.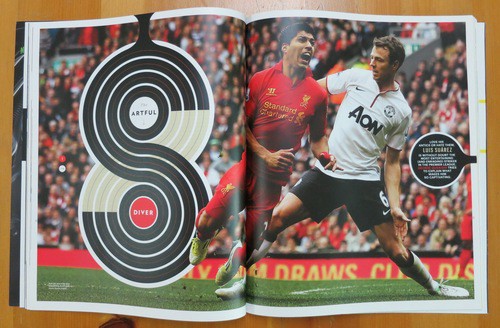 This essay was published in Howler issue 02.
Hardly anyone held an opinion about Luis Suárez until the quarterfinals of the 2010 World Cup, when he blocked a last-minute winner by Ghana with his hand. Suárez was sent off, Ghana missed the penalty kick, and Uruguay eventually won the game. Suárez sat out the semifinal against Holland, to which Uruguay would not have advanced without his handiwork.
Was Ghana cheated? Did Suárez cheat? A lot of people thought so. The Guardian's match report called Suárez a "villain" who had "cheated and prospered." After the World Cup, he moved to Liverpool, where he has been accused of diving and was suspended eight matches for racism. I know this, and I enjoy him all the same. What Suárez did against Ghana wasn't despicable or even dirty. His hand ball was — I'm searching for a more appropriate word and I can't find one — brilliant. More than that, it was admirable.
By committing the handball, Suárez took his team from, let's say, a 0 percent chance of winning to something closer to 2 percent. Asamoah Gyan missed the penalty, increasing Uruguay's odds to somewhere around 35 percent (not quite level, because La Celeste still had to play overtime a man down), perhaps slightly more if you consider that the miss deflated the Ghanaians while encouraging the Uruguayans.
This was not a case of the rules getting jobbed but of the rules doing their job. Deliberately handling the ball gets you a red card. Do it in the box and the other team gets a penalty. Both of these things happened — the law was transgressed, the transgressor accordingly punished.
What Suárez did was both illegal and intelligent, punishable under the laws of the game and yet the correct decision given the circumstances. He made his bargain in a splinter of a second, and he couldn't have known it would pay off, but it did.
You can call Suárez a rascal, a ragamuffin, a rapscallion; on the field and in literature, I'm drawn to such flawed but fascinating characters.
Did Suárez malign the spirit of the game? Not by my definition. The earliest amateur soccer matches were played, we're told, according to a gentlemanly, Corinthian code. And yet it was out of those matches that the practice of surreptitiously paying men to play soccer emerged, the first step toward the ultracompetitive game we have today, in which deceiving the referee is commonplace and money still wins. Forget "fair play" — that's FIFA's antidote for the true spirit of the game: winning at all costs.
The World Cup has been manipulated by gamesmanship since day one. Suárez's tactical foul seems almost quaint compared to Mussolini's pregame pep talks in the referees' changing room in 1934, or Argentina's suspicious scoreline against Peru in 1978 (and intimidation of the Dutch in the final), or Maradona's Hand of God, or Materazzi's baiting of Zidane, or Henry's hand ball against Ireland.
Do I sound a little nostalgic here, a tad wistful maybe? Perhaps it's time to reveal my little secret: those stories about Mussolini and Maradona and Materazzi make me happy, because I consume soccer for the same reason that I read novels and watch movies — to plumb the depths of human struggle and accomplishment. Sport is the last, best arena we have for this. The ancient Greeks told each other stories about their fallible gods; we get ours beamed to us each week in high definition. I choose to believe that the spirit of the game smiles on Luis Suárez because the spirit of the game is a mischievous fucker who rewards cunning and skill and desire over sportsmanship. Anyway, that's the book I want to read.
You can call Suárez a rascal, a ragamuffin, a rapscallion; on the field and in literature, I'm drawn to such flawed but fascinating characters. They survive and sometimes win against long odds — as long as Uruguay's in that instant before Suárez raised his hand against Ghana — by being smarter and braver than their foes.
And this is why I love Luis Suárez. His play is full of wit and audacity, his character as complicated and contradictory as anyone imagined for stage or page. That he is capable of beautiful skill, base ignorance, and lowly deceit within the bounds of a soccer field and one 90-minute match makes me treasure him as I do fictional scoundrels such as Tom Ripley and Alexander Portnoy and Harry Flashman. If he's a cheat, then catch him cheating. If he's a racist, then punish him for saying stupid shit. I won't complain when Suárez falls. But please let me keep watching him play soccer.

Contributors
George Quraishi
TAGS
WELL, IT DEPENDS ON WHAT YOU MEAN BY "FREE."
Enter your best email for full access to the site.