World Cup Across America: Seattle
June 19, 2014
The city celebrates an unofficial civic holiday when the U.S. plays in the World Cup
Story and Photograph by Phil West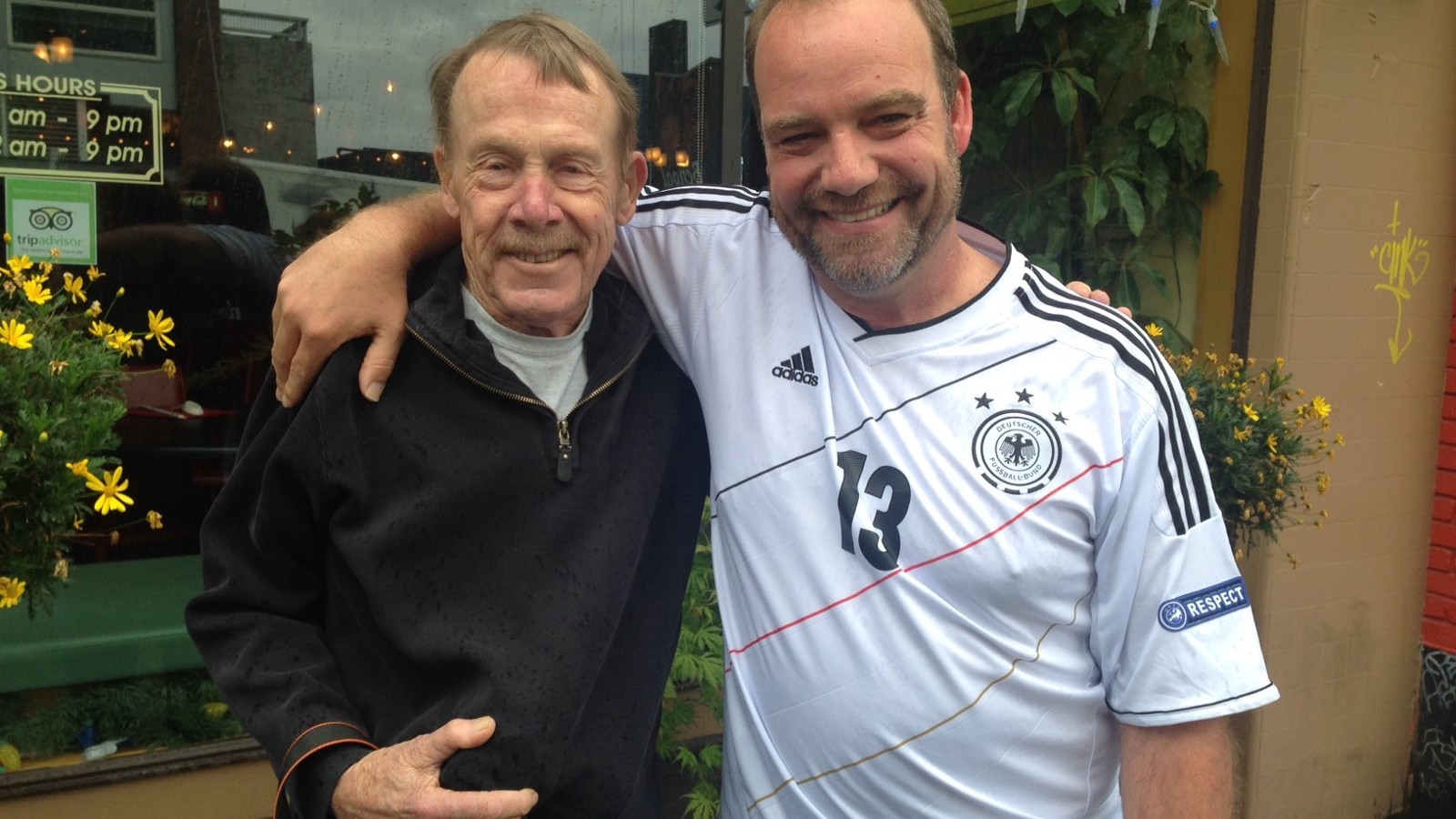 [D]on't any of these people work? This is the question my dad asks, only half-jokingly, while looking around Seattle's Atlantic Crossing just before halftime of Monday's Germany-Portugal game. The doors had opened two hours earlier, at 7:30 a.m., by which time fans had already lined up outside to grab prime seats. As the morning continues, more and more American soccer fans — favoring the "bomb pop" jersey that the team would be playing in come 3 p.m. — fill one of America's best-known soccer bars to capacity.
One patron, wearing a Thomas Müller jersey and shouting "Deutschland!" with each of the Germans' three first-half goals, cracks, "You're not taking your shirt off today, pal!" when Cristiano Ronaldo appears on screen, then greets a friend by saying brightly, "Thanks for being a good luck charm, fuckin' Jedi!"
That's Roland Braitsch, a 44-year-old auto body shop owner who's pulling for both Germany and the U.S. When I ask how he liked the first half, he bellows, "I brought both jerseys! I'm changing after the game!" He also observes that he loves the Klinsmann-German connection, and apropos of nothing but quite awesomely, he adds, "And I was born on the day we landed on the moon!"
Later, when Germany's fourth goal arrives — to the delight of the not-so-pro-Germany but definitely anti-Portugal crowd — Braitsch high-fives 21-year-old Vanessa Woodstock, a Hannover native whose favorite player is Lukas Podolski (in part for his hilarious Instagram account), who is contemplating pairing an American jersey with face-painted German flags when the teams square off on the 26th. She's taking the day off from her job as a nanny.
Indeed, to answer my dad's question, lots of people assembled here have jobs but have taken the unofficial civic holiday that a U.S. World Cup match brings to Seattle, and the Crossing is one of the most popular places to celebrate.
Reeves Richards came into soccer by playing goalie as a kid but didn't begin to understand the sport until studying abroad in Spain during the 2010 World Cup.
Rachel Raney, Colin McKenna and Ian Peterson — all from a community arts center named Town Hall — shut down the office for the day and were among the first to grab a table. Bill Jacobson, a 25-year-old airline pilot with Horizon Airlines, is down from Anchorage to take in the action in the Lower 48. And Jeff McIntyre, the owner of Ruffneck Scarves, has commandeered the corner of the venue to promote — and from this spot, he can see scores of his creations on the walls and around the necks of fans.
Not every venue in Seattle is bustling though — in Pioneer Square, there's an outdoor screen set up in Nord Alley as part of a public arts initiative called the Alley Network Project, and Iran vs. Nigeria is neither enticing fans nor beautifying the alley. Brothers Paul and Ethan Iano, 21 and 15, from nearby Mercer Island, are non-plussed. They expect several hundred people to gather into the space, and Paul even has a bullhorn with him to help address a crowd that has not yet coalesced.
To continue the day-long soccer field trip I'm taking my dad on, we opt to watch the U.S. match in Fremont, just blocks from a giant Soviet-style Lenin statue. It's at a watch party sponsored by KEXP, a Seattle-based eclectic radio station with a global audience that helped bring the likes of Arcade Fire and Macklemore and Ryan Lewis to greater cultural awareness. The folks who run KEXP are huge soccer fans, it turns out. Morning show host and program director John Richards, who played a set on April 15 to honor those who died in the Hillsborough disaster, talks about his beloved Sounders on the air.
Soccer fans and music fans alike have found their way here. Reeves Richards, an animated 25-year-old with a bald head and mountain-man beard, sits with friends at one of the station's two reserved tables. He came into soccer by playing goalie as a kid but didn't begin to understand the sport until studying abroad in Spain during the 2010 World Cup.
He ruefully reveals that he missed the chance to celebrate the championship in Grenada. By then, as he notes, "I was back in the U.S., sleep-deprived, living in my parents' basement in Greeley, Colorado, and wishing I was in Spain." He then references a South Park episode in which Greeley is called "The Exact Opposite of Hawaii," and confirms that this is pretty spot-on.
The room, like rooms across America, goes sickeningly silent with Ghana's 82nd-minute goal, and then jubilant four minutes later when John Brooks steals victory from the jaws of draw-feat. And in the game's final minutes, it's clear that Richards really has become a soccer fan — he's cringing as he watches the ball bounce from danger to safety and back again. With the final whistle, he registers a relief and well-worn joy that could be characterized as the exact opposite of Greeley.

Phil West (@philwest) is an Austin-based writer travelling around the U.S. and writing about this World Cup in preparation for a forthcoming book, We Want the World: Watching the World Cup Through American Eyes. Throughout the tournament, he'll bring you along to share his viewing experiences.
Contributors
Howler
TAGS
WELL, IT DEPENDS ON WHAT YOU MEAN BY "FREE."
Enter your best email for full access to the site.