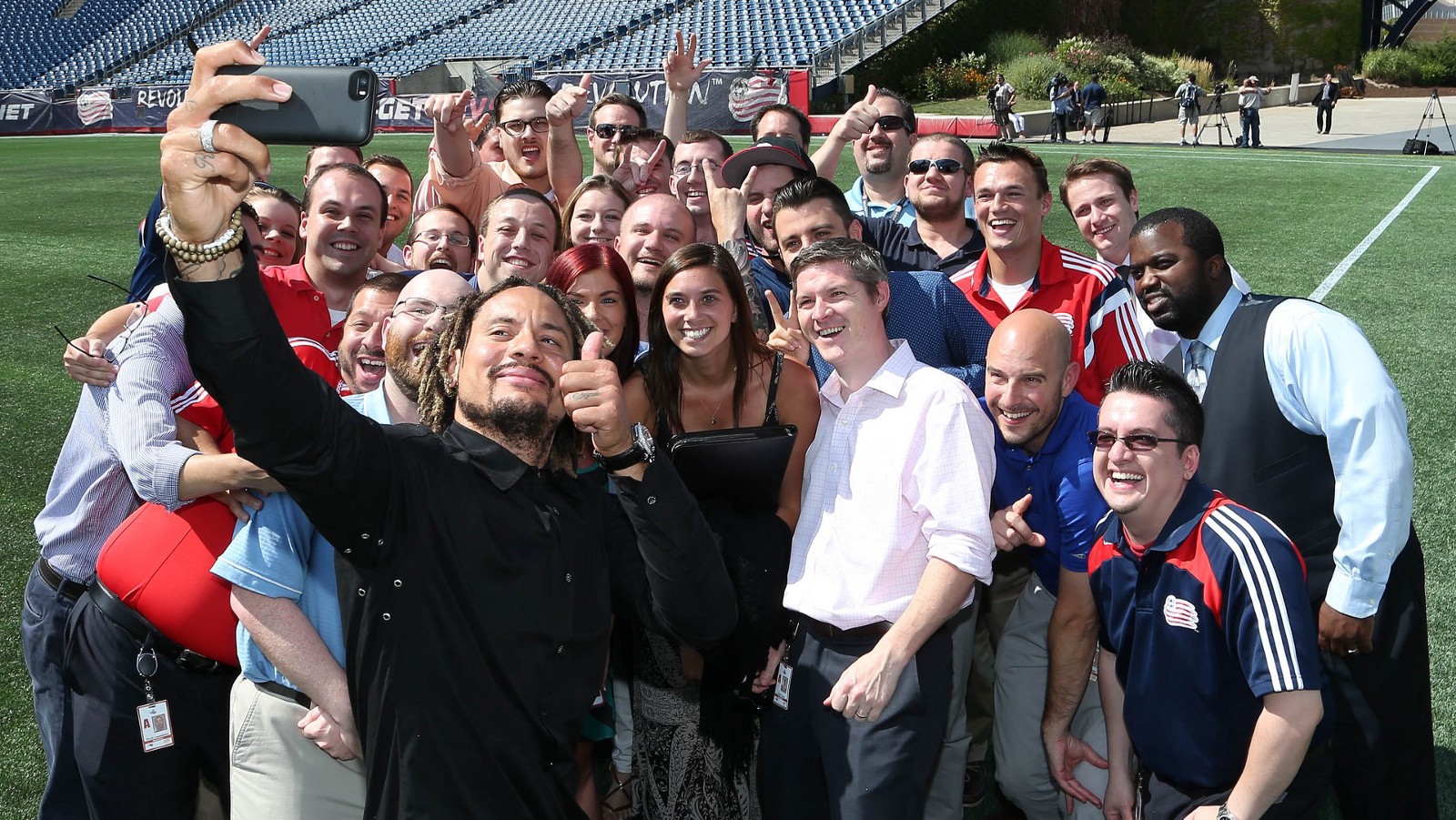 Does the signing of Jermaine Jones mean that New England is ready to join the modern Major League Soccer?
By Kevin Koczwara | Photo by David Silverman
[B]ob Kraft and his son Jonathan Kraft strolled into the media workroom beneath Gillette Stadium, a rare sight. Bob, the owner of the Revolution, and Jonathan, president of the Kraft Sports Group, aren't visible at most Revolution events. But this one, which took place on Tuesday, was important — $4.7 million per season important. Jermaine Jones was about to be presented to fans of the New England Revolution. This press conference wasn't like anything I've seen in my four years covering the team. The anticipation and the excitement for a player acquisition has never been so great. After a standout performance at this summer's World Cup, and vacationing with his family in Los Angeles, and then the murky process that saw him join New England instead of Chicago in the league's blind draw, Jones has become the highest paid player in Revolution history — and it's not even close.
"We have a young team and maybe sometimes I have to kick some guys in his ass — only in a good way."
He is the kind of player fans have been clamoring for: A proven name with world class talent. Jones has shown with the U.S. national team that he has the engine to control entire games from his central midfield position. And he has the kind of ferocious will to win that all coaches want in their players, even if it means that he can sometimes go a bit too far. "There is an instant respect," said head coach Jay Heaps. "Last game, we averaged an age of 23-years that started the game, so instantly they are looking for someone to lead and I think today [Jones] walked in and that was exactly what the players felt."
The Revs have a history of being cheap when it comes to player acquisitions. The team is routinely near the bottom in the league in salary. The Krafts are known for their frugal approach to managing their sports teams. (Before the press conference started, local media was grumbling about the news that the Kraft-owned NFL Patriots had traded all-pro lineman Logan Mankins and his large salary to the Tampa Bay Buccaneers for a young tight-end and a draft pick, another example of a move made with the bottom line, not the team's on-field prospects, in mind.)
When the MLS's Designated Player (DP) rule came into effect, New England was one of the last teams to use it to sign a player. And when team executives did, the players they signed — forwards Milton Caraglio and Jerry Bengtson — were far from the caliber of DPs for other teams. So, why offer a player like Jones such a lucrative contract now?
Revolution president Brian Bilello said he had noticed "a very specific and very focused energy around the U.S. national team" during the World Cup, and "Jermaine was the best player the U.S. men's national team had." Major League Soccer was well represented at this summer's World Cup, but the Revolution only had one player there: Bengtson, representing Honduras. Now, Jones gives the Revolution a player they can really market. But don't expect the acquisition of Jones to signal a significant shift in strategy for the team, said Revolution general manager Mike Burns.
"In terms of the way we'll continue to operate and run our business, I think honestly that will be more on a case by case basis of a player of Jermaine's ability and profile, but we'll continue to operate the way we've always operated."
This means building to a young squad through the draft, intra-league trades, and signing lesser-known foreign players.
When Jones spoke, he seemed unbothered by all the attention. He looked like someone who just wanted to get out on the field and help his team win, right away.
"I am not a guy that likes to lose. We have a young team and maybe sometimes I have to kick some guys in his ass — only in a good way," he said. "I like to win and I will try everything so we get some wins."
The Revolution need some wins. They're fighting for a postseason spot in the tight Eastern Conference, sitting one point out of the playoffs with 10 games to go. On the field, he'll have a chance against his fellow national teamer Michael Bradley when New England plays Toronto FC on Saturday. Off the field, New England will finally be competing with Toronto on another level: that of the major signing.

Kevin Koczwara is a writer living in Boston. He tweets under the handle @kkoczwara.
Photograph courtesy New England Revolution.
Contributors
Howler
TAGS
WELL, IT DEPENDS ON WHAT YOU MEAN BY "FREE."
Enter your best email for full access to the site.