Mexico's favorite player is still a badass at 41
By Raul Vilchis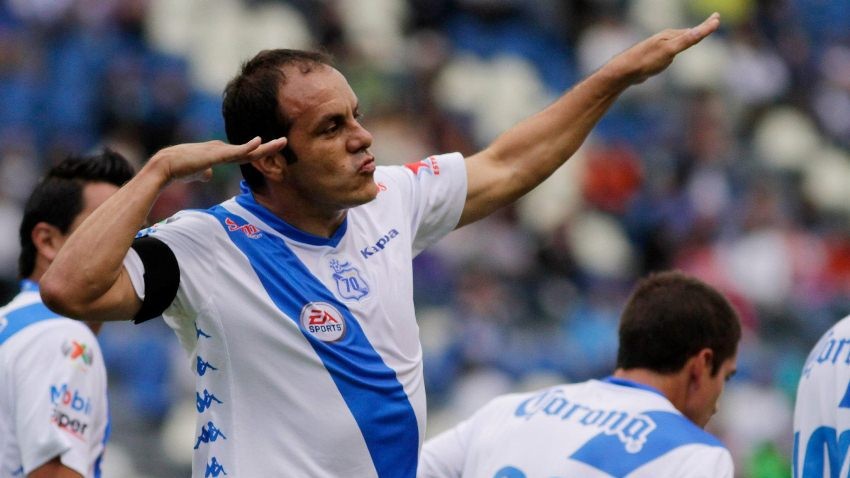 [T]he Tepito neighborhood is smack dab in the heart of Mexico City. Those who don't know it well are scared to go there. They call it the "Barrio Bravo."
During the day, its narrow, maze-like streets are taken over by a boisterous market of tarp-covered stands selling everything from tripe tacos and fresh squeezed juice to pirated DVDs, sex toys, and fake cigarettes from China stacked in towers like Legos. At night, the neighborhood transforms into a different kind of bazaar, where the adventurous can buy drugs, guns, and stolen electronics.
In the middle of all this is the neighborhood's pride and joy — a shabby soccer field surrounded by a chain link fence that, like everything else in Tepito, is an imitation. It's called Maracanã.
Cuauhtemoc Blanco was born in Tepito. Maracanã's dusty pitch is where he grew into one of Mexico's most prolific soccer stars. Blanco is now 41 years old, the oldest player in the Mexican top flight. His career spans more than two decades — longer than many other players have been alive. He is the top scorer currently playing in the Liga MX with 144 goals and ranks second in the history of Mexico's national team in goals scored.
Blanco has always brought his beloved "Barrio Bravo" onto the field. He improvises and tricks opponents, knocking in goals with his shoulder blade or his hip.
For the past three years, Blanco, the ex-Chicago Fire player, languished in Mexico's second division. In May, he signed with Puebla in the Mexican top tier. At the beginning of the season, under coach Ruben Omar Romano, he saw little time on the field. Puebla lost four games and replaced Romano with José Luis Sánchez Solá, or "Chelís." And Sunday, August 30th, Chelís debuted with Blanco on the starting roster. With two assists that led Puebla to a 3–2 victory against Morelia, Blanco was the star of the game.
Blanco has always brought his beloved "Barrio Bravo" onto the field. He improvises and tricks opponents, knocking in goals with his shoulder blade or his hip. Against South Korea at the 1998 World Cup in France, he invented the "cuauhtémiña" when he jumped up with the ball between his legs to get by defenders. It was a slightly ridiculous move, with little tactical purpose, but showed Blanco's playful side that gives joy to the games and his fans.
"Cuau" has a dark side too, just like Tepito. He provokes rival players with insults and fake out punches and has no problem mocking referees and coaches. For many, these abrasive qualities make Blanco all the more genuine. At his advanced age, Blanco no longer runs very much, but he is a master at positioning himself on the field, and playing dangerous passes that often lead to goals.
Some say he is the best player in Mexico, since all of the younger and more agile stars were exported to Europe. For a 41-year-old player to take on that mantle is a bad sign for the country. It means Mexico is producing too few high quality players.
The pace of the games in Liga MX can be plodding and not very athletic. Despite the slow pace, though, people keep tuning in — often times to watch Cuau.
On Sunday afternoons between seasons, when there are no soccer games on TV, Televisa broadcasts old movies starring the nation's most famous comedian, Cantinflas (now the subject of a newly released film in America). Mexico's Charlie Chaplin, Cantinflas died 21 years ago, but his antics still entertain the public after all these years. Mario Moreno, the actor who played Cantinflas, was also from Tepito.
Like Cantinflas, Blanco knows what's needed to keep audiences coming back for more — playfulness and spontaneity but never without an edge.
The next game Blanco will play is on Friday against Queretaro, who recently signed Brazilian legend Ronaldinho, 35. While no one can be sure what will happen when the two older players face off, one thing is certain: Cuauhtemoc Blanco will put on a good show.

Raul Vilchis tweets under @elvilchisolalde Photo via Puebla FC's facebook page. Follow the club here.
Contributors
Howler
TAGS
WELL, IT DEPENDS ON WHAT YOU MEAN BY "FREE."
Enter your best email for full access to the site.