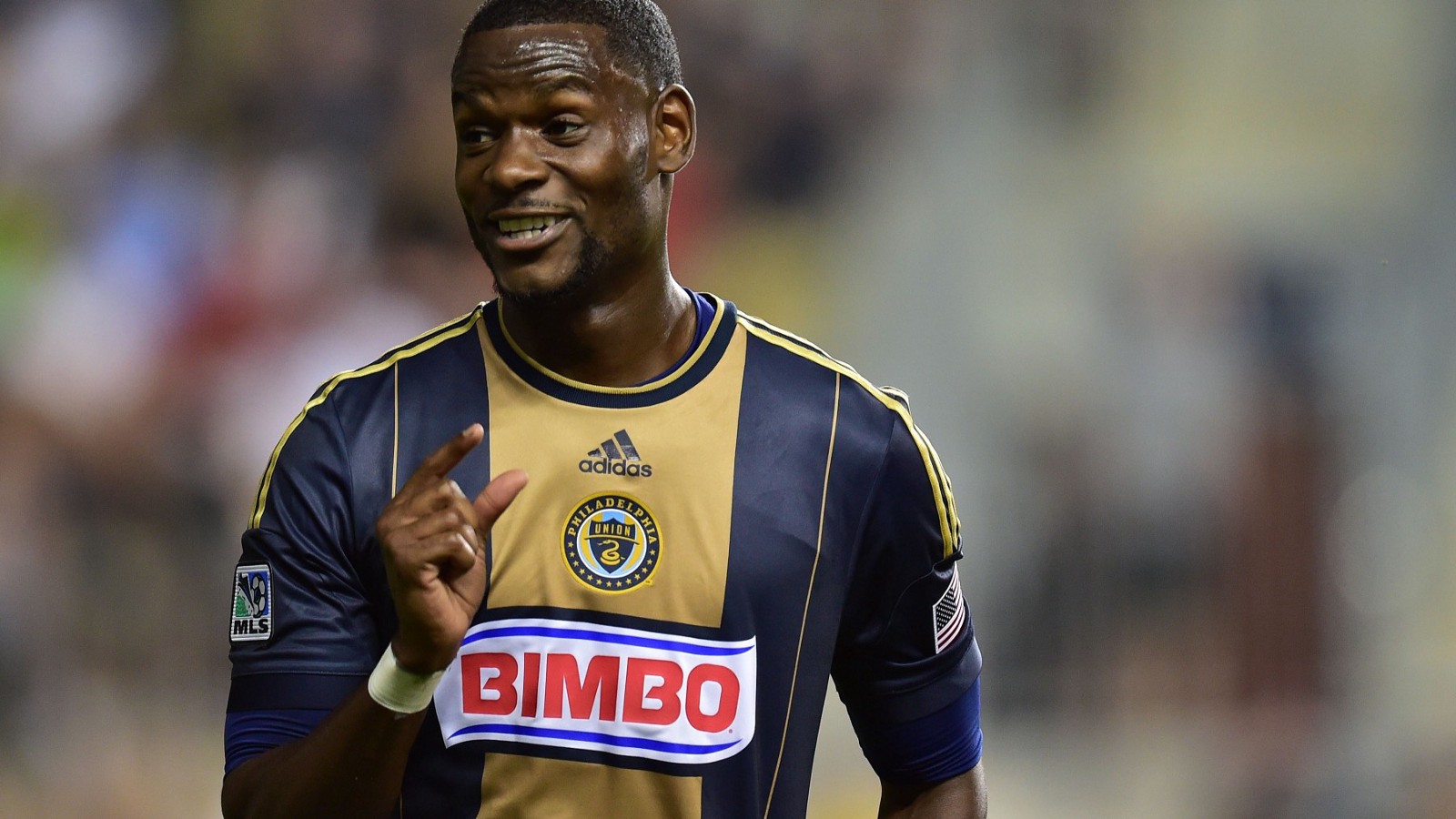 Maurice Edu is no longer one of the lone Americans playing in the Champions League and he didn't make the U.S. World Cup squad. But tonight he'll play for Philadelphia in the Open Cup final, and nothing else matters.
By Robert L. Kehoe III
[T]he concierge at the Renaissance Blackstone Hotel had said we'd have a room with a "nice view" overlooking Chicago's Michigan Avenue and Grant Park, but when Maurice Edu and I met there on a beautiful morning in late July, we were directed instead to the hotel's basement dining quarters. It was hours before Edu and his Philadelphia Union teammates played the Chicago Fire and less than two months since the he had been cut from the U.S. World Cup squad. I was planning to ask him about this and some of the challenges he had faced in the last two years, and as we descended to the new location, all I could hope was that the interview wouldn't move in a similar direction.
At this time four years ago, Edu had been in a much different position. He'd played for the U.S. in South Africa, starting in one of the team's four matches and appearing as a substitute in two more. (Ironically, his most memorable contribution was this goal against Slovenia, which was mysteriously disallowed.) He was also a regular in Rangers' first team. But within two years, that changed. The Glasgow club suffered a devastating financial collapse in 2012, and its demotion to the Scottish third division made Edu's club and national team prospects uncertain.
He left Rangers in August of that year, signing a three-year agreement with Stoke City, but made just one appearance in the Premier League before going on loan to Bursaspor in Turkey the following year. Finally, in January of 2014, he made a transfer to the Philadelphia Union, his third club in 12 months. Back in Major League Soccer, Edu was focused on playing consistently, always with the goal of making the World Cup squad.
Last May that goal was within his reach when U.S. coach Jurgen Klinsmann included him in the preliminary training camp in Palo Alto, California.
"Kyle and Jermaine were my main competition, and I thought they both played really well."
"At the 30-man camp, I really thought everything was going well," Edu said. But Klinsmann made his cuts early, surprising players and fans, and Edu was among the seven who didn't make it.
"Obviously, it sucked," he said. "It was definitely hard to have that conversation with Jurgen, and hearing that I wasn't going to be a part of the team was a very emotional time for me. But once I processed the disappointment, I was the team's biggest fan, texting them before the games, and wishing them well."
It sounds like what an athlete is supposed to say, but Edu is thoughtful and engaged throughout the interview, and his answers don't come off as spin.
"Kyle and Jermaine were my main competition, and I thought they both played really well," he said of Kyle Beckerman and Jermaine Jones, who played the holding midfield position where Edu is most comfortable. "Kyle worked really hard and definitely earned his starting spot, and Jermaine was one of the best players on our team."
After working through the emotions, Edu found some pleasure in experiencing the World Cup from the States.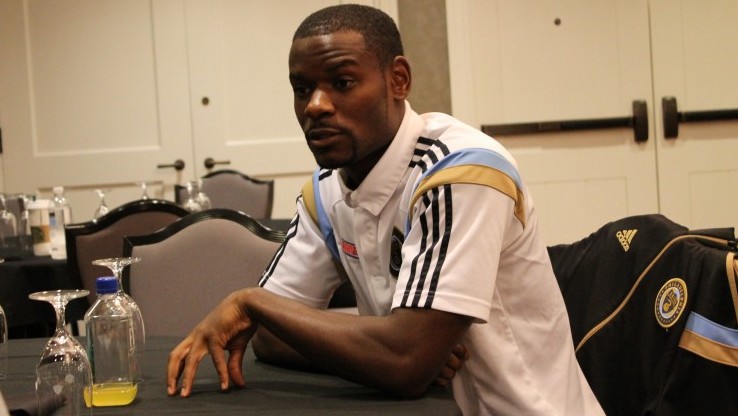 "As weird as it might sound, it was kinda nice to be a fan. In 2010, all I saw was the YouTube videos. This year I really felt like a kid again, like I was back in 1994 when the World Cup was here and I'd rush home to watch the games. Now I was hurrying to a bar or café after training."
On one occasion, he joined the Philadelphia chapter of the American Outlaws. It was for the round of 16 match against Belgium, which he said was a personal highlight of the summer.
"Being in that environment just proves how foolish it is to say that America isn't a soccer nation any more," he said. "I kind of wished my teammates in Brazil could have been here with me to experience how much people cared about their success, and how supported they really were."
As for missing out on the World Cup, "the reality is there are a lot of people around the world, and in my profession, who are in far worse circumstances than me. Who am I to sit here and complain about not getting playing time, or having an untimely injury? I don't ask the question "why me?" There are people who would kill to be in my position."
Does Edu ever wonder what might have been? What if Coulibaly hadn't called back his goal? What if Rangers hadn't gone bankrupt? What if he'd become a regular at Stoke? But "what if" falls into the same category as "why me," and he resists both lines of questioning.
"If you think like that, you'll lose your mind," he said. "Things happen so quickly in this game; if you dwell on "what ifs," you'll go crazy. Obviously, there are times when my mind goes there, and I want my career to be perfect, but when I look back on the decisions I've made, I think they were the right decisions at the time."
One of his best decisions was to play college ball at Maryland under head coach Sasho Cirovski. The Terps won a national championship with Edu in the midfield, but Cirovski's record of preparing his players for the professional game is evident season after season. We began to count the number of Terps playing in MLS, giving up when we were comfortably in the double digits.
Edu called Maryland — from the training, expectations, and fan support — the closest thing college can offer to a professional environment.
"At the time, nobody played in front of 5,000 or 7,000 fans, but we did," he said. "Sash will say the things you might not want to hear, but you need to hear. Sometimes that's hard to take when you're a star player at your club, high school, or even youth national team, but Sash doesn't care about that stuff, and he doesn't spoon-feed you."
"People still tell me where they were, or that they fell down five rows of stands, when I scored in the Old Firm."
Still, there's no college soccer program in the country that could have prepared Edu for the experience of joining one of the world's most historic clubs. He recalled that, growing up, he knew about clubs like Rangers, Celtic, Aberdeen, and Hearts, "but I never fully understood how big a club Rangers was until I signed, and my Twitter went crazy. People were contacting me from so many different countries. It was unbelievable."
So was the emotion of bringing Ibrox to its feet on a Champions League night, and that "people still tell me where they were, or that they fell down five rows of stands, when I scored in the Old Firm" — a goal that secured the Scottish Premier League championship.
Edu calls the time he spent with Rangers — which included three Scottish Premier League trophies, appearances in the Champions League, and that trip to South Africa, a career high. But it was also Rangers' collapse in 2012 that brought so much uncertainty to his career and ultimately may have contributed to his absence from the 2014 World Cup.
But his return to MLS has him moving back in the right direction, and gives veteran experience to Philadelphia. As a central defender with the skills of a midfielder, Edu has the appetite to influence the attack, along with the intelligence and patience to pick the right spots to move forward. He also reads the game well enough to anticipate and cut off moves before they get started, and his tackling can disrupt the rhythm of forwards and advancing midfielders.
As the Blackstone's hotel staff began to prepare a lunch buffet for Edu and his Union teammates, our talk turned to the future. Philadelphia was in the hunt for a playoff spot and still alive in the U.S. Open Cup.
"I want to win something with the national team," he told me. "And I've won at Maryland, and at Rangers, but now I want to win something domestically with Philly."
With respect to the national team, Edu is fully aware that a lot can change in four years. He'll be ready if he's called up for the Gold Cup, Copa América, or Russia 2018, and willing to contribute in any role he's asked to fill.
I spoke with Edu again last Friday, when his team was days away from playing Seattle in the final of the U.S. Open Cup. The game will be held tonight in Philly, and a win would deliver the Union's first trophy. It would also be another positive moment in the career of a talented American player who has seen his fair share of highs and lows.
Thinking back to our talk in Chicago, I ask how he feels to be so close to achieving one of the goals he had named.
"I'm excited!" he says. "Sometimes individual or team goals feel like they're a long way off, but this one is right in front of us."

Robert L. Kehoe III lives in Madison, Wisconsin. Follow him on Twitter here. Photograph courtesy Philadelphia Union.
Contributors
Howler
TAGS
WELL, IT DEPENDS ON WHAT YOU MEAN BY "FREE."
Enter your best email for full access to the site.