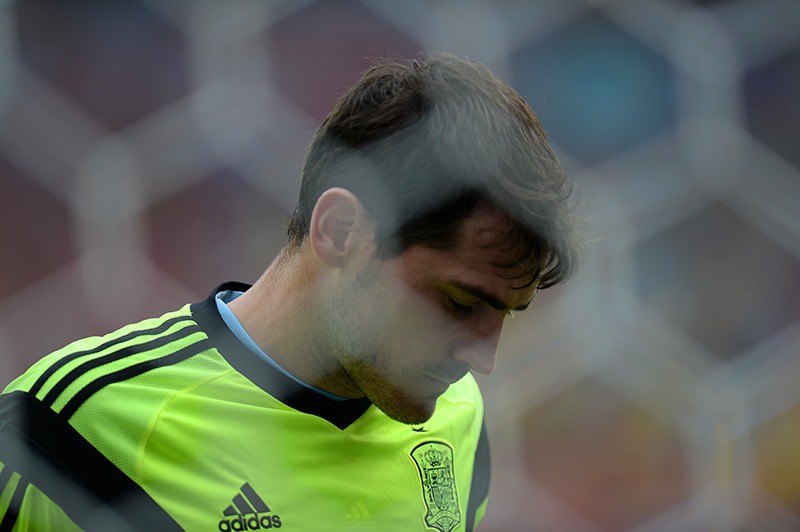 Compared to his once and current rivals, the Real Madrid captain looks decidedly average
By Javier Hernandez | Photograph by Ryu Voelkel
[I]ker Casillas, captain of perhaps the best national team in history, World Cup and Champions League winner, two-time European Champion, Real Madrid idol — you know who I'm talking about, right? Nice guy? Good looking? The platonic ideal of Spanish masculinity for pretty much every male Spaniard between the ages of five and 80? Oh, and arguably the greatest goalkeeper ever?
Things haven't been going so well for Casillas. The man they call the Saint has been getting whistles at the Bernabéu this season, and fans and sportswriters are suggesting that Madrid would be better off with substitute Keylor Navas, who performed a few miracles of his own at the World Cup with Costa Rica, as their goalkeeper. Last year, Casillas lost his starting position, which he had held for over a decade, to Diego López. He was Jose Mourinho's first choice only in the Copa del Rey, which Madrid won without conceding a goal. He has regained the position under Carlo Ancelotti, but was benched for Spain's most recent international, a European qualifier against Luxembourg on October 12th, after starting — and conceding a goal through a mistake — in a loss to Slovakia on three days before. (Guillem Balague argues that Casillas's error was not the reason David de Gea replaced him.)
At the age of 33, and after a season in which he played only 24 games in all competitions for Real Madrid, maybe Casillas is a bit rusty. Or perhaps the fans are just venting their frustration over some of Madrid's relatively poor results so far in this campaign, not to mention Spain's early elimination from the World Cup. The criticism is coming from people who have loved Casillas for 15 years, and they wouldn't turn on him without cause, right?
A look at the stats shows what the fans know: Casillas's recent performance has suffered. The table below shows his La Liga performance thus far in the season next to stats for his main competitors for playing time over this season and last.

In the last two seasons, the average La Liga goalkeeper saved about 68% of the shots he faced. Thus far in the season, Casillas has saved 64%. A sample of 15 matches, spanning from the April 16th Copa del Rey final to Real Madrid's September 13th match against Atlético Madrid, looks even worse, partly because it includes Spain's disastrous World Cup showing. In that set, Casillas saved only 57%. Among La Liga goalkeepers who have played at least 15 matches in a season, only two have a lower percentage in the last four seasons: Adan (54%) with Betis and Rubén Martínez (55%) with Rayo Vallecano. (Yes, that's the same Adan who replaced Casillas for a while under Mourinho). Compared to the numbers put up by Diego López or Keylor Navas last year, Casillas's performance is substantially worse.
Both López and Navas managed 16 clean sheets (around 45% of their games) while Casillas recorded a clean sheet in only 20% of his. What's more, Navas led La Liga in saves with 160 as well as in save percentage, with 80%. By these counts, the Costa Rican has earned the starting job over the Madrid captain.
Could it be that Real Madrid and Spain's defenses have gotten worse, which might account for Casillas's decline? In that 15-game sample, Casillas faced an average 10 overall shots and 3.73 shots on target per game. Last season, Real Madrid's opponents averaged 10.89 total shots and 3.34 shots on target — virtually unchanged. As for the quality of those shots, it's difficult to quantify, but he did make several highly memorable errors in the World Cup and in the Champions League final, which seems to suggest that there has probably not been a meaningful difference between this season and last. Besides, if you want to talk about quality of shots conceded, take a look at what Navas was forced to deal with last year behind Levante's defense.
This season, only one goalkeeper in the Spanish league has recorded fewer saves than Casillas despite playing one more game, and that is because his defense is so good, he hasn't had to: the Chilean Claudio Bravo, who still hasn't conceded a goal in Barcelona's first eight league matches. That may change on Saturday, when Barcelona, the league's best defensive team, travels to Madrid, its highest-scoring, for the first Clásico of the season. It's unlikely that Barça's run of clean sheets will continue, but perhaps even less likely that Casillas will retain his starting position if his current form continues.
Follow Javier Hernandez on Twitter @javierjotah. You can order Ryu Voelkel's new book of photographs from the 2014 World Cup here.
Contributors
Howler
TAGS
WELL, IT DEPENDS ON WHAT YOU MEAN BY "FREE."
Enter your best email for full access to the site.