There is no dreaming of playing like Lionel Messi
by Rowan Ricardo Phillips | illustration by Noah MacMillan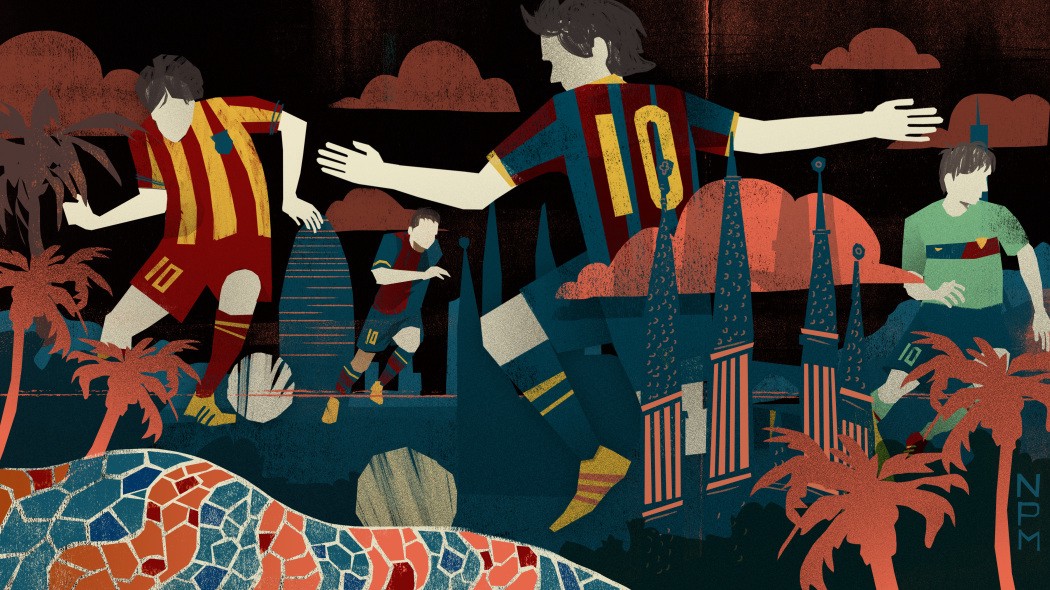 Three days. Six goals. Two all-time goal-scoring records. With back-to-back hat tricks on Saturday and Tuesday, Leo Messi once again left it clear that he, and no one else, is the final word on Leo Messi. The surprise is not that he did so, but that there was any need for him to do so. As time has passed it's become quite clear that he suffers, if anything, from the impossible high standard he's set for himself.
No player has scored more goals in a season; no player has scored more goals within a calendar year; in his last 261 games with Barça he's scored 278 goals (and among those 261 games you can count on one hand the number of teams that didn't put all eleven men behind the ball and four around him at all times); he has turned the majestic goal into the routine, so much so that when he scores on a tap-in it seems strange to our unaccustomed eyes. Yet rumors have been swirling about his contentment at Barça. Some journalists have wondered if, at 27, Messi has already shown us his best.
Then came Saturday's game against a good Sevilla side, and with his first goal — a perfectly placed, beautifully bending free kick — he passed Telmo Zarra as La Liga's career goal-scoring leader, a mark Zarra had held since 1955. Then Messi went on to score two more.
Then came Tuesday's game came in the Champions League against Apoel Nicosia, and with his first goal — a quick-witted redirection of a teammate's shot — he passed Raúl as the Champions League's career goal-scoring leader. Then he went on to score two more. It bears repeating: he's 27.
There is no dreaming of playing like Leo Messi; the body and mind refuse your request.
To put that into perspective, Didier Drogba signed his first pro contract when he was 21. But can we really put into perspective what we're seeing? The lightning-quick prodigy who wore the number 30 is long gone. The long-haired right winger, the rising star who wore number 19 is long gone. Even our first encounters with the number 10, the false center forward, manipulator of time and space, destroyer and creator of worlds, seem distant now, not faded but less an intervention against the plausible, less filthy in the musical sense of the word.
It's been tough to accept what we're seeing, so many make what we're seeing more terrestrial: we compare him with a goal-bagger who feasts on penalties and counter attacks because we need something that seems to make sense to us — muscles and running and its implication that those muscles and that running could have, with some luck, been you. There is no dreaming of playing like Leo Messi; the body and mind refuse your request. We are not his defenders, we are the defenders: he slaloms by, stopping to make us lose our balance, to provoke doubt in where we're going, what we're seeing, and he's gone in a flash, goalward.
Leo Messi is still so young and, in the typical way of young people, so over it all already: he holds these goal-scoring records neither due to longevity nor obsessive accumulative pursuit. We were barely afforded a countdown. Like so many defenders, we thought we were standing on firm ground, but he had already slipped the rug out from under us. We didn't get our grizzled old pro, a shadow now of what he was, churning slowly, doggedly, obligatorily toward some mythical number. Instead, he blew by those records with a genius' indifference to monuments, a kid's insouciance in the face of history. His name is etched in the grand fonts of the record books, but his game is still like florescent graffiti, his true greatness still in the world-of-mouth wonder his play creates, as though being in the books isn't as important as saying recuerda mi nombre: Leo Messi.

Rowan Ricardo Phillips is the author of two books of poetry, The Ground and Heaven, both published by Farrar, Straus and Giroux. He has written on soccer for Howler, The New Republic, and The Paris Review. A professor at Stony Brook and Princeton and a card-carrying socí, he tweets under @RowanRicardo. Noah MacMillan is a frequent contributor to Howler and tweets under @NoahMacMillan.
Contributors
Howler
TAGS
WELL, IT DEPENDS ON WHAT YOU MEAN BY "FREE."
Enter your best email for full access to the site.