The Increasingly Analogous Trajectories of Terrell Owens and Mario Balotelli
By Phil West | Photo by Ryu Voelkel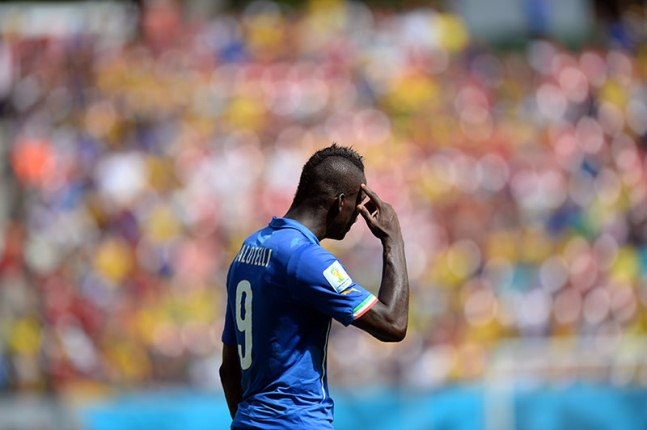 [M]Y APPRECIATION OF MARIO BALOTELLI is complicated, and probably has more to do with how he'll grab headlines and aggrieve fans than any on-the-field brilliance he's still capable of bringing to any given game. When I think of why I'm a fan, I think of three glorious days in October 2011, when Balotelli was contributing to both Manchester City's ascendancy and Roberto Mancini's impending pink slip.
On that Saturday, Balotelli and friends (or just the friends, depending on whom you believe) set off fireworks in his house, resulting in a fire that the English tabloids were all too eager to fan. On Sunday, Balotelli scored the opening goal in a 6–1 drubbing of Manchester United, which he celebrated by revealing a shirt under his jersey with the clearly rhetorical question, "Why Always Me?" and then scored a second goal for good measure. On Monday, Balotelli was named a spokesman for Manchester's Treacle campaign, advocating fireworks safety for the upcoming Guy Fawkes Day.
Indeed, watching Balotelli bounce from team to team in soccer, grabbing headlines, oscillating between transcendent and terrible (in attitude, judgment, or even play), is reminiscent of Terrell Owens in the NFL the decade before. Like Balotelli, Owens arrived on fan radars early in his career via audacious scoring celebrations — he once hauled in a touchdown, cavalierly pulled a Sharpie out of his sock and signed the ball before handing it to his agent — that have done much to shape a me-first, team-second, career-haunting narrative in which a gifted athlete with a larger-than-life personality is seemingly struggling under its weight.
The wide receiver position in football shares a lot in common with a striker — they typically play far afield of the rest of the players, become instrumental when a team is desperate to score, and have the pressure of the scoreboard weighing on them every game, even though the elite, in reality, score just once every other game.
Also, it's a position that requires a healthy dose of self-confidence, which can manifest into ego, or aloofness, or other qualities that don't necessarily make one a good team player.
When Liverpool signed Balotelli this summer, it was a speculative, why-not dice roll for a team that needs to gamble and could use a bit of luck. Last year, Liverpool vaulted into the Champions League echelon after a considerable time away, and if not for one untimely Steven Gerrard stumble late in the season, might have won the Premier League title. The Luis Suarez-Daniel Sturridge partnership made Liverpool potent, but thanks to Suarez's infamous summer antics, Brendan Rodgers finds himself in the unenviable position of replacing an irreplaceable player.
Sterling and Sturridge has a nice alliterative ring to it, but doesn't pack the same punch as a lineup involving Suarez. Rickie Lambert brings a storyline heartwarming to Scousers everywhere, but he's only capable of 30-goal seasons in the Championship and League One, as compared to 15 goals in the top echelon of English footie. And, so, why not add a mercurial striker in the mix, who shares Suarez's skill set of speed and chaos and willingness to fire on goal?
Here's why: in 14 appearances, Balotelli has only scored twice — once late in a match against Champions League minnows Ludogorets at Anfield, and the other against Swansea in the League Cup. That's two goals in 1,011 minutes of action, which is probably not the goal-to-minutes ratio Rodgers envisioned when the club signed Balotelli. In nine Premier League matches to date, he has netted zero goals despite taking 35 shots, enough for him to rank third in the league for shots per game.
How much eccentricity and self-serving behavior from a star player can we tolerate as a team?
Rodgers played the "go to the media" card to motivate Balotelli after the Oct. 1 Champions League loss to Basel — a game in which Balotelli failed to get a touch on the ball — proclaiming that he needed to prove his worth by scoring goals. Rodgers gave Lambert the start in the following game, a 2–1 win over West Brom, but ran Balotelli out in the final half hour of a game where midfielders Adam Lallana and Jordan Henderson scored to lift the Reds to three points.
Though Balotelli did have the one October goal against Swansea — which he reportedly celebrated by yelling "Finally" — his most Balotelli-esque act of October was during Liverpool's Champions League match against Real Madrid, a game Liverpool lost 3–0, in which he exchanged jerseys… at Anfield… with Pepe… at halftime.
• • •
BALOTELLI AND OWENS offer interesting case studies in a quandary that affects both American and English football teams — how much eccentricity and self-serving behavior from a star player can we tolerate as a team? There's oftentimes a y as well as an x that gets plotted here: if x is eccentricity, y is productivity.
Owens was shunted from team to team, indulged in celebrations that sometimes felt like immature taunts, was accused of and essentially admitted to spitting on an opponent during a game, and perhaps most troubling of all, he appeared to attempt suicide via an overdose of painkillers in 2006 — an episode further marred by a publicist who made things worse via terrible messaging in a press conference, which is not what publicists are supposed to do.
And yet, he only showed significant statistical dropoff in the last two years of his 15-year career. In 2008, his final year with the generally pro-circus Dallas Cowboys, he caught 69 passes for more than 1,000 yards and 10 touchdowns. When Owens signed with Dallas, he coined the "Getcha Popcorn Ready" slogan — immortalized, as sports slogans are, on T-shirts — as an indication that he was ready to be part of an entertainment if not a football juggernaut. Owens got attention, to be sure, and got numbers worthy of an inflated sense of self-importance. Unfortunately, this did not translate to playoff success.
In 2009, he signed with VH1 for a reality show called The T.O. Show (glamorous) and for the Buffalo Bills (not as glamorous); the combination resulted in diminished stats across the board and an accelerated decline that led to a weird last hurrah in 2012 with the Allen (Texas) Wranglers of the Indoor Football League.
There's no evidence that Balotelli is going to meet an analogous fate — perhaps banging in goals for Notts County or Scunthorpe in 2017 — but certainly Liverpool's staff is monitoring the x and y points on the graph carefully. While Balotelli hasn't done much to grab headlines thus far at Liverpool, he also hasn't done much to grab headlines thus far at Liverpool, and anonymity — either on or off the pitch — is not what the Anfield faithful were expecting of this year's Balotelli model. Liverpool now sits in 11th place, a rung below snake-bitten Everton in the Premier League table. Liverpool needs a productive Balotelli if they're going to be relevant, and the rest of us need a productive Balotelli if he's going to be the enigma we expect him to be.

You can find more incredible photography from Ryu Voelkel in his new book, No Hands.
Contributors
Howler
TAGS
WELL, IT DEPENDS ON WHAT YOU MEAN BY "FREE."
Enter your best email for full access to the site.