The American Player Development Model of Pay-to-Play Marginalizes Players from Poor Families and Ultimately Harms the U.S. Men's National Team
By Beck Barnes | Illustration by Alvar Sirlin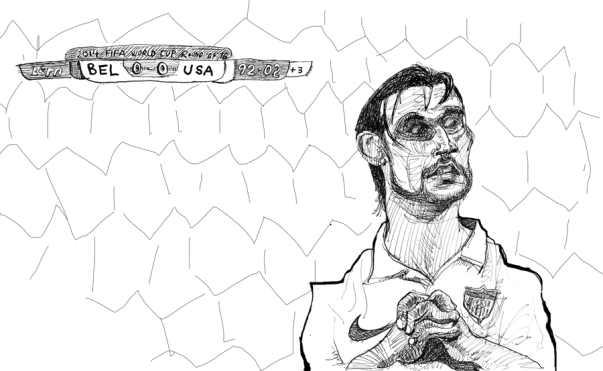 [T]he U.S. Men's National Team closed out 2014 with a whimper, falling to both Colombia and Ireland on European soil. As Jurgen Klinsmann tinkered with a lineup that included veterans but skewed younger than usual, he struggled to find quality off the bench.
It was a familiar story for the coach, whose team has tried in vain to find its form since the World Cup. Even during that tournament, once forward Jozy Altidore withdrew with a hamstring injury, the Americans' dearth of attacking options was clearly exposed. Perhaps no stretch of play crystallized this better than the late stages of the Round of 16 match against Belgium.
With the score tied at zero in the 72nd minute, Klinsmann brought 31-year-old Chris Wondolowski into the game. A career MLS striker, Wondolowski had spent his entire soccer-playing life in the United States. The coach was searching for an offensive boost to help offset Belgium's relentless attack. For 20 minutes, Wondolowski was largely invisible. Then, with a minute left in stoppage time, Jermaine Jones headed the ball directly into the path of Wondolowski, who had drifted several feet from the nearest defender at the top of the six-yard box. Belgian goalkeeper Thibaut Courtois rushed from his line, lunging at the striker, who leaned back and sent his shot wide and high of the frame.
In extra time, the Belgians subbed on their own backup striker, 21-year-old Romelu Lukaku, a 6'3, 221-pound package of muscle and sinew. Fifteen minutes after entering the game he came barreling into the 18-yard box, past teammate Kevin De Bruyne, who was idling in possession, and U.S. center back Matt Besler. De Bruyne sent a lightly-weighted pass and Lukaku ran onto it at top speed, swiveled his frame, and curled a first-time shot just inside Tim Howard's near post.
One poor touch from Wondolowski and the U.S. failed to claim the upset win and a quarterfinal match against Argentina. One sublime touch from Lukaku and Belgium got the win it deserved. In the aftermath, "pulling a Wondolowski" became American shorthand for any bad miss in front of goal. Wondolowski's flub was pretty bad, to be sure, but it was only a painful symptom of a much larger, deeper illness: our collective failure to develop soccer players from the true breadth of the United States' talent pool. Our inability, in other words, to bring on our own Lukaku.
• • •
[W]ondolowski arrived at that spot just outside the six-yard-box by way of the mechanisms that American soccer installed to develop and advance its best players. He excelled at each step along the American player development supply chain.
Born in Danville, CA, Wondolowski played recreationally before rising to the youth club level at the Diablo Valley Soccer Club and the Danville Mustang Soccer Association. Estimated annual costs for a 9-year-old entering the highest level of the Mustang Soccer program today are $1,620, excluding expenses related to travel and uniforms. These pay-for-play stops on the path to the professional leagues are where the best U.S. soccer players receive their formative, technical training. The youth travel teams constitute a crucial step in the development of American soccer players.
An elite soccer player in the United States typically goes through five steps from novice to professional. Youth players filter from (1) recreational leagues to (2) travel teams to (3) high school programs and (4) college before entering (5) the professional ranks. This supply chain mirrors other American sports like basketball and football — except for that second stop, the youth club component. The soccer programs are generally more expensive, and there are no societal mechanisms in place to help supplement funding, as there are in many instances in youth basketball or football. The result is that working class and poor children are often excluded at this early and largely mandatory junction in the development process.
The United States has a population of around 315 million. So how did a pool of roughly 50,000 service members in Germany manage to produce more than 20 percent of the final U.S. World Cup roster?
Wondolowski flourished at his youth club and shined for his high school team before finding success at nearby Chico State University. As Major League Soccer established itself during his amateur years, it must have been exciting for the striker to be selected by his hometown team, the San Jose Earthquakes, in the 2005 supplemental draft. Imagine the pride of the community that had developed him at every stage when he started getting looks from Klinsmann for the U.S. National Team in 2011.
The striker's meteoric rise through the ranks of U.S. soccer was a victory for Northern California. It was also, more poignantly, a victory for U.S. soccer. Here was a player who had progressed through the avenues that were in place to deliver world class soccer players to the national team. He was entirely homegrown. Wondolowski may have shanked his shot from the six-yard box, but he was in that position solely because he was the cream of the crop that U.S. Soccer sowed throughout the '80s and '90s.
• • •
[W]ondolowski's path to the national team is a stark contrast to the one taken by the man whose headed pass he failed to convert. Jones, 32, was born in Frankfurt, Germany to a father who was in the American military and a German mother. As a child, he briefly bounced between Chicago and Greenwood, Mississippi before returning to Germany at age 7 to live with his mother after his parents separated. It was here, in the Eintracht Frankfurt youth academy, that he honed his skills for five years, training as often as four days a week while going to school, largely at the expense of the club. At around the same time Wondolowski's parents were likely paying thousands of dollars to keep their son in competitive club soccer — which his skill level demanded — Jones was taken in and developed by a professional club, at virtually no cost to his single mother.
A demographic breakdown of the German-American presence on the USMNT roster speaks volumes about the two systems — the European model and the American model. In total, five German-American dual nationals made the final 23-man roster for Brazil. Few would now argue that they weren't deserving of inclusion in the team.
Jones and fullback Fabian Johnson were widely considered the two best outfield players on the team through much of the tournament. In limited action, defender John Anthony Brooks and winger Julian Green accounted for a goal apiece.
If you take at face value that the roster for Brazil represented the 23 best American soccer players, then there is an obvious question. The United States has a population of around 315 million. So how did a pool of roughly 50,000 service members in Germany manage to produce more than 20 percent of the final U.S. World Cup roster?
Further, would Jermaine Jones have been able to hone his substantial soccer talent had he been raised by a single mother in Chicago in the late '80s and early '90s? What if he had been raised by a single parent in the rural Mississippi Delta?
While other national team rosters routinely showcase world class talents who — like Brazilian striker Neymar — famously rose out of poverty to achieve stardom, recent studies show that the Americans boast no such players. If history is any indication, had Jones been raised by a single parent in the American south, soccer simply would not have been an option.
• • •
[T]he pay-for-play system has had a noticeable impact on the make-up of the USMNT for decades now. Recently, journalist Roger Bennett teamed with Greg Kaplan, an assistant professor of economics at Princeton University, to contrast the socio-economic backgrounds of USMNT members with elite athletes from other sports.
Kaplan said it will take some time before he can produce a scientific document — one that explains his methodology and findings in scientific detail. But in a recent Men In Blazers podcast, Bennett offered a glimpse of what the study is likely to reveal.
"We ran the zip codes of the U.S. squad players at the World Cup since 1994 and compared them to the NFL all-star players and the NBA all-star players," Bennett said. "And all the soccer players, they come from places in the U.S. that rank higher on every socio-economic indicator than the U.S. average. Much higher than the basketball and football players."
The implication is clear: development is being stunted at lower levels of the socio-economic ladder. It would be overly-simplistic to lay this data entirely at the feet of pay-for-play club teams. Those who study American soccer development say there are other factors involved in the question of why American soccer has failed to produce a crop of superstars from the working and poor classes, as American basketball does so routinely.
"It's hard to say or know for sure," says Travis Clark, who covers youth and college soccer for the website TopDrawerSoccer.com. "Youth soccer, from my observations, has for a long time been viewed as a recreational activity and a predominantly middle class sport. I don't know if that is necessarily going to change any time soon, as the cultural mentality wrestles with the concept of using soccer here as a professional development tool, and not just as a stepping stone to college."
In other words, there are cultural factors at play.
"I think there is a little bit of both [cultural and economic factors] going on, though obviously the high cost is certainly going to turn away kids from poorer backgrounds," says Clark.
The resulting attitude is predictable. No one feels especially drawn toward a sport that is not economically inclusive.
"Poor, urban kids aren't looking at MLS as their ticket out, but rather overseas to Europe, if at all," Clark says.
In search of an alternative, Major League Soccer launched its youth development initiative in 2006, clearing a path for its professional teams to enter into the European model of talent identification and development. For the first time, professional clubs could scout their home areas for the best youth players and bring them into the club at an early age. This represents a paradigm shift in professional American sports.
Young players entering MLS academies continue their schooling efforts through the clubs while refining their soccer skills. They are allowed to stay with the clubs throughout their development and, should they so choose, can join their respective clubs without entering into the MLS draft.
"Soccer worldwide is a lower class environment sport," Jurgen Klinsmann said. "We all got up from very kind of moderate families and fought our way through."
The system rewards clubs for successful scouting efforts, and also promotes the long lost ideal of local athletes starring for the hometown team. It is a brilliant mechanism to promote an endearing relationship between community and club, and has already begun reaping rewards for the U.S. National Team. In June, the international soccer community was dazzled by then 20-year-old DeAndre Yedlin, a product of the Seattle Sounders youth development academy.
The system also has the nice side effect of removing the roadblocks of economic inequality that have hamstrung American soccer development efforts for the past three decades. But it does take a toll on the teams that finance it. MLS clubs, some of which are still searching for a solid foothold in their respective markets, are now expected to pay for full-time teachers and youth development staffing. Clark points out that in most MLS academy systems, the professional clubs don't begin covering the cost of attendance until the U13 or U14 levels.
In May, MLS and the USSF held a press conference announcing a television deal with ESPN, Fox Sports, and Univision that would bring in $720 million over eight years. It was a landmark day for the league, and yet another milestone in the development of the sport in America. Surely that financial windfall will provide some stability to the still emerging player academies at each MLS club.
The problem now becomes geography–or, more accurately, distance. In 2014, MLS counted 19 clubs, although three are in Canada. The youth academies, while a wonderful development, offer precious few slots to youngsters in only 15 American cities. Young soccer players in other cities or in more rural locales are, in many cases, left with the same troublesome pay-for-play options that were available 30 years ago.
• • •
[I]n December of 2013, Klinsmann signed a contract extension with the United States Soccer Federation that, at the time, gave him security in the face of a daunting World Cup group. It also named him to a new position: technical director of U.S. Soccer. On the surface, when compared to head coach of the U.S. men's national team, that may have seemed like a trivial new title. It was anything but.
The title change offered him the leverage to take on the complex task of demolishing the class barriers that exist in U.S. player development. It is a challenge he readily acknowledges.
In late June of 2010, four years after USSF President Sunil Gulati first approached Klinsmann about taking over as coach of the USMNT, the coach offered an insightful assessment of the reasons the Americans had been eliminated by Ghana at the World Cup. He opened up on an ESPN set in South Africa shortly after their loss.
"You are the only country in the world that has your pyramid upside down," Klinsmann said. "It means you pay for your kid to play soccer because your goal is not for your kid to become a professional player but because your goal is that the kid gets a scholarship in high school and in college, which is completely opposite from the rest of the world."
A righteous Steve McManaman sneered in agreement.
"Soccer is very similar to basketball," Klinsmann continued. "You need it out of the lower class environment. And soccer worldwide is a lower class environment sport. We all got up from very kind of moderate families and fought our way through.
"I compare it to basketball because from looking at these guys, they come from the inner cities. So we need to find ways, however they could be, to connect with the Hispanics and connect with everybody in the soccer environment in the U.S. and get the kids that are really hungry, and get the kids on a technical level that are able to perform. What I mean on a technical level is the first touch, and the first touch yesterday was not there. There were far too many mistakes, and you cannot afford those mistakes in a World Cup, unfortunately."
If there were ever a time for the U.S. soccer community to roar in approval, this was it. To attempt to compete with the rest of the world while only fully developing players from the middle and upper classes is, in brief, a losing strategy. In a moment that subtly spoke volumes about the default American attitude towards our mediocre soccer results, McManaman offered his rushed rejoinder.
"I think Jurgen hits the nail on the head, but I think also, I mentioned it before, you need a goalscorer," he said. "You need a number 9."
McManaman's response oversimplified a complex problem. To ask for a mystery superstar to emerge from the existing American player development model is, ultimately, wishful thinking. Klinsmann had just spent two glorious minutes diagnosing the cause of the American soccer malaise, and McManaman wanted to remind us of one of its glaring symptoms.
• • •
[O]ne family in rural middle-America wrestled with these troublesome options for their soccer playing child in the early '90s. With five children to support, Aubrey and Debbie Dempsey felt the financial strain, living for a time in a trailer on the property of a family member.
There were two burgeoning athletic stars in the family. The Dempseys' eldest daughter, Jennifer, was a unique talent on the tennis court. A younger son, Clint, was a soccer prodigy whose talent had outgrown the Nacogdoches, Texas, recreational league. Like many children of his generation, he was forced to travel great distances to find the nearest club teams. Dallas is 170 miles from Nacogdoches. For the Dempseys that meant a six hour round trip two or three times a week to find adequate competition.
Aubrey, a railroad worker, found it difficult to continue to support the routine. Gas prices took a toll.
"I wouldn't say we were dead broke, but I'd say we were lower middle class," Dempsey told Jeremy Schaap in an ESPN E:60 feature. "My dad had to sell his boat, and had to sell some of his guns, you know, and we had to go in debt."
The sacrifices to keep Clint in competitive soccer didn't stop there. Debbie says the family would forego new clothes, and couldn't go on vacations. Eventually, no amount of sacrifice was enough.
When Clint was 12, his parents were faced with a heartbreaking decision — which one of their children's dreams to support. With Jennifer closer to college age, they told their son they could no longer have him participate in club soccer.
The parents framed the decision as a "break" in club soccer for young Clint. The timetable for his return was ambiguous, at best. Realistically there were no concrete plans for him to come back to the rigorous, expensive club soccer routine.
"He was kind of angry with us a little bit at first," says Debbie. "But he also knew, he loved his sister, and he knew that's why we were doing it was for his sister."
Then, in late November of 1995, the unthinkable happened. Jennifer, 16, had been complaining of headaches, and suddenly collapsed in the family's home with a brain aneurysm. Five days later, she was gone.
The sad and uncomfortable truth, as Schaap frames it, is that without this tragic twist of fate, Clint Dempsey likely never re-enters competitive soccer. He never becomes the first American to score in three World Cups. We never know who Clint Dempsey is. He is just another nameless, faceless working class child who fell through the cracks of America's geographically clumsy and expensive pay-for-play system.
If Steve McManaman openly wonders where the great American strikers are, the answer most assuredly lies in this tragic tale. Where is the American Lukaku? The great American number 9 may be dominating a Sunday pick-up game — be it soccer, or football, or basketball — somewhere in Tulsa or Sacramento or New Orleans. For decades top athletes have found they couldn't afford to remain competitive in American soccer. Perhaps American soccer will one day discover it can no longer afford to exclude them.

Beck Barnes lives in Memphis and tweets as @Beck_Barnes. Alvar Sirlin's illustration work can be found at illo.alvarsirlin.com.
Contributors
Howler
TAGS
WELL, IT DEPENDS ON WHAT YOU MEAN BY "FREE."
Enter your best email for full access to the site.