Minnesota United FC's secret weapon is a Brit who sips tea, loves punk rock, and has been coaching in America for twenty years.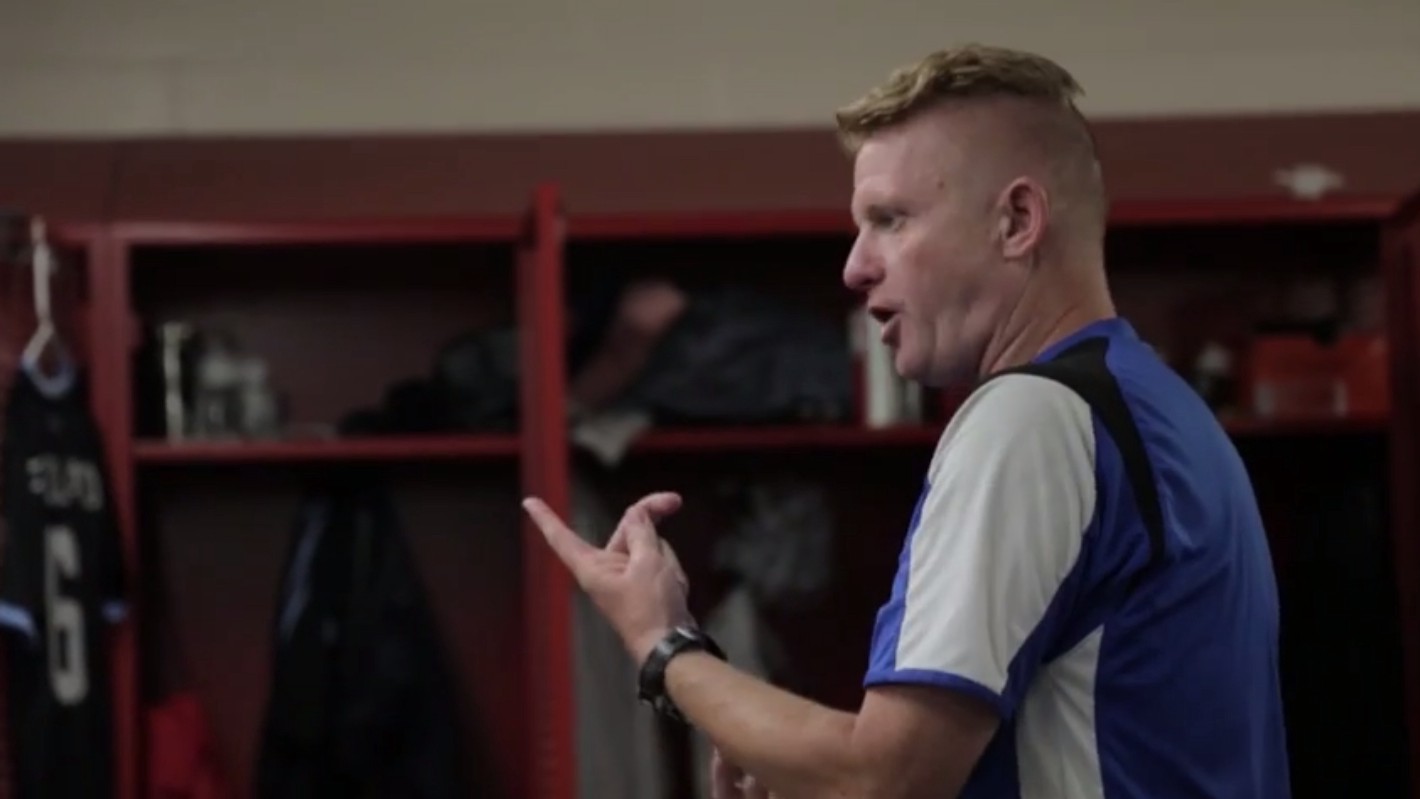 By Alex Schieferdecker
Note: This profile is excerpted from The Complete Darkness 2014: An Annual Review of Minnesota United FC. It is available for purchase in the Dark Clouds Merch store.
[A]t some point during their 2011 North American Soccer League season, the NSC Minnesota Stars started singing "Wonderwall", the 1995 hit song by British rock band Oasis. The song emerged as the anthem for a squad that was under league ownership and lacked any real star power. The "team that nobody wanted" eked into the playoffs as the sixth and last seed. Then they knocked off two higher seeded teams to reach the Soccer Bowl against the favored Fort Lauderdale Strikers. The Stars triumphed in the home leg 3–1, then ground out a 0–0 draw in a torrential Florida rainstorm to take the cup.
In YouTube videos of the club's improbable run, one figure always stands out. He's in the middle of the action, singing the loudest, one arm always draped around someone, the other pointing to the sky. He's the guy who started singing as the team started winning.
That man is Carl Craig, Assistant Coach for the team that is now named Minnesota United FC. And unofficially, the club's radical, Geordie-accented, profanity shouting, confidence building, tactical genius, motivator-in-chief and father figure.
"I don't see myself as a father figure," says Craig.
We're sitting alone at the end of a long table in the conference room of the National Sports Center, where the team trains and plays its home matches. We've been talking for about an hour. I've asked about how Craig sees his influence on the team. His role and responsibilities are not as orthodox as those of Head Coach Manny Lagos.
"I think I'm at an age where I have the ability to deal with situations a lot better than I did when I was younger," he says in his unmistakable accent. "And I think that that experience, that life experience allows me to go into that dressing room as, for lack of a better term, a father figure. But I just see myself as an older man with a lot of experience behind me. Me own life experience allows me to see things from many perspectives."
There's no contesting this. Over the course of our interview, Craig doesn't so much answer my questions as tour them, heading off on tangents, returning to the main point intermittently from a new point of view and then veering off to explore another angle. He has thought deeply about his work, his life, and his future. In his four years as an assistant, he has moved beyond his backstage role to become one of the faces of the organization.
"You've gotta surround yourself with people who are there for the good of the club." says Lagos. "Carl is one of those guys. He wants to create a culture where we push this club to higher levels and where we're always trying to evolve, always trying to get better."
• • •
[C]raig was born in Wallsend, a town just outside of Newcastle upon Tyne that was once the end of Hadrian's Wall. He got his start in football as a youth player in both the Newcastle United and Sunderland academies.
"I was always a dribbly type footballer," he says. "I wasn't a great passer. I went to being a right back, but I was an attacking right back. I always had tricks up my sleeve. Peter Beardsley, he used to cock his leg and turn around the corner, and it's funny cause I never practiced it, but I adapted it, just from watching him, so I used to turn me shoulder sideways and turn around corners."
But circumstances would make it unlikely that Craig would join his hero in the pro ranks. His father died when he was a child, and by that time, his parents were already divorced. When Craig was 14, his mother, stepfather, and sister all moved abroad, leaving him alone in the big city. He lacked the kind of home support that most other kids his age relied upon. Craig is acutely aware of what that meant for him.
"One of the things I remember I clicked onto pretty quickly when I got older," he says, "was that when I was a young [academy] player, you rarely were told or helped along. They told you, 'that was fucking shit', or you weren't in the team because you weren't doing well. Rarely did anyone offer you advice. The kids who did the best had a confidant, someone very close to them. Most often when I was a lad, it was the dad. But what happens if you don't have a dad or the dad wasn't there? You'd just put up with the shit."
Craig was hampered by injuries, and never made it beyond the youth level into the professional ranks.
"Me focus wasn't as good as it needed to be to remain where I was, so got a little jaded with it. I was basically looking after meself at 15 years old, coming to terms with life in bits and pieces. When you're at that age and you've got very little adult support, you go where you're going, and you realize later that you might be fucked up."
It'd be a bit too trite to conclude that Craig has since dedicated his life to making sure that nobody else ever lacks that support. But the role of a father, or at least an older mentor, is one that he clearly cherishes.
"I'm one of them who believes that if you work hard, you'll find your place," he says. "But I also know that's not necessarily the quickest route to success. If you've got someone who can give you that little foot up if you need it, that might be all you need. A lot of people don't have that, and I think the ones who do, particularly when they're young, tend to go on a little further."
Kevin Friedland, who spent ten years of his career in Minnesota before retiring in 2013, was a player-assistant coach for three seasons under Craig. "We worked very closely," says Friedland. "He was a confidant for me, someone that I could go to and speak to in whatever relationship we needed, player to coach, coach to coach, or friend to friend, or as a younger man to an experienced man."
Craig's experiences are born out of a life that has unfolded in unpredictable ways. Soccer is one of the two greatest influences on his life. The other is punk rock. As Craig's soccer career sputtered, his interest the sport waned and he immersed himself in the world of punk rock.
"At first, I liked the big hair…the spiky hair and the sorta fuck off attitude," says Craig.
"At first, I liked the big hair…the spiky hair and the sorta fuck off attitude," says Craig. "As I got older, it became more of an eye-opener. I met people I probably wouldn't have met before — I met people from different backgrounds with different interests. And from a low-income inner-city place like Newcastle, it's kind of a small world. People kind of follow one another. But the punk rock thing introduced me to people from different backgrounds with different philosophies, et cetera, and so it kinda opened my eyes to a lot of things in life and in the world."
Punk rock provided Craig with the diverse, inclusive, supporting atmosphere that he found so conspicuously absent on the football pitch. Alone in the city, Craig grew up on bands like The Damned, UK Subs, Sham 69, and Killing Joke. It shaped his politics and his activities. It also led him back to football in time.
"There were various groups around Newcastle who were setting up music collectives, so I got involved in that movement. I was involved with this collective called 'Riverside' in Newcastle who was putting on all these great bands, and friends of mine [from it] were trying to set up a vegan restaurant workers co-operative.They decided they were going to have a football team, and I had a background in football and so I started coaching them. There was just a bunch of lads playing football, but that was kinda how I slowly got back into it."
Craig began coaching friends in Newcastle as a young adult and quickly found a passion for it.
He now holds full badges in England and the United States as well as a UEFA A-license, which, when Craig earned it in the 1990s, was the highest coaching credential in Europe.
"I was glutton for education, to be honest with you," he says.
Before he was thirty, he had taken all the courses he could take in England and was looking for more challenges. That's when he heard about Educational Sports Programs — now known as Coerver Coaching — a global soccer instruction company that focused on developing the technical skills of young players.
"You had to have an A license, a full badge, and they were pretty rare," says Craig. "And I thought, well if that's a requirement, they're looking for some pretty high-caliber people, so I'm guessing the program is going to be high-caliber."
It was 1994, and the World Cup was being held in the United States for the first time. He got the job offer and decided to give it a shot. The program wasn't the level he was expecting.
The country wasn't what he was expecting either
Craig and a few friends set up camp at a bar in Edina to watch Ireland play their opening match, but instead of showing the boys in green pull off a shock upset of Italy, the bar switched to coverage of OJ Simpson and the notorious white Bronco chase.
"We didn't get it, you know, there was a big cavalcade of police cars going like five miles an hour, as a Brit it didn't make sense, you know, just drive a little bit faster and you'll catch the person."
Craig had never aspired to live in America, he was just looking for a new coaching opportunity. But he has stayed in Minnesota ever since.
In sixteen years at the youth level, he coached with the Eden Prairie Soccer Club, Minneapolis United, West Side, Wings SC, and Shattuck-St Mary's. In addition, he was involved with the regional Olympic Development Program and a variety of adult teams in the American fourth divisions.
"In a sense, it was like being in a shit punk band," says Craig of his work at the semi-pro level. "Didn't get paid, traveled all over, slept in the back of a van, and coached football. It was as much for the love of it than anything else. But the organization behind it was horrible."
At the time Minnesota had a professional team: the Thunder. They played in the second division, first under the stewardship of longtime coach Buzz Lagos, then player-turned-coach Amos McGee. Craig occasionally volunteered with the club during offseason tryouts, but was never a part of the staff.
In 2009, club owner Dean Johnson suddenly fled the United States for his native Belgium, leaving the club with substantial debts and no money. After a twenty-year run, the Thunder collapsed.
Into the void stepped the new second division North American Soccer League and the National Sports Center complex, who created the NSC Minnesota Stars. Manny Lagos, who had been the Thunder's Director of Sporting Operations, became the first coach of the new organization. That is when Craig got more involved, thanks to the advice of Kevin Friedland.
"Carl and I worked together at Shattuck-St. Mary's, so we were friends before he even became the coach" says Friedland, who stayed over as a player through the turmoil. "When the team was looking for a coach in 2010, I told him to look into it."
Lagos and Craig met in a Starbucks in St. Louis Park.
"I think sometimes you go into those meetings a bit cynical," says Lagos. "Because there are people in this market who say they want to be high level coaches or want to think about the game at a different level, and then there are people who really do that. I think right away there was no pretension about Carl. He has a love for the game and a love for coaching that came across right away."
Both Lagos and Friedland say much the same thing about their early experiences with Craig.
"For me particularly, the levels that I played at, there's a perspective as a pro soccer player that's unique," says Lagos, who represented the US in the 1992 Olympics and was capped three times for the senior men's national team. "But I think Carl's perspective is unique, maybe not because he hasn't played at a high level, but because he can coach at a high level."
"They didn't know each other well," says Friedland, of Lagos and Craig. "But their personalities matched and their styles were a bit different, which is why it worked well."
With Lagos, Craig, and Friedland at the helm, the league-owned Stars consistently overcame paltry budgets and a skeleton front office. The Stars finished seventh of twelve teams in 2010, falling in the first round of the playoffs. In 2011 and 2012, they made dramatic runs to the league final, winning the first, but losing the second in a heartbreaking penalty shootout.
Despite this success and the camaraderie between the team and its fans, the club was facing collapse again if a new owner couldn't be found. It was only at the eleventh hour that local businessman and philanthropist Dr. Bill McGuire came forward and saved the team in 2012.
McGuire's ownership represented a turnaround for the club. In 2013, the team was rebranded as Minnesota United FC and spent heavily on several marquee players. Meanwhile, Craig's status as a fan favorite was cemented by a madcap video series called "Tea Time With Carl Craig" in which he dished on culture and society over tea, daintily poured in the team locker room.
After three years of ill-paid, part-time service, Craig became a full-time, paid employee of the team in 2014. Given what he has meant to the team during this period, that fact in and of itself is somewhat astonishing.
"I think, for me, I see young people these days go in and say 'I want to coach', but they want the dollars more than they want the coach," he says.
"I think, for me, I see young people these days go in and say 'I want to coach', but they want the dollars more than they want the coach," he says. "I always wanted the coach first [sic]. I couldn't drive in England, couldn't afford a car for one, but couldn't drive. I'd travel the length and breadth of the city with 16 footballs in a net over me shoulder and a big bag full of kit, all over the city, making next to nothing, but doing that because I needed the experience."
Towards the end of the 2014 season, opposing teams created several scoring chances by splitting the United center-backs, Tiago Calvano and Crisitano Dias. After the team conceded a goal through that exact vulnerability against the Tampa Bay Rowdies, Craig set about trying to find a solution. He noticed that when teams pressed the Minnesota defense, midfielder Juliano Vicentini dropped back between the center-backs to provide additional support. It's part of the system. But when the team would play the ball out and Vicentini would return to his midfield position, Craig noticed that the center-backs did not close ranks, but stayed wider, as if Vicentini were still in the space between them. By the next match against New York, Minnesota and Craig had sealed the gap, and the Cosmos were forced to play down the sides of the field, where they were constantly stymied.
Craig solved that problem by setting the team up on the field and moving the players, step by step, in the way he wanted. But he often prefers to tackle problems differently, and over the years his style and approach to his craft have changed markedly.
"I probably say more, but speak a lot less than I used to," is how he puts it. "It wasn't always how I was educated as a coach, to be very hands off, it was very much hands on. But as I've become more experienced and working at a higher level, what I relay to the players is far less, and hopefully more poignant, as opposed to lots of little information on lots of little things."
In our interview, the one word that Craig used more than any other was "empower." That directive is the key to his philosophy.
"You want to empower footballers to solve situations," he says. "This is one of these things that I think [the US] is having problems with in terms of football development, there are too many coaches saying "do this, do this, do this".
This philosophy is evident in the way that Minnesota United played in 2014. To the occasional frustration of fans, the Loons never truly overpowered their opponents. Instead, the team took a conservative, disciplined approach and counted on moments of inspiration or mistakes by the opposition."I think we're utilizing our players better than anyone else is," says Craig. "We're not as quick in the legs as some other teams… but we're cleverer."
Sometimes Craig works in mysterious ways.
In a September game against Fort Lauderdale, first choice goalkeeper Matt Van Oekel had one of the absolute worst games you can have while still only allowing one goal. He was indecisive, error-prone, and a severe liability. The nadir of his performance came after he deliberated too long on whether to play a deep pass from the Strikers nearly handing the opposition a brilliant chance to equalize. Cristiano Dias spared his blushes by booting the ball out of play, then turned to Van Oekel and vented his fury at his keeper in the middle of the field. It was a train wreck in waiting.
Craig pulled the struggling goalkeeper aside during training the next week.
"Matty, everyone in the stands saw you, viewed you looking nervous," he said to Van Oekel. "Now that's a mind read. I don't know that you were nervous, but I'm reading the body image that you gave to me and to your teammates that you looked like you were nervous."
Craig didn't bother putting Van Oekel on the couch. Instead, he asked a different question.
"When you feel confident, how do those around you see you looking confident?"
Van Oekel wasn't sure, so Craig told him. He told him that he walked funny. That he pushed his chest out and stuck his butt out. And that he pulled his shoulders back "kinda like Freddy Mercury".
Or —
"He's kind of a duck," says Craig. "I said to him, 'your physiology has an effect on your mind. I want you to practice this every day, for X number of minutes, I want you to see people seeing you feeling confident, and I want you to literally walk around like you're confident.' So I put him on a little pathway, and I remember one of the lads laughing at it, 'what the fuck you're walking like that Matty for?' And I remember, he looked at me, and I just tipped him a wink and nodded the head that said 'just keep doing it, son, keep doing it.'"
The next match, away in San Antonio, Van Oekel had no trouble keeping a clean sheet.
"Carl is a very honest coach," says Friedland. "He'll tell the guys exactly what they need to be told. He'll put his arm around a guy when it's necessary or he'll give him the 'hair dryer' at half time or during training. He thinks about the game a bit philosophically. He'll often ask questions to the players to challenge them to come up with the solutions. Other times, he'll tell them exactly what he wants and if they don't get it done, he'll let them know it."
When you speak with people who work with Carl, the word you hear more than any other is "honest." Everyone says it.
"You can turn to Carl and get an honest assessment," says Lagos. "Whether I agree or not, it's usually spot on and sparks conversation and helps the club move forward."
• • •
[C]arl Craig is a coach, a radical, a father. Carl Craig is a cult figure. To fans, he is best known for the "Tea Time with Carl Craig" series. Or else, for his flamboyant, come hither poses for coaching staff bios. And of course for his master of ceremonies locker-room renditions of 'Wonderwall' on those old YouTube clips.
To the players, Craig shows a much different side when the cameras aren't rolling and the floodlights aren't on.
"It's important to know that the hardest players to coach aren't the starting eleven," says Friedland. "Or the guys that typically sub into a game. It's the guys who are 15–30. They're the ones that need the most love because they're often disgruntled only getting a game here or there."
Craig relishes the fact that long cross-country plane rides allow him to get to know his team on a personal level. Flying back from the San Antonio match after turning around his performance, Van Oekel wanted to make sure they were seated next to each other.
Working with a professional soccer team is a demanding job. Craig admits to not having many close friends. "I'm very comfortable these days," he says. "Staying home, reading, I sleep a lot when I'm not coaching. And I'm comfortable sleeping. I love listening to the radio, I put Radio 4 on because I'm an old la-dee-da Brit these days. I'm comfortable in my own space sitting, shooting the breeze, but I think me goal is just to keep moving forward."
Forward. That's a word that means something quite explicit when he says it.
"I've been a winner. Regardless of the level, I've been a winner. At every level as a player, at every level as a coach, I've won. For me, when we win, it's done. When we won the league three years ago, the celebration is a bit of bravado. But it's not really what I feel like doing. In that moment, I'm not pulled into that moment to celebrate. I've moved on. I'm already moving on. And I hate that, but I also know that this is ultimately where my ancestors and your ancestors, that's why they survived. Someone has to look forward. We as a species have to keep moving forward. That's the honest me: "what's next?" And it's both lovely and frustrating. People on the outside think I'm a bit daft, but I think I've very grounded. I know who I am, and I know where I'm going."
Carl Craig is moving forward.

Alex Schieferdecker lives in Minneapolis-Saint Paul and writes about Minnesota soccer for The Loon Call. He's on Twitter at @theschief.
Contributors
Howler
TAGS
WELL, IT DEPENDS ON WHAT YOU MEAN BY "FREE."
Enter your best email for full access to the site.