Home
Dirty Tackle
Man City destroying themselves with attempt at heated bench advantage
Man City destroying themselves with attempt at heated bench advantage
December 29, 2014
https://www.gettyimages.com/
Squandering a two-goal lead at home to 19th-place Burnley proves that Manchester City have a problem. And that problem is heated seats.
From ITV:
Heating was installed for each seat in the home dug-out in October and can be turned on at the touch of a button by the players and manager Manuel Pellegrini.
But the same has not been offered to away teams who will have to shiver their way through matches at the home of the champions.
This has been billed as an "advantage" for City, but it is clearly destroying them. While the visiting team's substitutes are eager to get into matches so they can run around and warm up after sitting on their cold bench (and starters are sure to keep their effort level high to avoid those icy seats), City's subs can enter matches more relaxed, or, even worse, perhaps already suffering from an uncomfortable case of swamp ass. This is an obvious disadvantage for City.
If anything, they should make their bench less comfortable. My personal recommendation: medieval spike chairs.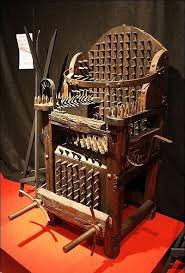 Of course, no professional footballer ever wants to sit on the bench, but if the bench consisted of spike chairs, maximum effort to maintain top performance and avoid sitting would always be ensured.
After all, if torturous conditions are getting results from Abu Dhabi's migrant workers, why not carry those practices over to the royal family's footballing interests?
Contributors
Howler
TAGS
WELL, IT DEPENDS ON WHAT YOU MEAN BY "FREE."
Enter your best email for full access to the site.