Home
Dirty Tackle
Zidane: "The Champions League made me dump other competitions so we can stay together"
Zidane: "The Champions League made me dump other competitions so we can stay together"
January 27, 2018
Zidane professes his one true love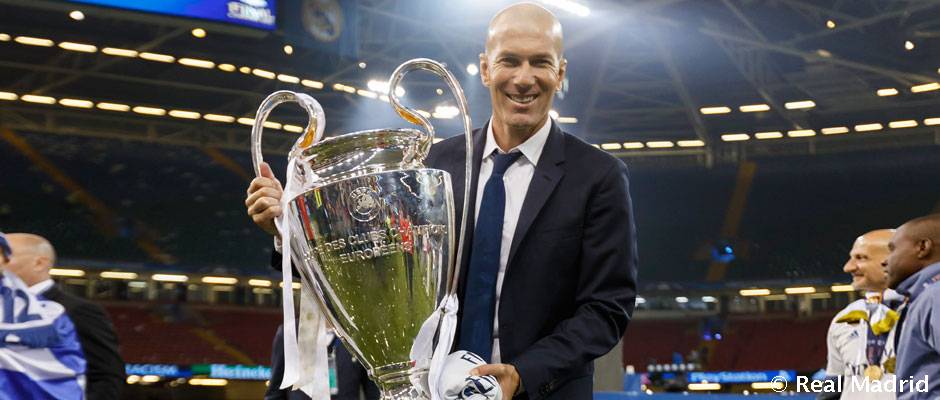 Real Madrid manager Zinedine Zidane has revealed that he has purposefully gotten his club eliminated from contention in La Liga and the Copa del Rey in order to continue his relationship with the Champions League. This admission follows his side's shocking midweek home loss to Leganes in the second leg of their Copa del Rey quarterfinal.
"I've decided to settle down and enter into a monogamous relationship with the Champions League," Zidane told reporters. "When it discovered that I had an affair with La Liga, as well as flings with a couple Super Cups and the Club World Cup last year, it gave me an ultimatum: dump all the other competitions or you'll lose me to someone else. It was then that I realized that I love the Champions League too much to let it go."
Real Madrid became the first club to win the European Cup in consecutive seasons during Zidane's first two campaigns at the helm. In addition to his second Champions League title, Zidane also won La Liga, the Spanish Super Cup, the UEFA Super Cup, and the FIFA Club World Cup in 2017.
This season, however, Real Madrid have not only suffered premature Copa del Rey elimination, but currently sit fourth in La Liga, a whopping 19 points behind first-place Barcelona. This has prompted rampant speculation as to whether Zidane will be sacked before the end of the season. The Frenchman remains defiant, though.
"The Champions League and I were destined to be together forever and I won't let anything or anyone get in the way of that!" he shouted. "I know Unai Emery, for one, would like to woo my soulmate away from me, but it won't happen. The Champions League and I are in love and no one can keep us apart! It's like the film The Notebook, except I'm better looking than Ryan Gosling."
As Real Madrid prepare to face Emery and PSG in the Champions League round of 16, Zidane offered a plea to the object of his affection.
"I love you, Champions League. Don't be fooled by Emery's slick hair and his €200 million signings. He'll do the same thing to you as he did to the Europa League—take your best years and then walk away when he finds something new and more exciting. But I'm not going anywhere. Unless, you know, I get sacked."
---
Follow Brooks on Twitter @BrooksDT. 
Contributors
Howler
TAGS
WELL, IT DEPENDS ON WHAT YOU MEAN BY "FREE."
Enter your best email for full access to the site.