Home
Dirty Tackle
Brazilian Ronaldo says he'll try to make comeback as a player for his NASL club
Brazilian Ronaldo says he'll try to make comeback as a player for his NASL club
January 14, 2015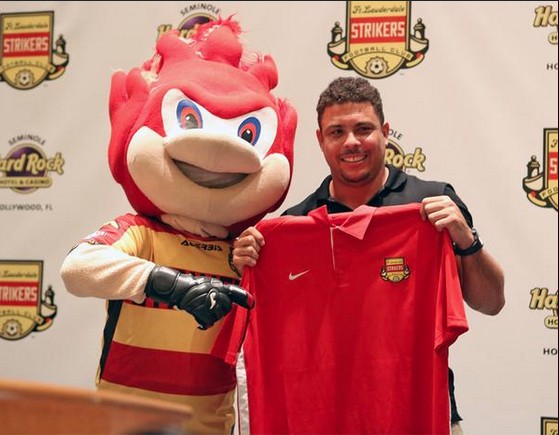 Ronaldo — the Brazilian one who won the Ballon d'Or in 1997 and 2002 and not the Portuguese one who won it in 2008, 2013 and 2014 — was unveiled as a minority owner of the NASL's Fort Lauderdale Strikers at a press conference on Wednesday. And to ensure his new investment in the U.S. second division gets that added bit of publicity, he said that he's going to try and play for the club at some point.
From Reuters:
"That is not easy because I love to play, I love soccer, that was all my life my big love. When I retired, I stopped playing because of my body, so much pain and injuries," said the former Inter Milan and Real Madrid forward.
"To play a soccer game you have to be in very good shape. I will try for myself, it's another challenge, I am sure it will help the league, help the team.
"I will train a lot, and if the (coach) needs me, maybe," he said, adding with a smile that he would like to play if the Strikers were to reach a final.
Ronaldo's weight has fluctuated since he retired from playing with Corinthians in Brazil due to health issues that made it difficult for him to run. He's played in the occasional charity match since then, but getting back into competitive form at the age of 38 seems unlikely.
Everyone needs to have dreams, though. And this is certainly better than aspiring to eat all the stone crabs in south Florida (which happens to be my aspiration).
Contributors
Howler
TAGS
WELL, IT DEPENDS ON WHAT YOU MEAN BY "FREE."
Enter your best email for full access to the site.