If it continued… (Atletico Madrid v Barcelona)
January 29, 2015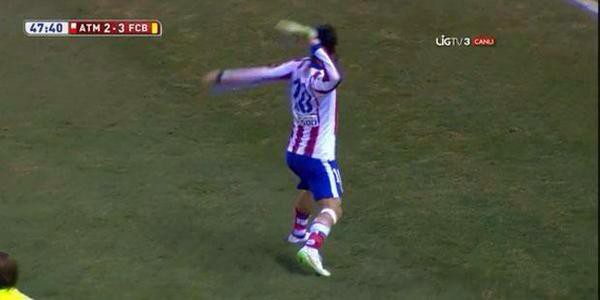 The second leg of Atletico Madrid's Copa del Rey semifinal against Barcelona had it. A skillful Fernando Torres goal within the first minute, Jordi Alba getting smacked in the head by the linesman's flag, Torres shoving Neymar while walking off the pitch at halftime, Gabi getting a red card in the tunnel, Arda Turan throwing his own boot, and Barcelona came from behind to win 3–2 (4–2 on aggregate). It even had a player — Atletico's Cristian Ansaldi — who was detained by police on his way into the stadium for slamming his car door on a cop's hand!
Clearly this match had everything (a man threw his own boot!) and more. Yet many of you still requested that we ask that old chestnut of a question: What if it continued?
97' — Arda Turan throws his other boot. Not because he's still angry, but just to satisfy an urge for balance. He goes and collects it himself while everyone watches in silence. It's quite awkward. And in his rush to put it back on as quickly as possible, he doesn't get his foot all the way back in it, but resumes running anyway, albeit unnaturally, while everyone watches and wishes he would've taken the extra few seconds to do it right.
101' — Neymar is placed in a custom-made plexiglass case to protect him from the flying boots and any Colombians that might be in the area.
105' — Fernando Torres scores with a missile of a volley from his own half. He instantly becomes the human embodiment of hope and redemption, inspiring millions around the world. With Torres as an example, all wars end and everyone starts helping each other be the best that they can be. Arda Turan throws a dove at the nearest linesman to mark the occasion.
https://www.gettyimages.com/
https://twitter.com/milanaknez/status/560523904406786049
112' — Xavi finishes writing a scathing review of the Vicente Calderon's pitch on a comment card of his own creation. He hands it to a ball boy and asks that he pass it along to the head groundskeeper. The ball boy agrees and then crumples it up and tosses it on the pitch. Xavi is more appalled by the further degradation of the playing surface than the disregard for his opinions about it.
118' — Lionel Messi pulls off a spectacular, mazy run that results with taking a shot that goes just wide of the post. This is interpreted by the press as a show of dissatisfaction with his teammates and clear sign that he will force a deadline day move to Manchester United.
123' — Antoine Griezmann finally realizes that he has the same hairstyle as Pepe Le Pew.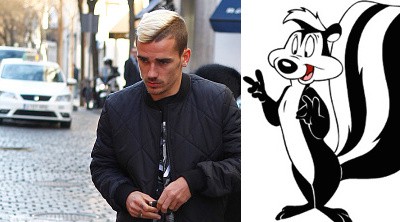 130' — Arda Turan has a penalty shout denied and throws a Collector's Edition DVD of Speed 2: Cruise Control at the referee. But the ref is to distracted by the question of what collector would want such an item to send him off.
134' — Fernando Torres completes his hat trick by scoring with a front flip. He decides that he is once again too good for Atletico and demands a transfer to Liverpool so he can begin his perplexing journey all over again.
138' — Gerard Pique announces he is joining the race for the FIFA presidency and promises both a Shakira song for every international tournament and no Pitbull songs for anything ever again. For the first time, Sepp Blatter fears for his job.
141' — Luis Suarez surveys the other players on whether they think stamping or biting is the cooler thing to do. Their inconclusive answers add to his pre-existing frustration over his lack of goals.
145' — The match is abandoned when extended exposure to Barca's fluorescent kit makes everyone in the stadium go blind.
Contributors
Howler
TAGS
WELL, IT DEPENDS ON WHAT YOU MEAN BY "FREE."
Enter your best email for full access to the site.