Home
Dirty Tackle
Several alternate titles for Frank Lampard's poorly timed children's book "Frankie's New York Adventure"
Several alternate titles for Frank Lampard's poorly timed children's book "Frankie's New York Adventure"
January 24, 2015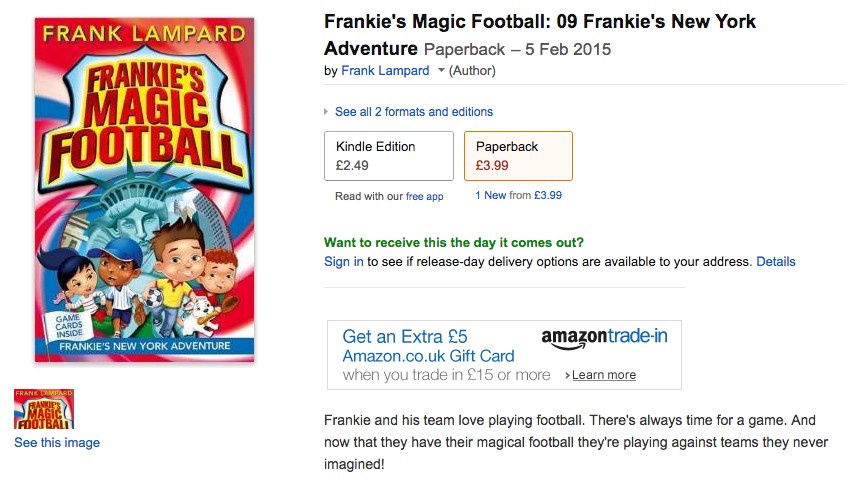 By February 5, Frank Lampard was supposed to be with New York City FC, preparing for the start of the club's first season in MLS following what was believed to be his short-term loan stint with Man City. Instead, he'll still be with Man City since he never actually signed a contract with NYCFC when he was unveiled last summer. But he will release his latest children's book on that day, regrettably titled "Frankie's New York Adventure."
This will only add further insult to the already embittered fans in New York. So in the interest of helping Lampard smooth things over, we've come up with some alternate titles for the book.
-Frankie Learns that Lying is OK
-Frankie Postpones His New York Adventure for a Longer and More Professionally Fulfilling Manchester Adventure
-David Villa Wonders Where Frankie Is
-Frankie Serves as a Pawn in a Corporate Shell Game
-The Statue of Liberty Gives Frankie The Finger
-Where's Frankie? (Not in New York!)
-MLS and the Sheikh of Abu Dhabi Think They Can Do Whatever They Want and You Can't Stop Them
-Please Don't Throw This Book at Frankie When He Finally Begins His New York Adventure
Be sure to pick up this heart-warming tale of a boy and his imaginary contract!
Contributors
Howler
TAGS
WELL, IT DEPENDS ON WHAT YOU MEAN BY "FREE."
Enter your best email for full access to the site.