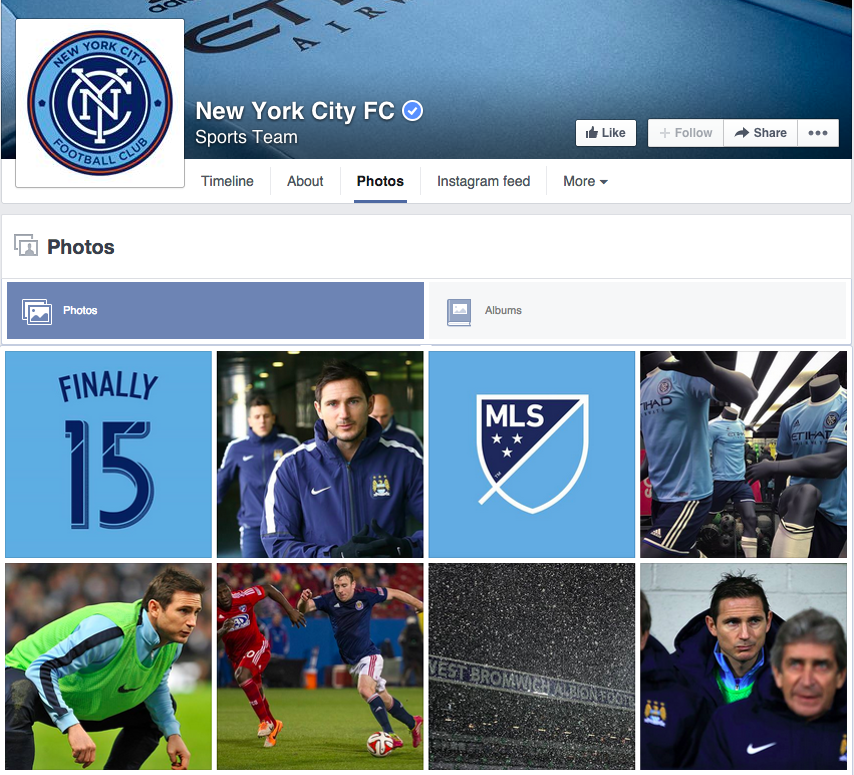 It's not him, it's us
By Ryan Catanese | Picture via NYCFC
[I]magine Frank Lampard shuffling up to Manuel Pellegrini, doe-eyed, tear-stained sky blue jersey in hand — like a shinguarded Oliver Twist. His cushy "almost retirement" job wants him to report for work, move to the suburbs, and buy a mid-size luxury sedan. But he's relishing the idea of one more run at the Premier League title. Because they're nice people, Pellegrini and Jason Kreis honor the wishes of a soccer legend.
Now imagine Frank Lampard pleading with Sheikh Mansour to let him go to New York. Frank's carrying Manchester City, which isn't what he signed up for, and he's dying to start his new life as New York's newest sports hero. The Manchester City overlord's eyes flash with rage. "No!" he shouts, "NYCFC is just another revenue stream! MLS is a joke and Landon Donovan is overrated."
The truth of Lampard's situation, like it so often does, lies somewhere between these extremes. There's no doubting the Lampard loan/sale-thing is awkward for the City Football Group, and probably isn't how they foresaw their start in New York. But the temper tantrum thrown by American soccer fans has been the real letdown.
Sure, it's safer than hooliganism, but is there anything more lame than "Ultras" issuing a press release?
One revelation from #LAMPARDGATE is that NYCFC has a supporters group. You'd be forgiven for not knowing about supporters of a team that has no stadium and has yet to play a match. They're called the Third Rail. Last week, they sent out a press release to "publicly denounce the decision" to let Lampard stay in England. They had bought their tickets expecting to see Lampard, and now they feel duped.
Do Third Rail members support NYCFC or marquee signings? The tickets they bought were to see NYCFC, not Frank Lampard. And sure, it's safer than hooliganism, but is there anything more lame than "Ultras" issuing a press release?
Let's get some perspective: Frank Lampard will miss some early regular season games, sparing his knees the ordeal of Yankee Stadium's turf-covered infield. But with new rules allowing more than half the teams to get into the playoffs, regular season games mean less than ever. All indicators are that Lampard will arrive stateside at some point, probably months before the postseason.
Soccer writers use words like "farce" and "travesty," and type up fresh new hot takes whenever Lampard's name is mentioned. PELLEGRINI SAYS HE DOESN'T KNOW WHEN LAMPARD WILL LEAVE, WHAT'S HE HIDING? There are actual "farces" in US Soccer: player allocation and contracts, Jurgen Klinsmann's power-lust, Bofo's haircut. The Lampard omnishambles is a minor bummer; a hiccup, not a travesty.
There's no shame in admitting MLS is a step down from the Premier League. Frank Lampard and the global soccer community know this, and American denial doesn't make it any less true. In fact, any conversation about growing the sport must start with an honest acknowledgment of where we are. This is new for a country that declares its best teams "World Champions," but maybe, for once, we can just admit that we're not the best. MLS may some day grow to rival the Premier league but, as other leagues demonstrate, success doesn't have to mean superiority to England.
NYCFC will, for the foreseeable future, play second fiddle to City Football Group's orchestra. Say it out loud. Now breathe. See, it's not so bad, is it?
Being second in line at Sheikh Mansour's money trough — valued in the tens of billions — isn't a hardship. City Football Group is pouring millions into soccer in America, and is involving MLS in an unprecedented international soccer partnership. Manchester City's brand new academy is widely considered one of the best facilities in the world and yet NYCFC is derisively referred to as a "farm team."
And what if it is, in some ways, a farm team? What if in the future, Manchester City sends some of its brightest young stars over to New York for a season's seasoning? If that's what it means to be downriver in this revenue stream, NYCFC shouldn't resist the label.
That's not to say the partnership is flawless. The CFG conglomerate is inherently murky and we may never know the extent of the shadiness in the Lampard deal. But the fact remains: Major League Soccer, despite its growth, still needs investment–we have been screaming that for years–and CFG is one of the biggest investors the league could have landed. If a billionaire decides he wants to throw a seemingly limitless pool of money at an American soccer team, is the league or its fans really in a position to refuse?
US Soccer leagues used to have to worry about folding completely. That was a crisis. #LAMPARDGATE is an inconvenience; a speed bump, not a spike strip. I hope we can avoid the short-sightedness of letting a few PR gaffes–and they are just gaffes–ruin what could be the biggest jackpot MLS has ever hit.

Ryan Catanese is a producer for the Howler Radio and DUMMY podcasts. He also works in television, covering Texas politics. He tweets under the handle @rcatanese.
Contributors
Howler
TAGS
WELL, IT DEPENDS ON WHAT YOU MEAN BY "FREE."
Enter your best email for full access to the site.