Home
Dirty Tackle
Vincent Tan's mother demonstrates what happens when a Bond villain's parent intervenes
Vincent Tan's mother demonstrates what happens when a Bond villain's parent intervenes
January 9, 2015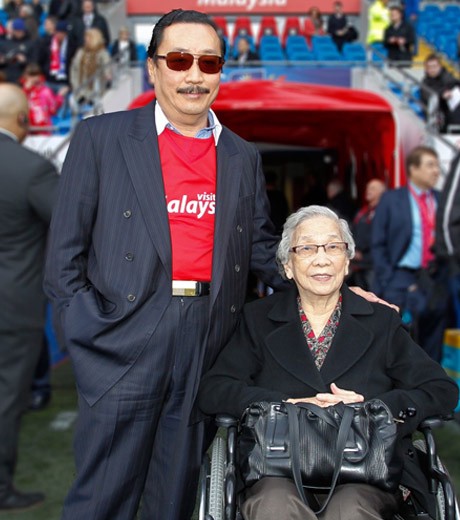 A scene from Bond 24…
Vincent Tan: You are powerless against me, Mr. Bond. I have taken control of MI6 and changed the dress code for you and your colleagues to require that you all wear sleeveless T-shirts with bedazzled dragons on them during working hours. Mwahahahaha!
Bond: You'll never get away with this, Tan. There will be protests! Your reputation will be destroyed.
Tan: Hahaha! Protests and reputations, Mr. Bond? These matters don't concern me in the slightest. All I care about it getting exactly what I want. And all I want is to enforce my will upon you and anyone else who stands in my way. Mwahahaha!
Madam Low Siew Beng: Tan Dato' Seri Vincent Tan Chee Yioun! What do you think you're doing in here?
Tan: Ugh. Nothing, mother.
Madam Low Siew Beng: Are you making enemies again? What have I told you about that?
Tan: (rolls eyes) That togetherness and unity and happiness are the most important things in life and we must always work towards those ideals.
Madam Low Siew Beng: So what are you going to do now?
Tan: Mom!
Madam Low Siew Beng: (expresses parental disappointment by not doing anything at all)
Tan: Fine…I'll let Mr. Bond wear whatever he wants and release a statement in which I paraphrase John F. Kennedy on the importance of compromise.
Madam Low Siew Beng: And?
Tan: And I'll get him something to drink because he's my guest and he's probably thirsty. YOU'RE A WONDERFUL MOTHER AND I LOVE YOU MORE THAN YOU WILL EVER KNOW BUT I WISH YOU WOULD LET ME DISREGARD THE DESIRES OF OTHERS JUST ONE TIME!
***
In a shocking reversal and show of thoughtful humility from a man widely regarded to be the sporting world's living caricature of a stereotypical baddie, Cardiff City owner Vincent Tan has decided to change his club's home kit from red back to blue after two years of protests from Cardiff supporters. And this is all happening because of his mother.
Tan announced the change in one of the most surreal official statements from a football club owner of all time. It begins:
The Christmas and New Year period has given me time to reflect on the events of the last year. Spending time with my family had a profound effect upon me. My mother, Madam Low Siew Beng, a devout Buddhist, who attended Cardiff City Football Club to watch them play, spoke to me on the importance of togetherness, unity and happiness.
From there, Tan announced a welcomed set of changes for the club. But only after paraphrasing John Kennedy.
To paraphrase John F. Kennedy, "Let us never compromise out of fear. But let us never fear to compromise."
My wish is to unite and make the Club successful and in order to achieve this I fully support the Board's decision to implement the following changes:
1. Starting from Saturday, 10 January 2015 and until the end of this season, our home kit shall be Blue. Our Away Kit shall be Red. I would like to thank the Football League for their approval to facilitate my request.
2. For the 2015/16 season, Cardiff City's home kit colour shall be Blue. Our Away Kit colour shall be Red.
3. The Club badge will be redesigned to reflect the dominance of the Bluebird, while celebrating the proud history and heritage of the Club. I also wish to incorporate elements representative of my culture and beliefs, which I hope are respected.
4. As the Chairman has explained, the debt to equity resolution is not straightforward. We will deal with this in due course, with all decisions made in the best interest of the Club.
5. For the 2015/16 Season, Non Price Freeze Season Tickets will be reduced and Price Freeze Season Tickets shall be adjusted accordingly to match these prices.
The statement eventually concludes with the photograph of Tan and his mother at the top of this post.
Moms are power.
Contributors
Howler
TAGS
WELL, IT DEPENDS ON WHAT YOU MEAN BY "FREE."
Enter your best email for full access to the site.