At 34, Abby Wambach faces the difficult task of carrying the USWNT into Canada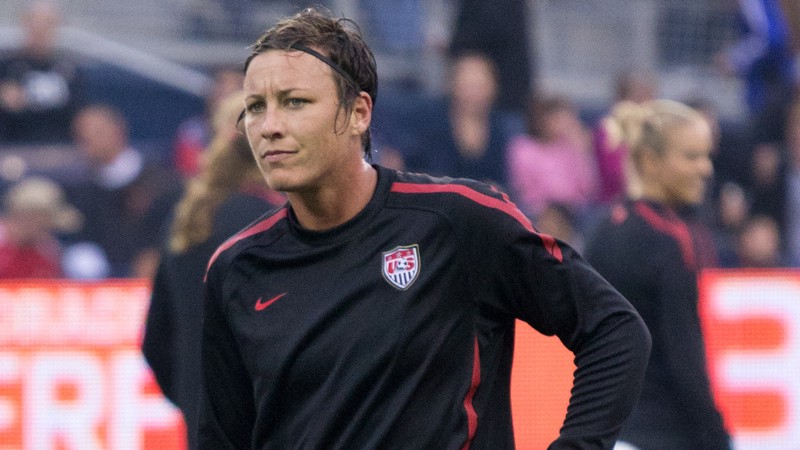 By Evan Davis
[Q]uick, what is the greatest goal in US soccer history? Joe Gaetjens's 1950 stunner against England? Paul Caligiuri's strike that propelled the USMNT to its first World Cup in four decades? Landon Donovan's game-killer against Mexico in 2002 which pushed the team into their only quarterfinal appearance to date? You could make a strong case for any of these. But the greatest goal in US soccer history belongs to Abby Wambach, scored on July 10th, 2011, in Dresden, Germany.
The sheer magnitude of this goal has no parallel in the American game. The US men have always struggled for a place at the table, their shining moments couched by inevitable disappointment. Meanwhile, the women's team has largely ruled the sport since the first Women's World Cup in 1991. Twenty years later, on that fateful July evening in Dresden, Pia Sundhage's team was poised to lose to Brazil, a quarterfinal exit that would most certainly be remembered as the squad's rock bottom for years to come. Then, in the 122nd minute, something happened. Watch the build-up in full. Listen to Ian Darke's voice. The journey from resigned despair to unbridled elation takes all of 60 seconds.
Even Megan Rapinoe, who delivered the cross to Wambach's head, described it as "uniquely American." If "Try hard, run fast" is the American way, then Wambach's last-second header is the style's Platonic ideal. Wambach has scored more goals than any other international in the world, and that evening in Dresden cemented her status as a legend.
Now, the legend is in the news once again. CONCACAF named her the Female Player of the Year. FIFA shortlisted her for the Ballon d'Or for a fourth time, a prize she won in 2012. She played in 19 of the US's 24 matches in 2014, averaging 59 minutes per game. She is looked upon as a talisman for this USWNT by head coach Jill Ellis.
All of those records, accolades and legendary moments can't change the fact that Wambach's best days are now behind her. This grim reality was underscored by her shockingly poor penalty miss in Sunday's 2–0 defeat at the hands of France. She will be 35 by the time the World Cup kicks off in Canada this June, and one can't help but feel that Ellis has a Xavi-sized problem on her hands.
Wambach is a classic number 9, a target striker who loves to poach inside the 6-yard box. No one in the world is better in the air; her headers are her calling card. Her 0.61 goals per 90 minutes over two seasons in the NWSL remain impressive. (She averaged 1.07 goals per 90 for the national team over the same period, but most were against minnows in friendlies.) December's friendly tournament in Brasilia was supposed to give the USWNT a chance to test their new ideas against an elite team, 6th-ranked Brazil. That tournament did not go as planned, especially for Wambach.
If "Try hard, run fast" is the American way, then Wambach's last-second header is the style's Platonic ideal.
The USWNT had long stuck to a flat 4–4–2 formation under Pia Sundhage, with the hope that their muscle and counterattacking speed could control games. Soccer has evolved, and such a system is too easily picked apart by the technical acumen of Germany and Japan. The purpose of Jill Ellis's new 4–3–3 was to remake the Stars and Stripes into a fluid, interchanging, possession-oriented side that could accommodate the glut of attacking talent in the player pool. Indeed, central midfielders Carli Lloyd and Lauren Holiday love to push forward through the middle to join Wambach and Alex Morgan in the final third, while Megan Rapinoe and the fullbacks maraud the flanks to catch Tobin Heath and Christen Press on the overlap, who then cut into the box. Wambach is ostensibly the focal point of this attack. Ellis used her in Sunday's friendly as a supersub in the 63rd minute in a 4–4–2. Upon entering Wambach promptly snatched the captain's armband from Lloyd.
The problem, however, is that Wambach no longer has the speed or stamina to track back, get into open space, stretch defenses, or finish with her feet. She waits in the box for a cross, which she then tries to head in. Build-up play also stagnates, with the midfield generally looking to play out wide, cross to Wambach, and hope for the best. The box gets overloaded with immobility, and the center of the park becomes open season for players like Marta to run riot, as witnessed in the 3–2 loss to A Seleção in December. The midfield collapse was again on display against Les Bleues on Sunday, with Lloyd cast out wide and Holiday looking helpless as the number 6. If controlling the ball on the ground and incisively moving through space is Jill Ellis's plan, Wambach only hinders that objective — and she didn't score once against Brazil across those two games played. Ellis's 4–3–3 asks a great deal of its component parts, and Wambach is physically unable to achieve them.
The irony is that target strikers are in abundance for the USWNT. Alex Morgan and Amy Rodriguez (and Sydney Leroux, when she's in form) could easily fill the role. In recent matches when Morgan has been healthy, she's sat in the number 9 role, and Wambach has been moved to central midfield, rather than being benched. Such a move looks like Spain in the 2014 World Cup all over again. Wambach just doesn't have the legs to fulfill the responsibilities of a central midfielder. Meanwhile, Rodriguez, the NWSL's top American scorer last year, has inexplicably fallen out of favor with the national team, earning only 12 of 24 possible caps, four starts, and only 31 minutes per game in international play in 2014. Ellis is desperate to keep Wambach in the starting XI, and yet there is really no need to do so.
Ellis often speaks of placing great weight on the effort that players put into training, and that such effort will earn them minutes. Working hard in training is unquestionably a critical component of an effective squad, but the cold water of subpar match performances has to be splashed on players' faces. ESPNw's extensive profile of Wambach last October drilled home her monomaniacal training regimen. If only the drive to endure could prevent our knees from hurting, or our hamstrings from twinging. Not even the determination of "Try hard, run fast" can slow the ravages of time. Great leaders can lead from the bench. And there's little doubt that Wambach could be transformed into the supersub who changes the momentum of a match in its final minutes — in fact, Ellis may have accepted this strategy, based on her lineup against France. In spite of this tactical shift, Wambach is still top dog in the American strike force, as her seizing of the captaincy for only half an hour so clearly demonstrates. Ellis has placed her faith in the Wambach legend. The thing about legends, though, is that they must know when to pass the torch.

Evan Davis is a stand-up comedian and proud Toffee living in New York City. His writing has been published in Film Comment, The Velvet Light Trap, MUBI Notebook, and The House Next Door. Follow him on Twitter and Instagram @ProfessorDobles
Contributors
Howler
TAGS
WELL, IT DEPENDS ON WHAT YOU MEAN BY "FREE."
Enter your best email for full access to the site.