Home
Dirty Tackle
Conspiracy Theory: Harry Kane is a character designed by the FA and a marketing company
Conspiracy Theory: Harry Kane is a character designed by the FA and a marketing company
February 11, 2015
https://www.gettyimages.com/
Harry Kane, the 21-year-old Spurs striker currently enjoying a run of form to rival Lionel Messi's for best in the world, is not the person he seems to be. Of course, that's easy to say when most observers of the game only just learned of his existence this season, but the creation of "Harry Kane" has been more than a decade in the making. And the objective is to produce the perfect mix of talent and benign likability in order to further propel the Premier League and English football to even greater financial and sporting success.
"The beauty of Kane is that he looks like a supporter who has won a competition to play for his favourite team," the Guardian wrote after Kane, who has scored 23 goals in 35 appearances this season, had a decisive brace in Spurs' 2–1 north London derby win. "With such heart and endeavour, charging around the pitch as if he had been informed before kick‑off that the world would end if he — and only he — did not give every last drop of sweat. Kane expended so much energy against Arsenal that he was probably powering the floodlights on his own and it would not have been a surprise to discover that he also found a spare moment or two to sneak into the crowd and lead a few chants."
That ideal combination of heroism and skill with a hard-working boy next door image has made Kane an instant and unassailable hit with the media and viewers alike. It should sound far too good to be true, though. And that's because it is.
In the early 2000s, David Beckham and a teenaged Wayne Rooney presented England's greatest chances at producing this type of global icon. Beckham, however, would never be mistaken for the world's best player and though he was extremely media savvy, his reputation still had its blemishes and his Hollywood image made him an increasingly unrelatable target for public ridicule.
Rooney, meanwhile, had the footballing talent to be one of the world's best, but the Premier League and the FA quickly realized that his character and gruff personality could prevent them from maximizing his marketability. This was confirmed in 2004 when he was caught at a brothel — the first of many controversies both on and off the pitch that have blemished Rooney's otherwise impressive career.
So to eliminate such concerns in the wake of this realization about Rooney and past failures like the troubled Paul Gascoigne, a London marketing firm was enlisted to assist their attempt to develop a reliably bankable icon. This firm proposed that if character was the biggest problem in developing a universally beloved modern footballer, then taking a cue from professional wrestling and finding a player who could play the role they wanted him to portray would be the easiest solution. A lifelong acting commitment that would make the player, the league and the association billions.
Several child footballers were identified as potential candidates and television writers were hired to create the character that the chosen one would play. They came up with Harry Edward Kane — a name so English that you can taste a hint of Earl Grey tea and stoicism when you say it, and ready made for stupidly easy Harry Kane/hurricane newspaper headline puns (and, later, internet memes, but that was a happy accident). He would be a model of clean-cut humility who produces magic on the pitch. The romanticized image of a World War II soldier transported into present day, standing out against the spoiled and self-centered professional footballers we hold up as role models while tearing them down at the same time.
A boy in Arsenal's youth academy was selected as having the requisite talent for both football and acting and his parents signed a confidentiality agreement. His name was changed to Harry Kane and his birth records were sealed off. He was coached in how to portray this infallible character while also working on his game.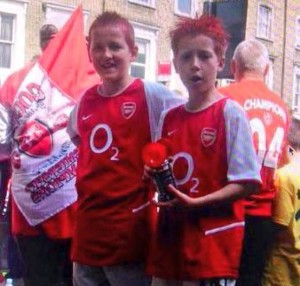 In order to ensure that club rivalries didn't impede his marketability, it was decided that he would go on to play for Tottenham so Spurs fans could count him as one of their own while Arsenal supporters would be able to point to his roots as a Gunner. Photographs of the young Harry Kane attending Arsenal's 2004 victory parade were taken and filed away and he joined Spurs that same year.
After five years of honing his crafts in Tottenham's youth system and with a local theater group, Kane was sent out on loan to smaller clubs (Leyton Orient, Millwall, Norwich City, Leicester City) a bit like preview performances of a show before it opens on the West End. And upon returning to the club in 2014, he was ready for the spotlight.
Since then, Kane has quickly become a sensation — even reportedly attracting the stalkerish gaze of Real Madrid, thus further accelerating his rise. He's also been touted by English football's greatest human shaped corporate success: David Beckham.
There is still a ways to go before Kane usurps the likes of Lionel Messi and Cristiano Ronaldo in the eyes of fans and sponsors and leads England to long awaited success in major tournaments. There is also still the possibility that he will break character under the increased scrutiny of the press. He could lash out at an opponent or get caught smoking outside a night club in a moment when the stress of keeping up this charade becomes unbearable. Should that happen, he could always be fired from the role and replaced with an equally talented lookalike similar to what happened when Paul McCartney's death was covered up in 1966.
But for now, Harry Kane is the epitome of mainstream appeal. A carefully crafted, inoffensive vessel onto which we can project our ideal fantasy of a professional footballer. It's the only plausible explanation for the image he has crafted.
Contributors
Howler
TAGS
WELL, IT DEPENDS ON WHAT YOU MEAN BY "FREE."
Enter your best email for full access to the site.