How FK Dainava, one of Europe's worst teams, reached rock bottom
By Robert O'Connor | Illustration by Devin Dulany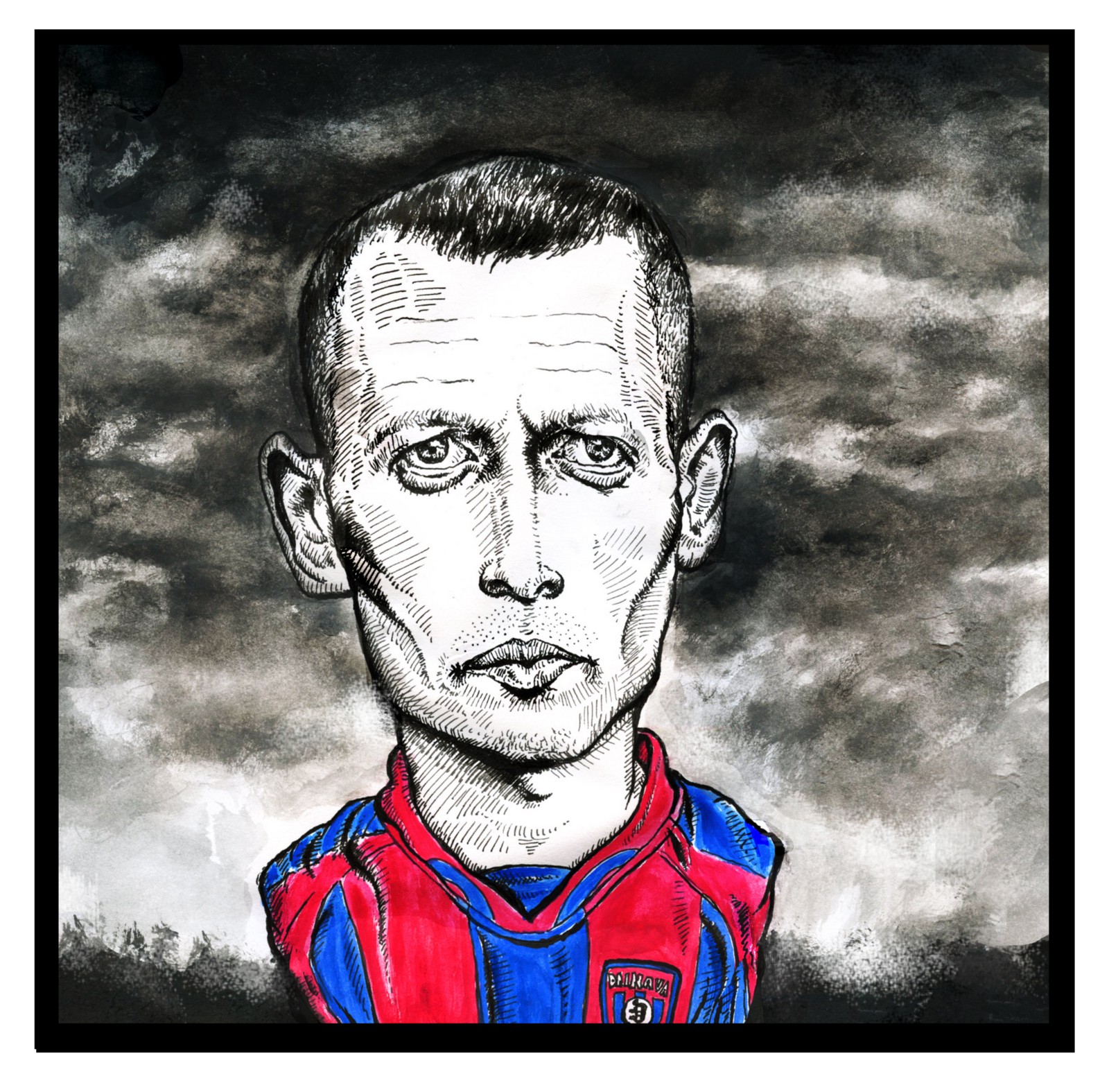 [T]he southern Lithuanian city of Alytus is famous for few things. The municipal concert venue once hosted the European Basketball Championships. There's an annual tomato tasting. And in 2009, Alytus was the site of an art strike, something French poet Alain Jouffroy defined as an attempt to "use the machines of the cultural industry to set it in total contradiction to itself."
With only minor tweaking, Jouffroy's words are also fit to describe the city's former A Lyga outfit. Because during their matches in the Lithuanian top flight, FK Dainava seemed to be waging some sort of protest against good soccer, engaging in their own brand of non-cooperation with the game's basic precepts. If the machine of football was being set in glorious contradiction to itself, Dainava were the cogs.
The 2014 season began with a clear statement of intent: a 6–0 loss to Atlantas. After 14 games, Dainava had zero points, a single goal, and a goal differential of negative-74. They snapped the losing streak, then racked up losses of 9–1, 8–0, 4–0 and 12–0.
Any hope of avoiding relegation was extinguished before the halfway stage of the season, and by the end of the 36-game slate, the side had managed only nine points while allowing a staggering 143 goals. Dainava's goal differential of negative-131 more than tripled that of the next-worst team.
It was a spectacular, cataclysmic failure, but for fans and commentators the warning signs have been in place for some time. In 2013 (the Lithuanian season runs in alignment with the calendar) a mid-season purple patch that saw the team collect seven points from four games was all that kept Dainava off the bottom of the league, and that helped obscure the fact that they only collected 10 in the rest of their matches combined. Those results and the ensuing exodus of players called for desperate reinforcements, and when Italian businessman Giuseppe Greco showed up in January with an investment package for the new season, it looked likely that one of the more under-resourced teams in the A Lyga were in line for a much-needed makeover.
But despite overtures by Greco and General Manager Marc Fourmeaux that the new regime would bring a blend of local and international talent, that makeover hasn't materialized. So far, all that Greco and Fourmeaux have to show for their bold words is the arrival of former European Championship runner-up Sergei Aleinikovas as coach. Landing Aleinikovas was no minor coup, but the feeling on the terraces of Dainava's 4,000-capacity stadium is that the ex-USSR forward is a wasted asset without good players.
Off the pitch, plans were made to incentivize fans with concessions and loyalty schemes, as well as to improve the stadium, but it's on the pitch where the club is failing.
The end of the 2013 season saw the squad hemorrhage talent. All four imports — who made history as the club's first foreign signings just 12 months earlier — left, shattering the anticipation that had greeted their arrival. Instead, fans got a roster whose average age barely scratches 18 years old, and of whom the majority should, by Aleinikovas' own admission, still be playing in the reserve league.
Dainava's goal differential of negative-131 more than tripled that of the next-worst team.
The question on the lips of critics is how a modestly supported club riding a wave of fresh investment from abroad has allowed player recruitment to become so neglected, to the point where young players are having their progress impeded and their confidence hammered by regular beatings that they are powerless to prevent.
At 16, defender Povilas Kalimavičius was ever-present as Dainava conceded more goals in three months than in the whole previous season combined, while Ervinas Baranauskas was also a regular presence in the side's porous back line before his 17th birthday. Meanwhile, up front, 17-year-old Karolis Čyžius caused few sleepless nights for opposition defenses. The club owes it to the national game to offer its fledglings better protection.
For some, Dainava's relegation at year end was a blessing. It at least offers a chance to rebuild confidence and give the club back some direction both on and off the pitch, even if the current squad would likely struggle to compete even in the First Lyga (the second division). Certainly the traumas of 2014 are beginning to take their toll around the club. "It would be nice if we could draw," quipped one fan before April's home match against Atlantas, "but a 5–0 defeat feels more likely." He was almost right — the final score was 7–0.
The last time Alytus boasted international attention, that art strike spawned a movement known as SPART, which protagonists claim mixes the pathology of sport with the creativity of art. These days, the city's soccer team is seemingly rejecting the goals of both, engaging in an anti-sport, anti-art form that could be dubbed 'The Aesthetics of Defeat.' It isn't pretty, and it isn't effective. And as the defeats pile up, it's bringing the wrong kind of acclaim.
• • •
[S]o did anyone in Europe have a worse 2014 than FK Dainava? Amazingly, yes, and there were a handful of worthy contenders for the title of the continent's worst.
Looking across the European top-flight leagues, there were seven clubs who truly distinguished themselves. (Because not all teams played the same number of matches in 2014, we've used the powers of mathematics to determine how many points each team would have had across 38 games. Those averages are noted in parentheses).
Neftohimik of Bulgaria (18) collected a meager 12 points on their way to finishing bottom of the regular league season, done in by a run of 13 straight defeats between November and March. In Sweden, Brommapojkorna (15) never got out of first gear, picking up just five points from their first 13 games and finishing a dispiriting 20 points adrift of safety.
With everything that's gone on in the Crimea in the last 18 months, fans of Tavriya Simferopol (14) could be forgiven for having more pressing concerns than their team's stuttering form. Remarkably, they came within a single victory of safety despite picking up just 14 points from a disastrous season. Not that it mattered in the end, as the club became a victim of the crisis in the disputed peninsula and were dissolved at the season's completion. Their final season was a miserable return of two wins from 28 games.
Speranta Cahul (13) shipped an astonishing 91 goals in 33 games en route to finishing bottom of Moldova's Divizia Nationala, a league so polarized between the haves and the have-nots that even this club, with only 11 points, was just seven points from safety. Bosnia & Herzegovina's FK Leotar (11) are another outfit that will point to off-field problems: a row between two local politicians over the misappropriation of funds, and spiraling debts that caused a major loss of talent. Even so, it's hard to elicit much sympathy for a team that embarked on a record-breaking 18-match losing streak en route to relegation.
In the end, there was one club who stood head and shoulders below the rest for the crown of Europe's worst team in 2014, wrenching it from the grasp of our heroes from Dainava (10). Representing the newest member of Europe's football family, Gibraltar Phoenix (zero) put the point right back into pointless with a torrid league campaign. While the 'points-gained' column never budged — remaining a flat zero — the goals conceded tally rocketed to a breathtaking 94 from just 14 games. A particular lowlight was a merciless double thrashing from league champions Lincoln Red Imps, who walloped 32 goals past the Phoenix in just two matches during the same week.

Follow Robert O'Connor on Twitter @goodforuganda.
Contributors
Howler
TAGS
WELL, IT DEPENDS ON WHAT YOU MEAN BY "FREE."
Enter your best email for full access to the site.