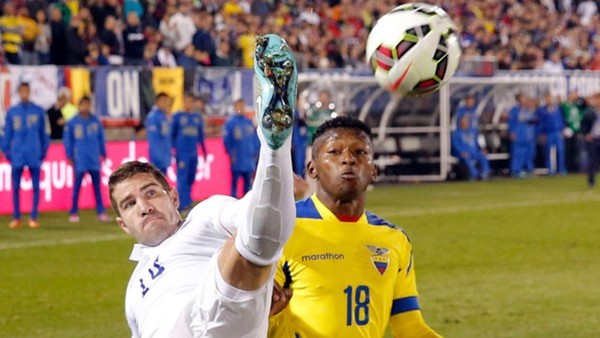 One Nation, One Team…Changing
By Jessie Daniels
The U.S. Men's National Team's recently-completed training camp gave the team its first opportunity to turn the page on a confounding year. Although the camp finished on a high–a 2–0 win over Panama that ended a five game winless streak–questions remain about how much this team has improved in recent years. If American soccer's recent record is up for debate, though, so too are its future prospects, which depend in large part on how well it connects with a fast-growing Latino population that is already reshaping American demographics.
Projections suggest that America's minorities, which currently account for 30% of the population, will form the nation's majority by 2050. As Joel Kotkin noted in Smithsonian Magazine, no other major industrialized country is expected to experience comparable diversification over that same time period. America's Latino population, which is projected to triple in size, will be the largest contributor to this demographic transformation. The Pew Research Hispanic Trends Project projects that Latinos will go from representing 17 percent of the population in 2012 to 31 percent by 2060. The growth of America's Latino population is largely attributable to an increase in native births, which have surged as immigration rates slow down.
For many in this fast growing demographic, a love of soccer is ingrained. Fernando Clavijo, one of the five Latino players on the 1994 World Cup squad, explains "The kids being born here in America, by parents from Central America, South America, it's part of culture, the kids grow up in that culture. It's why we're seeing more Latino players."
Latino representation on the national team, however, has not grown at the same rate as in the general population. In fact, there were fewer Latinos on the 2014 World Cup squad than there were twenty years ago. This time around, there were just three: Alejandro Bedoya, Omar Gonzalez, and Nick Rimando.
There were fewer Latinos on the 2014 World Cup squad than there were twenty years ago.
A look at the talent coming up through the American soccer pipeline suggests that change may be afoot. There is greater Latino representation at the youth levels. Nearly one-third of the players on both the U-20 squad that recently qualified for this year's FIFA U-20 World Cup and the U-23 squad called up to play Brazil last October were Latino. These players will be crucial to the U.S.'s U-20 World Cup campaign as well as its attempt to qualify for the 2016 Olympics after having missed out on the 2012 tournament.
Since the World Cup, the Men's National Team's friendlies have featured impressive performances from Latino players such as left back Greg Garza. A Mexican-American product of the U.S. youth system, Garza is a technically gifted left back who can get forward and cross the ball well, but can also sit back and defend when he needs to. Watching him play, it's hard to believe that he nearly quit soccer in 2011.
As Garza told the Sporting News, his professional career was stalling and he was looking at other ways to support his growing family. But his career got back on track after he managed to get a call up a U-23 training camp that fall. He then became a regular starter at Liga MX's Club Tijuana (after joining with help from fellow U-23 and Tijuana player Joe Corona). European teams are starting to scout him. The man who once seemed to not have a future on the USMNT is now tipped by many to be its its left back of the future.
Although Garza had to overcome a number of hurdles, he had the advantage of having once been in the U.S. youth system. It was therefore easier to bring him back into the fold after he considered dropping out of the sport. Reaching Latino players who aren't in the youth system is much harder, particularly since many play in independent leagues, which have not previously been under the purview of U.S. Soccer. PRIMETIME Sports, a Latino sports marketing agency, estimates that nearly 100,000 Latinos play in these leagues in the Los Angeles metro area alone.The growth of Major League Soccer may offer a solution to this problem. As the league's youth academies expand and attract young players from new communities, its scouts are finding some of the untapped talent that exists in these independent leagues and bringing it closer to the national team setup.
In addition to improving our chances of finding the next American soccer star, an increase in diversity may improve the USMNT as a whole.There is evidence to suggest that cultural diversity positively affects team performance. In a recent academic study, Keith Ingersoll, Edmund Malesky, and Sebastian Saiegh measured the cultural diversity of Champions League teams from 2003 to 2013. They found that "by incorporating additional (culturally inherent) skills to the roster, an average team could change an outcome from a loss to a win once in every six closely contended games." Diversity can also generally lead to better problem-solving on the pitch. "Soccer teams are characterized by a high degree of interdependent work productivity," the authors reported. "Even teams that are composed of equally talented players may accrue additional benefits when their members differ in the way they interpret problems and use their skills to solve them."
As America changes, will the makeup of its soccer teams change with it? In 2014, we saw the promise that European imports could bring. If U.S. Soccer can add more homegrown Latino players to the mix, there may be a realistic chance that we reach the next level in 2018 and beyond. As Clavijo noted, the potential is even greater than when he was a player over 20 years ago: "When I played, if you went to LA, or New York, you had a lot Hispanics. I grew up playing in an adult league. It's just going to increase. The talent in this country is huge. We don't even know how huge it is."

Jessie Daniels is a political analyst and writer who has been published in The Guardian, Quartz, and Cicero Magazine. She tweets under @danielsjess and supports Arsenal.
WELL, IT DEPENDS ON WHAT YOU MEAN BY "FREE."
Enter your best email for full access to the site.