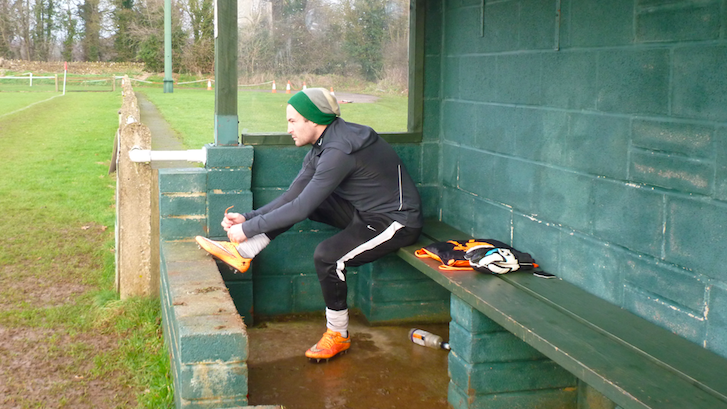 The World's Worst Attempt at Being a Two Sport Athlete
By Ryan MacArthur
[T]he waiting room of the Royal Devon and Exeter Hospital is packed with sniffling kids and three or four pregnant women. No one bats an eye when my name is called, but a few heads turn when I speak and they hear my accent. A male nurse asks me to follow him to radiology.
It takes a while, but he passes me off to a young X-ray tech. She hands me a lead apron that clings to my chest like a wifebeater.
"This doesn't cover me all the way," I say.
The X-ray tech glances up from her computer. "It's fine."
"Can I get cancer from this?"
"Probably not."
A broken sternum sounds worse than it is. It hurts, hurts bad, but nothing they'll put you under the knife for. I wish I could say it happened during a Corsham match. Hell, training injury still sounds better, but I'm not that lucky. Maybe lucky isn't the word.
• • •
Fall let out its last breath on the weekend of November 22nd and 23rd. It's dark by 4:30, but you can still wear shorts and not be miserable. I'm back on the bench against Warminster Town, trying not to laugh out loud while Mossy rips into the acne-riddled linesman.
"Lets get this game going, Line-O. You know it's a school night."
The game is a wash.
Keiron Gleed, our 19 year-old striker/winger shreds the Red & Blacks. Though the kid is left footed, Trev plays him on the right, allowing him the freedom to cut inside and get behind the opposition's center backs. Keiron goes medieval on Warminster. Every touch seems glued to his foot. He nets two goals and adds an assist from a corner.
Late in the 2nd half, Dan Lardner brings a ball down with his back to the opposing keeper. He flicks the ball over his shoulder into the net, and doesn't bother checking to see if he missed. The team mobs him. Trev brings him off around the 60th minute. We're up 4–0.
"Better put me back in. (The) Team is shit without me," Lardy says.
Everyone laughs. After Trev puts on our third and final sub, Lardy pleads with him to let the guys on the bench head into the locker room. Levi scores our fifth goal on a breakaway. The gaffer turns to the bench and gives a nod. I thought Lardy was joking, but the guys get up, and walk along the outside of the field, past the fans, and into the clubhouse. I grab my gloves and follow.
I think about what my former boss would've done if any of our collegiate players ever asked to hit the showers early. A laugh spurts out of my mouth and I drop my shin guards. Near the concession stand, an old couple finishing off a meat pie stares while I pick them up.
It seems sacrilegious to leave a match while it's still in going on. I don't feel right, but it makes sense. We're five-nil up and all our subs have been used. Trev does what a good manager should. He treats his players fairly, like adults. If anything, my girlfriend is grateful I get to leave early. We're driving to Wales right after the match to catch a concert in Cardiff, Wales.
In the dressing room, I get asked the usual questions.
Most folks are curious how I ended up in England. Defenders Sam Pring (Pringy) and Ollie Webb (Webby) are no different. Sam is an outside-back and plays for Corsham Town with his younger brother, Ben. He looks bummed when I admit I don't know any professional wrestlers. Webby is yoked and works as a fitness instructor. He's the kind of guy you'd want having your back if things get hairy on the pitch or in the pub.
Running my head under the lukewarm shower, I try to explain, "Well, my girlfriend is British-"
"English," Lardy yells from the other room.
"Right, English. Back home I coached women's soccer-"
"Football!"
Learning to call the game, "football" hasn't been hard, though I'm told you sound like a hipster if that's what you say back home. What has been difficult is coming to the realization I'm not as durable as I once was.
Before the opportunity to play at Corsham came about, I stumbled upon the Bath Spa University American Football team on the school website while digging around for something to keep my busy. The page didn't say much, just listed the season's fixtures and advertised recruitment. "How Will You Be Remembered," was prominently displayed on the main page, but no one around campus knew much about the team. Regardless, I was still eager. Outside of the NFL, not many twenty-eight year olds get the chance to hit and tackle. The idea of being a two-sport athlete looked too good to pass up.
After three weeks of trying to be Bo Jackson I was rewarded with two hospital visits and a very annoyed girlfriend. On one occasion, while running a route inside an indoor facility, I slammed into a folded trampoline. The U-shaped flap of skin above my ear needed five stitches. I didn't catch the ball.
Pulling on a helmet with stitches is complicated and made worse by my planetary sized head, but I managed, and even intercepted a former D1 quarterback during the season opener. I also pulled the donkey out of my hamstring. The day after the Corsham/Warminster game, the Bulldogs were away to Exeter. I took a beating worse than the one the Germans gave Brazil. I caught a touchdown in the 3rd quarter, but was taken to the hospital after a hit a few plays later. X-Rays revealed a crack in my sternum.
For the next two weeks every breath felt like a left hook to the body. Jogging and the gym were out of the question. I needed aspirin just to tie my shoes.
Our oven is too small to fit a turkey, so Thanksgiving features codeine and KFC, but they don't serve biscuits and gravy in England. Ceilidh and I feel cheated, but fried chicken with corn and chips get us through the night.
Trev sends a text the following day asking for availability. We're away against Cheddar, who sit 17th in the league. I stare at my phone and try a deep breath. Ceilidh rolls her eyes.
I look at her and shrug. "I'll figure it out."
On game day I leave our house and walk down the hill towards the canal. Beside the waterway is a posh-looking pub called The George Inn. I plop down on the stonewall surrounding the car park and watch a blue longboat chug past. I can hear the boaters talking, but can't place their accents.
A mid-2000's black BMW 3 series whips around the corner and comes to stop. Twenty-year old Callum Elms sits behind the wheel. He gives me a nod and I hop inside.
With his lanky frame, afro, and mutton chops, Callum eerily resembles Afro Thunder from Ready 2 Rumble Boxing. He's confident with the ball and wins most challenges. Though he's normally a midfielder, Callum sees a lot of minutes as an outside back.
The drive is long through steep and jagged crags. We head east towards Weston-super-Mare and wax-poetic about the youth clubs we played for. Callum spent two years with Team Bath, the academy system for Bath City FC. He had some success, but opted to play with Corsham instead of going out on loan with another side.
"Best years of my life," he tells me more than once.
"I know the feeling," I reply.
"Plenty of guys in this league could play league football. (It's) Just about getting the chance."
Cheddar's ground is in the boonies. The pitch is heavy, but so is every field in the Toolstation league. Two Brazilian flags hang near the clubhouse from rusty poles. No one can tell me why.
It's a relief when Trev tells me to warm up with field players. Everyone knows I'm injured, but even I have no idea to what extent. The thought of hitting the ground is not a pleasant one. I'm thankful I most likely won't be doing any diving.
We're missing some guys due to work and family obligations, but I'm still the second choice keeper if Mark goes down. Nick Chandler and Ryan Jenkins join me on the bench. The boys are high school aged and come from Chippenham. Nick makes a living as a mason while Ryan is a window fitter. Both are decent players, skilled and technical. It's strange to think that if they had grown up in America, the two might be preparing for college showcase tournaments or gearing up for the high school season.
The momentum belongs to Cheddar in the first half. They put three on the board after a penalty and a pair of goals Mark could do nothing about. Before halftime, Corsham defender, Nathan Philimore cranks a volley that gets us to 1–3 before halftime.
I stay warm and try a couple of sprints. Everything works; it's just a matter of being uncomfortable. I can live with that.
Little else goes right after Levi knocks in our second. Two Corsham red cards and a fourth Cheddar goal buries any chance of a comeback. Ryan, Nick, and I are the only players in red who head into the locker room with clean jerseys. No one says much while the group eats cold pasta in the clubhouse.
The next morning starts in agony. The warm up re-aggravated the injury to the point I'm forced to roll out of bed. Ceilidh is at work and can't help me. I spend the day shirtless and afraid to sneeze. There's a league game against Roman George St. Glass the following week. Ceilidh and I are set to be on holiday until after the new year. Three weeks of rest and healing.
"One more game," I tell myself. "I can do one more game."

Ryan MacArthur is a freelance writer, born and raised in Virginia and now living in Bath, England who unofficially holds the record for fastest sending off in NPSL history
Contributors
Howler
TAGS
WELL, IT DEPENDS ON WHAT YOU MEAN BY "FREE."
Enter your best email for full access to the site.