When Ultras show up to a Montenegrin Premier League match, the least consequential action is on the pitch.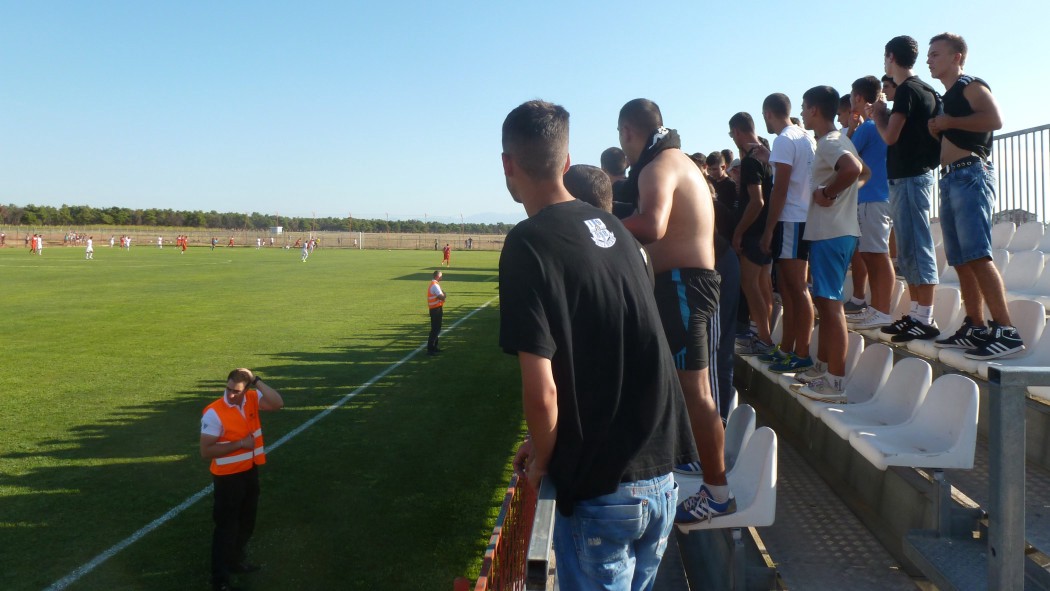 The taxi rolled to a stop where the Stadion na Aerodromu's single lane access road spilled into a dirt lot. The road we turned off was a two-lane highway flanked by boarded-up apartments on one side and impenetrable brambles on the other. A stooped woman lingered at a dumpster, scavenging for recyclables and food scraps.
In the other direction, twenty cars occupied a sliver of the otherwise-barren space. Only fifty-five minutes remained until kickoff in the Montenegrin Premier League fixture between Sutjeska and FK Mladost Podgorica.
Podgorica, Montenegro's capital and largest city with 150,000 people, could not be bothered by the activity at the stadium. A few dozen policemen in antiquated riot gear mingled with wrinkled old men by the exterior fence. With nothing better to do, my friend Dylan and I ambled towards an entrance.
The metal gate was guarded by three goons clad in orange vests. I made an "entry" hand gesture to the nearest one. He barked "two tickets: four euros." Cheap enough. I passed the money through the bars of the fence, and they brusquely frisked us before we entered the holding pen. Walking up the grandstand's sheet-metal stairs and past an indifferent old man displaying vacuum-sealed bags of peanuts, we got our first glimpse of the elusive field. Surprisingly, it was tidy, crisply lined, and verdant.
Thirty minutes before kickoff, ten old men dotted the 500-seat grandstand. Plastic peeled away from each seat to reveal chipped and faded red paint. Not caring about the warm-ups, I walked up to a diffident-looking teen, Stjepan, and asked him to fill me in on Montenegrin football.
In short: it's bleak. Players earn low wages — typically between 500–1,000 euros a week — and European football is elusive. UEFA allots Montenegro four spots in European competition, but they're usually knocked out before August. As a result, Stjepan and other Montenegrins support — and prefer — Europe's heavyweights. Stjepan claimed the Rossoneri were his first love, even though he'd traveled since childhood to watch Sutjeska with his father.
"They're coming. They're called the Dukes. They're the ultras."
Nonetheless, so few people in the stadium seemed odd. Sutjeska was gunning for a domestic three-peat. The last time the two teams had met, Sutjeska had humiliated Mladost, winning 4–1. The revenge narrative–a righteous anger of 'how dare you soccer peasants defeat us?'–was there, so I wondered aloud, "where are the fans?"
"They're coming. They're called the Dukes. They're the ultras."
"It's fifteen minutes until match time. You sure they're coming?"
"They're coming," Stjepan demurely affirmed.
Five minutes before kickoff, I could still claim entire rows of seats for myself. As the referee idled at center-circle, the sound of raucous chanting and the roar of engines emanated from behind the stand. The men of the grandstand rushed up to its summit in search of a better vantage point. As I joined the rush, I tangled legs with an unknown supporter. I felt a snap in my right knee followed immediately by intense pain and, shortly thereafter, total immobility.

First mistake: Losing the use of a limb at a Balkan football match.
Undaunted, I staggered to the grandstand's uppermost row just in time to see a charter bus and two campervans pull up. Before the caravan could even grind to a stop, at least a hundred buzz-cut men in black shirts streamed out of doors and windows. They chanted in unison; a stream of unpronounceable sounds twisted with anger and superiority in their mouths. The riot squad snapped to attention and gingerly approached the situation from their loitering spot. The whole time, they prayed that the situation wouldn't spiral out of control.
The Dukes instantly killed that hope. With security goons blocking the entrance gate, they flowed to the next attraction: the cops. The front line of skinheads provoked the police with a bevy of head-butts and haymakers. The peacemakers among the Dukes tried and failed to hold their belligerent comrades back, but the police weren't mollified.
The Dukes were unprepared for the police response. Under the crush of advancing batons, they tripped and stumbled backwards into the safer confines of a jungle of parked cars. Someone among the ranks lobbed a last-ditch flare at the police. It missed, sparking a fire in the weeds that cloaked the scene in thick, white smoke.
Shrouded in this acrid fog, a new standoff line emerged between the riot squad and Dukes. Neither side had incentive to aggress. The police couldn't give up maneuverability. The Dukes wanted to keep their brains inside their heads. They stood at stalemate, waiting for a new development or new orders from their respective commanders.
A dramatic beat came in the form of the whistle signifying game on. Spectators returned to their seats, bored with the Dukes' antics. I felt incredulous. There was a fight out there, there were casualties out there, there was a fire raging out there. And these fans would rather watch a pedestrian soccer match in here.
They hadn't forgotten the Dukes. In the third minute, Sutjeska headed in a corner. Cheering spectators sprinted back up the ramparts to yell the good news down to the Dukes, who re-erupted into the pre-match rituals that had originally goaded the police violence. They fist bumped, high fived, and headbutted each other, this time avoiding police provocation. One scaled the fence, not to infiltrate the grounds, but to pound his chest and shout primal emotions at no one in particular.
This outburst emptied the Dukes' malice. They filed calmly, orderly, intently out of the parking lot to the gate, like soldiers surrendering on the battlefield. The security guards briefly frisked each one for coins, bottles, lighters–anything that could be used as a weapon–and then let them through. Security bypassed, the ultras broke their orderly approach and jogged up the stairs to their section: ours.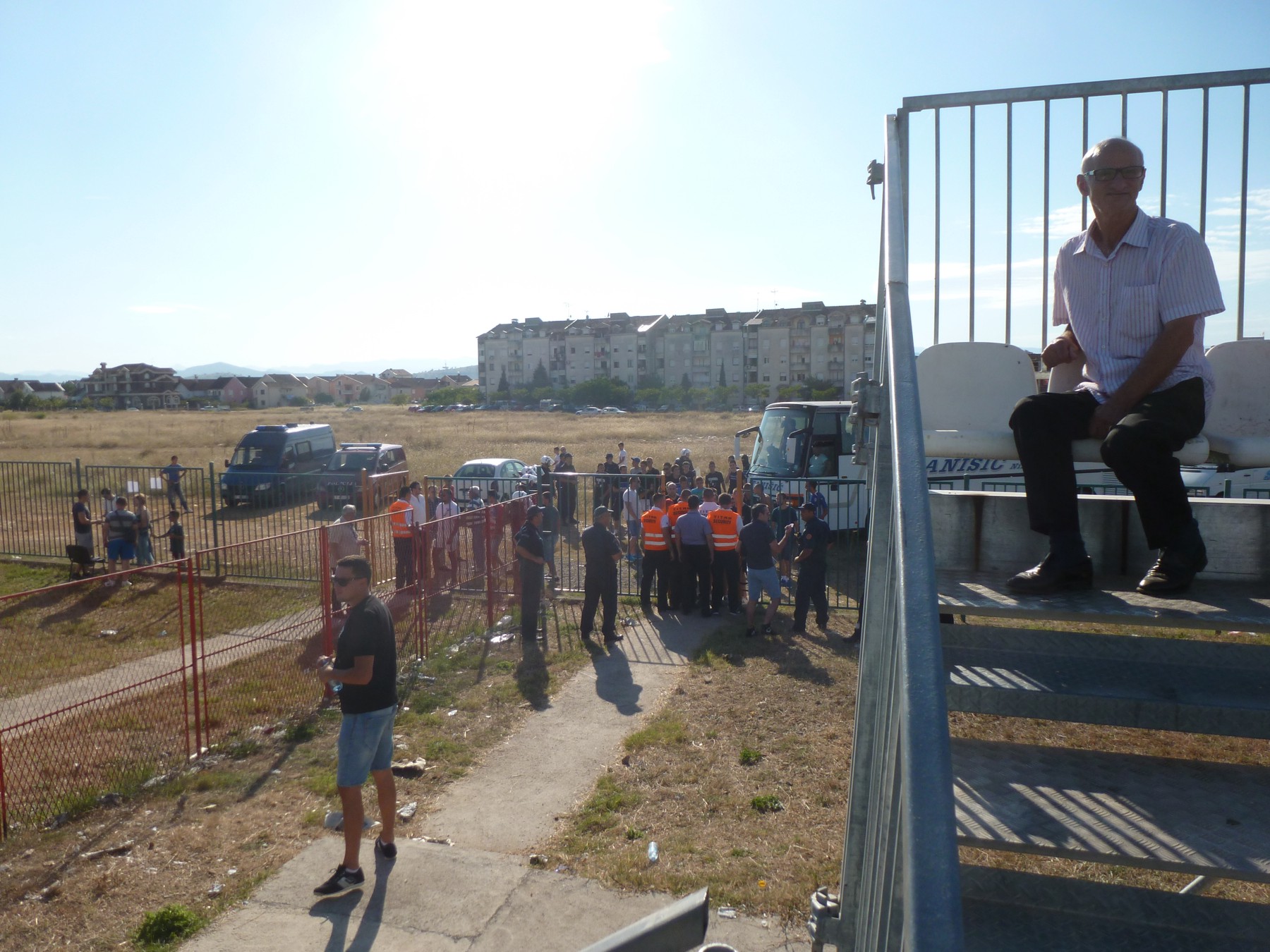 Second Mistake: Buying tickets in the ultras' section at a Balkan football match.
Ultras wearing black shirts and other ill-assorted clothing were coming at us. 30 meters away: the clacking of their feet on the sheet metal floors was deafening. 20 meters away: They wore shirts with an image of a heavily contrasted white figure in a white hood, face obscured by shadow, staring with malevolence and otherworldliness behind piercing blue eyes.
10 meters away: they were teenagers with pimples and wispy facial hair. They shouted and gnashed their teeth like wolves, but were still probably shy around girls. A taller Duke-ling asked me for water to pour on a burn he'd sustained outside. His voice jumped octaves when he applied it.
The match result was no longer the focus. Sutjeska had overwhelmed the opposition from the beginning. After the first goal, Sutjeska continued to suffocate Mladost's midfield and peppered shots on goal. The Dukes recognized this domination. They limited their antics to singing, clapping, and the occasional jumping. I felt secure enough, even with the bad knee, to snap photos and jot down notes.
Third Mistake: Snapping photos and jotting down notes while in the ultras' section at a Balkan football match.
A Duke with hints of a five-o'clock shadow barged up to me and gestured for my notebook. I handed it over sheepishly. Saying 'no' seemed wrong, like being the new guy in prison who disrespects a gang leader. He stared at the notebook, then at me, back at the notebook, furrowed his brow, and then smiled at the epiphany that it was English. With the most genial of grins on his face, he conveyed with hand gestures that I would have been punched and tossed out for a local language.
After halftime, Sutjeska quickly scored two goals. The Dukes still chanted vigorously, but their attention wandered from the match to my existence. Word spread quickly that Americans were in the crowd. Part laughing, part-threatening they projected their resentments toward Dylan and I. A buzz-cut teenager with Aviators approached us and asked, "You know NATO?" I nodded. He declared with a grin, "I fucking hate NATO." He mimicked firing an anti-aircraft gun at my head.
Fourth Mistake: Acknowledging NATO at a Balkan football match.
In the 1990's, US-led NATO airstrikes pounded the Balkans, killing at least 500 civilians across Serbia, Kosovo, and Montenegro. It's likely some of these kids knew victims. At the very least, it was an act of war and a national embarrassment.
Another, fatter Duke approached Dylan and demanded that he remove the "Croatia" hat he mistakenly wore to the match. "This time," they said, they'd let it slide.
Fifth Mistake: Wearing politically charged clothing to a Balkan football match.
Ethnic Montenegrins, along with their closely linked Serb brethren, despise Croatia. As recently as the 90s, they even fought all-out wars. Several times in the last century, Croats and Serbs perpetrated ethnic cleansing of each other's people. Wearing that cap was asking for conflict, like brandishing a Gunners scarf at White Hart Lane, but with murder and ethnic hatred as the seeds of conflict, not familiarity that bred contempt.
That was the last mistake I wanted to make; the Dukes only had so much quasi-goodwill left. With ten minutes left and all my weight on Dylan, I hobbled out of the stadium and back to the highway, where we hailed a cab back to our hotel. If the Dukes exited the stadium in the same way they'd entered, three serviceable limbs weren't going to be enough for self-preservation.

Contributors
Howler
TAGS
WELL, IT DEPENDS ON WHAT YOU MEAN BY "FREE."
Enter your best email for full access to the site.