DT Exclusive: Ask Kaka (Inaugural MLS edition)
March 7, 2015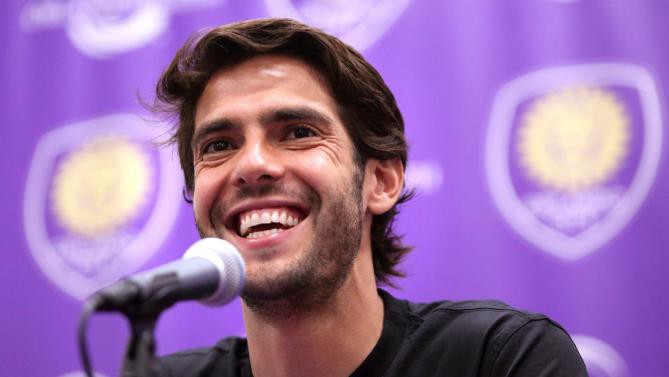 Kaka and Orlando City are ready to begin their first season in MLS against fellow newcomers NYCFC and to mark the occasion, the 32-year-old Brazilian was once again kind enough to answer the questions of local school children. The following is a transcript of that session.
Kaka: Hello, you tiny blessings! I am so happy to be here with you as I prepare to begin my exciting new adventure in MLS. I can't wait to answer your questions, so who has the first one?
Emily: Hi, Kaka. My name is Emily and I am eight years old. What do you like most about the United States so far?
Kaka: Oh, I like everything about the United States, Emily! This is a truly wonderful country and the people of Orlando have been so nice to me and my family already. I really couldn't be happier to be here. Thank you for asking! Who has the next question?
Josh: Hi, Kaka. I'm Josh, I like dead snakes and I have two questions. One, how does it feel to be making more money than all of your teammates combined? And two, if one of them can't pay their rent, would you buy the building just so you could evict them yourself?
Kaka: I- no, no, Josh. I would never do that to anyone! First of all, I don't think about how much money I make compared to my teammates, but if any of them ever needed help, I would do whatever I could to help them. I, uh, is there another question please?
Dylan: Hi, Kaka. I'm Dylan and my favorite soccer player is Air Bud. What does MLS stand for?
Kaka: Excellent question, Dylan! MLS stands for Magically Lovable Soccer.
Sophia: Hi, Kaka. I'm Sophia and Germany beat Brazil 7–1 at the last World Cup.
Kaka: Yes, I'm afraid that's true, Sophia. Do you, uh, do you have a question?
Sophia: Were you happy that Germany beat Brazil 7–1 after they didn't pick you or sad that you couldn't even make a team that lost 7–1?
Kaka: It was a sad day for the entire country, Sophia. Of course I wish I could have played, but it wasn't about me, it was bad for the whole country. Is there anyone who has a question that doesn't remind me of this immeasurable pit of sadness?
Jayden: Hi, Kaka. My name is Jayden and I can breathe underwater. Do you wish you were smart like Frank Lampard and only said you were going to play in MLS and then went and played for Man City instead?
Kaka: No, not at all! Yes, Man City are a world-class club and I do wish I signed for them when I had the chance years ago, but I'm very happy to be in MLS now. I'm sure Frank will be very happy here too. If- if he, uh, comes.
Tyler: Hi, Kaka. I'm Tyler and I'm an Orlando City fan.
Kaka: Good, Tyler! I like to hear that. What's your question?
Tyler: How do you justify playing for a club sponsored by Walt Disney World, a resort founded by a man who was racist, sexist and supported anti-Semites? Do you share all of those values or just some of them?
Kaka: Oh my- no, no, no. Definitely not. I, uh, I didn't know that about Mr. Disney. Oh my. I don't, uh, I would never support any of that, Tyler. I don't know what to say. But I think- I think we've gotten a little bit off track, children. I will have to look into that, but maybe for now someone has a question about my favorite goal or who my funniest teammate is?
Madison: Hi Kaka, My name is Madison and I have a question like that.
Kaka: Wonderful, Madison. Thank you so much. Please ask it.
Madison: Germany beat Brazil 7–1.
Kaka: OK. Again, that's not a question, children. Maybe, uh, maybe we should just do one more question- a real question. So please make it very good and very nice. Please?
Josh: I have another one, Kaka.
Kaka: Is it a nice one? It's not about Germany or Walt Disney being a terrible person?
Josh: No, it's good.
Kaka: OK, go ahead then. Help us end with a smile, Josh!
Josh: If you get tired of your kidneys and offer your teammates money for theirs, do yo think they would have to accept since some of them are in no financial position to refuse?
Kaka: Jesus.
Contributors
Howler
TAGS
WELL, IT DEPENDS ON WHAT YOU MEAN BY "FREE."
Enter your best email for full access to the site.