He was one of the most skillful players England ever produced, and he behaved more like a rock-star than a world-class striker. But you've probably never heard of Robin Friday.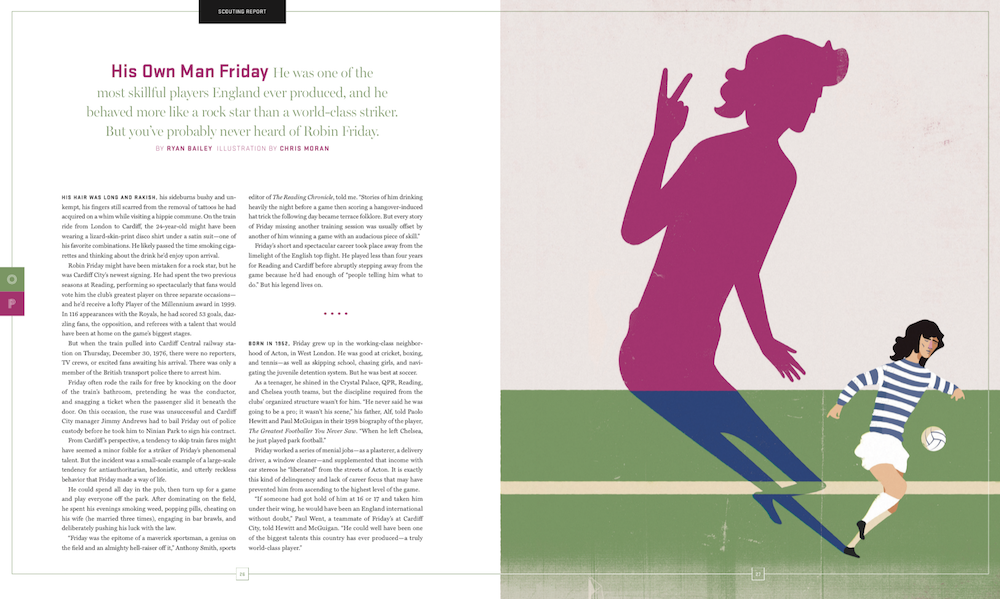 His hair was long and rakish, his sideburns bushy and unkempt, his fingers still scarred from the removal of tattoos he had acquired on a whim while visiting a hippie commune. On the train ride from London to Cardiff, the 24-year-old might have been wearing a lizard-skin-print disco shirt under a satin suit — one of his favorite combinations. He likely passed the time smoking cigarettes and thinking about the drink he'd enjoy upon arrival.
Robin Friday might have been mistaken for a rock star, but he was Cardiff City's newest signing. He had spent the two previous seasons at Reading, performing so spectacularly that fans would vote him the club's greatest player on three separate occasions — and he'd receive a lofty Player of the Millennium award in 1999. In 116 appearances with the Royals, he had scored 53 goals, dazzling fans, the opposition, and referees with a talent that would have been at home on the game's biggest stages.
But when the train pulled into Cardiff Central railway station on Thursday, December 30, 1976, there were no reporters, TV crews, or excited fans awaiting his arrival. There was only a member of the British transport police there to arrest him.
Friday often rode the rails for free by knocking on the door of the train's bathroom, pretending he was the conductor, and snagging a ticket when the passenger slid it beneath the door. On this occasion, the ruse was unsuccessful and Cardiff City manager Jimmy Andrews had to bail Friday out of police custody before he took him to Ninian Park to sign his contract.
From Cardiff's perspective, a tendency to skip train fares might have seemed a minor foible for a striker of Friday's phenomenal talent. But the incident was a small-scale example of a large-scale tendency for antiauthoritarian, hedonistic, and utterly reckless behavior that Friday made a way of life.
He could spend all day in the pub, then turn up for a game and play everyone off the park. After dominating on the field, he spent his evenings smoking weed, popping pills, cheating on his wife (he married three times), engaging in bar brawls, and deliberately pushing his luck with the law.
"Friday was the epitome of a maverick sportsman, a genius on the field and an almighty hell-raiser off it," Anthony Smith, sports editor of The Reading Chronicle, told me. "Stories of him drinking heavily the night before a game then scoring a hangover-induced hat trick the following day became terrace folklore. But every story of Friday missing another training session was usually offset by another of him winning a game with an audacious piece of skill."
Friday's short and spectacular career took place away from the limelight of the English top flight. He played less than four years for Reading and Cardiff before abruptly stepping away from the game because he'd had enough of "people telling him what to do." But his legend lives on.


Born in 1952, Friday grew up in the working-class neighborhood of Acton, in West London. He was good at cricket, boxing, and tennis — as well as skipping school, chasing girls, and navigating the juvenile detention system. But he was best at soccer.
As a teenager, he shined in the Crystal Palace, QPR, Reading, and Chelsea youth teams, but the discipline required from the clubs' organized structure wasn't for him. "He never said he was going to be a pro; it wasn't his scene," his father, Alf, told Paolo Hewitt and Paul McGuigan in their 1998 biography of the player, The Greatest Footballer You Never Saw. "When he left Chelsea, he just played park football."
Friday worked a series of menial jobs — as a plasterer, a delivery driver, a window cleaner — and supplemented that income with car stereos he "liberated" from the streets of Acton. It is exactly this kind of delinquency and lack of career focus that may have prevented him from ascending to the highest level of the game.
"If someone had got hold of him at 16 or 17 and taken him under their wing, he would have been an England international without doubt," Paul Went, a teammate of Friday's at Cardiff City, told Hewitt and McGuigan. "He could well have been one of the biggest talents this country has ever produced — a truly world-class player."
In March 1971, at the age of 18, Friday signed a contract with semiprofessional northeast London side Walthamstow. He earned £10 per week (about $100 today) until he was picked up by the nonleague West London side Hayes.
Yet Friday's career nearly ended before it started. In the summer of 1972, he suffered a near-fatal accident working a day job on a construction site. "I fell on a big spike, which went through my backside into my stomach, and just missed my lung," he told the Reading Evening Post two years later. "The doctors told me I was a fraction of an inch away from death."
The life-threatening incident didn't alter Friday's behavior, however. If anything, it only enhanced it. "He'd come so close to death that he just wanted to live each day as it came and forget about tomorrow," his former Reading colleague Gary Peters explained in Hewitt and McGuigan's book.
Three months after the accident, Friday was back on the pitch — and still without shinpads. He scored frequently during his three seasons in nonleague football, but he was also sent off roughly once every nine games. In January 1974, fourth-tier side Reading signed him for a transfer fee of £750 (about $11,000 today). He immediately prospered in Reading's reserve side, and as the Royals' first team struggled, manager Charlie Hurley gave Friday, then 21, a conditional debut offer: he could feature in the starting XI only if he cleaned up his act.
Friday promised to stop drinking and fighting, and he debuted against Northampton on January 27, 1974. He scored twice in a 3–3 draw, driving in a long-range shot after evading four challenges, and doubling his tally with a header. The Reading Evening Post hailed the performance as "outstanding," the first of many positive reviews he would garner that season.
Royals fans had found themselves a new hero, but his promise to stay out of trouble didn't last. In the biography, Hewitt and McGuigan note that Friday was very fond of Colt 45 malt liquor and nighttime accoutrements like LSD. Getting thrown out of bars was par for the course, with one establishment banning him on 10 separate occasions.
He once entered a nightclub in a long overcoat and workman's boots, treating revelers to the sight of him dancing naked when he threw the coat to the ground. Many bore witness to his favorite party trick, which involved turning out the pockets of his pants and revealing a certain appendage. He called this routine "the elephant."
Entering his second season with Reading in 1974, Friday went missing for most of the summer and didn't show up until the day of the first preseason friendly. Still, he managed to outperform most others on the field in spite of his habit of barely showing up for work between games. "I don't want to be training every day and running round and round the pitch," he once told Hurley. "Give me the ball and I'll do anything, but I don't want to work."
By September, he was the joint top scorer of the entire Football League (the top four divisions), with nine goals. During a 2–1 victory over Rochdale in April 1975, he celebrated one goal by kissing an unsuspecting policeman. "[He] looked so cold and fed up standing there that I decided to cheer him up a bit," Friday told the Reading Evening Post. However, Hewitt and McGuigan note that he regretted the celebration because he "hated coppers" so much.
The image of Friday flipping off the keeper during his celebration perfectly encapsulates his character — the yin and yang of his talent and trouble.
Friday finished the season as Reading's top goal scorer, bagging 20 in all competitions, but his best was yet to come. By March of the following year, when the team faced Tranmere in a top-of-the-table clash, he had already scored 18 times. In that game, he scored what some witnesses believe to be one of the greatest goals of all time.
With his back to goal around 25 yards out, he controlled a long ball on his chest and powerfully struck it on the volley over his own shoulder and into the top right corner. The Reading Evening Post match report said all 10,961 fans in attendance were stunned. Referee Clive Thomas, who had officiated at the 1974 World Cup, put his hands on his head in disbelief. "I'll never forget it," Thomas told Hewitt and McGuigan. "If it hadn't gone into the top corner of the net, it would have broken the goalpost. Even up against the likes of Pelé and Cruyff, it still rates as the best goal I have ever seen."
When the man in black told Friday he had never seen such a stunning effort, the striker nonchalantly responded: "Really? You should come down here more often — I do that every week."
A few weeks later, Friday scored the equalizer in a 2–2 draw at Cambridge United that secured promotion for Reading and cemented his status as a local hero. But he was in a precarious position — long tolerated for his winning ways, he was approaching the tipping point of being more trouble than he was worth.
At the start of the 1976–77 season, it became evident that Friday had indulged a little too much over the summer. He had lost a yard of pace, he still wasn't a fan of training sessions, and Reading took the decision to cash in on his success. He soon found himself on the train to Wales to join Cardiff.
Friday debuted for the Bluebirds on New Year's Day 1977 against Fulham, after a typical night of heavy drinking. The London side featured 1966 World Cup hero Bobby Moore, but Friday stole the spotlight. "[He] gave Bobby Moore a right chasing," Cardiff fan Mike Young told the BBC in March 2013. "He scored two goals. Bobby Moore was a veteran by then but this lad was taking him apart." Cardiff won the game 3–0, and Moore's humiliation was completed when, according to an oft-repeated story, Friday gave his testicles a firm squeeze.
With seven games to go in the season, and despite Friday's best efforts, Cardiff found themselves in the Second Division relegation zone and hosting high-flying Luton. During the match, Friday was penalized for a high tackle on Hatters keeper Milija Aleksic, with whom he had already clashed several times during the game. Friday held his hand out to apologize, but Aleksic rebuffed him. Friday intercepted the ensuing free kick, rounded the keeper, and scored. In triumph, he turned back to flick the V-sign — a rude gesture in England — to the fallen Aleksic.
The image of Friday flipping off the keeper during his celebration perfectly encapsulates his character — the yin and yang of his talent and trouble. It became so iconic that Cardiff band Super Furry Animals used it on the cover of its 1996 hit single "The Man Don't Give a Fuck," which, fittingly, remains the only U.K. Christmas Top 20 single to repeat that particular expletive more than 50 times.
Friday stayed true to form for the start of the 1977–78 season, failing to turn up to preseason training — this time, he claimed to have hepatitis, though medical tests proved otherwise. When he did finally return, a violent incident on a trip to Brighton & Hove Albion would unexpectedly end his career.
During Cardiff 's 4–0 loss at the Goldstone Ground on Saturday, October 29, 1977, Friday was marked by a young Mark Lawrenson, who had yet to achieve greatness in Liverpool's back line. He became so frustrated by Lawrenson's defending that, under the guise of a slide tackle, he kicked Lawrenson in the face. Friday received a red card — the use of which had been introduced to the English game only a year before. He is then said to have sought out Lawrenson's kit bag and defecated in it, but Roger Titford, who in 2010 published a volume of photos titled "The Legend of Robin Friday," disputes this.
In the 1980s, Friday served time in prison for impersonating a police officer so he could "confiscate" drugs.
In fact, Titford believes that Friday's legend has grown "out of proportion from reality," embellished both in terms of his bad behavior and soccer prowess. "Let's remember, there are a lot of first-division football clubs that looked at Robin Friday… and not one of them actually bid for him to transfer to their club," says Titford, who saw most of Friday's games for Reading. However, Titford affirms the story of Friday, unhappy about being substituted, emptying his bowels in the baths of the home locker room during a game at Mansfield. It is this mix of fact and fiction that leads him to conclude that Friday's story is about "received memory and distorted memory, and reinvented memory" — and that his legend says as much about our desire to believe it as it does about the man himself.
It turned out that his assault on Lawrenson — and possibly his bag — was Friday's last act in professional football. He stormed out of the ground before the match had finished and disappeared.
Friday was fined £100 ($870 today) and immediately transfer-listed. When he finally made contact with Cardiff manager Jimmy Andrews, he told him he was retiring. The club didn't hesitate in releasing him from his contract.
And just like that, with a little less than four seasons of professional football under his belt, one of the brightest flames in the game was extinguished.
"He was one of those players whose career came and went in a blaze of glory," said Cardiff City historian John Crooks in Hewitt and McGuigan's biography. "He'd do some things on the pitch that would absolutely take your breath away. And then he'd go and nut a defender."
Reading fans tried unsuccessfully to coax Friday out of retirement. He returned to Acton and moved in with his parents. When his third marriage ended, he was given an apartment by a housing association catering to those with mental health or substance dependencies. In the 1980s, Friday served time in prison for impersonating a police officer so he could "confiscate" drugs. Then, in December 1990, he died of a heart attack thought to have been brought on by a heroin overdose. He was 38.
"It's hard to imagine someone like him finding his place in the pro game today," The Guardian's Andy Brassell told me. "Flicking V's at opposition keepers and missing the team talk to sit in the pub across the road puts Mario Balotelli's misdemeanors into context as the relatively minor eccentricities they are."
Andrews once described him as "the complete center forward," but his lack of respect for his own gift ultimately decided his fate. Friday blended charisma, charm, cheekiness, and phenomenal talent with poor choices, stubbornness, and willfully reckless behavior. But such assessments held no interest for him.
"I don't give a damn about anyone," Friday told the South Wales Echo in one of his final interviews as a player. "People think I'm mad, a lunatic. I am a winner."

Ryan Bailey is an English writer who hosts video content for Bleacher Report and KICKTV. This story appears in issue seven, which you can purchase here.

Contributors
Howler
TAGS
WELL, IT DEPENDS ON WHAT YOU MEAN BY "FREE."
Enter your best email for full access to the site.