Home
Dirty Tackle
Pep Guardiola does a miserable job of hiding how happy he is to watch Barca
Pep Guardiola does a miserable job of hiding how happy he is to watch Barca
March 18, 2015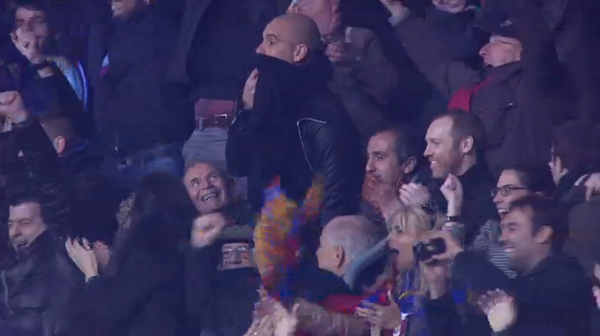 It's been about three years since Pep Guardiola stepped down as Barcelona manager, but on Wednesday he returned to the Camp Nou as a spectator. Ostensibly, he was there to scout a team that might face his Bayern Munich in the next round of the Champions League, but his reactions to the game made it clear that he was also very much a fan. Even though he tried to hide it.
From AS:
Guardiola did not head to the VIP box at the Camp Nou — instead he opted to use his season ticket, so that he could attend with his family. He sat himself down next to his father and Manel Estiarte, his assistant at Barca and at Bayern.
Guardiola played it cool at first. But when Ivan Rakitic scored the only goal in Barca's 1–0 second-leg win against Man City to seal their advancement, Guardiola instinctively applauded, then caught himself and tried to play it off as awkwardly as humanly possible by covering his mouth with his scarf and standing up.
https://vine.co/v/OV27VWYQTQp/embed/simple
And when Messi nutmegged Milner in devastating fashion, Pep had to cover his face again in order to prevent the world from seeing his giddy delight.
https://twitter.com/liviubird/status/578293284793024512
Don't fight your feelings, Pep. Don't fight it.
Contributors
Howler
TAGS
WELL, IT DEPENDS ON WHAT YOU MEAN BY "FREE."
Enter your best email for full access to the site.