Zurich is the seat of soccer's governing body, and yet its teams remain free of FIFA's grime
by Michael Agovino | photograph by Patrick Gutenberg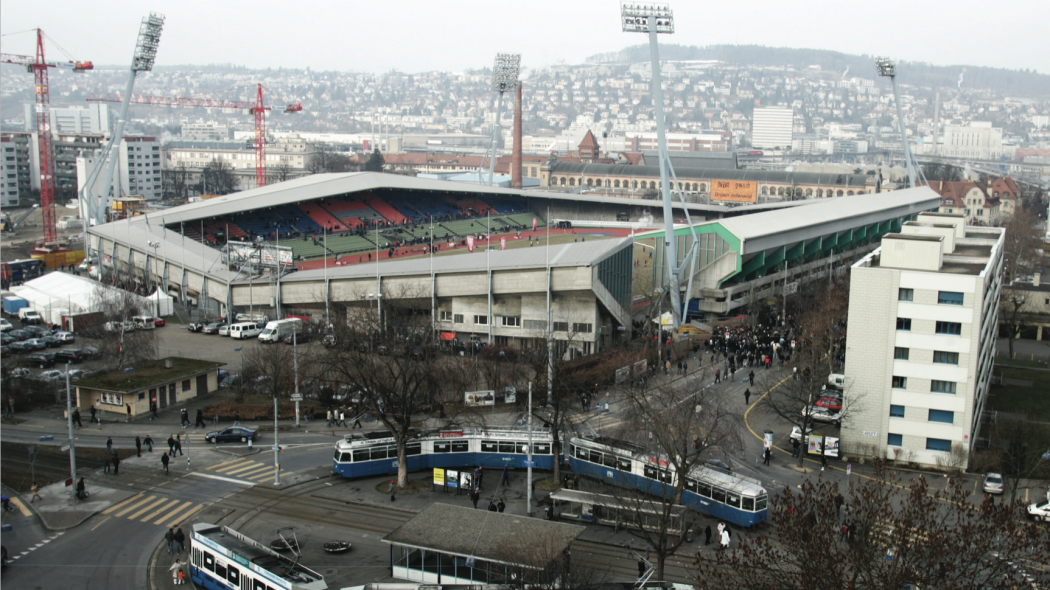 Editors' Note: This essay appeared in issue 03 and received honorable mention in the anthology Best American Sports Writing 2014.
I. FIFA HEADQUARTERS
It was my intention to begin this article with an epigraph about the city of Zurich, perhaps from a notable historical figure. That shouldn't have been difficult. Zurich was, remember, the birthplace of the Dada movement and a sanctuary for exiled writers and thinkers such as James Joyce, Thomas Mann, Albert Einstein, Stefan Zweig, and Ignazio Silone. Thing is, I couldn't find anything very epigraphic, except one I made up myself after spending much of the last nine years there, a variation on a familiar theme. Las Vegas is a Bible Belt town with point spreads compared with the vice available in Zurich, a city of discretion, not neon. Considering FIFA is the first stop on this city tour, the borrowed aphorism is all the more appropriate: What happens in Zurich stays in Zurich.
Whenever the cow dung hits the fan at FIFA — and that's often — an apoplectic press, dateline Zurich, details the various misdeeds of Sepp Blatter, a Swiss native from the provincial, much-ridiculed canton of Valais, in the southwest of the country. No matter how much good FIFA accomplishes — in particular, the usually seamless execution of under-the-radar tournaments in lands less traveled — it's difficult, especially after reading Andrew Jennings's 2006 exposé Foul! The Secret World of FIFA, to defend the organization.
But have a look yourself. FIFA's transparency invites you in — to a point. The headquarters is open to the public — barring scandal, ethics-committee summit, and ensuing press conference — and is easily accessible, like everything in the city, by public transportation. The headquarters overlooks Lake Zurich from Zurichberg, the sleepy hill on the Gold Coast (or sunny side) of the lake, where James Joyce and Elias Canetti are buried at Fluntern Cemetery, and is just steps from the last stop on the №6 tram. Its glass-and-black-granite building was designed by architect Tilla Theus, herself a product — like Herzog & De Meuron, Santiago Calatrava, and Einstein himself — of the imminent technological institute ETH, about 15 minutes away. FIFA's three-story glass façade is covered by translucent aluminum slats that suggest the netting of a soccer goal, but most of the offices are in the five levels below ground. The setup begs the question: Which came first, the bunker or the bunker mentality?
The quickest way from FIFA to Zurich's real soccer culture, not that anyone has ever done this, is by tram.
The building is set inside its own small park with trees and vegetation from six continents — nice touch, that — and soccer fields that no one uses and rows of flags not unlike those on First Avenue at the United Nations, which at one point, it was said, had less member states than FIFA. (Whether that's good or bad I'll leave to you.) But FIFA is not synonymous with Zurich's soccer culture. It is separate. It's above. It looks down, looks away — and maybe, in its private moments, looks over its shoulder or, one would hope, in the mirror. Soccer culture on the ground in Zurich, represented by its old and proud club teams, has little in common with the corridors of power atop the hill.
I never aspired to that Zurich, placid as it is. I was there for love, for a woman, and the woman was an artist. The art may have been bought by those on the hill, but it was created down below in the city's interiors, places you'd never come across if you were there for a stopover or a weekend or simply chose not to look. It was where you could still see an Antonioni double feature in a small theater while sipping wine, and later break it down at an illegal pop-up restaurant, chain-smoking, if you chose, without finger-wagging. Switzerland wasn't Europe technically — it wasn't in the EU, nor was it in the euro zone — but it was Europe, the very middle of Europe, and living there had always been a dream.
I was sick from the disingenuous air in Manhattan and came for six weeks at the end of October 2003 to see if I could juggle a freelance career and a relationship. The following spring I was back for two months, and later in '04 for three more. On this went, and on, in a pattern of delight and disquiet.

II. STADION LETZIGRUND
The quickest way from FIFA to Zurich's real soccer culture, not that anyone has ever done this, is by tram. Take the №6 down the hill and change to the №5 at Kirche Fluntern. Continue down past Kunsthaus, Zurich's MoMA, and onto Bellevue, about the nicest spot in Zurich, which is saying a lot. Bellevue is a few paces from the Opera House, where FIFA often held its Ballon d'Or gala, and, in the other direction, the 101-year-old art nouveau Café Odeon and, beyond that, Cabaret Voltaire, the original meeting place of the Dadaists. At Bellevue, you change trams again, stressfree, it should be emphasized, to the №2.
Soon you'll be on the exclusive Bahnhofstrasse, the main, grand avenue, and in two short stops, at Paradeplatz, home to the original Sprüngli chocolatier — god, is it good — and the main offices of both UBS and Credit Suisse (what happens in Zurich…). The Bahnhofstrasse leads, of course, to the Hauptbahnhof, the main train station, and a park surrounding the Landesmuseum, now cleaned up but notorious in the 1980s and '90s as an open heroin market and a destination for junkies around Europe that, I've been told, resembled Night of the Living Dead.
For this famously neutral country, there's a fair amount of hate between the two clubs. From FCZ's Südkurve they sing: "GC, GC, die scheisse vom see" (GC, the shit from the lake).
The №2 veers away from the Bahnhofstrasse and the train station and heads toward a junction called Stauffacher, where Zurich begins to confound stereotypes. The city becomes emphatically less glamorous, even dreary, with each stop. The tram skims Langstrasse, the main drag of the thriving red-light district with an open sex and drug trade nearly side by side with trendy nightlife, and continues past yet more porno shops and emblems of new immigration: kebab stands, block housing, and satellite dishes in windows and on balconies. At the circular Albisriederplatz, there's what's left of Zurich's vanishing working class: a konditorei, a backerei, a metzgerei, and an apotheke.
One more stop and exactly 40 minutes after departing FIFA, you arrive at the 25,000-seat Stadion Letzigrund, now home to both Grasshoppers Club Zurich (GCZ) and Fussballclub Zurich (FCZ). Grasshoppers had always played literally right across the railroad tracks at the Hardturm Stadion, which was closed in 2007 and demolished in 2009. Plans to redevelop it have been so disorganized, so slow, and so lacking in vision that it might well have been Naples. Both teams wear the same colors — blue and white — though FCZ wears an all-white strip with blue trim, while GCZ's shirt is half-blue, half-white, a color scheme not from the Zurich canton flag but from Blackburn, as they were founded by a Rovers supporter in 1886. Letzigrund is really FC Zurich's stadium and historically FC Zurich's part of town. FCZ (or, as pronounced in the German alphabet, F-Se-Zett) is, you'll often read, the team of the working class; Grasshoppers Club Zurich (GC or Get-Se) for the bourgeoisie and the monied — and those who strive toward such things.
For this famously neutral country, there's a fair amount of hate between the two clubs. From FCZ's Südkurve they sing: "GC, GC, die scheisse vom see" (GC, the shit from the lake). The retort from GC's Nordkurve is: "Wir wollen keine Schlachthofschweine" (We don't want a pig slaughterhouse), ironic now, as the north curve is closest to the actual slaughterhouse outside Letzigrund Stadium that inspired the original cheer.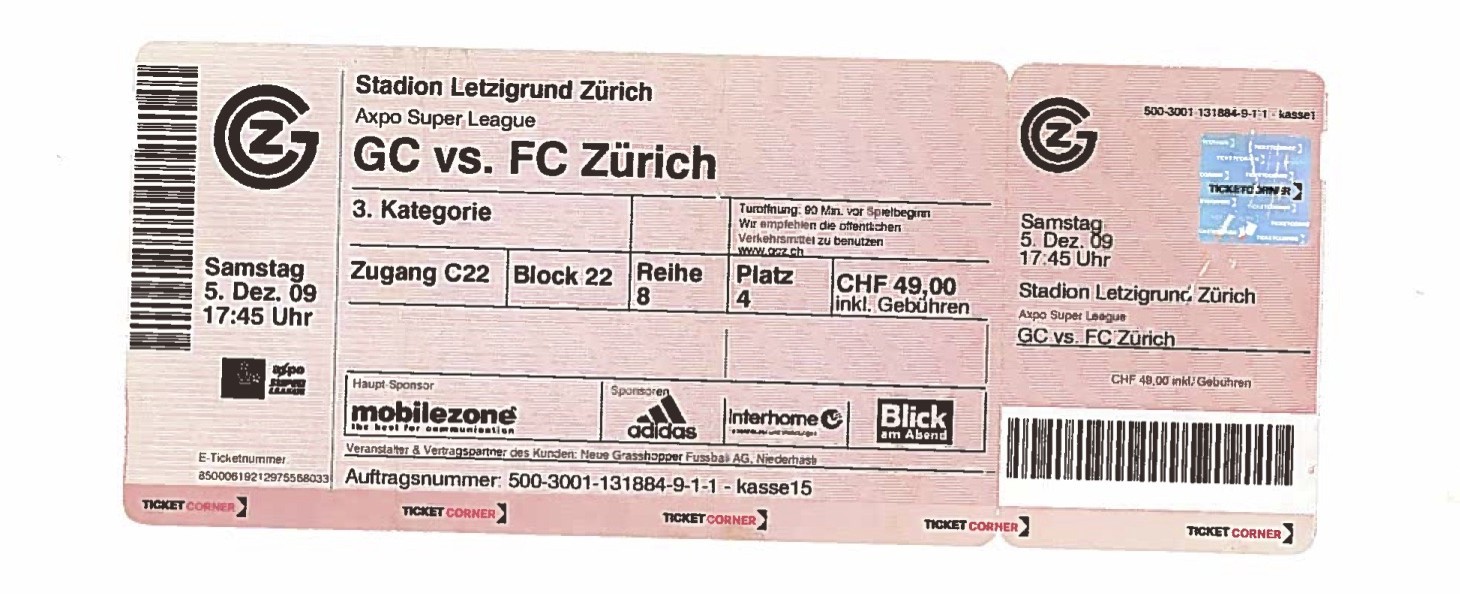 Letzigrund also hosts the annual Weltklasse every August, a prestigious one-day athletics meet, which is a nice thing, but it requires the bane of all soccer fans: a running track that distances field from stands. Aside from that, it's a wonderful small stadium, airy light, with a 25,000 capacity. At night, its glow levitates above working-class, now-immigrant Zurich.
It wasn't always like this. The stadium should really be known as the Neu Letzigrund after it was completely made over for the 2008 European Championships, co-hosted by Switzerland and Austria. When I first went to Letzigrund in November of 2003, I was disappointed. Not only was it dilapidated but it made no geometric sense. There was a running track, but the stadium wasn't an oval. In the area behind the goal, where the track curves, the stands didn't curve with it but instead formed a point. This made the stadium, oddly, into a hexagon. Behind the kurves, which weren't curved, there were terraces with only concrete steps and the metal support stanchions, just like the old English grounds. It looked like the equivalent of steerage. The whole atmosphere felt bleak and unwelcoming. At that first game I attended — FCZ vs. FC Aarau — it was so quiet that the two Armenians I'd been talking to during the match actually waved to one of the players, Arthur Petrosyan, an Armenian international, and he easily spotted them in the crowd and waved back. After the game, he talked to them from the field as they stood at their seats.
Was this stadium — full of the kind of quirks that Americans lovingly tried to re-create in baseball parks over the past ten years — a treasure or a dump? I was glad I saw it in the state it was in but wasn't sure I wanted to come back right away. When it was demolished two and a half years later, there were mourners. I understood — I would sob when Shea Stadium eventually closed — I just couldn't mourn with them. I was still too new, still learning the city and learning it through soccer. Soccer gave me my own identity in Zurich, outside the art crowd that was central to my girlfriend's life. We went to art openings all the time, but they came to feel monotonous and suffocating, not unlike New York. The stadium was anti-art, like Dada itself. Maybe I could've grown close to it. But before I knew, it was gone.

III. HARDTURM STADION
My first trip to Hardturm was exactly a week after my initial match at Letzigrund, November 30, 2003, GC vs. Young Boys Bern. I don't remember who won, YB I think, but it didn't matter; the experience was entirely more enjoyable. Hardturm was also an odd ground: The four sections all looked to have been from different eras and had different trajectories. Pillars obstructed some views. But at least there was no running track. You were right on the field, the fans were louder, the away section full and hearty, and even the food was better. It was one of the few spots in Zurich where I found a hamburger and, like at Letzigrund, there was no price gouging as in American stadiums. A stange — draft beer in Swiss-German (pronounced "shtung-ah"), "the only word you need to know," as I was told again and again over the years — was the same as it was at Bellevue, about five Swiss francs at the time, or four dollars.
Coming from New York, a two-team city in four sports, I knew the importance of making a choice and sticking by it.
The shiny-industrial area around the stadium was starting to be known by the gentrified name of Zuri West. I was ambivalent about gentrification, especially in my hometown, but here you could also walk along the wilds of the Limmat River. For me, a New York City kid who didn't love nature, it was the perfect marriage of city and country. It was also near my favorite café, Sphères, a design-y spot that sold books and magazines. I'd often leave for a Grasshoppers game early, have a perfect espresso at Sphères (here served with a dollop of milk on the side and a tiny biscotto), flip through The New Yorker to see what was happening back home, and then stroll along the river and have a stange before the game, and a burger or wurst, and another stange at the half.
I enjoyed Hardturm so much that, once Letzigrund closed for renovations in '06, I'd often go every weekend, FCZ one Sunday, GC the next, even though I still hadn't chosen a team. I didn't want to favor the club of the wealthy (I couldn't do that, could I?), but I wasn't working class, either, though it had my admiration — sometimes — even though it seemed fetishized by Europe's educated left. Coming from New York, a two-team city in four sports, I knew the importance of making a choice and sticking by it. I was from the Bronx but, for a variety of compelling reasons, grew up a Mets fan — and then, for still more compelling reasons, committed the greatest sin. I switched teams.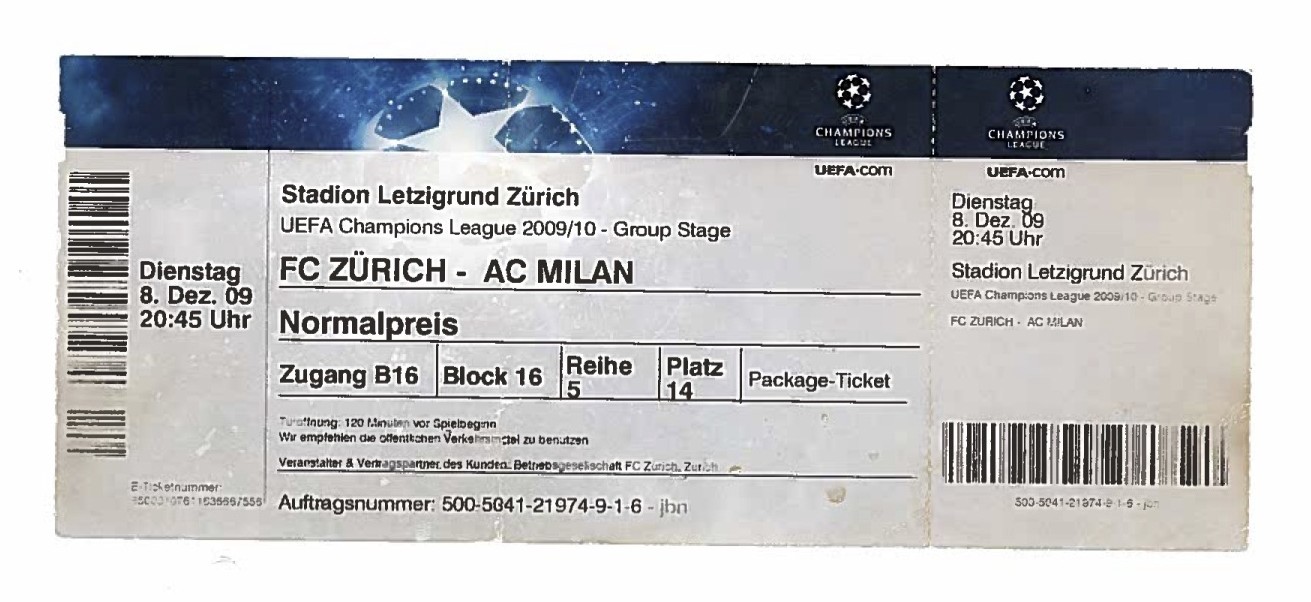 Choosing between FC Zuri (as it was known) and GC was going to be thorny. My girlfriend hated soccer and had no time for it. She came with me to Hardturm the first time, and then I was on my own, which was good. Her father was a fan of GC, historically the nation's strongest club, when I first met him. He later switched to Basel, now the national powerhouse, and finally, like much of the world, he declared his allegiance to Barcelona. What I thought would be my bonding apparatus with him — soccer — became a conversation ender. Maybe it was best he didn't speak English, nor I German. The only constant with him was his loathing of FC Zurich. They were scheisse, shit, he'd say, period. That Hans Kamper, a Swiss national who started FC Zurich, was one of the founders of Barcelona didn't matter to him.
I didn't meet my first devoted GC fan until 2007, in London, where my girlfriend had an artist's residency in the East End. He, too, was a Swiss artist, represented by a gallery of international renown. He also loved Chelsea — from way back, he emphasized when I first met him, so not to be confused with an Abramovich-era bandwagoneer, I suspect — but he was from Zurich, working-class Zurich by the way, and on the contrary, he hated FCZ. Grasshoppers meant everything to him; he'd even get teary-eyed talking about it. He was a longtime GC season-ticket holder, despite the bad times for the club, and he was especially bothered by new FCZ fans, who he felt latched onto the team the last few years.
Everyone else I met — who were usually creatives or of a certain educational background — seemed to support FCZ. The closer I got, the blurrier the class distinctions became. Michael Lütscher, a Zurich journalist who wrote the provocatively titled, 432-page history of the club, FCZ: Eine Stadt, ein Verein, eine Geschichte (One City, One Club, One Story), told me that the class aspect had always been too general. "GC was the club of the elite, a club of the old boy's network, and it still partly is. But it's more a myth that FCZ is working class. It was always much more middle class, or a club for everybody."
I now think of the two clubs not through class but through two of their most iconic players: Köbi Kuhn, who starred in the 1960s and '70s for FCZ, and Claudio Sulser, the GC striker probably second only to Fredy Bickel in the Grasshoppers hall of fame. They're 12 years apart in age — Kuhn is older — and both played for the Swiss national team. Kuhn helped FCZ get to the 1977 European Cup semifinals before the team lost to eventual champion Liverpool. He went on to coach Switzerland from 2001 to 2008. He's from the city and until recently lived in the very ordinary zone 3. He has a genteel, avuncular presence and is beloved in much of the country. He's retired now but frequently watches his old team at Letzigrund. Michael Lütscher introduced me to him at a match, and although I wasn't a person of great import, he was the perfect gentleman. He was plainly dressed, apologized for his bad English (though he didn't have to; it wasn't that bad), and told me how impressed he was with how soccer had progressed in the U.S.
Sulser, from the Italian-speaking canton of Ticino, was the leading scorer in the 1978–79 European Cup in which Grasshoppers made it to the quarterfinal stage before losing out to Brian Clough and Nottingham Forest. Six of his eleven goals were scored against Valletta of Malta, but one was away at Estadio Bernabéu, and two more were against Real Madrid at Hardturm, the last one, which put them through on away goals, in the 86th minute. I couldn't help but admire that. And I told him so, in an e-mail. I had first seen him in action at a press conference at FIFA in 2010; now, as head of FIFA's "ethics committee" (the quotes are mine), Sulser had to face the press after the 2018/22 World Cup voting fiasco. He was a well-appointed man, clearly one of accomplishment and wealth. I had more questions after I left, so I called FIFA and asked to speak to him. I was told, very robotically, that he didn't have an office at FIFA headquarters, that he worked out of his private law practice in Lugano. Fine, I said, can I have his number? No, they said, they didn't have it. Odd, I thought, but I researched it and found his law firm and tried him there. I left a message with the receptionist, left my numbers — she promised he'd call — and wrote a nice e-mail. I never got a reply.
Social class? Maybe. I was more left with this: Kuhn was approachable, engaging; Sulser, distant and unresponsive.


IV. DOLDER GRAND
In 2005, FCZ won the Swiss Cup, and its old chairman Sven Hotz danced with the players on the podium during the city hall celebration. In 2006 on the last game of the season, away to Swiss bullies FC Basel, Iulian Filipescu scored deep into stoppage time, basically on the last play of the game, and FCZ won the league title, its first in 25 years, on goal differential. The scene was pandemonium; entitled Basel supporters stormed the pitch and attacked the Zurich players. Grasshoppers had 27 titles (like a certain New York team), but they hadn't won one since 2002–03, just before I started spending time there regularly. I always tried to fight the primal urge of siding with the winner — there were those early years with the Mets; the tortured ones with the Minnesota Vikings; Louis Orr was my favorite NBA player of all time — but by the mid-2000s, FCZ began to win, and I was drawn in.
Zurich's rise came with coach Lucien Favre, a former Swiss international from the French-speaking part of the country, who, I was told, was a disciple of Arsène Wenger. I could never confirm this, but stylistically you could see the similarities in how the teams approached the game. FC Zurich, though no one was paying attention, were the poor man's Gunners. They had young Swiss players like Xavier Margairaz and Steve von Bergen; Gökhan Inler, a secondo, which, although it sounds like a pejorative, isn't and merely refers to the hard-working, Swissborn (and Swiss-German-speaking) children of immigrants; players, like Blerim Dzemaili, originally from the former Yugoslavia, since Switzerland accepted so many refugees from that country during the 1990s — and foreigners, from Hannu Tihinen, the captain of the Finnish national team, to César, a Brazilian, slow of foot but insouciant and graceful, who would hold the ball an extra half note and lope into the newly created space, ready now to enable. I even went to a few training sessions at the very public, utilitarian Allmend Brunau gymnasium and fields on the cow-grazing outskirts of Zurich. Milanello it was not, but for me it didn't matter. It was all a joy.
Grasshoppers, on the other hand, fell into near irrelevance, flirting with disaster (read: relegation). I felt bad for the club. I had been put off by them but I didn't hate them. How could I? Hardturm was the first of so many beautiful soccer experiences in Switzerland that included national team games, Euro 2008, UEFA Cup, Champions League. I still wanted the derby to thrive and for FIFA not to suck all the air out of the city. But GC seemed tortured playing in Letzigrund; its fans barely turned up and would barely fill a third of its Nordkurve. Its real home was still an empty lot with no plan in place for its new stadium.
In 2010, I went to the annual conference of the International Football Arena, a small operation in Zurich that pulls in many of the most powerful figures in the world of soccer for panel discussions, networking, and exchange. It's held at the Dolder Grand Hotel, an exclusive, staid address overlooking Lake Zurich.
The conference is independent, with no affiliation to FIFA, though higher-ups, including Sepp Blatter, have spoken there. For the conference I attended, one of the panels had to do with the future of stadium architecture. I asked a question of concern for locals. I felt more and more like one even if I realized — after years of hearing Zurichers complain about their city, about its weather, its smallness, its politics, and yes, its disingenuousness — that maybe the best possible position to be was neither here nor there. What, I stood up and asked, would the panelists do about the current stadium crisis at Hardturm, with essentially no "soccer-specific stadium" (my Americanism) in Switzerland's largest city? One of the architects, a German from the Hamburg firm Gerkan, Marg and Partners, said a soccer stadium should be built on the Hardturm site for the two clubs to share.
Fair enough — even if I much preferred the English way of separate teams in separate grounds — but after it was over, several Swiss came up to me and said, to the effect, You should do a story on how it's a scandal that FIFA doesn't build a stadium for us, that they give nothing back to this city, that they don't pay taxes, those so-and-sos. I shrugged. I grew to love soccer in Zurich, just as I'd grown to love the city — it was me, about the only American in a room of 200 or so, who had asked the question, after all — but, I said, some of you are journalists, there are three papers in Zurich, why don't you write about it? Why is it always the English and German press demanding accountability from FIFA? What happens in Zurich… And besides, I said, do you even want favors from FIFA? You need a 20,000-seat stadium? You can find the money in Zurich, where legend has it there's gold stashed in vaults beneath the Bahnhofstrasse. If it could be done in Harrison, New Jersey, surely it could be done in Zurich.
A few weeks later, on a dark, frigid, melancholy afternoon in November, GC played lowly Bellinzona. I went to the game. There were only 3,000 of us scattered in Letzigrund, but that was okay, I needed the alone time. My girlfriend's father had been sick the last couple of years, and his condition had gotten worse. During a recent visit to her parents, he was getting rid of things in his closet. He asked me if I wanted his official Swiss Ski Team gear — he was a part-time coach and administrator of the team — the kind that wasn't sold to the public. I couldn't, I said, I'm not worthy, I don't even ski, and besides you should keep it. He insisted. Okay, I told him, I'll wear it proud.
I thought of him that day at Letzigrund. I'd be back in New York by week's end and wasn't sure if I'd see him again. Grasshoppers was his team, back when, in their glory years. Now look at them, I thought, playing at their rival's ground, homeless essentially, broke, and losing to Bellinzona. If this was an American franchise, I thought, it would up and go to OKC, fully re-branded.
Soccer, like life, is cyclical. Grasshoppers hung on and stayed in the top division; the following season they finished sixth. Last October, a new stadium plan was finally approved. And in May, they defeated Basel on penalties in the Swiss Cup to win the club's first trophy since 2003.

Michael Agovino is the author of The Soccer Diaries and tweets from @SoccerDiarist. Patrick Gutenberg is a Swiss photographer.
Contributors
Howler
TAGS
WELL, IT DEPENDS ON WHAT YOU MEAN BY "FREE."
Enter your best email for full access to the site.