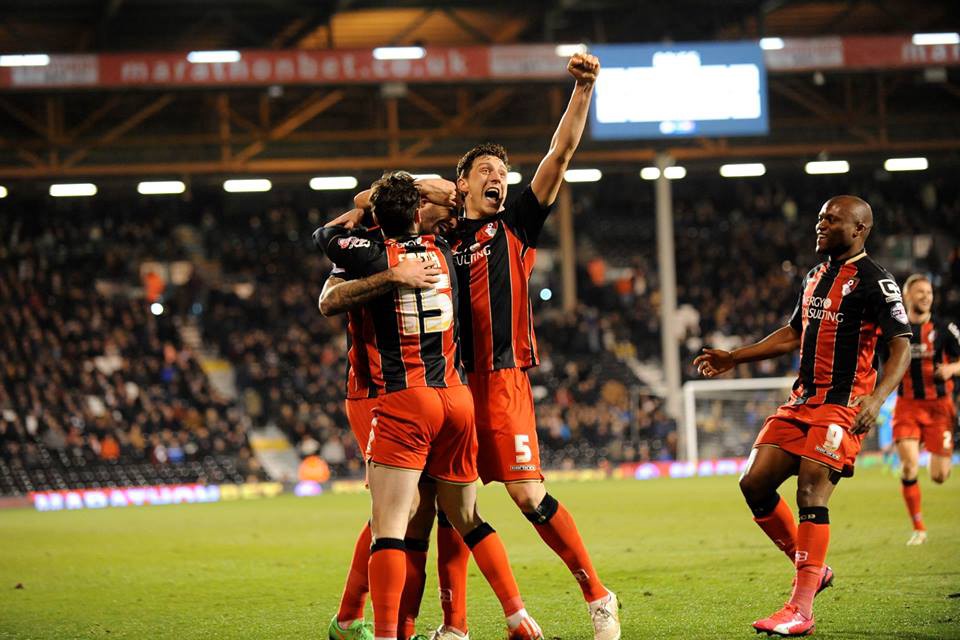 In just seven years, AFC Bournemouth has gone from barely hanging on in the fourth tier to the cusp of the Premier League
By Devon Gray | Photo courtesy of AFC Bournemouth
[A]fter a dominant 3–0 victory over then-leaders Middlesbrough, English minnows AFC Bournemouth are in pole position to win promotion into the Premier League. With seven matches to play, the Cherries sit atop the Championship, one point above Watford and Boro with a vastly superior goal-differential and just a single top-10 team left on their fixture list. For the first time in their 125-year history, they appear destined for top-flight soccer.
You don't need to understand that full century and a quarter to grasp the enormity of the situation — just focus on the past seven years. The majority of Bournemouth's seasons have been spent languishing in the third or fourth tier of England's soccer pyramid (the lowest levels of the Football League) but in 2008, even that status was in jeopardy.
A tiny club in a tiny stadium of only 12,000, Bournemouth was relegated from League One to League Two after going into administration, incurring a 10-point deduction and nearly going out of business due to £4 million in debt from perpetual mismanagement. The following year, while in the bottom rung of English professional soccer, the Cherries began the campaign buried by a massive 17-point deduction for the same financial failures — all but guaranteeing relegation into the Football Conference, a mix of pro and semi-pro clubs. By New Year's Eve, that penalty coupled with poor results had them seven points from safety, and a disastrous loss to non-league foes Blyth Spartans in the FA Cup cost them around £250,000 in lost revenue. Looking hopeless, the club parted ways with manager Jimmy Quinn.
A 17-point deduction all but guaranteed relegation into the Football Conference, a mix of pro and semi-pro clubs.
To scramble out from that debt-blasted crater in the second half of the season, Bournemouth turned to former player Eddie Howe, who at 31 became the youngest manager in the country. The Cherries slowly climbed from the bottom, and with three straight wins to close the season, they assured their survival on the final day in what became known as "The Great Escape." Remarkably, the following year saw the escape turn to ascent, as Howe led them to a second-place finish and promotion back into League One for 2010–11.
Given such immediate success, it was no surprise that a larger club came calling for Howe, and shortly after gaining promotion, he left to guide Burnley's Premier League aspirations. But Howe's two-year stint at Turf Moor was rough, and he rejoined his boyhood club after Bournemouth fell back to the bottom of League One. His second spell at the helm saw him once again navigate a miraculous turnaround, this time reaching the Championship for the 2013–14 season. Bournemouth continued the meteoric rise with a 10th-place finish — the club's best ever — but this year has reduced that to mediocrity.
In what has been an incredibly tense and competitive Championship campaign, Bournemouth has spent a majority of the season at or near the top of the table. Challengers for the two automatic promotion and four playoff spots have come and gone, but the Cherries have withstood the arduous schedule and looked the best of the bunch. Their goal differential of 42 is best in the league by nine, and they've notched four wins and a draw in their last five. Their consistency has earned Howe two manager of the month awards, and the 16 goals from England U-21 striker Callum Wilson have delighted the crowd at Dean Court — the smallest ground in the division.
• • •
[I]n the face of all this success, one must ask how a club with relatively zero pedigree has ascended from the fourth division and near financial ruin to the precipice of one of the world's most prestigious leagues. The answer lies with two men: Howe, of course, and new owner Maxim Demin. The latter is 45-year-old Russian businessman who made his fortune in the petrochemical industry and who, like his manager, is much younger than his peers. Not much is known about Bournemouth's owner — he doesn't grant interviews and generally maintains a low profile — but much of his impact is obvious. Since his purchase of the club in 2011, the club has shrugged off financial woes and can now splash the cash at the rate of the top teams in the lower leagues.
While Demin's checkbook is readily accessible, Bournemouth has been relatively reasonable with their purchases. Their largest signing thus far has been South African striker Tokelo Rantie, who was bought for £2.3 million from Malmo in 2013. Bournemouth's ranks also include a few names Premier League fans may be familiar with, including Dan Gosling and Junior Stanislas, formerly of Newcastle and West Ham, respectively, in addition to goalkeeper Artur Boruc, who's on loan from Southampton. This week, they loaned striker Kenwyne Jones from Cardiff, adding a player with experience at Stoke City, Sunderland and Southampton.
When looking at Bournemouth's success though, one cannot understate Howe. Described by some as the best manager in England outside the Premier League, Howe has been compared to the likes of Liverpool's Brendan Rodgers for his free-flowing, attacking philosophy. This tactical emphasis was best highlighted in an 8–0 drubbing of Birmingham City in October. Howe also brings a penchant for youth development, employing his own youthful exuberance to cultivate a strong team spirit. He's the heart and soul of the club, and while offers from the Premier League will surely come, Howe remains committed to bringing his hometown team to the top flight for the first time. With a young, moldable team and the backing of a committed owner, Howe's tenure only looks to be improving as Bournemouth sets its sights to the highest echelon of English soccer.
Reaching the Premier League would mark an ascent of 69 places on the overall English soccer table since the 2008–09 season.
Bournemouth's next fixture, on April 3, will arguably be their toughest remaining test this season. They'll travel to Ipswich Town, who currently resides in sixth place and will be looking to maintain a playoff spot. Should Bournemouth come away with a victory from Portman Road, they'll take another step closer to the Premier League. With Watford and Middlesbrough still set to face each other, Bournemouth is guaranteed some daylight between the teams chasing their coattails. And with relatively weak opposition after the Ipswich clash, along with a favorable travel schedule in terms of distance, the Cherries are the odds-on favorites for automatic promotion.
It would have been unthinkable just seven years ago, when Bournemouth was stumbling along the edge of the English soccer cliff. But with their very existence at stake, the Cherries haven't merely survived — they've soared.

Follow Devon Gray on Twitter @Devon_Gray.
Contributors
Howler
TAGS
WELL, IT DEPENDS ON WHAT YOU MEAN BY "FREE."
Enter your best email for full access to the site.