A brief appraisal of Manchester United's most prolific, mercurial, semi-forgotten superstar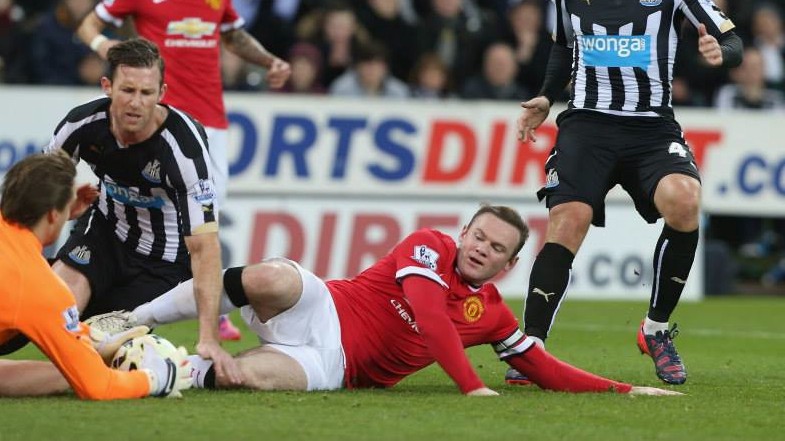 By Kevin Alexander | Photo via Manchester United
[L]ast weekend, Wayne Mark Rooney of Croxteth, Liverpool scored two rather unremarkable goals in Manchester United's rather unremarkable 2–0 victory over Sunderland. The rather remarkable footnote in that is, with those goals, Rooney became the first player in EPL history to have ten or more in 11 straight seasons. Alan Shearer never did it. Nor did Thierry Henry. Or Robbie Fowler. Or Matt Le Tissier. Or even Darren Bent, despite playing for 61 teams over his 39 year career.
Rooney just happens to look like the guy next to the guy next to Vinnie Jones in an early Guy Ritchie film.
As the week went on, I found myself repeatedly thinking about this stat and Rooney, something I rarely do, not being a Manchester United fan, proclaimed Rooney enthusiast, or any good at math. Of course, Rooney as a brand is soccer transcendent, one of the select few players you can safely mention in general company without needing to provide further context. But unlike most other transcendent players (Ronaldo and Beckham, for example), his recognition has little to do with high cheekbones or naked Vanity Fair covers or name-drops in the titles of popular Keira Knightley movies. In fact, Rooney just happens to look like the guy next to the guy next to Vinnie Jones in an early Guy Ritchie film, and yet he still exists on that plane because of his unimpeachable soccer talents. And endorsement contracts with Nike, Ford, Nokia, and Coke. And possibly his very public appreciation for the oldest profession in the world. But still, doesn't it feel like the 29 year old has become an afterthought, a below-the-fold story, the rarely thought of constant in the United lineup?
https://www.youtube.com/embed/E4dBWUjuCU0
He considers his natural and best position to be striker. Having spent the last few days watching several Wayne Rooney YouTube highlight videos set to popular Flo Rida songs, you can see why that makes sense. He is just as likely to blast a swerving volley outside the box, as he is to softly touch the ball over the keeper on the run, or head it in traffic. He throws his rectangular fireplug of a body in front of defenders to shield the ball, making it nearly impossible to take it from him straight away, but if you do, his work rate is somewhat terrifying in trying to get the ball back. He's unselfish in a way that's somewhat shocking for a superstar of his caliber, and, despite being in the league for 13 seasons, he's still got enough pace and quickness to cause separation to get off his shot. And yet, take him out of his beloved striker role at your own risk. When Robin van Persie came into the side in 2012, Sir Alex preferred to play Rooney in a deeper role behind RVP, something he has always famously hated, to the point of asking for a transfer in 2012 and avoiding playing in Ferguson's final home match.
Obviously he has since learned to adapt to the role, but with RVP injured for the moment, and Rooney in the top slot once again, you can't help but notice a lighter, freer quality in his play. During the Sunderland game, I swear you could almost hear Rooney shouting, "This is who I am! This is where I need to be! Now play me a through ball to my right."
"This is who I am! This is where I need to be! Now play me a through ball to my right."
But the question still remains: where will history ultimately place Rooney? He is contracted through the 2019 season with the Red Devils. By then he will still only be 33. Perhaps young enough for a final swan song back on the Merseyside so he can play up top and try and break Shearer's record in blue? Or maybe he'll stay with United the rest of his days and try to out-Giggs Giggs. Or sign with Southampton so we can occasionally score more than two goals per 100 shots.
Since I clearly don't know the answer, I'll leave you instead with this final story. In 2007, I spent part of the year traveling through much of Eastern Europe and Northern Ireland, ostensibly to find myself and write for travel magazines, but mostly just to eat fried cheese sandwiches alone in parks while reading Gerald Seymour novels. That March, I was in Slovakia and homesick, so I wandered to the Dubliner Irish pub in Stare Mesto just as Manchester United and Bolton were kicking off.
These were the days of the Cristiano Ronaldo experience, and I watched as Rooney knocked in a tidy chip over the goalie on a Ronaldo layoff, and then put the game out of reach in the second half with an outside of the right foot blast into the corner netting on the run. Noticing my visceral reaction to the second goal, a Slovakian man next to me in a Manchester jersey asked me if I was American. "I am," I replied cautiously, because, really, you never know where that question is going to take you. "Well Rooney," he said proudly, motioning to the name on the back of his jersey, "is my Elvis!"
Long live the King.
Check back here every week for more EPL talk and discussions of Irish pubs in Eastern Europe. Or just follow Kevin on Twitter @KAlexander03 and he'll tell you the name of his Elvis.
Contributors
Howler
TAGS
WELL, IT DEPENDS ON WHAT YOU MEAN BY "FREE."
Enter your best email for full access to the site.