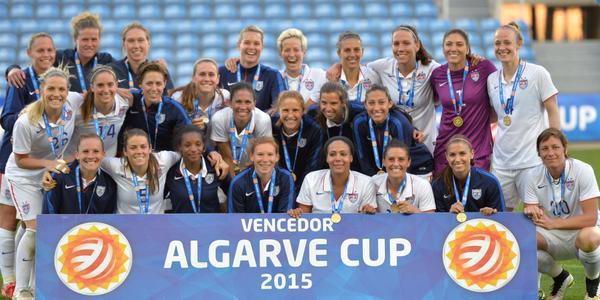 The USWNT are Algarve Cup champions. But with only two months until the World Cup, are they ready for prime time?
By Evan Davis | Photo Courtesy of U.S. Soccer WNT
[T]he trolls were out to play at the Algarve Cup.
Chalk it up to American gumption — not to mention the American soccer fan's thirst for a tradition of winning — but the followers of the US Women's National Team have a particular flair for never being satisfied. Who can blame them? Their girls are winners. They always have been. They still have to fight for a place at the table with the men's side, despite the obvious disparity in relative glory wrought. Similarly, the game is fast changing all around them, with your gegenpressing and your tiki-taka making their way into women's teams across the world. And when you're faced with a squad whose lineup has stagnated and whose coach can't seem to offer much in the way of tactical evolution, you're bound to get a little frustrated. Which brings us to the trolls.
First, there was Iceland head coach Freyr Alexandersson, who held the Stars and Stripes to a 0–0 draw in the Algarve Cup group stage. Iceland analyzed game film, then sat deep, absorbed pressure, and harassed the US midfield, forcing the long ball tactic. Alexandersson said he "[didn't] understand it, because they can play the ball on the grass… If this was my team, I'd be very unhappy." Sick burn, bro. Jill Ellis hit right back, stating, "Maybe he's unhappy because his team is at the bottom of the group." True enough, and, ouch. But the comeback smacked of peevishness, as if Ellis knew he was right.
Then there was Grant Wahl, doing a Fox Sports pre-game piece on Ellis before the tournament final against France. Wahl called out those "armchair coaches" who can't fathom what Ellis is doing. Abby Wambach in the starting XI, Carli Lloyd out wide, no defensive midfielder — Wahl hit all the main Twitter talking points in order to frame that it's Ellis who's the coach, not the fans, and they'd do well to remember that.
To be fair, Ellis's lineups seemed to troll her critics right back. "You want me to #FreeARod? Here you go!" Amy Rodriguez scored a beauty of a goal against Switzerland, then started in the final against France. Not bad for the top American scorer in last year's NWSL season, who hasn't gotten within spitting distance of a quality starting spot since 2011.
And finally there was Equalizer Soccer's Jeff Kassouf, reliably neutral in scuffles like these, summarizing the team's Algarve performance: "For a team that over-relies on confidence and disproportionately uses media narrative as motivation, the U.S. sounds like it just got back a morsel of its swagger." Shots fired!
So, what's really going on here? Is Ellis getting a bad rap? Did Alexandersson hit the nail on the head? Did Kassouf shine a light on how US Soccer manages this squad?
First off, credit to Ellis for finally experimenting with her lineup a bit. Working new faces into the player pool last year and solidifying a system three months ago might have been useful, but she is legitimately sorting through what her players do best, and where they do it best. (Don't forget that Brendan Rodgers took a few months to square away a Suárez-less Liverpool.) Ellis has seemingly tossed her 4–3–3 onto the fire, allowing a narrow 4–2–2–2 to rise from the ashes. It is a most intriguing proposition that utterly failed against France back in February, but is beginning to find its sea legs now. Whereas Carli Lloyd was initially cast adrift out wide, she is confidently operating more centrally, free to roam across the middle of the park while Christen Press moves higher up to combine with the striker pairing. This formation puts a ton of pressure on the fullbacks to get forward and provide attacking width, while also tracking back and fulfilling their defensive responsibilities.
But what the tournament also demonstrated was that the US's depth and superior fitness can see out games, and recover quickly when fixtures pile up in a short period.
Did it work at the Algarve Cup? Somewhat. Ali Krieger looked quite settled from end to end on the right flank, whereas Lori Chalupny was lost without a map on the left against Norway. Meghan Klingenberg did a better job in the subsequent Switzerland and France contests, but still had some trouble transitioning back. And yes, those pesky long balls showed up a lot. Wambach isn't starting regularly, so there's no big target to launch ahead toward. Christen Press and Alex Morgan are crafty, technical ball handlers who like to stretch defenses and find seams. Amy Rodriguez has the speed and footwork to match. This is a strike force that needs good service. Alas, there is still too much kick 'n' rush on display for anyone's comfort. (One wouldn't be wrong to think that Wambach, who will turn 35 in Canada this summer, should be dropped from the team altogether, given her refusal to play in the NWSL this season. But when you're the all-time leading international scorer, your club salary is paid by your national federation. The club-country relationship is reversed in the US women's game, and the national team is considered the real club anyway, you essentially get to do what you want. I'm sure Western New York Flash coach Aaran Lines and the Flash's season ticket holders can take some comfort in the recent acquisition of Sydney Leroux from the Seattle Reign..)
The US attack was non-existent in the first half of every contest but for the final. Teams sat in and closed them down. Norway and Switzerland looked especially threatening on the counter. With Lloyd moving in literally every direction with little regard for tactical discipline, Ellis has all but conceded the notion that the Americans' athleticism is their finest feature.
There were rapid defensive improvements as the tournament progressed. Try as the fans might to drag a full-blooded number 6 into the squad, Ellis is content with the partnership of Lauren Holiday and Morgan Brian at the base of midfield, and there's nothing they can do about it. Brian struggled defensively against Norway and Switzerland, but seemed much more settled against France, giving Holiday the latitude to move up the pitch and begin attacks. Lloyd also put in a good defensive shift, turning the page on the drubbing Les Bleues dished out back in February.
Still, the mid-field's attacking instincts left the US exposed to the counter in the group stage. Brian, however, got a lot of defensive help from the tournament's breakout star, 22-year-old Julie Johnston. Thanks to injuries to Whitney Engen and Christie Rampone, Johnston started three games at center-back. Her skill set suggests she would fit quite nicely into that holding midfield position, but nevertheless, her instincts, pace, and on-the-ball work relieved some pressure behind Brian. A clinical headed goal off a Lauren Holiday free kick in the final was icing on the cake. One can only hope that Johnston's display proves, once and for all, that the 39-year-old Rampone should not be a guaranteed starter.
There are necessary caveats to the Americans' performances, as there always are. For one, their three group stage games were against inferior opposition, who still figured out ways to close them down offensively for long stretches; for another, France coach Philippe Bergeroo fielded an experimental side, with center-backs Laura Georges and Wendie Rénard out of the squad. But what the tournament also demonstrated was that the US's depth and superior fitness can see out games, and recover quickly when fixtures pile up in a short period. It's increasingly likely the Yanks will get out of the quarterfinals. But when they're dealing with the likes of Germany, France or Japan in the final rounds, will their physical superiority actually be the deciding factor this time around?
Sure, Kassouf isn't wrong to note that the famed American mentality is more than a bit nebulous, and has repeatedly come up short in tournaments past. Alexandersson has mapped a path for teams to shut down the American attack. And Ellis's side is most certainly not playing attractive football. But sometimes, you've got to work with what you have to win. The USWNT is more Mourinho than Guardiola these days, but when the stakes are this high, all that matters is the silverware — and The Special One knows a few things about hoisting a trophy. Come July 5th, the grunts may just take down the ballerinas. Carli Lloyd played with a black eye at the beginning of the Algarve Cup; she's ready to put a few dancers in their places.

Evan Davis is a proud Toffee living in New York City. His writing has appeared in Film Comment, The Velvet Light Trap, MUBI Notebook, and The House Next Door. Follow him on Twitter and Instagram @ProfessorDobles.
Contributors
Howler
TAGS
WELL, IT DEPENDS ON WHAT YOU MEAN BY "FREE."
Enter your best email for full access to the site.