A confession from FIFA president Sepp Blatter
April 1, 2015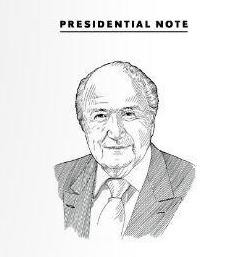 Recently I lost a dear friend: my pet turtle Li'l Wayne. For many years, Li'l Wayne has been my closest friend and confidant. He was a well behaved turtle, never judging me or saying a bad word about anyone. Intensely loyal, Li'l Wayne was at my side through good times and better. But now he's gone. To turtle heaven. Forever.
The death of my beloved turtle prince so soon after my 79th birthday has shaken me to my core and reminded me that I will not live forever, thus opening my eyes to what is truly important in life. Unchecked power, a limitless, ever increasing avalanche of money rushing towards my pockets, and the ability to rewrite history with a $27 million film in which I am the hero and played by Mr. Orange from Reservoir Dogs — all of these are fleeting satisfactions that can't be compared to the love of a turtle. I realize that now.
So I have decided to devote what remains of my life to honesty, love, and the betterment of the world. In that interest, I must admit that FIFA does not have football's best interests at heart. That we inflict all the burden of the world's love of the game upon nations and their peoples while we reserve all of the profit for ourselves. And so, I am ending my campaign for another term as FIFA president. I am also dissolving FIFA itself so that a new governing body for football can be established, with checks and balances that encourage transparency and altruism.
FIFA's considerable cash reserves will be distributed amongst its member nations and the farcical and deeply unethical World Cups in Russia and Qatar will not be staged.
It is often necessary to tear down a mold-infested structure with a weak foundation in order to build new homes that can provide safety and security for future generations, which is why I- HAHAHAHAHA I can't do it! Hahaha! I was going to do an April Fool's joke, but I can't. That stuff about love and honesty is nonsense. I'm going to live forever, FIFA will only grow stronger and stockpile more money, the round peg of the World Cup will be forced into the square hole of Qatar, and there's absolutely nothing any of you can do about it. Because Sepp Blatter and FIFA answer to no one.
So, just like every other day of the year, the joke's on you, everyone who isn't me. Haha! But seriously, my turtle actually did die. And I already got a new one I'm calling Gerard Departurtle. Suck on that, nature.
Contributors
Howler
TAGS
WELL, IT DEPENDS ON WHAT YOU MEAN BY "FREE."
Enter your best email for full access to the site.