Home
Dirty Tackle
Chicharito's three stages of emotion after scoring a late winner against Atletico
Chicharito's three stages of emotion after scoring a late winner against Atletico
April 22, 2015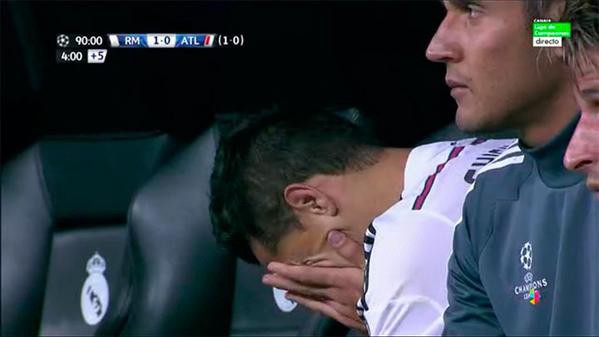 With Karim Benzema unavailable to play the second leg of Real Madrid's scoreless Champions League quarterfinal against Atletico, Chicharito was finally given another chance to show what he can do on the on the biggest stages.
After 89 minutes of both sides still unable to score, even after Atletico's Arda Turan was sent off in the 76th, we were all reminded that where there's a Chicharito, there is a way. The Mexican striker, who is definitely the real-life Santi Munez, tapped in a pass from Cristiano Ronaldo for his first Champions League goal in 896 days.
This was enough to give Real Madrid their first win against Atletico in eight tries this season and put them back in the Champions League semifinals. It also prompted the three stages of Chicharito's match-winning emotion.
Stage 1: Disbelief (that Ronaldo actually passed to him)
Stage 2: Death
It was all just too much to take in and he literally couldn't even.
Stage 3: Tears
Chicharito was substituted shortly after scoring and once he sat down and the reality of the moment sank in, months of frustration turned to tears of joy.
And now, like Gareth Bale and James Rodriguez before him, he can look forward to weeks of news reports about how much Ronaldo secretly hates him. The true mark of success.
Contributors
Howler
TAGS
WELL, IT DEPENDS ON WHAT YOU MEAN BY "FREE."
Enter your best email for full access to the site.