Home
Dirty Tackle
Conspiracy Theory: Liverpool are trying to damage Raheem Sterling's reputation
Conspiracy Theory: Liverpool are trying to damage Raheem Sterling's reputation
April 15, 2015
https://www.gettyimages.com/
Though just 20 years old, Raheem Sterling is proving himself to be one of Liverpool's best players. As a result, he wants more money and perhaps a move to a club with a better chance of winning trophies. Though a natural part of the business, this puts Liverpool in a difficult position. As long as Sterling performs as well as he is, he holds all the cards. So the only way the club can gain an advantage in this situation is to try and cut down his market value in other ways.
Sterling's form on the pitch speaks for itself — he's leading the club in several major statistical categories, including scoring. His value as a player is undeniable, which leaves his off the pitch behavior as a means to undermine his potential marketability.
Earlier this season, reports of Sterling turning down big money offers from Liverpool started to leak to the press. Back in October, it was £100,000 a week that he supposedly turned down and earlier this month, it was an astonishing £180,000 a week that he rejected. This is a lot more money than his current £35,000 a week and has been used to paint Sterling as greedy beyond his years.
All of that is irrelevant, though. What actually matters here is how this information reached the press in the first place. Of course, there are two sides who would have knowledge of these negotiations: Sterling's representatives and the club. And teeing up the media to paint their client as a punk mercenary obviously isn't something that would ever benefit Sterling's reps. That leaves the club as a source for this foundation to a smear campaign.
Sterling fought back, though. Without the consent of his club, he did an interview with the BBC where he refuted the accusations that he's only after the biggest possible pay day. This seemed to play well and likely restored his reputation to some degree, prompting the need for another means of scaring off other clubs.
Next to greed, the other primary sin for a modern professional athlete is to party harder than a nun at Sunday mass. Staying out late? Recreational use of intoxicants? Consensual sex outside of wedlock? In previous generations, these were things that made god-like athletes seem more human and lovable, but now they're all signs of a player being dangerously out of control.
Last week, private pictures of Sterling smoking a shisha pipe ("as strong as 200 CIGARETTES," claimed The Mirror) appeared in the papers. This isn't something we've seen him do before, but many other footballers certainly have. Then, a few days later, came private video of Sterling doing nitrous oxide — a legal substance labeled "hippy crack" by The Sun, which touted the video as an exclusive. And finally, a few days after that, The Daily Mail published exclusive private pictures of Sterling smoking a shisha pipe on a second occasion, this time with teammate Jordon Ibe, who is interestingly treated as an afterthought in the story…even though he is also an up and coming young Liverpool player (although not one as in demand as Sterling).
The timing and proximity of all of this is beyond curious. Three major newspapers getting private images and video, one after another, that all push a common theme can't be a coincidence. The camera work all appears to have been done by people in Sterling's social circle, which is certain to include numerous Liverpool FC representatives who could be turned into spies against him for any number of professional perks.
It all helps Liverpool ward off potential suitors and could give them leverage to strong-arm Sterling into settling for less money. Just look at the other Daily Mail headlines that accompanied the third "Raheem Sterling: habitual drug fiend" revelation.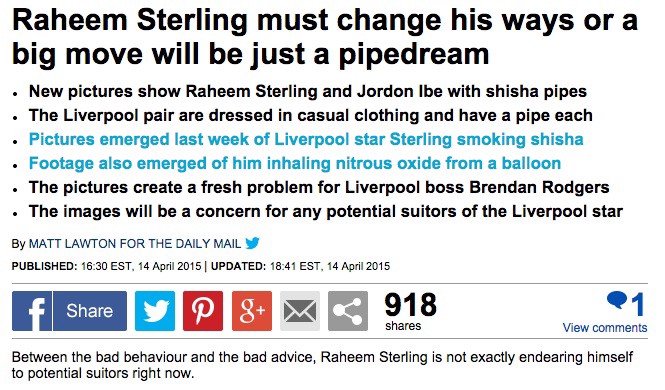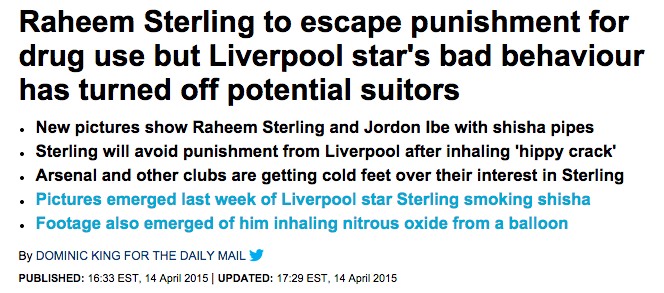 Though Sterling's benevolent employer won't punish him for being the victim of a conspiracy to publicly shame his legal activities, manager Brendan Rodgers did question his professionalism to reporters (right after he scored a beautiful goal against Newcastle) — furthering the alarmist agenda against Sterling's value to others.
Meanwhile, knowledgable and impartial experts reassure us of what a non-story this actually is. From the BBC:
Sterling's actions have also been played down by a professor in substance use at Liverpool John Moores University.
"I don't think the club should be particularly worried," Professor Harry Sumnall told BBC Merseyside.
"Smoking and alcohol have a much bigger impact on sporting performance and are issues which affect the whole of society.
"The numbers using legal highs such as laughing gas and the harms associated with them are relatively small."
But who knows. Maybe all of this is coming out simply because Sterling's name is hot right now and it drives up pageviews. If he does sign a new contract with Liverpool, however, it will be interesting to see if he is suddenly positioned as the model of professionalism who spends all of his free time visiting sick children in hospitals and playing with his daughter.
Contributors
Howler
TAGS
WELL, IT DEPENDS ON WHAT YOU MEAN BY "FREE."
Enter your best email for full access to the site.