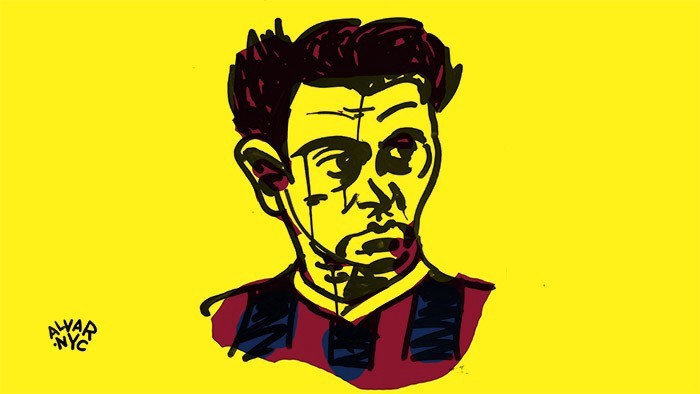 Xavi's days at Barça are numbered, but he still has plenty to offer
By Isaak Bowers | Illustration by Alvar Sirlin
[T]he murmurs surrounding the great Spanish midfielder Xavi have been audible for quite some time now, and it seems they've grown to a consensus, even within the one and only club he has ever played for.
Xavi is finished at Barcelona. Age has caught up with him. What a great player he was — but now his legs are gone.
If you've followed along over the past few months, you've seen rumors that the 35-year-old will move to Qatar — or, less likely, MLS — to enter the twilight of his career. And even as he set a record for most UEFA Champions League appearances with his 148th against Paris Saint-Germain last week, there was the fact that he came on as a halftime sub rather than a critical piece of the machine needed for all 90 minutes. And though he scored and had an assist against Getafe on Tuesday, take this subhead from his goal highlight: "There's life in him yet."
Everything he does comes with the caveat that his days are numbered.
Of course, there's truth in that. He can't be a top player forever, but there is a huge difference between acknowledging that simple fact and concluding that he can't compete among the game's elite any longer.
Watch Xavi — really watch him — and it's impossible to agree that he's finished. Physical attributes don't matter as much when your brain can map the best course of action, step by step and pass by pass.
His talent, intelligence and understanding of the game is there for all to see. He has perfect vision of the pitch, where his teammates and opponents are, and where the spaces are to be found. He makes split-second decisions and can break any situation down in minute detail. And maybe most impressively, he can think and act several steps ahead, with moves that may seem pointless at first, until they come to fruition moments later.
For examples of all of these traits, go back to Barca's 5–2 away win against Athletic Bilbao on Feb. 8, one of the toughest tasks of their La Liga campaign even in a down year for Athletic.
This was no one-off performance. Just a perfect, 74-minute long example of his still-unique and actually quite ageless qualities.
• • •
FC Barcelona at Athletic Bilbao | 2.8.15
Minute 1
Xavi receives the ball for the first time in the game, in the middle of his own half and with his back to the goal, surrounded by two opponents. He drops the ball dead, plays it back, and moves away, instead leaving the space for Barcelonas holding midfielder Sergio Busquets.
Minute 5
Barcelona attacks. Xavi makes a deep run to provide his side with a more vertical option, while also forcing Athletic's midfielders to move backwards, opening up space for Barca's other midfielders. When they choose to use that space for holding possession instead of going for goal, Xavi drops back — from his opponents' blind side — and takes part in a passing triangle on the left-hand side. When they eventually lose the ball, Xavi leads the pressing.
Minute 11
On a Barcelona throw-in, Xavi sprints forward, plays the ball back to the thrower, and in the half-second as he is about to get the ball back again, he manages to spin his head right and left — making an assessment of how close his markers are — and takes the decision to let the ball run past him before swivelling around it and crossing it to the other side. The action does not at first look like much, but it betrays the millimeter-detail-level his football brain works at.
Minute 13
Barcelona's most defensive midfielder, Busquets, moves forward to put higher pressure on the Athletic players; Xavi instinctively drops back into the vacant holding position.
Minute 20
Athletic has a corner. Xavi positions himself just outside Barcelona's penalty box. The ball is deflected out to him, and he cushions it first-time on the volley into space for a teammate to run on to, having somehow had the time to catch a glimpse of him while the ball was in the air. Barcelona counters, and Xavi sprints upfield. Athletic manages to slow them down though, and chokes off the middle of the field. Xavi drifts across midfield and finds an empty space on the right-hand side, from where he attacks the penalty box — coming in on the blind side of his opponents (the ball does not reach him, though).
Minute 22
Barcelona plays the ball out from the back. Xavi shows for the ball in a central position, and gets an awkward, bouncy pass, with an opponent on his back. He clearly has managed to get himself a good picture of the situation though, and solves it with a first-time volley to a free teammate on the right. While Barcelona continues its attack down the left, Xavi moves forward diagonally from the right, and times his arrival in the box with perfection: meeting the cross with a rare diving header that misses the target.
Minute 30
Physical attributes don't matter as much when your brain can map the best course of action, step by step and pass by pass.
Barcelona wins the ball high up the field, with an opportunity to hit Athletic quickly. Xavi makes a diagonal forward run that blocks him off as a possible passing option at first; instead he is already thinking about the next move, and is acting accordingly. His run opens up the space for Messi behind him — and in addition to that, Xavi has angled his run so that Messi, when he has received the ball in the open space, only has to play an easy pass forwards to play Xavi free on goal. After receiving the ball again from Messi with only the goalkeeper to beat, Xavi beats the advancing keeper and feeds the ball back in front of goal from a tight angle, where it is deflected onto the crossbar.
Minute 38
Barcelona is under heavy pressure when trying to play from the back left side. Xavi moves quickly toward his own goal with a marker tight on him, into the only space the Athletic players do not block off. With his first touch, he cushions the ball into a small space for Barcelona's left back, Jordi Alba, to run free of his marker and onto. Xavi turns and moves up the center of the field — turning his head left and right, time and again. Just a couple of seconds later, with Barcelona moving up that side, he receives the ball again — and noticing opponents moving in aggressively from left and right, he chooses as audacious solution: back-heeling the ball deftly back into the space he is leaving, for his teammate on the left who played him in to pick up.
Minute 47
Athletic is building an attack, and Barcelona's left winger, Neymar, is out of position. Xavi moves across to block a possible attacking channel.
Minute 49
Barcelona plays the ball up the field on the left side, and Athletic moves in to press in unison. Xavi makes a deep run — he is impossible to find with a pass, but he has succeeded with his intention: loosening up Athletic's pressure and enabling Barcelona to continue moving forward.
Minute 52
Messi drives the ball forward from midfield. Again, Xavi thinks and acts two steps ahead. He moves ahead to open a big space for a centerback to move into — who, when he gets the ball from Messi, only has to redirect straight ahead for it to reach Xavi in a dangerous position in front of Athletic's defence, from where he feeds a teammate on the left wing.
Minute 60
Barcelona attacks quickly down the left. Xavi runs into the box and attacks the first post, as much to open up space for Barcelona's favourite move from their wings — the cutback to Messi — as to get the ball himself.
Minute 62
Barcelona attacks with speed yet again, this time down the middle. Xavi gets the ball through a layoff from a striker, and — as if he has eyes in his back — plays the ball with perfect timing to his onrushing central midfield partner, Ivan Rakitic. Xavi stays in midfield and balances the side when a number of players move forwards to join the attack.
Minute 63
The ball bounces around in midfield a bit awkwardly. Xavi finds the time to scan the field and read the situation, letting it bounce an extra time to tempt an Athletic player forward. When this happens, Xavi can touch the ball over the onrushing opponent's head, before controlling it on the other side and moving it on to a teammate.
Minute 64
Barcelona is on the counter, and Messi attacks the Athletic defence with the ball at his feet, moving in diagonally from the right. Simultaneously, Xavi makes a deep run, slightly from the left. Messi plays a short ball across for Xavi, who this time not only notices his teammates' and opponents' positions, but also calculates their movements. Ingeniously, Xavi steps over the ball and continues his run, dragging the confused defender with him, while the ball rolls over to a completely free Neymar. The Brazilian finishes off a beautiful move with Barcelona's fourth goal of the day.
Minute 67
He can think and act several steps ahead, with moves that may seem pointless at first, until they come to fruition moments later.
Barcelona is playing out from the back, and Athletic are putting the pressure on. Xavi shows for the ball and maps the situation: he has a couple of opponents close by, but he decides that he is free enough to move his body into a sideways position before receiving the ball. This leaves him facing the right way when controlling the ball, saving himself valuable maneuvering time. A small body feint to the left provides him with some extra time to control the ball and execute a fine cross-field pass to the right.
Minute 74
Barcelona keeper Claudio Bravo is trying to build the next attack. Xavi moves to help him and asks for the ball in the most dangerous position of them all: at the edge of his own box and facing his own goal, with an opponent breathing down his back — and with his own centerbacks positioned out wide to open up space for their move, which leaves them with absolutely no margin for error. Despite this, Xavi is extremely relaxed. He controls the pass from Bravos and then spins his head to see exactly where his marker is. Having noticed that his opponent is still a couple of yards away, he takes another couple of touches toward his own goal, really tempting him in before turning quickly and chipping the ball to Rakitic, who has moved into the space Xavi just opened up in such a nerveless fashion.
Minute 74
Xavi is substituted to the sound of applause from both sets of fans.
• • •
[D]uring his time on the field, Xavi completed 57 of 61 passes (93 percent) and connected on nine of 10 in the attacking third. He had one shot — a header over the bar on a corner kick. But the real genius in his play goes beyond the stat sheet.
He creates space, manipulates opponents and guides the game like an invisible hand. He's the first domino that sets everything in motion. And surely, somewhere, there's a use for his skills among the sport's elite.

Isaak Bowers is a Howler contributor. He lives in Sweden.
Contributors
Howler
TAGS
WELL, IT DEPENDS ON WHAT YOU MEAN BY "FREE."
Enter your best email for full access to the site.