Soccer flowers in Detroit
By Adam Doster | Photographs by Jon Deboer / DCFC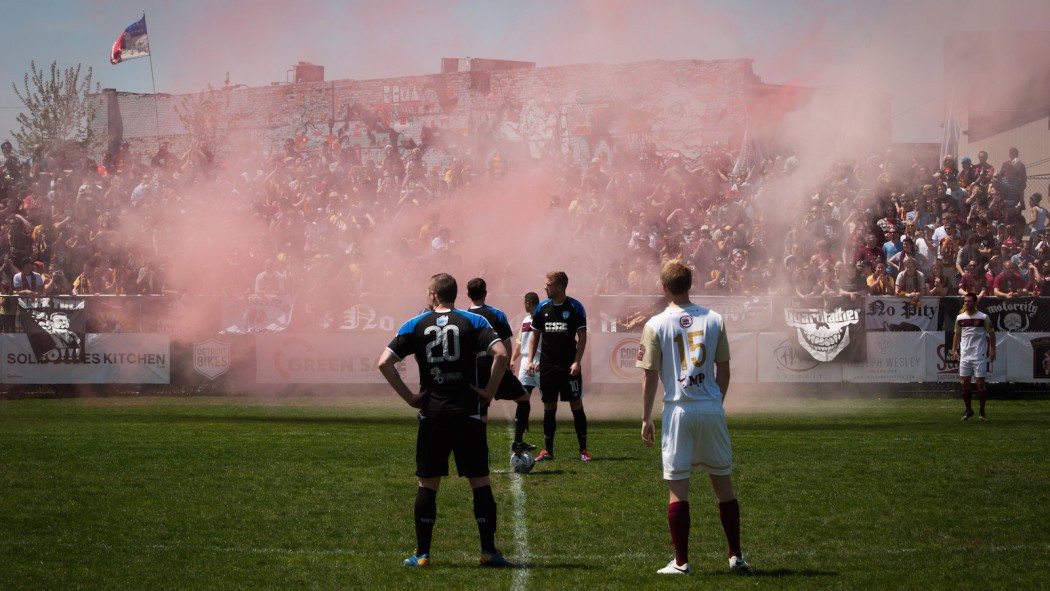 Here at Harry's, a two-story brick sports bar on the south end of Detroit's historic Cass Corridor, members of the United States' unlikeliest soccer fan group have spent the last hour inhaling burgers and beer while watching the World Cup round-of-16 match between Greece and Costa Rica on TVs hanging around the room. They are covered head-to-toe in gold-and-rouge kits, scarves, and pins. Many wear t-shirts emblazoned with the same slogan, imported from Manchester City: "We're Ruining Football, And We Don't Care."
A faint drum beat filters in through the windows. As if on cue, a few hundred people drain their glasses, settle their tabs, and stream out of the tavern. In the parking lot outside, they find Gene Butcher, a bass drum slipped over his bald head and onto his thick shoulders. The instrument's skin is black with a spiky fleur-de-lis set in the middle. "Detroit City Football Club" is printed in an Old English font on top; "Northern Guard Supporters" wraps underneath. Butcher pounds out a percussive rhythm, slow at first but with increasing ferocity. His comrades encircle him and stand at attention, bouncing on their heels, anxious to make their own commotion.
Gene is joined at the center of this throng by his brother, Ken, a big man with thick hands and a salt-and-pepper beard wearing all black, from his combat boots and kilt to the DCFC scarf and pageboy cap. Gene and Ken founded the Northern Guard Supporters (NGS) along with Drew Gentry, who is lanky, pale, and maneuvering through the crowd with a bullhorn. Gentry raises the machine to his mouth, its ersatz siren wailing in the background, and shouts, "Let's go fuck shit up!"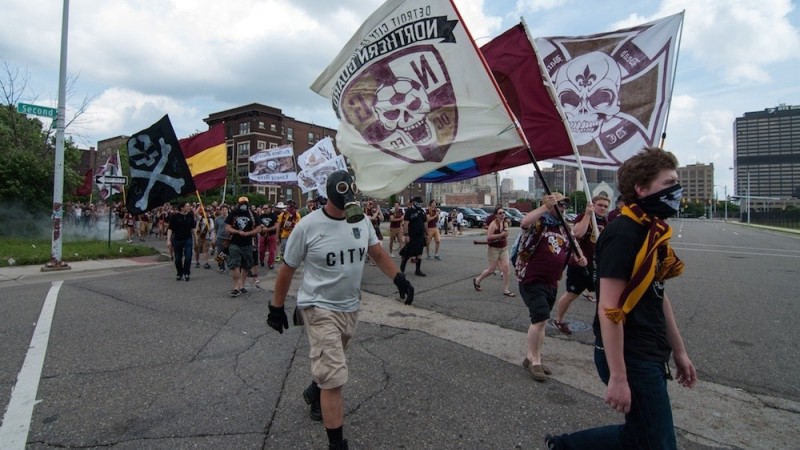 The mob erupts, and then it marches: across Cass Avenue and then down a tree-lined side street flanked by a boarded-up jewelry store, a vacant apartment building with blown-out windows, and a few other structures in marginally better shape. Its final destination, two blocks west, is Cass Technical High School, a popular magnet school rebuilt with gleaming green-tinted glass a decade ago.
The NGS parades past neighborhood families enjoying the late-June sunshine and mid-80s heat who bob their heads to the beat. A burly guy in a gold helmet struggles to keep a giant DCFC flag, eight feet square, up in the air. His pals sing. They clap. They holler. The bandanas a few have pulled over their noses look absurd until Ken Butcher unleashes the first smoke bomb.
Five minutes later, the Northern Guard files into the snug bleachers across from the team dugouts — nine steel rows separated from the field by a chain link fence adorned with banners for local businesses.
"COME AND GET IT (clap, clap, clap-clap-clap)," they bellow in unison at DCFC's afternoon opponent, Indiana Fire Juniors, as the players emerge from the midfield tunnel to warm up. "COMMMMME AND GETTTTT IT!"

Sean Mann, a Michigan state government lobbyist, held no grand ambitions when he started a neighborhood soccer league back in 2010. The co-ed Detroit City Futbol League was "very very recreational," he says, designed largely as a marketing tool for promoting some of Motown's under-appreciated boroughs. Teams were formed not among coworkers or friends but along neighborhood lines: residents of Osborn or Brightmoor taking on squads from Grandmont or Corktown.
"With Michigan's brain drain, especially in the Detroit area," Mann says, "people were more familiar with the neighborhoods on the North Side of Chicago than they were with the ones in Detroit itself."
The hollowing out of Detroit has been exhaustively documented. The city hit a peak of 1.8 million in the 1950s and began a slow decline over the next half century. Between 2000 and 2010, its population plummeted another 25 percent, leaving just 688,000 residents — 38 percent of whom live below the federal poverty line — within a municipality built for 2 million. Mann's fledgling league found a target market in the young, educated, and, in many cases, white people who began to repopulate the state's historic anchor, ditching college towns and the suburbs where they grew up for Detroit's affordable real estate and its powerful sense of place.
Local soccer culture was also maturing. The Michigan Bucks, who play in nearby Pontiac, have competed in the USL Premier Development League since 1995 and have a high-profile local owner, Dan Duggan, the brother of Detroit mayor Mike Duggan.
"Twenty years ago, if you played soccer, you were still the nerd," says Dan. "Now, people who played are growing up and having kids. It's second nature to them."
In the Detroit City Futbol League, 11 teams and 300 initial participants begot 34 teams and well over 1,000 weekend warriors. Games ran 50 minutes long, and the six-match season concluded with a Copa Detroit tournament. The Motor City soccer boom was on.
On a work trip in 2011, Mann coincidentally befriended Sheldon Grizzle, an owner of Chattanooga FC, which plays in the National Premier Soccer League (NPSL). The NPSL was founded in 2002 and sits near the bottom of the United States Soccer Federation's organizational pyramid, three levels below Major League Soccer. Mann asked Grizzle a few leading questions, and Chattanooga's executive handed over his marketing materials and principal budget.
Back in Detroit, Mann had beers with a college buddy who played on his Futbol League team and three others who suited up for a rival neighborhood. The quintet — Mann, Alex Wright, Todd Kropp, David Dwaihy, and Ben Steffan — knew that Detroiters love their sports to death. The Rust Belt capital is also the largest media market in the country without a professional soccer team. (Atlanta's MLS franchise arrives in 2017.) What if they started a minor league squad that taps those reserves while embodying newer residents' entrepreneurial, DIY spirit?
"We decided it would be pretty stupid to try," Mann says. "But it was doable."

The mid-morning storms have passed, leaving the Michigan air clear and humid. Detroit City takes the field in its two-toned maroon Nike kit with matching socks and shorts, greeted by the crowd of 2,858, a few empty seats short of a club record. Lined up near the center spot, the roster blends players from nearby universities (who can compete without forfeiting NCAA eligibility) with former pros and college stars whose legs still haven't given out. They train three or four times a week under head coach Ben Pirmann, an assistant at Michigan State University, with athletes commuting from all corners of southeast Michigan. In the bleachers across the field from families and players' friends, the hundreds of Northern Guardsmen hold their scarves in the air and belt out an off-pitch rendition of the Star Spangled Banner.
With the Indiana Fire in town for the sixth of DCFC's eight scheduled home games, payback is the theme of the day; the Fire smacked Detroit 2–0 nine days earlier in Indianapolis, temporarily leapfrogging the men from the Motor City — last year's champs — in the Great Lakes West Conference standings, where they rest in second place.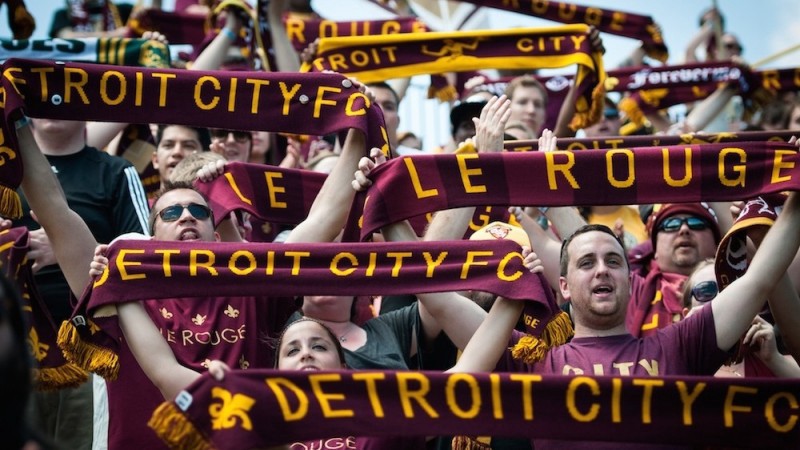 Detroit takes the opening kickoff and creates its first real chance three minutes in. Jeff Adkins, a scrappy striker with floppy hair and a mild resemblance to Fernando Torres, executes a sharp give-and-go at the top of the box and receives the ball in space on his left foot. Indiana's keeper — coincidentally, a teammate at Butler University — sprays the whistling shot over the bar, inducing a chorus of "oohs" from the Detroit faithful. It's the type of sequence you see pretty often at NPSL matches: the players are quick and decisive, their skill is sound, but the final touch isn't always there.
A wasted break in the 27th minute elicits an immediate response — "STUPID!" — from Pirmann, the head coach. He is pacing in the elevated press box, angling for a clear vantage point of the entire pitch. Wearing an untucked polo shirt and carrying both a cell phone and a walkie-talkie, he mutters angrily to himself that he "can't see shit," even though it's the ostensible reason he's left his side's makeshift dugout, that view obscured by the bleacher's handrails, and climbed the steps.
The chants from the supporters' side pile up on each other, coordinated and constant. They don't care about their language or propriety, going out of their way to insult the referee. NGS acts as if the game is taking place in a stadium far larger, in a league far removed from their own. A hard challenge from Indiana leads to some minor pushing near midfield, and a modified hook from the Wu-Tang Clan — "DETROIT CITY AIN'T NOTHING TO FUCK WITH" — floods over the park.
"Some of [the players] are 18- and 19-year-olds, and they might not know what to make of these 30-something [fans] with DCFC tattoos," Donovan Powell, the team's general manager, will explain after the match. "But, especially the older guys, they really savor the moment. We have top players from top college programs and they never play in front of crowds like this."
Mann and his colleagues hardly expected "crowds like this" when they launched Detroit City FC in January 2012 by cobbling together a $5,000 registration fee for the NPSL and staging an open tryout that attracted 200 players. Neither did the Butcher brothers, who created their supporters group, NGS, during that first month, after the early media blitz but before the club's roster was even set. Soccer diehards from way back, they'd gotten their fix at local colleges and, for a short time in the 1990s, by watching the Rockers, Detroit's defunct indoor club. Initial outreach extended to 10 friends they'd played soccer with as adolescents and could gently pressure into enlisting. A few dozen more joined NGS for the home opener in 2012.
"It didn't get real big real quick," Gene Butcher remembers. "If you look at the pictures from the first game of the first season, you had room to walk around the bleachers."
With space to experiment, NGS landed on an identity influenced heavily by South American sporting culture; the outlaw spirit resonated in an industrial town scrapping for national respect. They would be brash, loud, and unrepentant. They'd "make shit, not buy shit," as Gene Butcher puts it. Cussing, loudly, was basically a prerequisite. Gentry, a designer by day, developed a graphic identity and blasted out NGS escapades through social media.
"Detroit City's fans were ready [for the team] to be good right away," says Nick Mendola, co-owner of FC Buffalo, a regional rival, "and they were good right away."
NPSL teams generally play 15 or so matches between May and July, almost exclusively against opponents within a day's drive. Over its first 41 contests, City has run roughshod through the fourth tier, winning 25 and drawing seven while dropping just nine. During the 2013 campaign, DCFC finished undefeated in regular season play and won its conference title before the Erie Admirals stunned them in a playoff heart-breaker. A rare home defeat in June of 2014 snapped a 720-day regular season unbeaten streak. Central defender Josh Rogers, a 26-year-old who works for a downtown advertising agency, has made the All-NPSL Team for two straight years. In the 2014 SuperDraft, MLS clubs selected three players — Adam Bedell, Joey Dillon, and Fabio Pereira — who'd capped with DCFC. An unforeseen alchemy set in: bigger and louder crowds attracted better players, who fueled additional wins, which gave even more locals reason to buy tickets.
"We think with the environment we've created," says Ken Butcher, "the top-tier players want to play for DCFC."
Mann and his four co-owners each log around 30 to 40 hours every week to keep the club running — brainstorming promotions, meeting with potential sponsors, setting budgets, and handling media outreach. Mann calls it "a full-on full-time job, in addition to all of our normal full-time jobs." The Northern Guard's lead organizers — who travel to some away games and foot the bills for flags and smokes bombs and the like — are still not breaking even, though they've raised some revenue from selling t-shirts and other merchandise. They couldn't care less about the money, though. A few days each summer, for two hours at a time, DCFC transforms an empty high school off a beaten road into something more.
"They are trying to make it like a professional game," says Buffalo's Mendola.
Among the 78 NPSL clubs that competed in four regions this past season, DCFC's efforts stand out. The structure, competence, popularity, and profitability of each club varies greatly; some are mature offshoots of successful youth programs, some serve as MLS developmental affiliates, and others operate like independent minor league franchises, where soccer players with professional aspirations line up beside those whose boots are well worn. They have names like Gorge FC and the Joplin Demize. Players — regardless of their experience — are not paid. Per-game ticket sales start in the dozens (which is the case at most sites) and can range into the thousands (Tulsa Athletics, New York Red Bulls U-23.) The league is expanding quickly, and is doing its best to help local owners get their teams on solid footing.
DCFC counts itself among the competent; average attendance during their second year sat around 1,800. Over 3,300 paid to see one mid-July match this past summer, more than some of their regional foes draw in an entire season. Detroit soccer, in some sense, went viral.

DCFC's breakthrough comes in the 31st minute. Midfielder Latif Alashe receives a clearance near the midfield stripe and plays Adkins down the right wing. The forward runs onto the pass at the edge of the box, sweeps the ball back toward goal with the outside of his left foot, pushes it past two defenders with a cheeky touch, toe-pokes it out of the diving keeper's reach, and slots his shot into the vacant net. The crowd explodes. Smoke bombs blast, their remnants hovering over City's on-field celebration. The beefy man in the gold helmet lifts his giant flag again and wields it while rumbling up and down the base of the stands.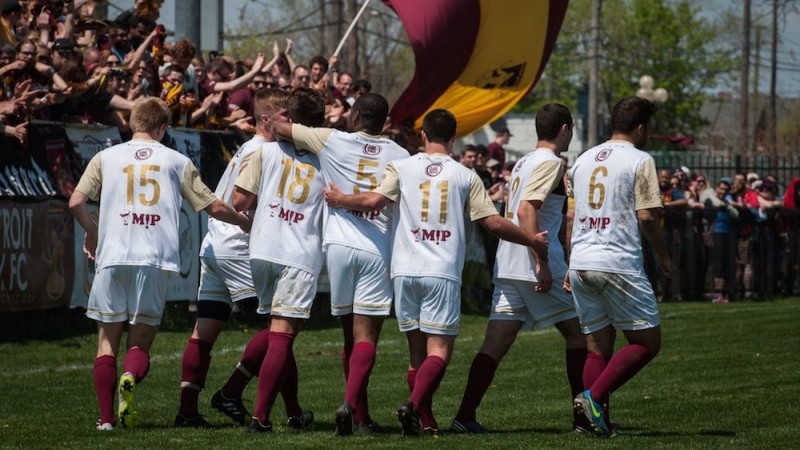 The Fire come out of the half with a chip on their shoulder, and Rogers is forced to make consecutive firm tackles in the penalty area. The momentum shifts in the 56th minute, Adkins lines up a free kick from 24 yards out on the right side. His dipping shot curls over a four-man wall, catching Indiana's goalkeeper flat-footed on the goal line, and sticks in the side netting. Adkins sprints directly to his bench and, perhaps inspired by the mayhem currently engulfing the bleachers on the opposite side of the field, screams "FUCK YEAH" as he leaps into the air. With DCFC exhibiting more energy and better link-up play, the two-goal lead will mushroom to four by the final whistle. Adkins — the man of the match — out-shoots the Fire on his own, eight to six. Back up the table DCFC climbs.

Not even the DCFC founders can fully interpret why their start-up soccer club has struck such a nerve.
"We thought we had uncovered a market potential," says Wright, a Detroit-based video producer, "but I don't think any of us thought that less than three years down the road, we'd have the kind of success that we've had."
What explains it? At the most basic level, the games give a pretext for people to throw a few back with friends and act a fool in public. The matches are intimate, cheap at $10 for adults, and decidedly less sterilized than the average major pro sporting event. (Detroit's "Big Four," says Ken Butcher, referring to the Lions, Red Wings, Pistons, and Tigers, "are boring.") A cynic might describe the violence-free hooliganism as an intricate affectation, a safe and silly avenue for young professionals to signal to the world their collective Detroitness: the passion, the toughness, the bitterness, the us-against-the-world mentality. An optimist, on the other hand, could interpret DCFC's rise as the strongest sign yet of soccer's domestic growth, and a display of how committed some Michiganders are to their embattled and derided metropolis.
Where it all grows from here is an open question. Higher gate receipts allowed the club to hire Powell a year ago as its first salaried employee. (The new general manager handles game-day operations, team travel, sales, and sponsorship.) Mann and his partners have initiated talks with potential investors about building a soccer-specific stadium. A jump up the competitive ladder might be in the cards, eventually. (In 2014, they only dropped three of their 14 matches but missed their league playoffs by a single point.) For the time being, though, everyone involved is content to play in the NPSL, where the competition is improving and the league office doesn't fiddle with the team's creative shenanigans.
A few moments after DCFC claims its 4–0 victory, the players untuck their jerseys and trot to the far side of the stadium to greet the Northern Guard. More smoke billows out above their heads, a red sun setting in the distance. A world away from the World Cup, in the bankrupt capital of the Rust Belt, the scene is genuinely joyful. "City 'Til We Die," the Northern Guards' mantra, doesn't seem so hyperbolic at that moment. It's maybe even convincing.

Adam Doster is a writer based in Chicago. His work about sports and sporting culture has appeared in Sports Illustrated, The Atlantic, and ESPN The Magazine, among other publications. Follow him on Twitter @adam_doster. Jon DeBoer is a photographer in Detroit.
WELL, IT DEPENDS ON WHAT YOU MEAN BY "FREE."
Enter your best email for full access to the site.