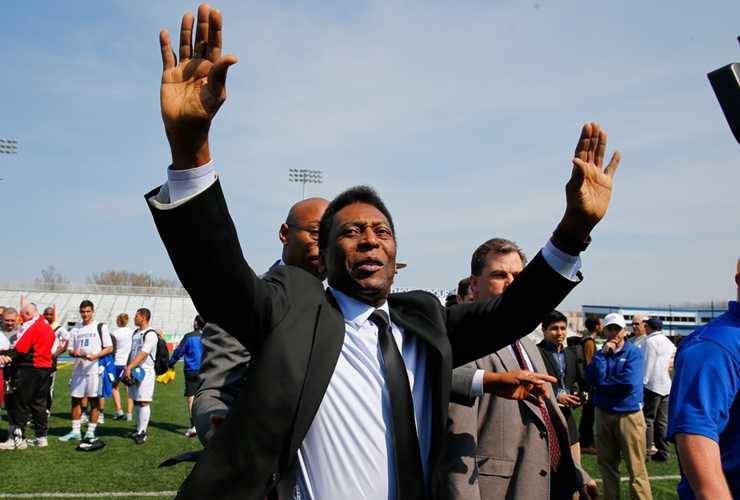 Amid a changing soccer landscape and new competition on home turf, the New York Cosmos have no plans to fade away
By Davis Harper | Photo courtesy of the New York Cosmos
[W]ith all the glitz and glamour surrounding the launch of NYCFC, the intrigue over their status as Manchester City's Triple-A affiliate and their turf war with the Jersey burbs-based New York Red Bulls, you could be forgiven for thinking there are only two professional soccer teams in the Big Apple. After all, recent articles in The New York Times and Sporting News either made passing mention or ignored the existence of a third.
But the New York Cosmopolitans do, in fact, exist. And with offseason statements of ambition to further a history that's far richer than those of its neighbors, the club has no plans of retreat.
The Cosmos will kick off the third season of their second life this Saturday, taking on the Fort Lauderdale Strikers in their North American Soccer League (NASL) opener. Their first iteration, of course, established a global brand in the 1970s by introducing New Yorkers to world-class soccer with the likes of Pelé, Franz Beckenbauer and Giorgio Chinaglia.
And while the current Cosmos ended last season on a down note — following a 2013 title with a mid-table finish and attendance dip — they're making a serious push to reclaim some of their home turf and, in many ways, beat their MLS counterparts at their own game. While the Red Bulls fired head coach — and fan favorite — Mike Petke and NYCFC fumbled the Frank Lampard situation, the Cosmos displayed loyalty and ambition in equal doses.
First, despite that disappointing 2014, the team extended the contract of head coach Giovanni Savarese and his staff. Cosmos COO Erik Stover said that Savarese was the "personification" of the team's philosophy, and his relationship with the front office, players and fans make him the linchpin for the Cosmos' success moving forward.
"It's the New York Cosmopolitans, we have players from something like 12 or 14 different nationalities," Stover said, referring to Savarese's ability to speak four languages fluently. "To have a guy that has the passion, intellect and character that he has, it's extremely important to us."
The Cosmos also re-signed key players, including top scorer Mads Stokkelien, and made solid signings to shore up the midfield with veteran MLS defensive mid Adam Moffat and NASL all-star winger Walter Restrepo. But it was the Cosmos' two marquee acquisitions (Spanish legend Raúl and top American prospect Haji Wright) that drew the most attention — and for good reason.
At 37, Raúl is well past his prime and played the past two seasons in Qatar, but Real Madrid's all-time leading goalscorer brings a level of experience and savvy that the Cosmos consider invaluable.
While the Red Bulls fired fan favorite Mike Petke and NYCFC fumbled the Frank Lampard situation, the Cosmos displayed loyalty and ambition in equal doses.
"We all know where he's been and what he's done, but he knew exactly what he was signing up for, and that was encouraging to him," Stover said. "He wants to help us build something on the field and bring the Cosmos back to the heyday of Pelé and Beckenbauer and he can see the parallels of his career with some of those guys."
With two goals from three preseason friendly matches, Raúl is poised to make an immediate impact in the spring season, but the Cosmos are looking forward to a much longer and fruitful relationship with the striker, who will serve as an advisor to their new youth academy and eventually take it over after retirement.
While Raúl is no doubt major news, the signing of Wright earlier this week may prove an even bigger story. The 17-year-old lightning rod of a forward scored 18 goals and dropped seven assists in 22 games for the U-17 national team in 2014. He has been part of the Los Angeles Galaxy's system and looks primed to eventually jump to Europe, making him a huge coup for the Cosmos and the NASL as a whole.
Wright will continue his development under seasoned pros like Raúl and Marcos Senna and, if and when the European elite come calling, the team will cash in on one of the country's most promising talents.
"Haji's a very exciting prospect," Savarese told the New York Post. "He has some special attacking qualities, and can play as a striker or on the wing, and gives us some more options in the final third."
• • •
[A]ll this activity begs the question, though: If the Cosmos win the 2015 Soccer Bowl and go deep in the U.S. Open Cup against the country's biggest clubs, and if Raúl and Wright combine for 30 goals, but nobody sees it, did it really happen?
Stover says yes. While the NASL's lack of exposure is a concern — ESPN3 recently agreed to broadcast nearly all NASL matches, but that's still nowhere near primetime viewing and won't include New York home games because of their agreement with One World Sports — the Cosmos are not giving up. They continue to fight for a new stadium to step up from Hofstra University's Shuart Stadium in Hempstead, and they consider the MLS's single-entity status as a threat to the club's culture and bottom line. Stover insists that even as clubs like Minnesota United FC jump ship to MLS, the Cosmos are happy with the progress and positioning of the NASL.
"There is growth potential in the NASL, and I certainly believe the business model aligns much more closely to the rest of the world," Stover said. "We can do more creative things with players, player development, loans and sharing that MLS single-entity teams simply can't do."
The Cosmos' ambition to thrive outside of MLS is clear.
Of course, even though Stover's comments sound genuine, the Cosmos have a big stake in that argument. It's as important as ever to reinforce the stability of their league, especially at a time of rapid MLS expansion and the USL's stated intent to achieve sanctioning as a second-tier league alongside the NASL. And further, not all clubs are as equipped as the Cosmos — still among America's biggest soccer brands — to capitalize on the NASL's advantages.
But the Cosmos' ambition to thrive outside of MLS is clear. "Creative things" includes scheduling a friendly match against the Cuban national team for June in Havana, making the Cosmos the first American team to play on the Caribbean island in 16 years. They're wasting no time pushing forward to sign marquee players and arrange marquee events in order to attract fans — the club even erected a billboard next to Red Bull Arena in February.
"I think sport is at its best when it's in hyper-competition," Stover said. "So for soccer to have as much competition in New York, to have people choosing colors — whether it's green or it's red or it's blue — is tremendous."
The next few years could end up anywhere from tremendous to tragic for the Cosmos. But they've got a seat at New York's soccer table, and they're planning to carve a healthy slice of the Big Apple pie.

Follow Davis Harper on Twitter @dhillharper.
Contributors
Howler
TAGS
WELL, IT DEPENDS ON WHAT YOU MEAN BY "FREE."
Enter your best email for full access to the site.