Home
Dirty Tackle
Tim Sherwood writes to the six-year-old he beat out for the Aston Villa job
Tim Sherwood writes to the six-year-old he beat out for the Aston Villa job
April 14, 2015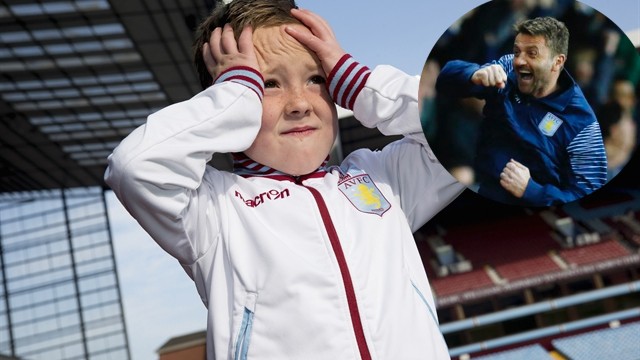 Letter writing six year olds are apparently very interested in the Aston Villa manager's job. Back in February, six-year-old Jude Branson wrote to Jose Mourinho, politely asking that he abandon the Premier League leaders to manage Villa (and bring Diego Costa with him, of course). But six-year-old Charlie Pye said "f*** Mourinho, I can do this job myself" (not an exact quote).
So Charlie wrote to Villa chief executive Tom Fox, putting his name forward for the job. His wage demands were reasonable, but his backroom staff reeked of nepotism that, frankly, could have gotten the club in trouble.
From Villa's official website:
In the initial letter, Charlie said: "I think my team talks would be very good and my tactics would be excellent.
"We need to stop the goals by getting in the way. We need to score more by shooting on target. This is a winning formula, so my dad says.
"As for payment on taking the job, all I ask is for a signed claret and blue football, a WWE wrestling figure and some sweets. As a win bonus each week, I would want a Twix.
"I would appoint my mum and dad as assistant managers so they can drive me to the training ground each day. My mum is also very good at making bacon sandwiches for the players if that helps.
"If I am successful, I would also need you to tell my school that I don't need to attend anymore as I have a job."
Unfortunately, Charlie was beaten to the job by a man who acts like a six year old, Tim Sherwood. So to rub that fact in Charlie's young face, Sherwood wrote him back.
In his response, Tim said: "From your letter it is clear to see that you would indeed be an ideal candidate for the job due to your knowledge of the game — and your very capable backroom staff, of course!
"Hopefully you're not too disappointed at missing out and I'm informed that I just managed to pip you to the post so you were very close to being offered the job."
"I guess your win ratio just wasn't quite as good as mine. Because mine is fantastic."
"Our chief executive Tom Fox has informed me that the club would like your permission to keep the letter on file 'just in case' — although I'm hoping I will be successful at this great football club."
"To be fair, four wins in nine matches and an FA Cup semifinal says I already am, so don't hold your breath on taking this job from me, kiddo. I am Timothy Alan Sherwood. You've got nothing on me. Nothing!"
Anyway, the good news is that several bookmakers have Charlie as the current favorite to replace Manuel Pellegrini at Man City, leading the youth revolution they so desperately need.
Contributors
Howler
TAGS
WELL, IT DEPENDS ON WHAT YOU MEAN BY "FREE."
Enter your best email for full access to the site.