Sure, Burnley will be relegated. And sure, the club went almost eight weeks without scoring. In spite of these results, this season wasn't all bad.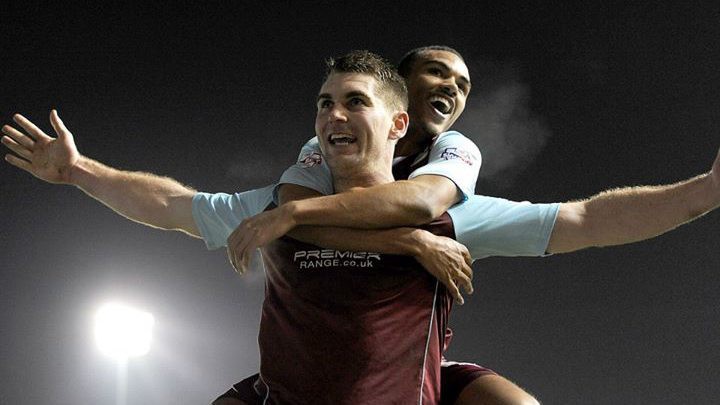 By Kevin Alexander | Photo via Burnley FC
Dear Burnley Football Club,
[I]'ve been sitting here for hours pinning cool mason jar light fixtures to my Pinterest page wondering what to say to you. Trying to find words that would act as a salve to take the sting out of the news that you are headed back to the Championship. So many of us didn't want you to go. The Prince of Wales. Soap opera star Sam Aston of Coronation Street. An apparently somewhat well-known British weatherman named John Kettley. But most importantly, me.
You were my second team. That team you support partially because you like the way they play and the plucky underdog fire they have, but also because they in no way interfere with your own team's chances. Just because I'd never leave Southampton doesn't mean I didn't think about you a few times as I was falling asleep. And really, how could I not? You had everything: a fierily optimistic manager named Sean Dyche, aka Ginger Mourinho, who always seemed upbeat and positive and did the proper managing thing of taking all the blame for losses to shield his players and let them play; a class striker in Danny Ings who produced ten goals this year and earns 1/35th of what Man U sub Radamel Falcao makes; a perfectly capable keeper in Tom Heaton, whose Wikipedia bio weirdly mentions his boyhood football coach Darryl Pickering in the third sentence of the summary paragraph, then offers up a quotation about Darryl in the fourth sentence, making it clear that Darryl Pickering, under some alias, is definitely a Wikipedia contributor.
"He dives to the left, he dives to the right, Tommy Heaton, makes Buffon look shite!"
You played the right way. And that isn't even one of those cop out backhanded compliments you give to people who suck at things. Dyche, a center back in his own day, had you well organized, and you seemed to love him, because you played damn hard, and stayed in nearly every game. Eight of your last ten games were single-goal affairs. I may not be some crack Wikipedia contributor like Darryl Pickering, but I do know that it's hard to get points when you score exactly ZERO goals from March 14th to May 9th. That's nearly two months without any sort of weird celebration where Danny Ings does a sideways sailor dive, nearly 55 days when Claret fans could only sing "He dives to the left, he dives to the right, Tommy Heaton, makes Buffon look shite!"
We had some times though didn't we? The time you beat Man City on George Boyd's goal and we laughed and laughed. The time you tied Man City on another one of George Boyd's goals and we laughed and laughed. The time you lost politely to Southampton so I could laugh and laugh, but only after I'd excused myself to go to the bathroom. And then you went into that match against Leicester City, and it really was a make or break moment, playing another perennial bottom-feeding just-promoted side, with a manager in Nigel Pearson who looks like he was found by a casting agent trolling British penitentiary gymnasiums for the personal trainer with the worst personality. And in the 59th minute, Paul Konchesky fouled Matty Taylor in the box and it seemed like you guys would take an important lead if Danny Ings just took the ball and slotted a PK. But Matty Taylor, he of zero goals so far during the 2014–2015 EPL campaign, had other ideas. He grabbed the ball, patting his chest and demanding glory for and unto himself. But the Old Gods and the New Gods would not have it, and his shot hit off the post. Exactly 59 seconds later, Jamie Vardy scored an ugly goal for Leicester and Nigel Pearson celebrated by threatening to suspend all goods purchased by his team from the jail commissary, and that was it. You can't come back from a loss at Leicester this late. There are rules.
I don't care how much you enjoy potatoes, carrots, and minced beef in a savory sauce with a shortcrust pastry lid, those were some damn dark days.
But just know it could be worse. Remember when you were sponsored by Vodka Kick, an "alcopop"? Or Holland's Pies? I don't care how much you enjoy potatoes, carrots, and minced beef in a savory sauce with a shortcrust pastry lid, those were some damn dark days.
You've got some good things coming to you. You'll likely sell Danny to Liverpool and make a tidy sum, and hopefully pick up a few guys on loan and make a few smart signings from smaller leagues. Sure, for now, you'll have to play against the likes of Rotherham (who confusingly play in New York Stadium) and Brighton & Hove Albion and the Sheriff of Nottingham Forest. You'll play in smaller stadiums (New York isn't that big!), and your revenues won't be as high and girls wearing uncomfortable-looking heels won't as readily drink alcopop with you in the reserved areas of upscale Asian fusion restaurant lounges.
But you will be back. I know it. Ginger Mourinho knows it. Darryl Pickering knows it and has probably already written about it. And when you are, I'll be waiting. Possibly with John Kettley.
Fondly,
Kevin Alexander

Contributors
Howler
TAGS
WELL, IT DEPENDS ON WHAT YOU MEAN BY "FREE."
Enter your best email for full access to the site.