Home
Dirty Tackle
FIFA attempt to distract from crisis with fire, lies, and yodeling
FIFA attempt to distract from crisis with fire, lies, and yodeling
May 28, 2015
http://www.gettyimages.com/detail/photo/474959952
A little more than 24 hours after seven FIFA executives were hauled out of their luxurious Zurich hotel rooms and threatened with extradition to the United States for an assortment of crimes, football's world governing body held a supremely bizarre opening ceremony to their 65th congress.
Perhaps afraid of getting pinched for his own crimes against humanity, 2014 World Cup opening ceremony scourge Pitbull stayed away from this event, but in his place was an assortment of oddities.
Like fire drumming…
And yodeling…
And people dancing like your aunt at a wedding…
There was even this…
FIFA president Sepp Blatter was himself too distracted to notice any of this, however…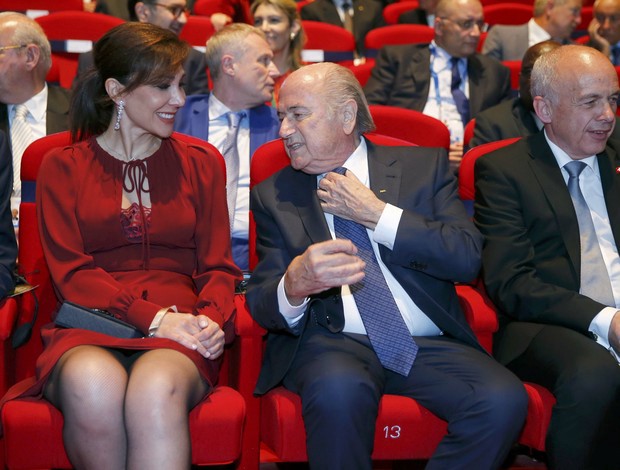 But when it was his turn to speak (in front of an oddly menacing army of volunteer flag holders), Blatter finally confessed all his crimes and begged for the world's forgiveness. Just kidding! He denied all responsibility and downplayed the rampant corruption in his organization.
Having already refused UEFA president Michel Platini's plea for his resignation in a private meeting earlier in the day, Blatter put his incredible talent for delusion on public display.
From the Guardian:
Blatter told the Fifa congress in Zurich on Thursday afternoon that he could "not monitor everyone all the time" and emphasised that the allegations and arrests focused on "a minority of individuals". Blatter promised, not for the first time, to rebuild trust.
"These are unprecedented and difficult times for Fifa," he said. "The events of yesterday have cast a long shadow over football and over this week's congress. Actions of individuals, if proven, bring shame and humiliation on football and demand action and change from us all. We cannot allow the reputation of Fifa to be dragged through the mud any longer."
Just in case reading that made blood shoot out of your eyes, what Blatter is saying is that he is incapable of rooting out the few bad apples who keep popping up within FIFA, but he is the man to bring about sweeping changes to the organization that was sullied on his watch. And if that makes sense to you, then you are Sepp Blatter and you are awful.
Blatter could have gotten on that stage and made donkey sounds for 12 minutes and he would still be a shoo-in for reelection on Friday, though. Even with the vocal opposition of some of FIFA's largest member nations, Blatter's consistent funding initiatives for FIFA's smaller members, whose vote counts the same as England's or the United States', has brought him a huge amount of loyal support.
That said, here's a preview of his victory speech after the election…
Contributors
Howler
TAGS
WELL, IT DEPENDS ON WHAT YOU MEAN BY "FREE."
Enter your best email for full access to the site.